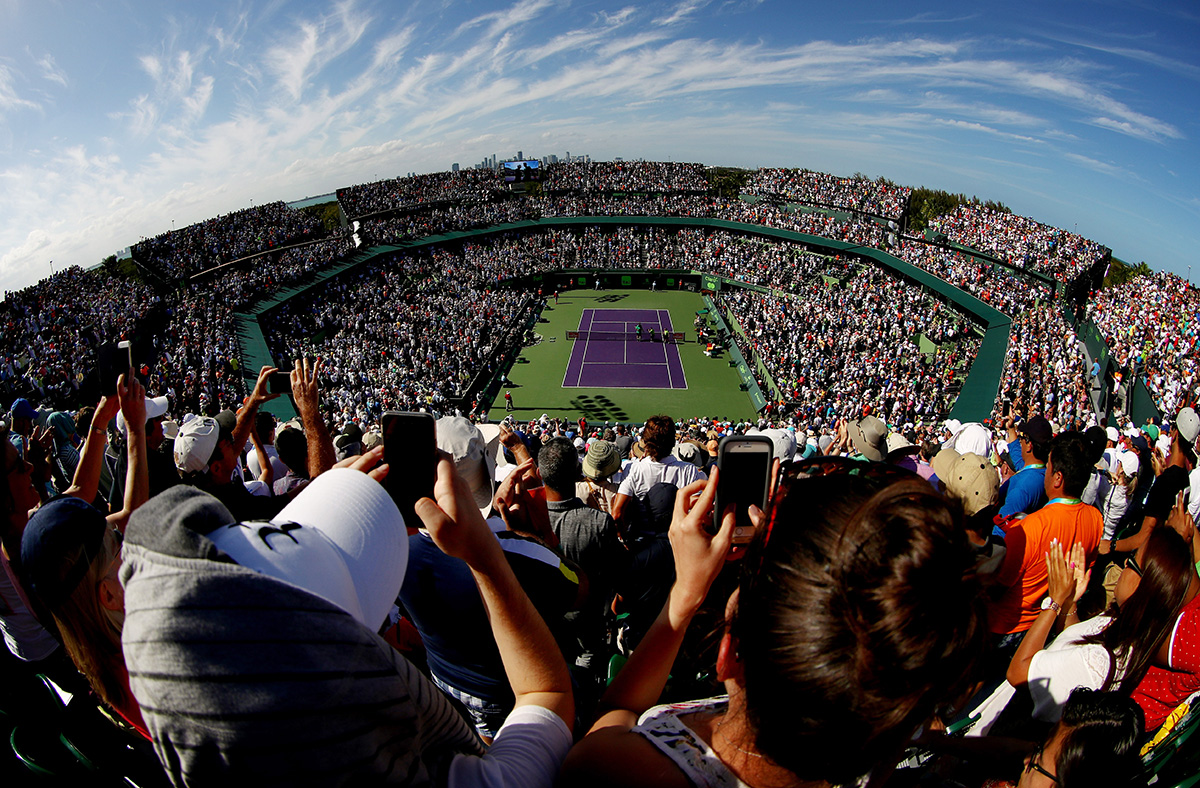 Dates
Monday, March 19-Sunday, April 1, 2018
Qualifying Rounds: Monday & Tuesday, March 19-20, 2018
Women's Main Draw opens: Tuesday, March 20, 2018
Men's Main Draw opens: Wednesday, March 21, 2018
Site
Tennis Center at Crandon Park
7300 Crandon Boulevard
Miami, Florida 33149
The 411
Tournament Main Office: 305.446.2200
Tickets: 305.442.3367; [email protected]
Travel: 800.725.5472; [email protected]
Sponsorships & Sales: [email protected]
Media Inquiries: [email protected]
Tournament Fax: 305.446.9080
Media Contact: Sam Henderson
Website: MiamiOpen.com
Tournament Director: James Blake
Television
The tournament is broadcast to 193 territories around the world and receives an estimated 14,000 hours of global television coverage to nearly 70 million viewers worldwide. Domestically, the last year's tournament received a record 193 hours of television coverage on Tennis Channel and the ESPN family of networks.
Attendance
304,643 over 24 sessions/14 days in 2017
Tickets
305.442.3367; MiamiOpen.com
History
With over $12 million in prize money, the Miami Open presented by Itaú is one of the largest tournaments in the world. When Butch Buchholz established the event in 1985, it marked the first time in 56 years that a new two-week tournament featuring men and women was launched. Located in Delray Beach (Laver's International Tennis Center) in 1985 and Boca Raton (Boca West) in 1986, the tournament found a permanent home in 1987 on Miami's Key Biscayne. In 1994, Miami-Dade County christened the Tennis Center at Crandon Park, a 30-acre expanse that is transformed each year from a public tennis facility into a full-fledged festival for the Miami Open. The Miami Open, considered one of the most prestigious titles in professional tennis, has been awarded "Tournament of the Year" by the ATP in nine of the last 13 years. In 2004, the event was also named "Tournament of the Year" by the WTA. In 1999, the tournament was purchased by IMG. The 2015 tournament surpassed 300,000 in total attendance for the sixth consecutive year, all the while displaying to the world why the event is regarded as the most glamorous on the WTA and ATP World Tours.
Key Moments
Nov. 1990: Miami-Dade County approves plans for a new stadium.
Summer 1992: The site is rechristened The Tennis Center at Crandon Park.
Nov. 1992: After legal delays and Hurricane Andrew halt construction, plans progress.
Feb. 1994: Miami-Dade Country dedicats the new 14,000-seat stadium.
Mar. 1994: The first match is played on Stadium Court.
Aug.-Oct. 2005: Crandon Park weathers a pair of powerful storms: Hurricanes Katrina & Wilma.
Mar. 2006: A new chairback seating system debuts in the 400-level.
2010: The tournament recorded 11 session sellouts, set 8 session records and surpassed 300,000 in attendance for the first time in tournament history.
Present: Following the 2014 event, the tournament underwent a sponsor change. Itaú, the largest privately owned bank in Latin America, became the presenting sponsor of the event and the tournament, formerly the Sony Open, changed its name to the Miami Open presented by Itaú.
READ MORE
Leadership
Tournament Director
Champions
Schedule
Broadcast Schedule
Extraordinary  Experiences
Parking
FAQs
Activities
Site Map