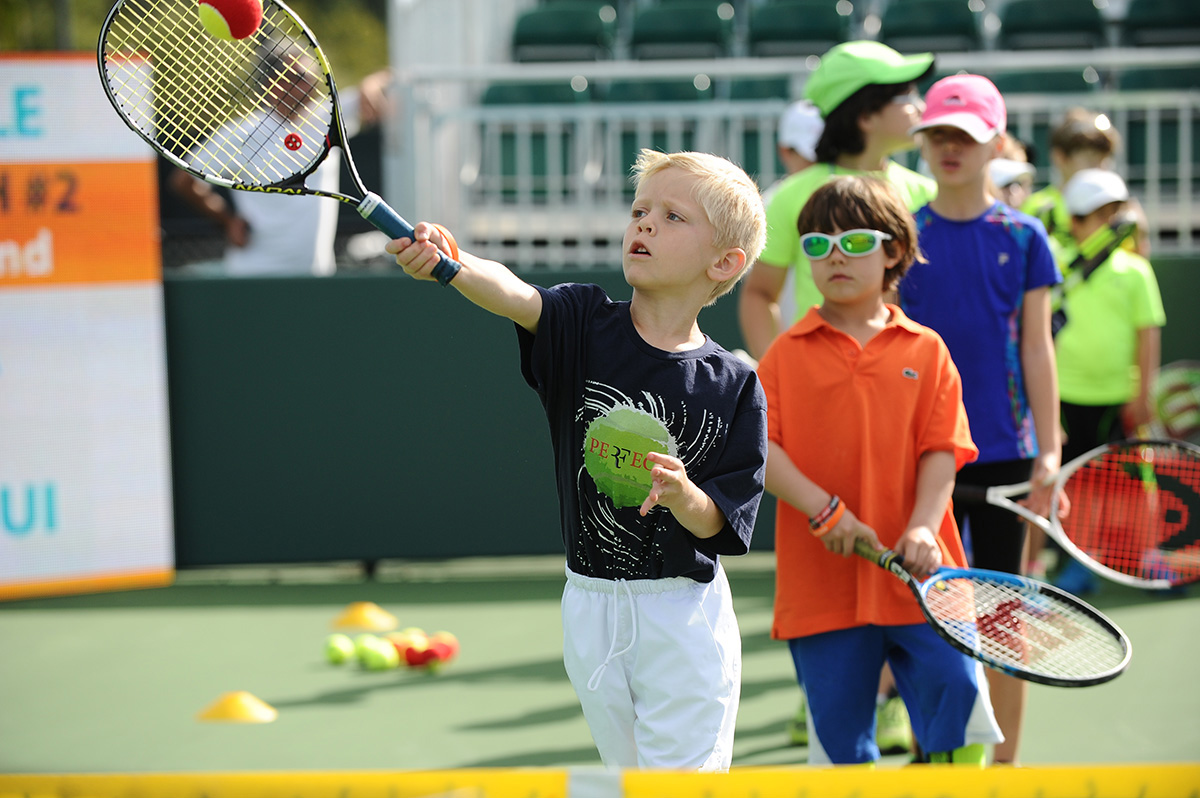 Kids Day
Kids Day at the Miami Open will be held on Tuesday, March 20 from 9:30 a.m.-1 p.m. and include a variety of activities both on and off the court. Robert Gomez, USPTA Tennis Professional and Director of Tennis for the City of Coral Gables will be running the grand stand program where kids can participate in drills and have the chance to meet some of the worlds best tennis players. IMG Academy will be running interactive activities throughout the day.  Tickets also grant access to all the action of the Day Session matches. Kids of all ages and skills sets are welcome, so bring along the entire family, friends and neighborhood kids.
Full Schedule:
Tuesday, March 20, 2018
9:30 a.m.-1 p.m.
•   Activities: 9:00 a.m.-1p.m.
•   USTA interactive court with drills and games
•   IMG Academy agility obstacle course
•   Speed Serve
•   Games, prizes, and more!
•   Grandstand Program: 10 a.m.-11a.m.
•   Don't miss your chance to learn from the pros
•   Q&As with ATP and WTA players along with legendary coach Nick Bolliterri
•   Tennis demonstrations and activities on court
•   Day Session Matches: 10am- early evening
•   Women's qualifying and first round and Men's qualifying matches
Tickets
$14 for kids
$17 for adults
$10 for groups of 20 or more
For more information, call 305.442.3367.
The Shopping

Shopping Spree
Keep your eye on the ball and while you're on site, make sure to visit the Official Miami Open Shops:
Lacoste Shop
Official clothing sponsor of the Miami Open. Replica of on-court items available.
Sports Shop
The largest retail store on the site. Nike, Adidas, Fila, Eleven, Under Armour, Chrissie Evert, Tail, Lotto, Bluefish and Lucky In Love apparel all under one roof.
Miami Open Souvenir Store
All the official merchandise for the Miami Open event. Players towels, jumbo autograph balls, official caps, t-shirts, collectible pins and much more.
READ MORE
Leadership
Tournament Director
Quick Facts
Champions
Schedule
Broadcast Schedule
Extraordinary  Experiences
Parking
FAQs
Site Map