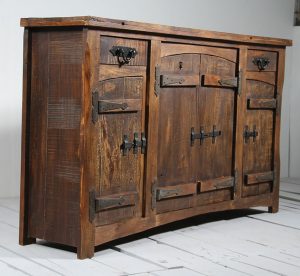 Stunning Finish
We adore the warm, earthy tones in this beautifully weathered Reclaimed Wooden Sideboard with Metal Accents from Seven Wonders Furniture, who salvage materials for their pieces from barns, factories and houses — saving them from otherwise ending up in landfills. Re-using old wood in pieces like this also ensures that each one has a unique character, as each board contains the scars and signs of its history; $495, SevenWondersFurniture.com.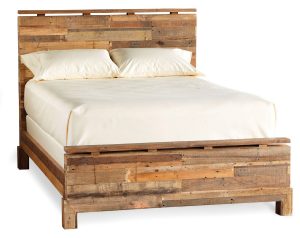 Timeless Patchwork
The remnants of salvaged shipping pallets are transformed in this piece from the Sundance Catalog's Tioga Pass Collection, forming the basis for a perfectly rustic head and footboard, held together with forged iron hardware. All the wood used in this piece is FSC-Certified reclaimed, so you can rest assured in the eco-friendliness of your choice; $2,295, SundanceCatalog.com.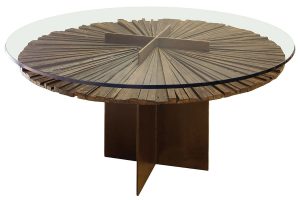 Round Arrangement
Reclaimed furniture can be produced from slabs such as barn doors or bridge beams — or from artistic arrangements of small pieces of hardwood, such as in this Mandala Dining Table from Rotsen Furniture. Rotsen's artisans arrange scrap wood into an elegant, unfinished mosaic that celebrates the natural texture of each piece, while the steel base guarantees stability and longevity; $9,700, RotsenFurniture.com.
Finishing Touch
When I walk through a home, one of the most frequently missed design opportunities lies in the framing of art. Often people purchase art in minimalist pre-fabricated frames or have the artists' original frame mistakenly thinking it adds to the value of the art. A poorly framed piece of art can date it, detract from the look and even cause damage with bad glass or acidic backings. My approach to framing is to ask how I can enhance the look of the art itself. I often try to give weight to a piece with oversized matting and dark top mats that bring the eye to the artwork itself. Creating depth with showcase and shadowbox effects gives art room to breathe and creates a sense of importance. When art requires glass, the type of glass can be just as important as the frame. New products such as museum glass offer protection while allowing you to see the art with almost no reflection or glare. The most important rule in framing is to frame to the art, not to the room. By making sophisticated framing decisions the first time, a piece of art can look good in any setting!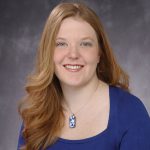 ABOUT THE AUTHOR
Janel Kuhl is a Licensed Interior Designer who grew up working at her family's framing and design business at Coconut Grove Gallery & Interiors. She is a LEED Accredited Professional and a NCIDQ Certificate holder; 2884 Bird Ave., Miami; 305.445.7401; CoconutGroveGallery.com.