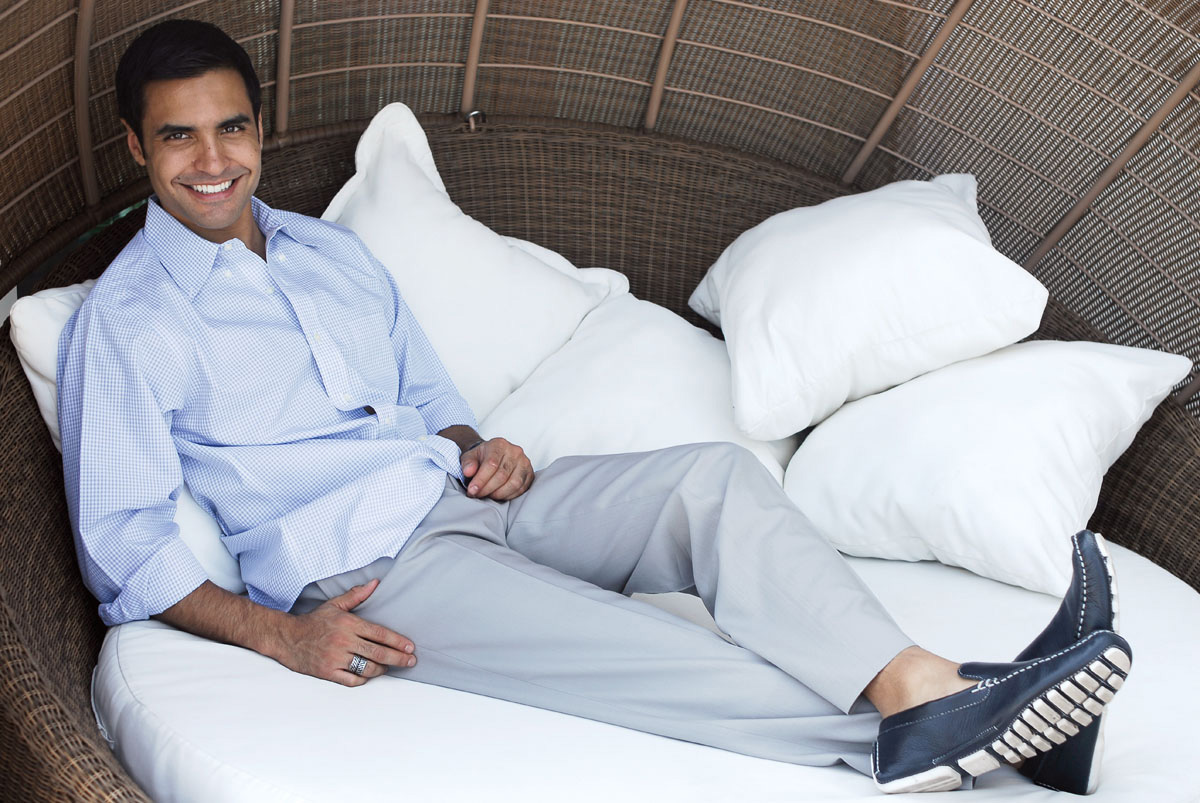 Rising Star
With no plans to slow down, up-and-coming actor Augusto Valverde is climbing the entertainment ranks as he trades in the tube for the Big Screen.
Text by Luisana Suegart
Photo by jose Amigo
Filling the shoes of actor, television host and writer comes naturally for 27-year-old Augusto Valverde, who has been winning over fans with his appearances on the small screen. "I feel that I was born to communicate and inspire people," he says.
His first incursion into television? A reality show in which he was chosen as Miami's best event promoter, an opportunity that attracted agents who pursued him for acting and commercials. To date, Valverde has appeared in over 20 national commercials and just this year received an opportunity to host a national program for Telefutura. "It was a great experience, but I realized I wanted to work in the American entertainment industry, so I packed up half of my stuff and moved to Los Angeles," he says, while the other half is in his Brickell loft.
Born in Miami, he grew up in Mexico City until the age of 19, taking off for brief stints in Canada and Paris before returning to Miami. "Even now that I'm living between LA and Miami because of my acting career, whenever I step out onto my balcony in Brickell and look at the bay, I still feel that feeling of calm relaxation that lets me know that this is my place, this is where I live and thrive."
And he has no plans of moving elsewhere, although he's currently traveling between the two cities as he films his first independent movie about a bachelor and his path to self-discovery. "Go figure," he laughs, admitting that he is single for the foreseeable future.
"I value genuineness and originality, and in this turbulent world of television and acting there's plenty of both," he says. "I think success is having the courage to pursue your dreams and live without fear. My goal is to create, inspire, share and touch the lives of those who surround me."
Of course, it's all at the mercy of taking a chance. "Karma is a fantastic thing, and when you try your best to be your best, it's a powerful ally. We only live once, so why not take some chances?"
To stay atune of what Augusto Valverde is up to as he pursues worldwide stardom, visit AugustoValverde.com.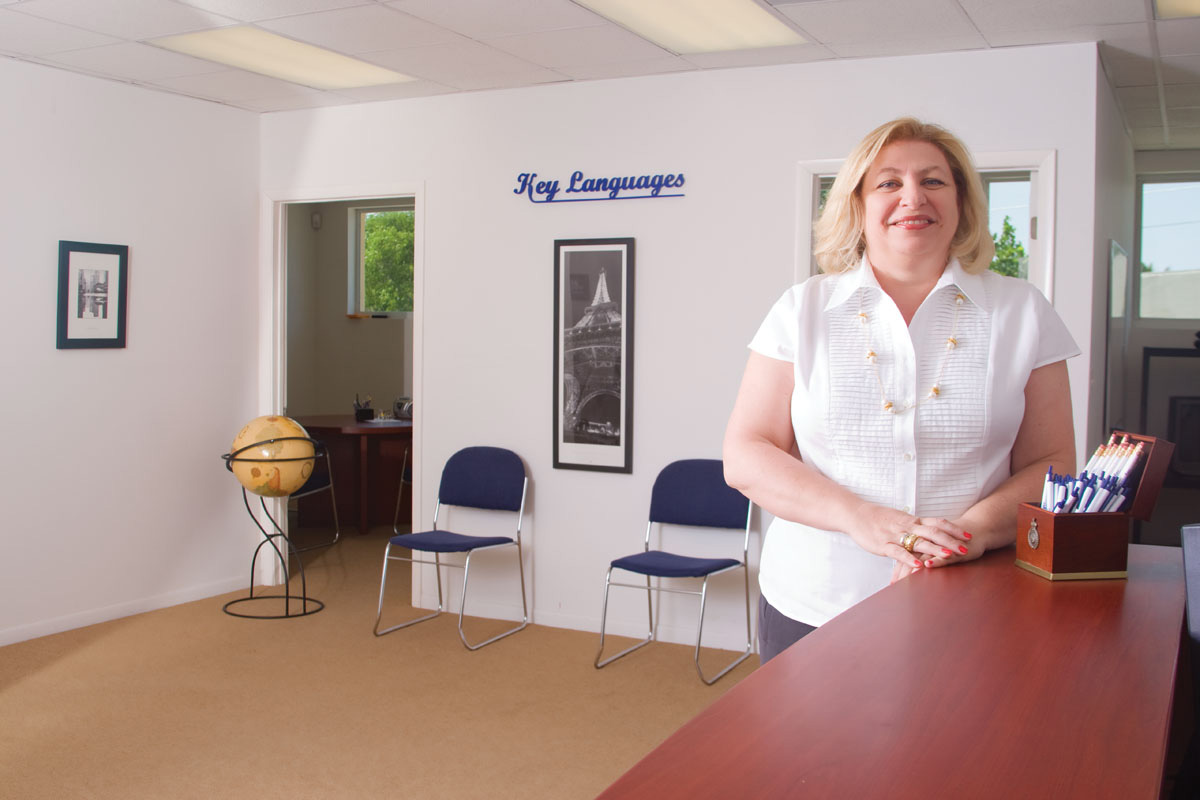 Foreign Flair
In a place where international relations don't transcend city limits, Cassia Silva keeps her business moving forward knowing firsthand the value of communication.
Text by Luisana Suegart
Photo by Antonio Eli
Cassia Silva is drawing from her own experience to promote multicultural intelligence throughout South Florida, and we couldn't think of a better place. "I went to Law School in Brazil and practiced law for four years before I moved to the U.S. Once here, I couldn't practice law and didn't know English, so I dedicated myself to studying English until I mastered the language."
"It was an easy transition from law to languages," says Silva, who earned a Master's degree in Teaching ESL from New York University, at the same time teaching at the Writing Center of John Jay College. "After I moved back to Miami, I started working full-time as a teacher, and then as a language center director."
Silva decided to venture off on her own, opening Key Languages, an independent language services company in Key Biscayne that offers language instruction and translation services in English, Spanish, French, Portuguese, Italian, German and Mandarin. "My goal is to help people improve their personal and business life by learning other languages and cultures."
Just a few minutes from the Brickell neighborhood, Key Languages is a full-fledged facility that is designed to fit the melting pot of cultures that inhabit Miami. "We now have students who come to our location, a program for children in which we send the teachers to their homes after school, and a program for companies in which the teachers go to the offices."
"Teaching and owning a language services company is part of my commitment to bring other languages and cultures to people's lives," she says, as she enriches her own. A member of several organizations, Silva is on the board of the Brazilian Cultural Center, is Secretary of the Key Biscayne Chamber of Commerce, and is President of the National Association of Women Business Owners in Greater Miami.
Looking toward the future, Silva is sure to accommodate the technology boom, offering lessons via Skype to students who travel or just live in South Florida part time. "People who share our enthusiasm benefit from learning a new language as much as travelers and business people whose companies do business with other countries and also need translations."
To expand your global vocabulary with Cassia Silva, call 305.365.5530, email [email protected] or visit KeyLang.com.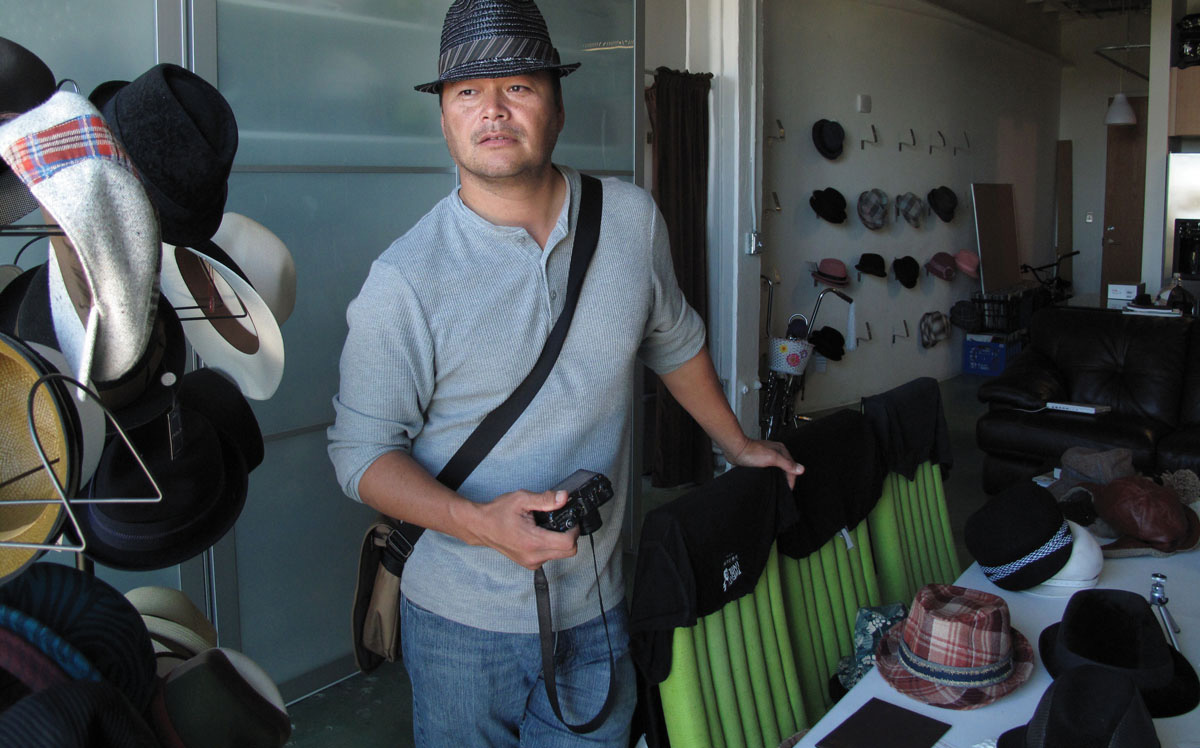 Lens Dream
When Jose Amigo takes a picture, something magic happens. But it's more than just the quality of his photographs that's worthy of a frame — his charm, sense of humor and flexibility are just as impressive.
Text by Luisana Suegart
Photo by Kim Amigo
Jose Amigo is clutching his camera on the roof of a skyscraper in Downtown Miami surrounded by a dozen international supermodels posing for a major national campaign he's about to shoot. Below is a sea of blurry business suits rushing to work. What a life.
"Personality is the single most important factor in any shoot," says Amigo. "Without that, everything — including the photos — is empty and void of any real depth."
Having produced covers and editorials for international editions of Marie Claire, Cosmopolitan, Maxim and Men's Health, among many others, Amigo is no stranger to the Photoshopped perfection that halos over South Florida. But his beginnings were anything but airbrushed. "I was raised in a remote agricultural region of the Philippines on the rugged yet beautiful island of Mindanao," he says. "Those surroundings really made me appreciate a lot of what's underneath beauty — it's just like a fast, flashy sportscar that looks flawless in every way, but deep down inside, there's grease somewhere in there making everything work."
Upon arriving in the U.S., Amigo went to work as a migrant worker picking vegetables in the fields of eastern North Carolina. It was during that time that his father bought him his first camera. "I started shooting everything around me including my sisters, who were aspiring models," he laughs. As a result, his first professional portfolio included everything from fashion shoots to farm animals to portraits of policemen and U.S. soldiers. "Later, I expanded my portfolio when I hitchhiked around the U.S. for two years, taking photos of the entire experience along the way," he says.
Today, the globetrotting photographer is focused on local corporate and social events throughout Brickell and South Florida, a new focus that allows him to stay close to his family. Currently, Amigo shoots anything from corporate campaigns to party pictures, weddings and portraits, offering something for every budget. "I've been doing this for a long time," he says. "Nothing gives me more pleasure than helping others capture the special moments in their life or taking their hard work and brands to the next level."
To find out how Jose Amigo can work with you, your family or business, call 305.206.2022 or visit JoseAmigo.com.