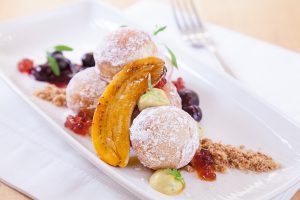 Going Bananas
When life's challenges have you dizzy with stress, rush over to Seaspice for a Bambolini. What better place to unwind and be worry-free than waterside with a sweet treat, a glass of bubbly and signature views like no where else? This dessert features bananas, coriander cream, blackberry jam and hazelnut crumble. It illicits the type of love and warmth you feel from sinking your teeth into one of your favorite comfort foods with an electrified flavor profile. The floral aspect of coriander spice ties beautifully with banana and provides a textural contrast to the fluffy dough. The blackberry jam oozes with comfort while the crumble gives it a welcomed nutty flavor; SeaspiceMiami.com.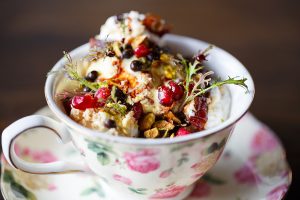 Sundaes Everyday
From a cozy and intimate space on N. Miami Ave., Fooq's is serving up a combination of French/Persian-inspired dishes that are sure to please the palate and awaken your inner wonderer. The recipes are largely influence by global sojourns and include locally sourced flavors. While the appetizers and main courses will bring a smile to your foodie heart, it's the Persian Sundae that will tickle your senses. This complex, mouth-watering dessert features saffron and rosewater gelato, shredded halava, roasted salted pistachios, pomegranate molasses, medjool dates and Valrhona chocolate pearls. It's the perfect combination to end a terrific meal; FooqsMiami.com.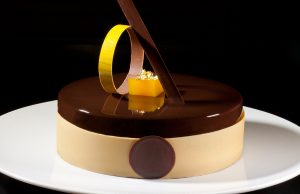 Sweetness Prevails
Warming up in the oven at the new Bachour Bakery & Bistro you'll find plenty of sweet delights and eye-catching treats from Pastry Chef Antonio Bachour, who is globally known thanks to his almost edible Instagram account that has over 173K loyal foodie followers fawning over every beautifully crafted dessert. While Bachour handles the sweets at the highly anticipated Brickell eatery, partner Chef Henry Hane leads the menu curation for the savory side of the operation. Save your calories for the opening day and get a taste of an artistic bite (or three) that will have you indulging on belly-pleasing beauties like the heavenly combination of chocolate mousse, mango jelly, passion fruit cremeux and hazelnut cake entremet pictured here.