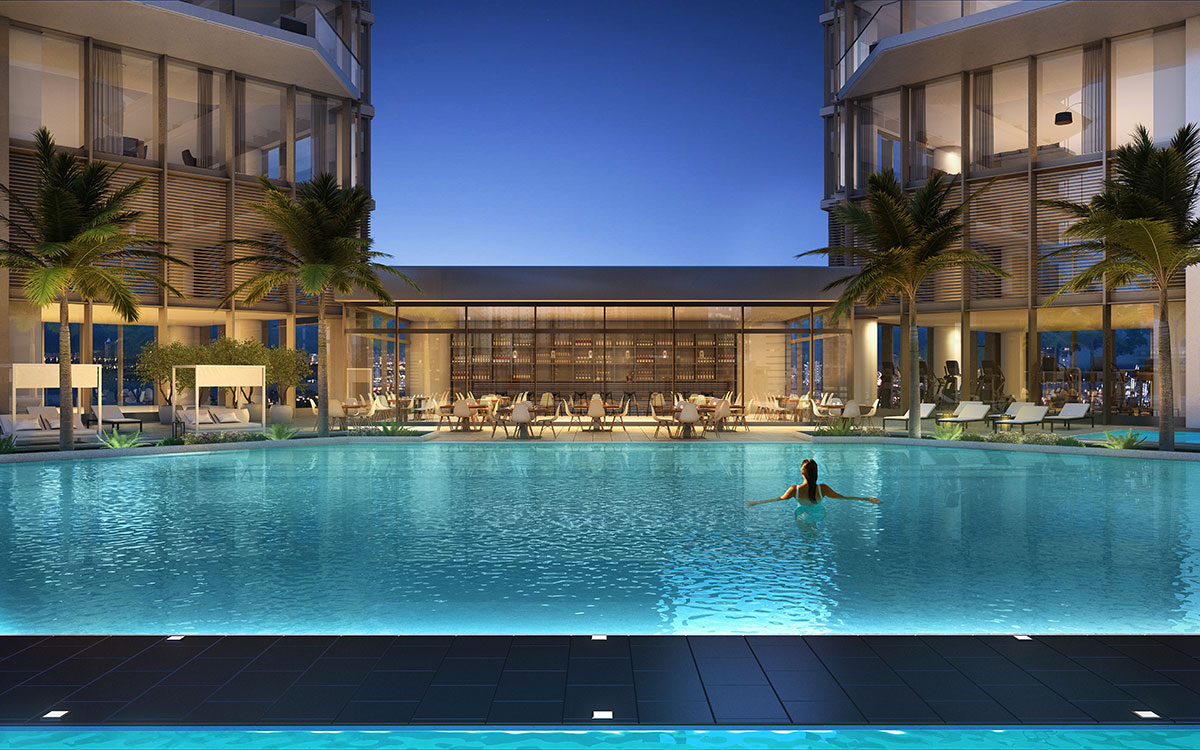 What sets One River Point apart from other properties in Miami? "Literally everything," says Shahab Karmely, Founder & CEO of KAR Properties, developer of One River Point. "The design parameters, the team, the amenities, services and the location. One River Point will consist of two sleek towers featuring exquisitely finished residences with outdoor living terraces and complemented by the full amenities ordinarily associated with an Asian 5-star hotel. No compromises."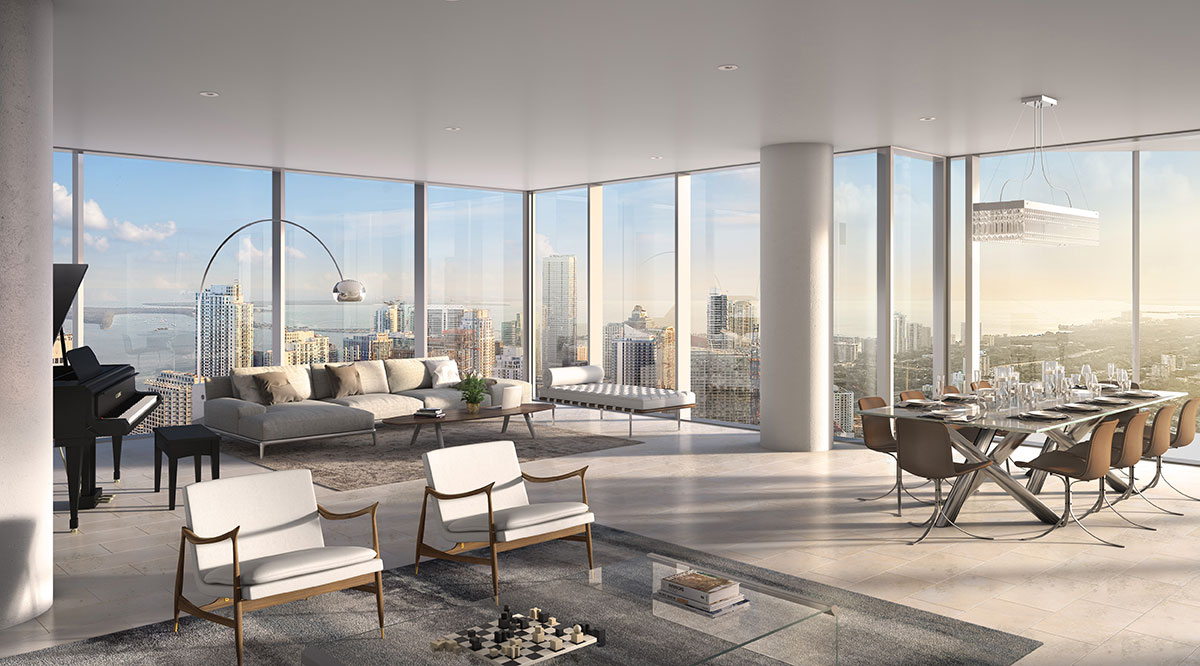 One River Point is unique because it is sitting on the only part of the Miami River in which the land butts into the river, therefore providing panoramic views of the bay, ocean, river, Brickell City Centre and Downtown Miami. Its setting within a private, manicured park is crafted to afford the ultimate in privacy, security and beauty. Upon completion of One River Point's 3 phases, the park is slated to become the new legacy destination for Miami, a superb complement to Brickell City Centre and its transformation of Downtown Miami.
And how Karmely secured this rare location is a story in itself. "Unbeknownst to me, after I was told that the Miami River parcel was not available by the listing broker, it turned out that the actual owner was a friend of mine from high school," he says. "I guess sometimes it's just meant to be!"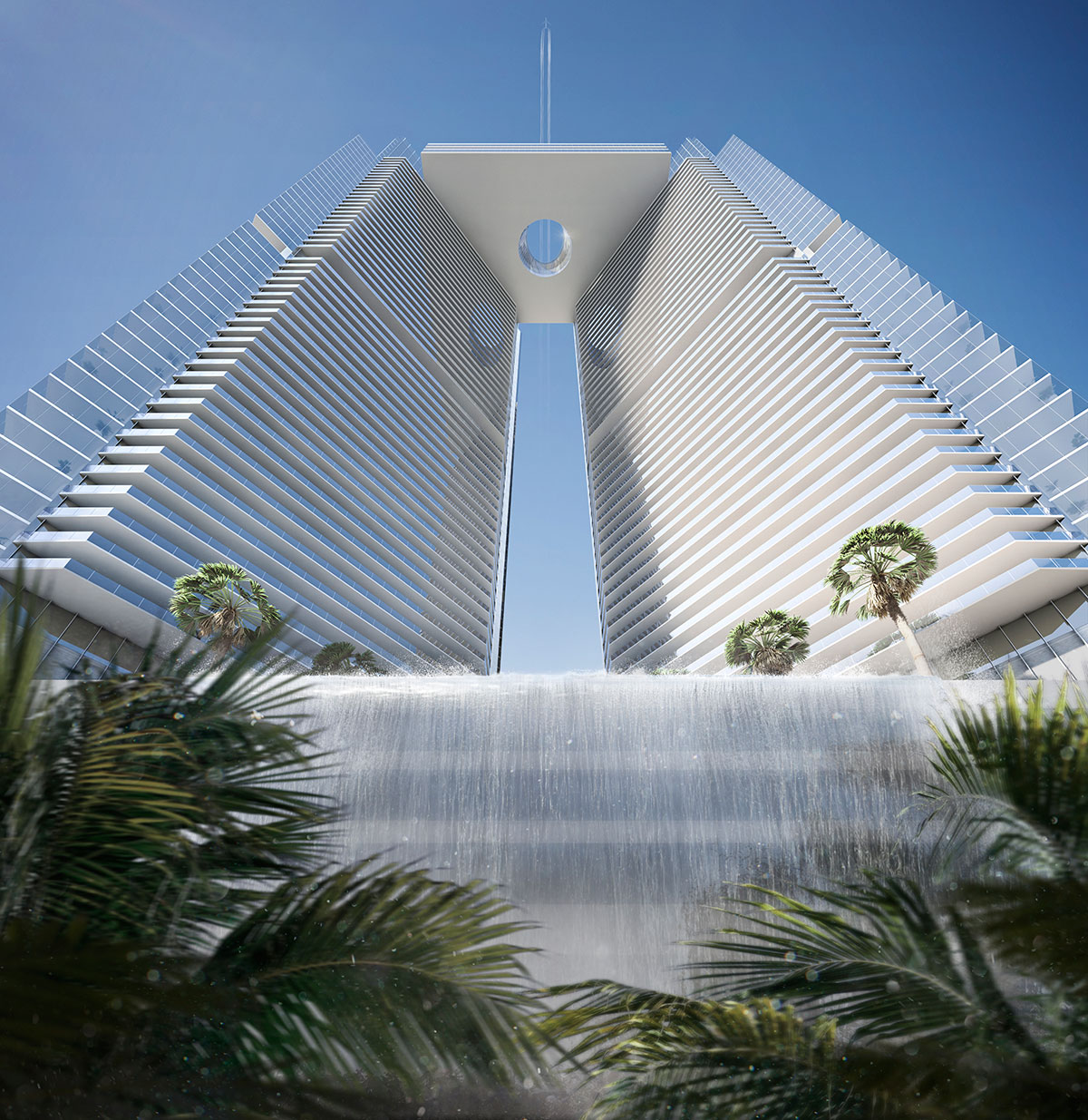 The building is set be as outstanding as the site. The breathtaking design comes from the highly creative mind of internationally-acclaimed designer Rafael Viñoly, who was hailed by The New York Times as "the most elegant architect now practicing in the U.S." The future landmark will rise 780 feet from its riverside base and consist of a pair of stylish towers linked at the summit by a 3-story floating glass skybridge. As if that wasn't enough, the skybridge will feature a 35,000-sq.-ft. private Sky Club curated by world-famous hotelier and global tastemaker Adrian Zechna. "We see the Miami River's setting, location and views in the same context as London's River Thames, Paris' Seine and Tokyo's Sumida River, where residents enjoy the best of cosmopolitan waterfront living and spectacular panoramas both day and night," says Karmely. "Rafael Viñoly's design and the level of sophistication offered at One River Point make a very bold and dramatic statement that landmark luxury will not be uncommon off the sand. It's with great pleasure that we introduce his transcendent architecture and pioneering vision to the Miami River."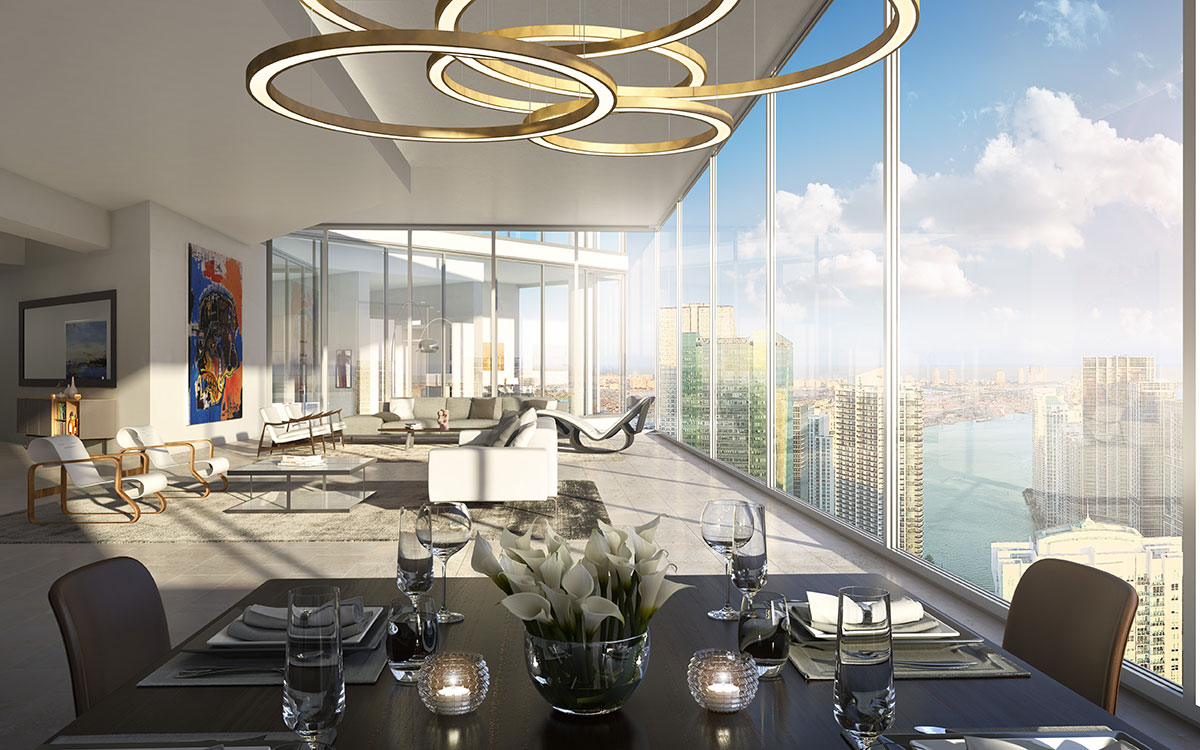 "I love this project and am absolutely passionate about it," he continues. "For the past two years, I have been a part of every aspect of programming and design. I'm as passionate about our world-class Sky Club as I am about the design of the entry door handles of the individual residences. I am uncompromising when it comes to matters of quality, design and aesthetics. Every single team member, whether my choice of architect, designer or in-house project manager, has to meet and believe in our mission statement of dedication to excellence."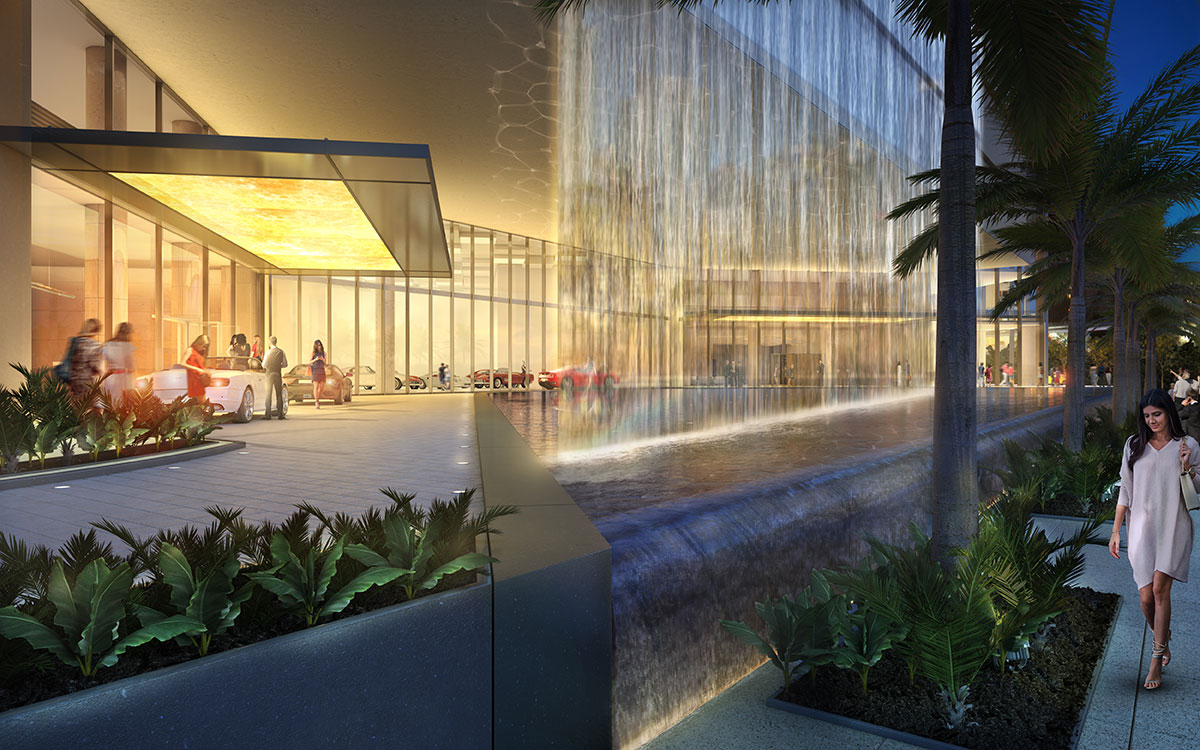 And, he says, he and his team are delighted to collaborate with Adrian on his first curated private lifestyle club in the heart of Downtown Miami. "He is one of the world's most influential tastemakers and we look to his interpretation of what a modern day, intimate private club should look and feel like today," he says. "All of the hallmarks he is associated with: authenticity, great design unique to its setting, outstanding food and members treated like family will be part of the experience."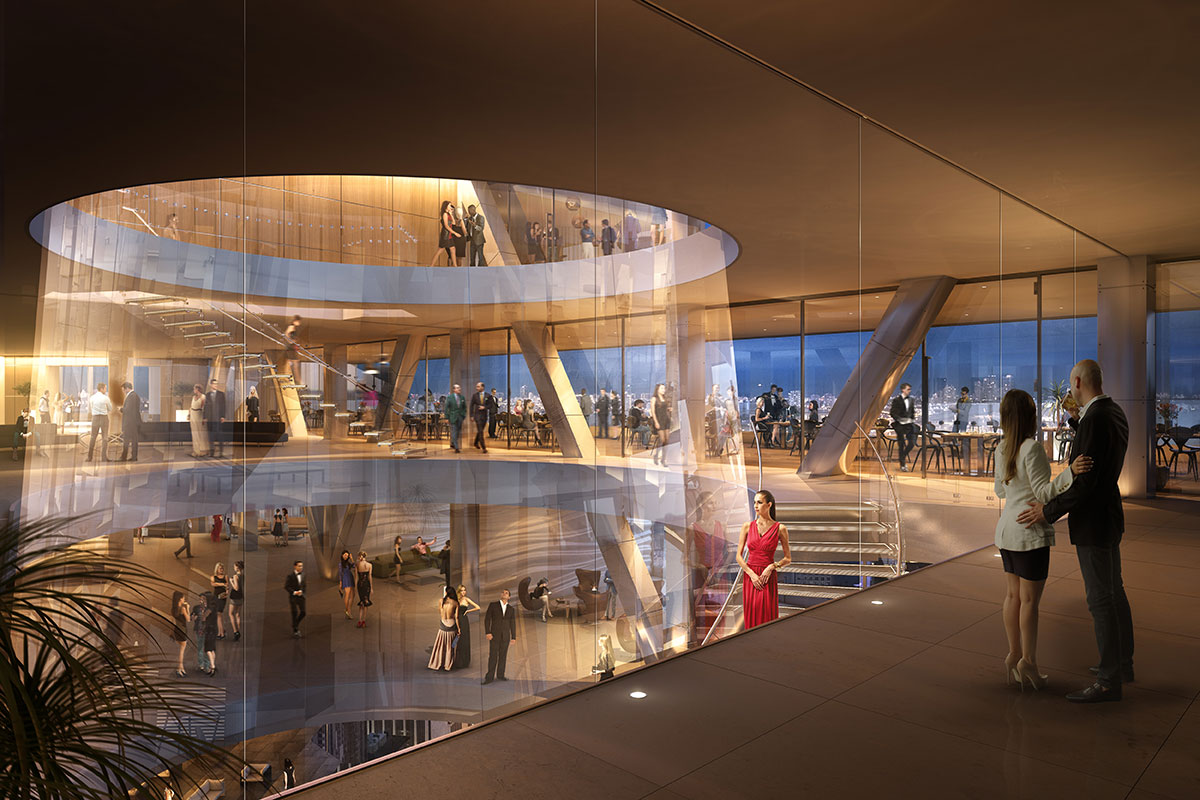 The Sky Club brings the word "club" to a whole new level — literally 60-stories above Downtown Miami. Based on haute private establishments such as Beijing's Jockey Club, Hong Kong's China Club and New York's Core Club, the Sky Club at One River Point offers indoor fine dining and alfresco restaurants, as well as private dining rooms, a craft cocktail bar, cigar lounge, chef's kitchen and temperature-controlled wine cellar and tasting room. For those looking to kick back and relax, there's a screening and media room, library and resident's lounge. When it's time to get down to business, there are few more places conducive to making impressive deals than the on-site business center with its private meeting rooms.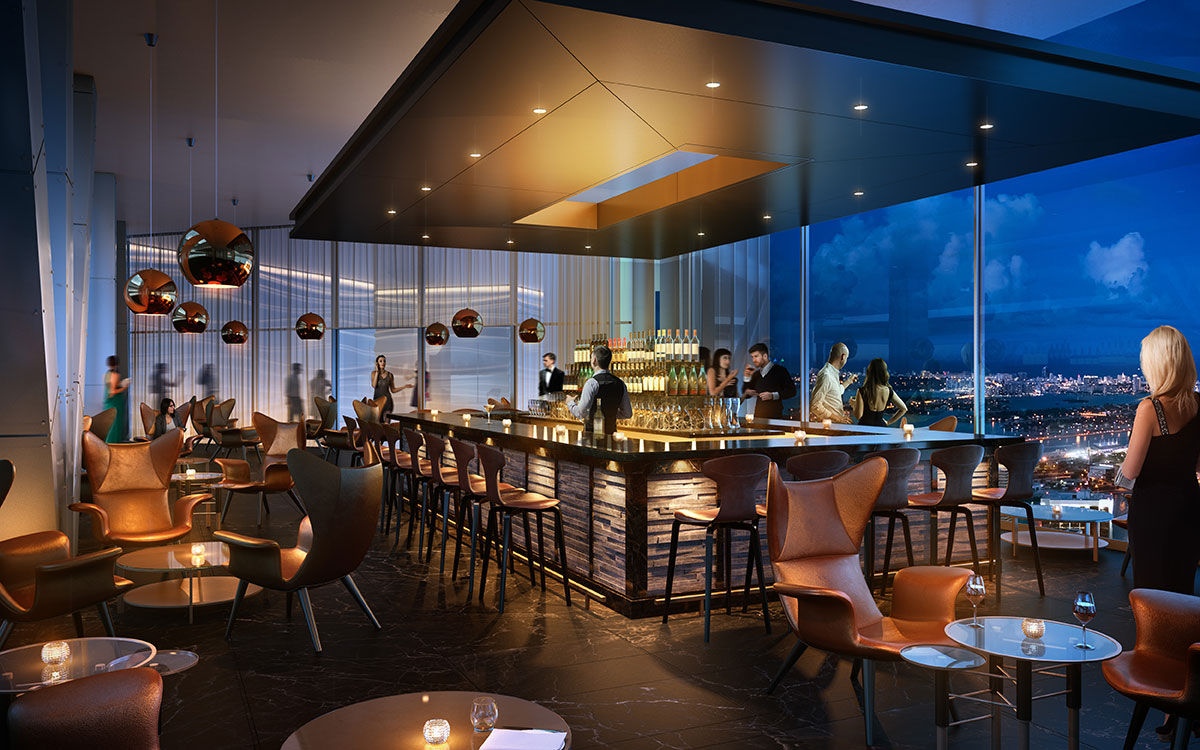 Karmely has been involved in various projects around the world throughout his career, starting with his first project in 1985 in New York City. "Interestingly enough, that project was recently sold and is presently being reimagined by Rafael Viñoly," he says. He's currently focused on South Florida and has the belief in Miami's future and the confidence to assemble a superor team and envision a world-class project despite being cautioned that Miami was not ready for this level of luxury yet.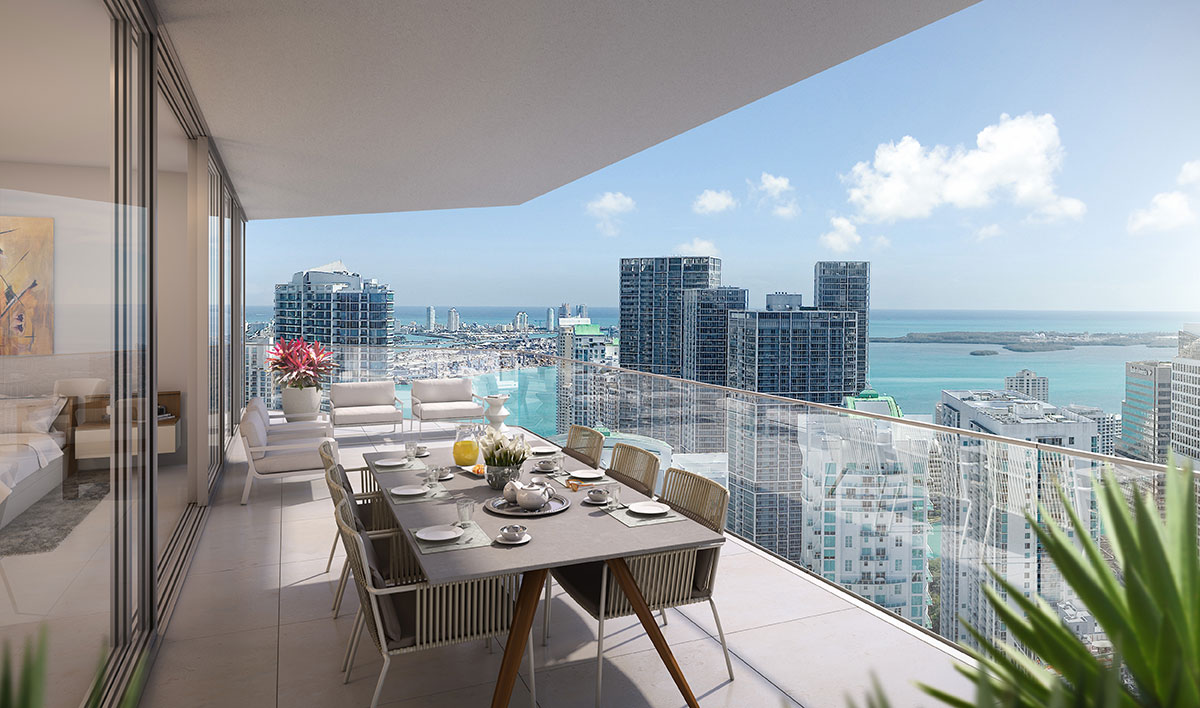 One River Point is set on 1.8 acres and will feature approximately 350 amenity-laden residences with private elevator landings, generous ceiling heights of 10 to 12 ft., expansive open layouts with floor-to-ceiling glass walls, honed stone flooring, designated art walls with task lighting, multi-zone climate controls integrated with smart-home technology and 12 ft.-deep glass-enclosed outdoor living terraces with sweeping vistas. The bespoke penthouses, SkyLofts and SkyVillas will range from 5,000 to 12,000 sq. ft. and feature spacious terraces and private pools.
In the end, Karmely says he is a strong believer in transparency and encourages prospective buyers to take the time to fully understand what is being sold to them and ask many questions. He and his team at One River Point pride themselves on having gone to great lengths to make sure what they promise and show in their marketing materials is exactly what's going to be delivered — "a combination of all of the elements that are necessary hallmarks of luxury: design, programming, amenities, execution and location into a sum that is greater than its parts."
One River Point will be located at 24 SW 4th St. The Sales Gallery is located at 90 SW 3rd St. For more information, call 305.809.7566 or visit OneRiverPoint.com.