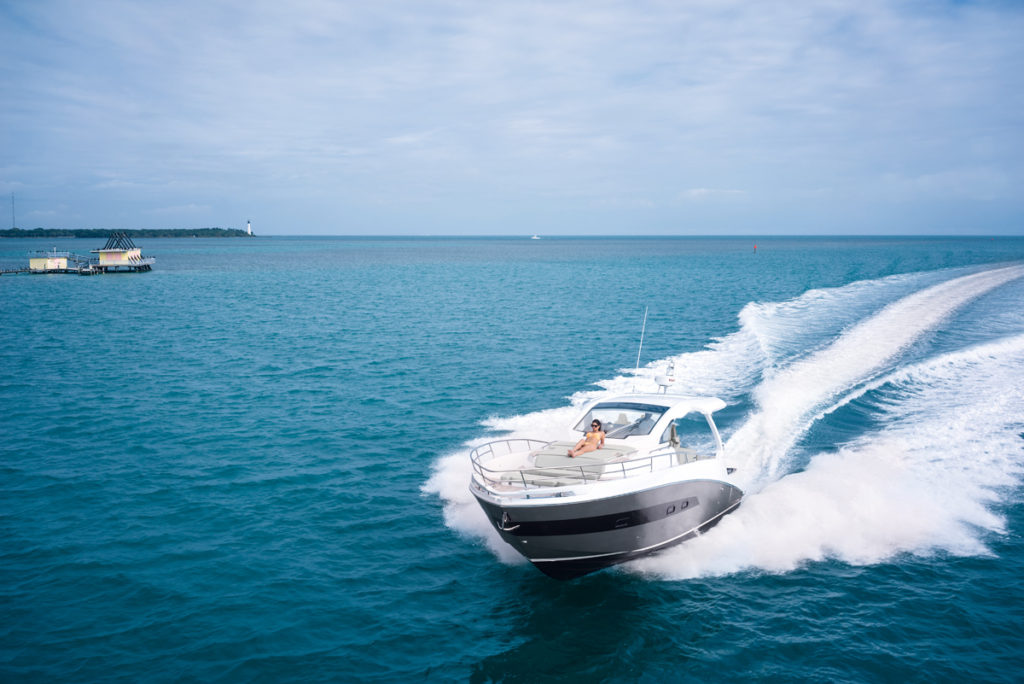 Practical Luxury
Azimut is well known for expansive yachts that fulfill every desire of their owners, from reliability to stunning designs inside and out. The new Verve 40 effortlessly continues this tradition. The Express Cruiser layout allows owners and guests the best of all worlds, with ample sunning and alfresco dining areas as well as sumptuously appointed belowdeck accommodations for weekend or longer cruises. Powered by three 350-hp Mercury Verado outboards, the Verve 40 is far from the typical stodgy dayboats seen on our waterways. Capable of top speeds of 45 knots, the Verve 40 is easily among the swiftest of all pleasure boats, which allows explorations of new waters far from home much more viable. Belowdecks is a head with a full 7 feet of headroom, which will come in handy if your guests include members of the Miami Heat, as well as a galley to keep them all fed, a forward owner's stateroom and ample overnight accommodation for guests; AzimutYachts.com.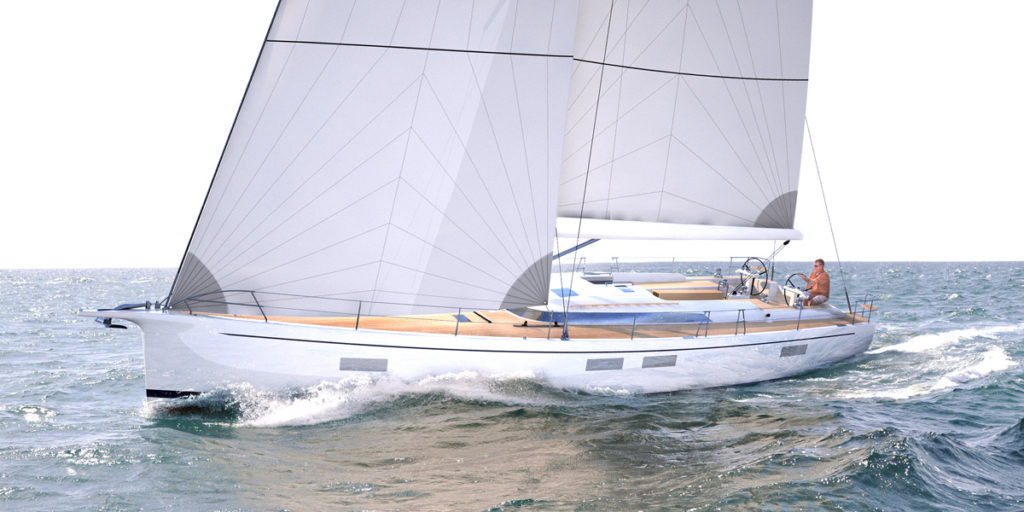 Sail Away
The Hylas H60 delivers luxurious living accommodations in a package that can easily be mastered by a cruising couple. The twin helm oceangoing design penned by the world-class naval architects at German Frers makes it easily among the most eye-pleasing yachts on the water — but there's more than good looks afoot here. The hull is crafted of closed-cell FRP infused with vinylester resin to combine light weight with extreme strength. A hydrodynamic plumb bow flowing to a wide transom allows it to move thorough the water with maximum efficiency and thus, maximum speed. Abovedeck, all is business, allowing crew easy uncluttered access to go forward to set a spinnaker. An utterly reliable 150-hp Volvo Penta diesel engine comes in handy on breeze-free days. Down below, the L-shaped settee dining area flows to the well-equipped walk-through galley. Available spacious configurations including a master's suite all the way forward and guest stateroom all the way aft, the H60 is perhaps the ultimate in waterfront homes; HylasYachts.com.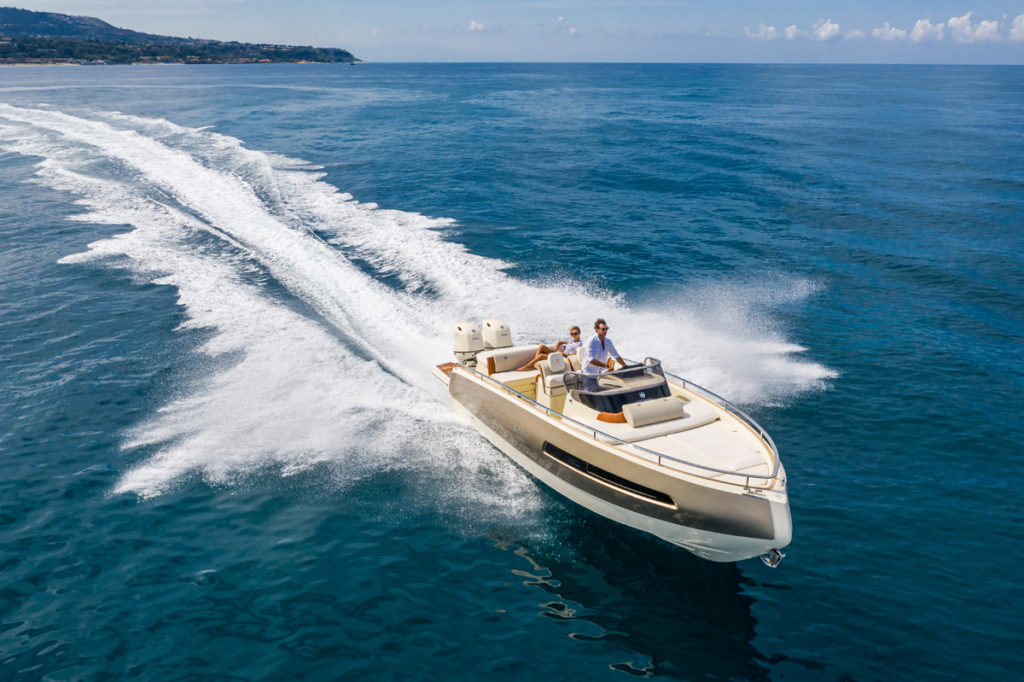 Sassy Style
The "S" in Invictus' new 280S could easily stand for "Sleek," Stylish," "Sporty" or even "Sassy" as it is all of these. Combining timeless Italian style with the practicality of outboard engine power, it does it all. Unlike traditional center console designs, the 280S is a virtual moveable island dedicated to comfort. The huge foredeck/sunpad combines with the aft sunpad to allow guests to bask in comfort while enjoying the passing scenery. Anyone who has endured waves of claustrophobia while operating a boat with a cramped T-Top over the helm will fully appreciate the completely open helm on the 280S which affords 360 degrees of sightlines for the ultimate in safety while underway. The overall design can be termed, "compact superyacht," as the 280S is a supermodel compared to every other pleasure craft on the water. Engineered to accept up to 500 hp of power via twin outboards, the "s" may well stand for "Swift."; InvictusYachts.com.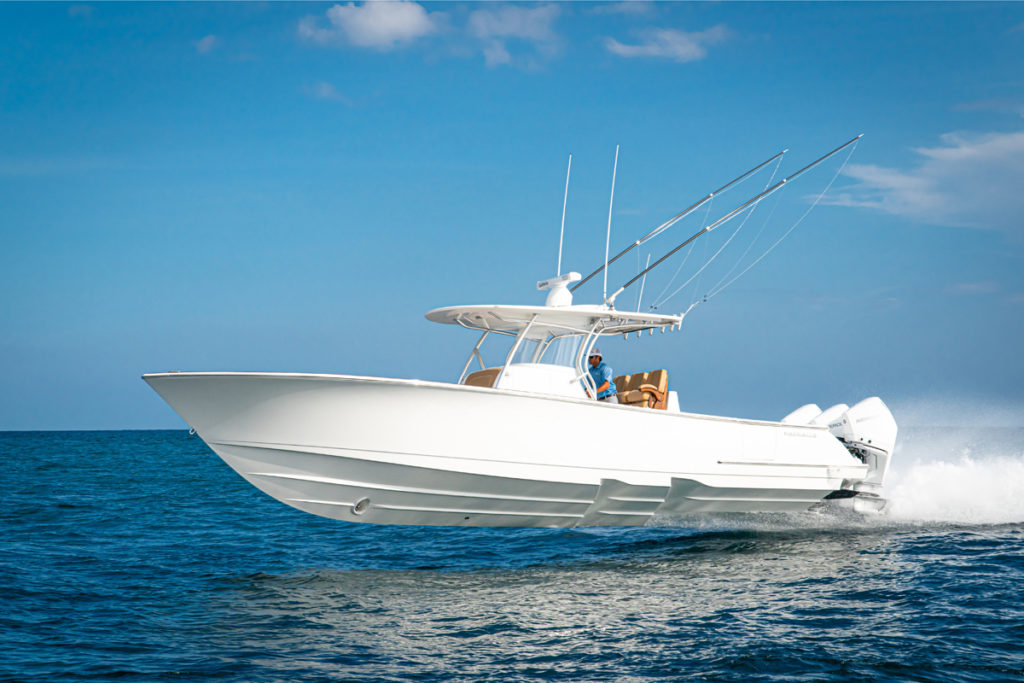 Viking Lite
Viking sportfishermen are the gold standard of luxury, high-performance fishing yachts that can easily go as far offshore as needed to land another trophy sailfish. But they are a bit of overkill if all you want to do is take the family to dinner at a waterfront restaurant. Viking's answer is the Valhalla. Powered by a trio of powerful outboard engines, the V37 is a no-compromise fishing boat designed to land everything from grouper to swordfish. It is also a capable cruiser, with ample seating forward and at the helm, a cavernous head with sink and shower and a forward covered lounge. While the big Vikings require a salty captain to run them, the Valhallas can be operated by anyone who knows the pointy end is the front of the boat. Power options include 300 to 425 hp Mercury or Yamaha outboards, controlled via GPS-enabled joystick systems. To protect these expensive engines from the ravages of saltwater, Viking relies on the patented Reverso automatic outboard flushing system; ValhallaBoatWorks.com.
Wonderfully Excessive
Wally boats are the supermodels of the boating world. From the eye-pleasing design to the luxurious amenities and the incredibly capable features, they do it all with style. The 48 Wallytender X reinvents the concept of center console boats. These vessels dominate the South Florida waterways because they can range far offshore chasing gamefish or take family and friends to the sandbar for a day of fun. While most center consoles tend to look very much alike, Wally's newest model stands out in any setting. It was envisioned as a tender to superyachts, a role it fits superbly. However, it is also ideal as the only boat in a fleet. The 48 Wallytender X is simply amazing from any angle, but the innovative features demand a closer look. Wally uses four Mercury 450-hp Verados to achieve 58-knot speeds, with a 320 nm range cruising at 38 knots. The engines are set in packs of two, allowing room for a passarelle. Rather than the usual stern-mounted swimplatform shared with the engines, the 48 Wallytender X has sideways opening bulwarks that allow easy and safe access to the water. A spacious suite belowdeck ensures guest comfort on day trips or overnight excursions; Wally.com.