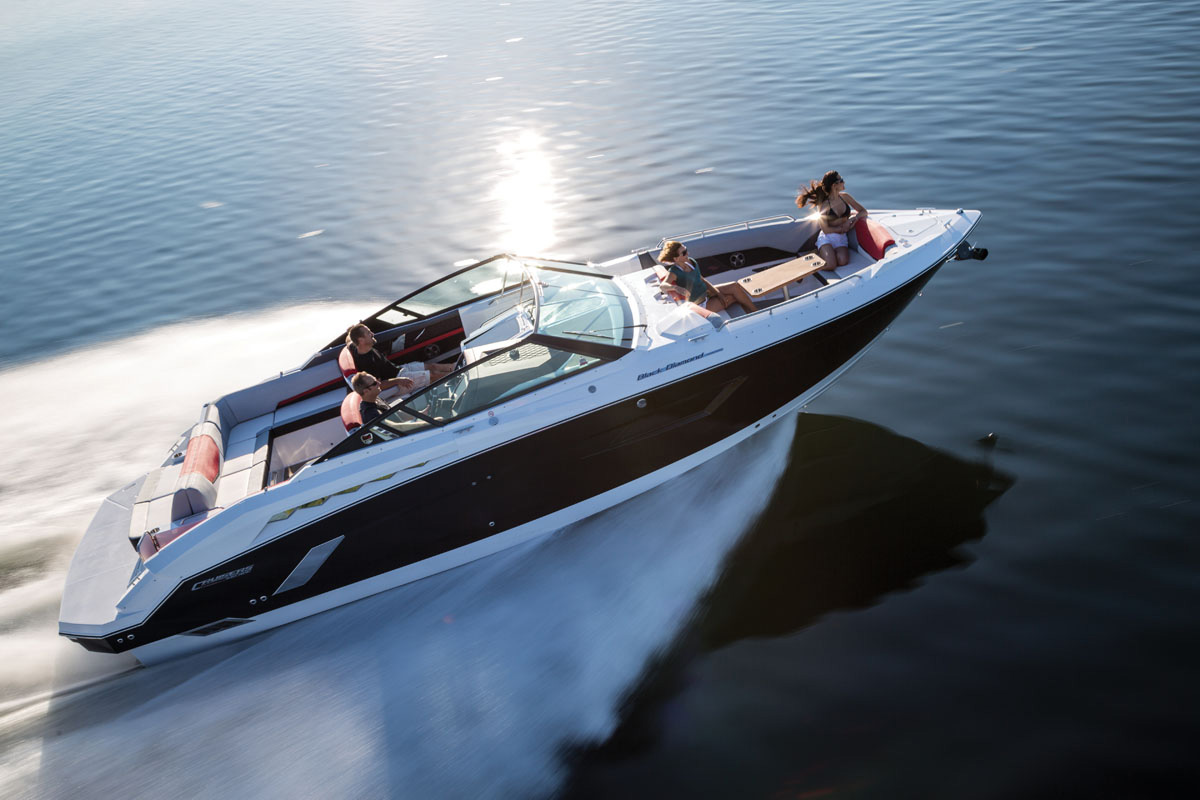 Cruisers 328 SS Black Diamond
While the Cruisers 328 SS Black Diamond is a bowrider, it's unlike any ever seen before. Most bowriders that are entry-level boats feature cramped seating, underpowered engines and materials not intended to last more than a few seasons. The Black Diamond, however, is designed and built to turn all that on its ear. In addition to an imposing 32' LOA and twin 380 hp powerplants, the Black Diamond features something never seen on a bowrider before: A cabin. The abovedeck floorplan provides easy access from the swim platform and sunpad all the way forward to the anchor locker. Along the way, there are multiple storage compartments, a cooler and fittings for tables at the bow and aft. The cabin is located midship for optimal balance and features a compact galley, a full-size head and sleeping accommodations for overnight adventures. To sum it up, the Black Diamond is the perfect family fun boat; CruisersSportSeries.com.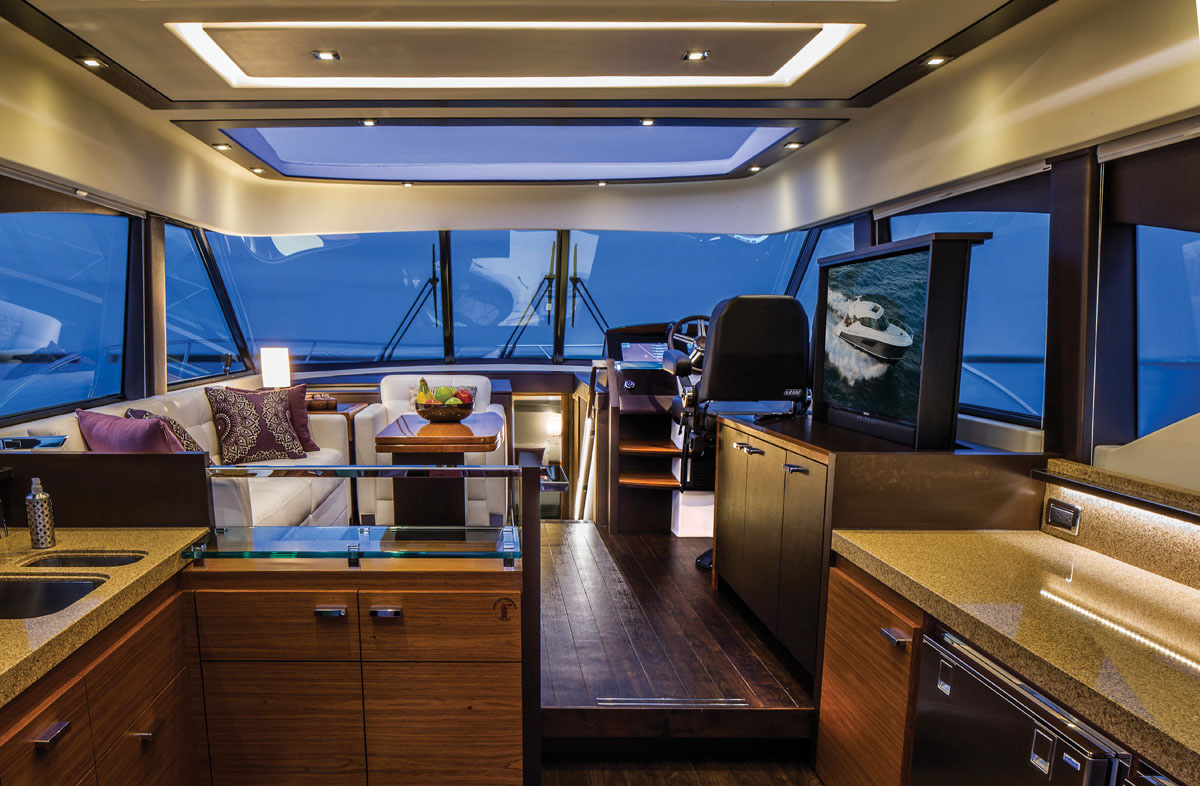 Tiara 50 Coupe
The all-new Tiara 50 Coupe is as close as you can get to having your own luxurious private island without incurring real estate taxes. Categorized as a Sport Yacht, it appeals to both seasoned boaters and those new to the sport due to its combination of technology, beautiful styling, performance and quality. The open interior flows smoothly from the spacious cockpit into the salon, through the galley and forward to the helm area and past huge windows admitting copious amounts of natural light. Down below are staterooms plus crew quarters. All this is set in a hull designed for maximum comfort and propelled to 35 knots by twin Volvo Penta D11 diesel engines linked to Volvo's proprietary IPS 950 pods and the incredibly-easy-to-operate joystick steering system. The Tiara 50 Coupe is the first U.S.-built yacht to feature Volvo Penta's "Glass Cockpit," which integrates navigation, engine and mechanical information displayed on touchscreens for instant access; TiaraYachts.com.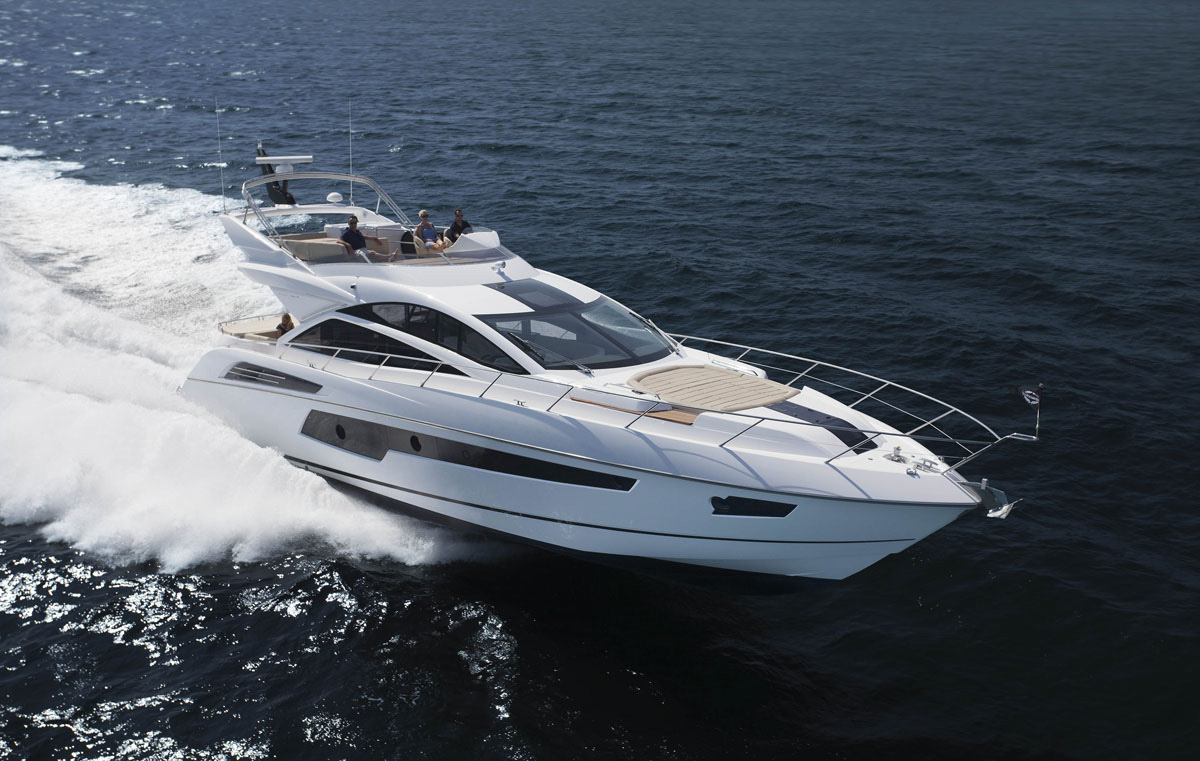 Sunseeker 68 Sport Yacht
Sunseeker Yachts look like they were created to star in James Bond movies, blasting across Caribbean seas while beautiful people lounge aboard, wallowing in comfort and style. The Sunseeker 68 Sport Yacht is no exception. Based on the stunning Predator series, the 68 Sport Yacht has the feel of a cougar waiting to romp after a gazelle with iconic, sleek exterior lines and signature windows that bring the well-appointed staterooms right up next to the water. The flybridge is laid out to accommodate guests in comfort with unrestricted views in all directions. Guests will enjoy the forward and aft sunpads by day before they settle into the luxurious salon after the sun sets. Additionally, the salon and galley feature the best in cutting-edge entertainment electronics and estate-quality appliances. All interior spaces are finished in fine woods and fabrics, with expansive windows for a clear view of the surrounding waters; Sunseeker.com.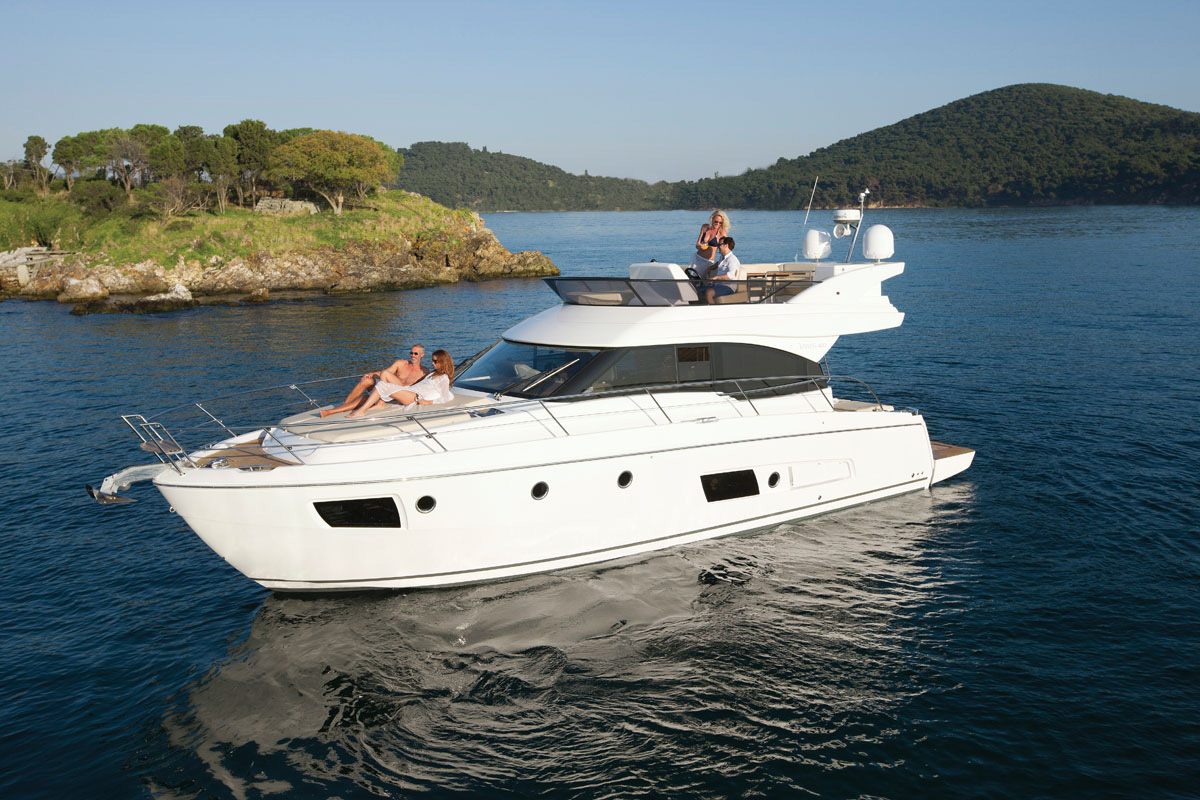 Bavaria Virtess 42
While the U.S. edition of the Bavaria Virtess 420 is new, the European version has been creating an excited stir abroad since it was named 2013's "Motor Boat Of The Year," "European Powerboat Of The Year" and was awarded the Nautical Design Award from the International Association For Industrial Design (ADI). The sleek flybridge design gives it the look of a superyacht, but in an easily managed size. Even those new to boating can confidently master this vessel, thanks to the flybridge that affords a full 360 degrees of visibility and the twin Volvo IPS 600 engines linked to a joystick that makes maneuvering the boat as easy as playing a video game. The accommodations are equally well-designed. From the swim platform to the sunpad forward, the Bavaria Virtess 420 is ideal for entertaining family and friends. The open-air cockpit provides a fair-weather gathering point, while the spacious salon and 3 staterooms provide comfort for voyages ranging from overnight to several weeks; BMBNA.com.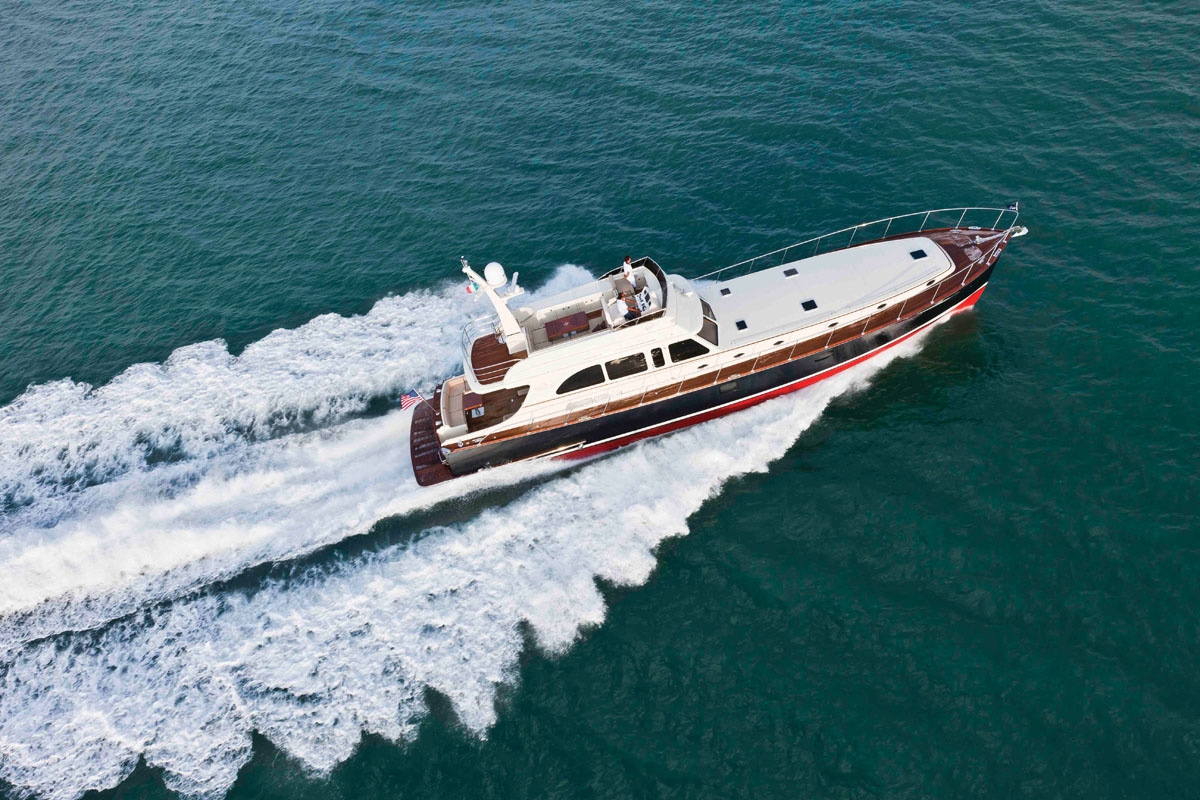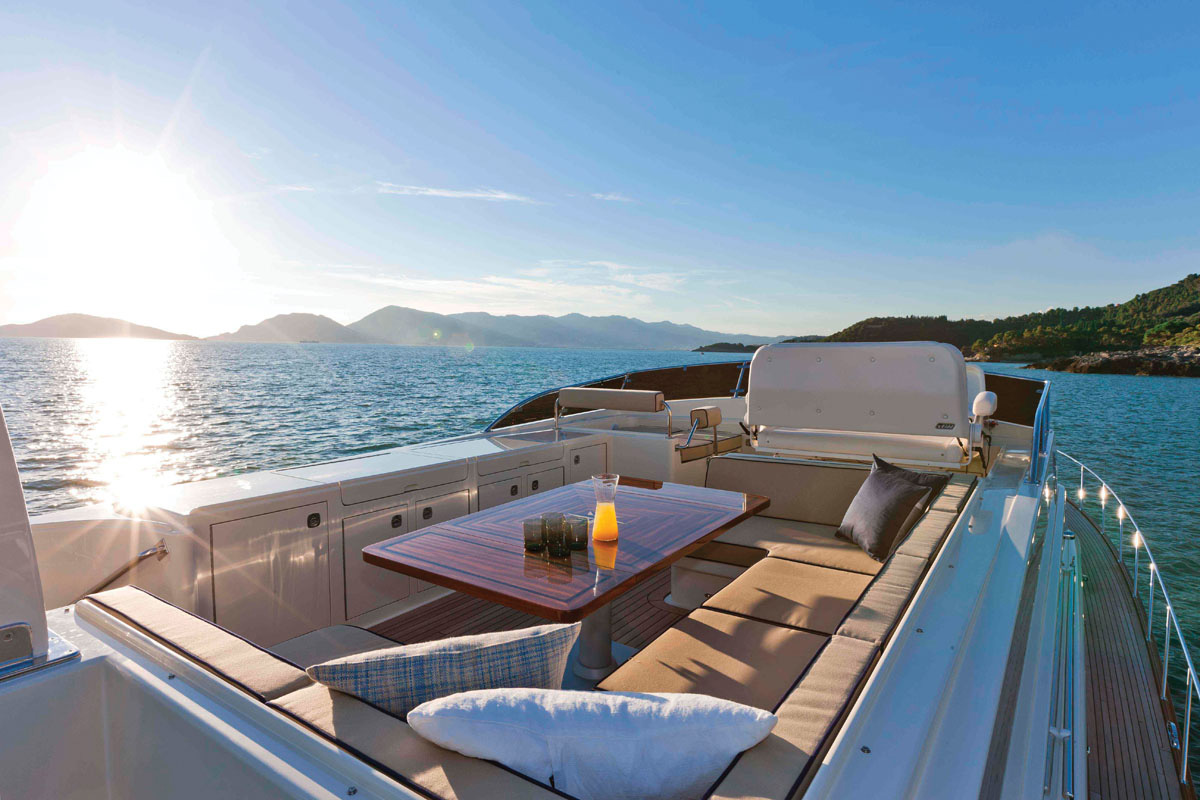 Vicem 80 Flybridge
The new Vicem 80 Flybridge is perfectly suited for boaters who are ready to move up to a superyacht, but who don't want to forgo the ease of handling and "family-friendly" virtues of smaller premium cruisers. The galley-down, 4-cabin layout (plus crew quarters) allows for a huge, sun-drenched salon that flows into the enclosed helm area. The exterior design combines elegant, classic motoryacht features with modern materials to deliver a yacht that's simply as beautiful to look at as it is incredibly well-engineered. This is a yacht that makes a powerful statement underway, effortlessly slicing through heavy seas or alongside the dock, serving as the setting for an elegant black-tie dinner. While the size, accommodations and level of luxury make it perfect for use as a liveaboard or for extended voyages, this vessel is also a great choice for casual day cruising; VicemYacht.com.