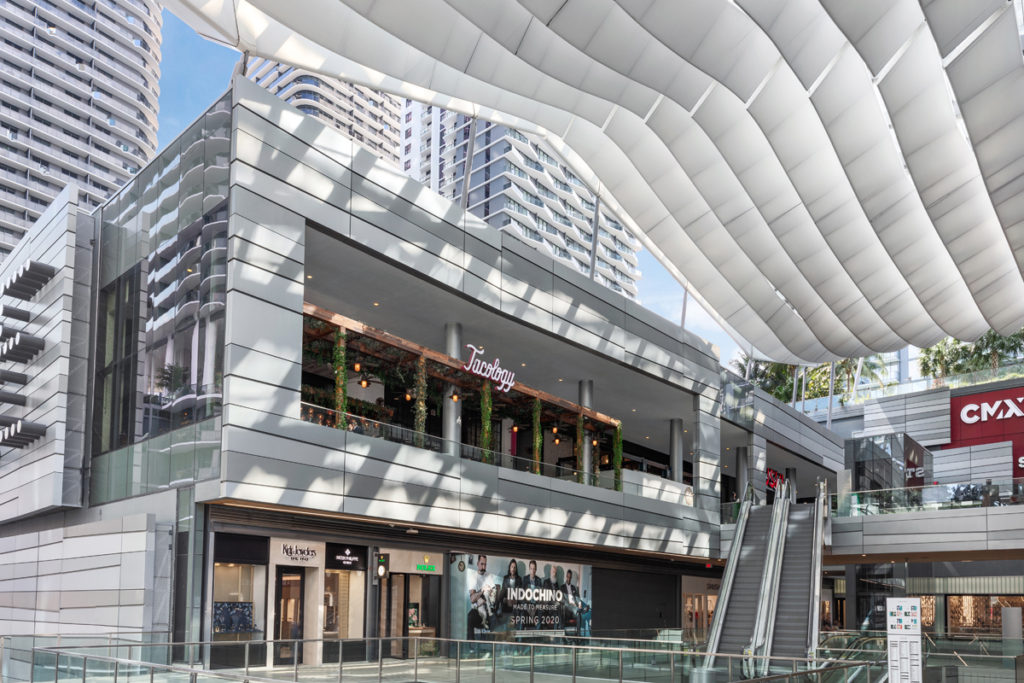 Brickell City Centre is not a retail center in the traditional sense. It was built to blend into the Brickell environment, creating a porous and seamless transition from the surrounding neighborhood. It's the model for the future of a mixed-use building: one that takes the greater context of the community to mind, with a dedication to sustainable building and being flexible to the multiple uses it can offer its community. All the pieces of the development are designed to complement each other and drive home that live-work-play lifestyle — from the office towers to the hotel to the residences and, of course, the shopping center. "Shoppers want more from their retail centers than a place to purchase products, even more so after the pandemic has furthered the ease of online shopping," says David Martin, VP of Leasing. "Our newest tenants — Marabú, Indochino, Est.33, Los Chinos and Lucid Motors — speak to the experience, connection and tech-savviness that will define the future of retail. Guests at BCC will now have even more options to re-connect over new, diverse types of dining, experience the future of car-shopping through virtual reality headsets, and visit us afterhours for speakeasy-style cocktails."
On the dining front, Marabú pays homage to Cuba's coal-fired cuisine and Chef Alberto Cabrera's heritage. The mouthwatering menu offers a wide array of meat platters, grilled to perfection on an open charcoal grill, as well as rice, vegetables and Havana-inspired cocktails. Designed with a central bar and outdoor pergola, the restaurant draws inspiration from cities such as Camagüey and Viñales in the Cuban countryside. Making its U.S. debut, EST.33 serves up a diverse menu inspired by traditional Southeast Asian flavors fused with traditional Americana BBQ, along with some very excellent craft beer. What makes the beer even more special is that it will be brewed in-house by a Singha Brewmaster, making this the one-and-only place of its kind in the country. Singha Beer was the first beer to be brewed in Thailand and was established in 1933. Over at Los Chinos, the team behind Grove Bay Hospitality Group has combined the former Big Easy Wine Bar & Grill and American Harvest spaces and transformed them into this fine fusion Latin and Chinese restaurant with its multiple dining and socializing spaces, including a high-energy restaurant, a glamorous afterhours speakeasy, expansive outdoor patio spaces and multiple sophisticated cocktail bars.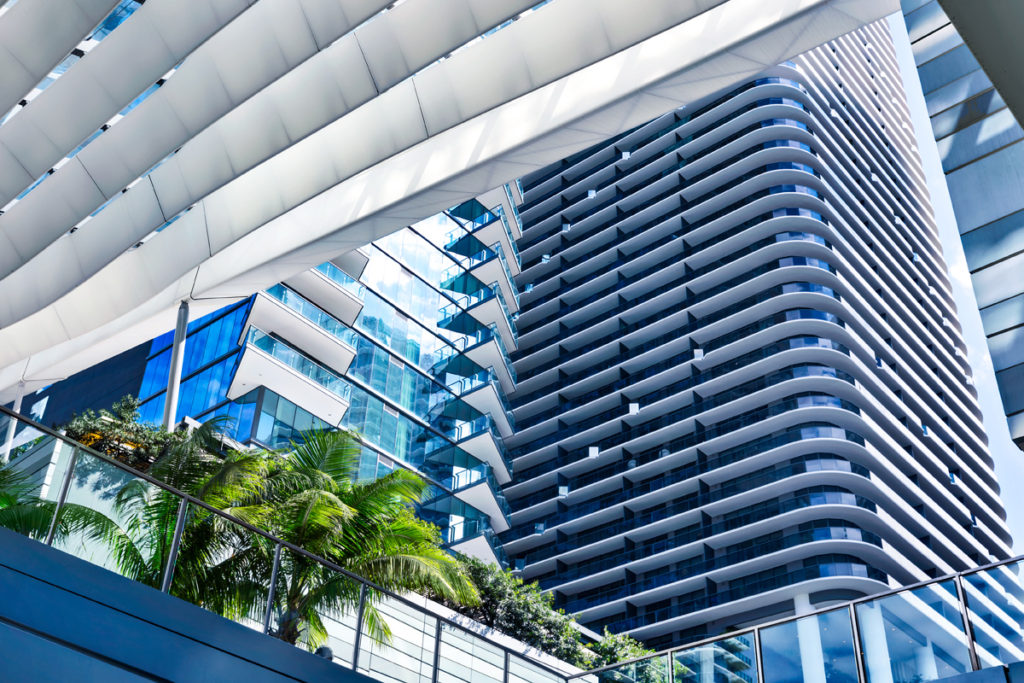 On the fashion side, the haute menswear brand Indochino takes the premium made-to-measure experience directly to the consumer by creating superior alternatives to off-the-rack suits, outerwear, shirts and more at ready-to-wear prices.
As if all this weren't enough, coming Holiday 2020, electric car maker Lucid Motors will unveil the East Coast's first Lucid Studio, which will feature the company's first car, the Lucid Air, a state-of-the-art electric luxury sedan set to start production in late 2020. The Air will be a class leader, capable of over 400 miles range and 0-60 mph in under 2.5 seconds. At the Lucid Studio at BCC, shoppers will be able to experience the car first-hand and even review the car's various features and options before ordering by entering an interior model of the vehicle, putting on VR headsets, and being completely immersed in the famous Lucid Motors experience. "Each of these brands provide a unique offering that isn't already found here," says Martin. "They all bring their own individual flair, perfectly complementing the already diverse tenant mix and continuing to reinforce that when you come to BCC for one thing in mind, you stay to discover all of the things you didn't know you needed."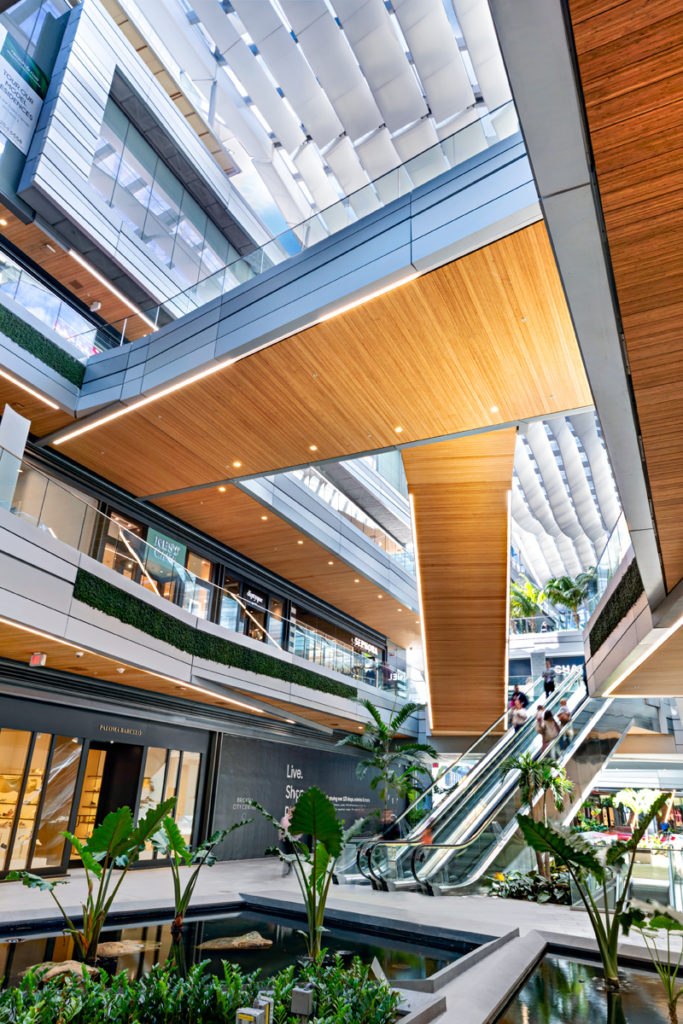 Brickell City Centre was the first major development in the City of Miami to receive approval for a Special Area Plan ("SAP"). The SAP enhances urban living by emphasizing pedestrian interaction, mass transit connectivity and public space improvements. Swire Properties was awarded the Urban Land Institute's prestigious 2017 Vision Awards "Project Of The Year" and was a finalist for the ULI Global Awards For Excellence. They recently received global, regional and local recognition for their sustainable development work, and were listed in two major global sustainability indices: Dow Jones Sustainability World Index (DJSI World) and Global Real Estate Sustainability Benchmark (GRESB). "We were really excited to learn that BCC was ranked the 5th most-Ubered destination in all of Miami, and Top 10 in Florida," says Christa Dabkowski, VP of Marketing. "We were also named one of the world's most beautifully designed malls by Architectural Digest."
Brickell is no longer solely a financial hub, it has transformed into a destination for both locals and tourists alike thanks to its vibrant nightlife, trendy new bars, restaurants and cultural institutions. "Our vision for Brickell is to make it a rich, interconnected neighborhood," she says. "That's why Swire donated to fund The Underline, the proposed 10-mile linear park that aims to transform the underutilized land below Miami's Metrorail."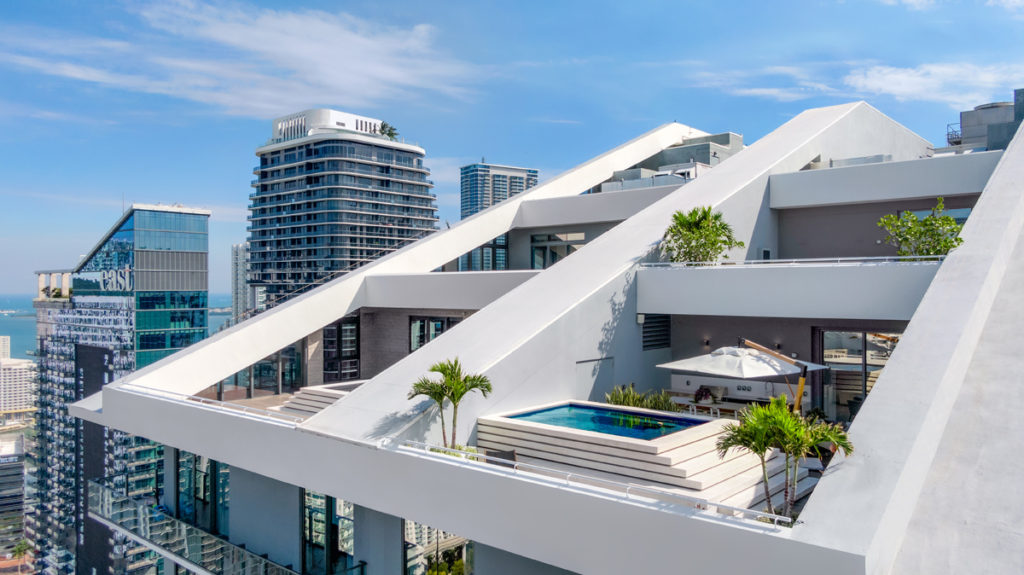 They also have exciting plans for the next phase of BCC, which is currently in the design phases. As part of Phase 2, Swire will be adding new residential, retail and entertainment as well as additional parking, a ground-level plaza, and enhancements around the South Miami Avenue Bridge. "BCC continues to evolve, and we're thrilled to bring in new concepts that we feel our guests will enjoy," says Martin. Beyond shopping, dining and entertainment, Brickell City Centre creates ongoing programming, covering everything from fashion and beauty to wellness, fitness and philanthropy. There's always something new to discover.
Want to visit and never leave? Living at BCC is also an option. Perhaps you need a staycation or a place where your family and friends can stay while visiting — there's a hotel for that. Need new office space that provides direct access to a community that offers everything? There are office towers, too. Brickell City Centre is truly a city within a city.
Swire Properties is located at 98 SE 7th St.; 3 Brickell City Centre, Ste. 500 in Brickell. For more information, call 305.371.3877 or visit BrickellCityCentre.com.