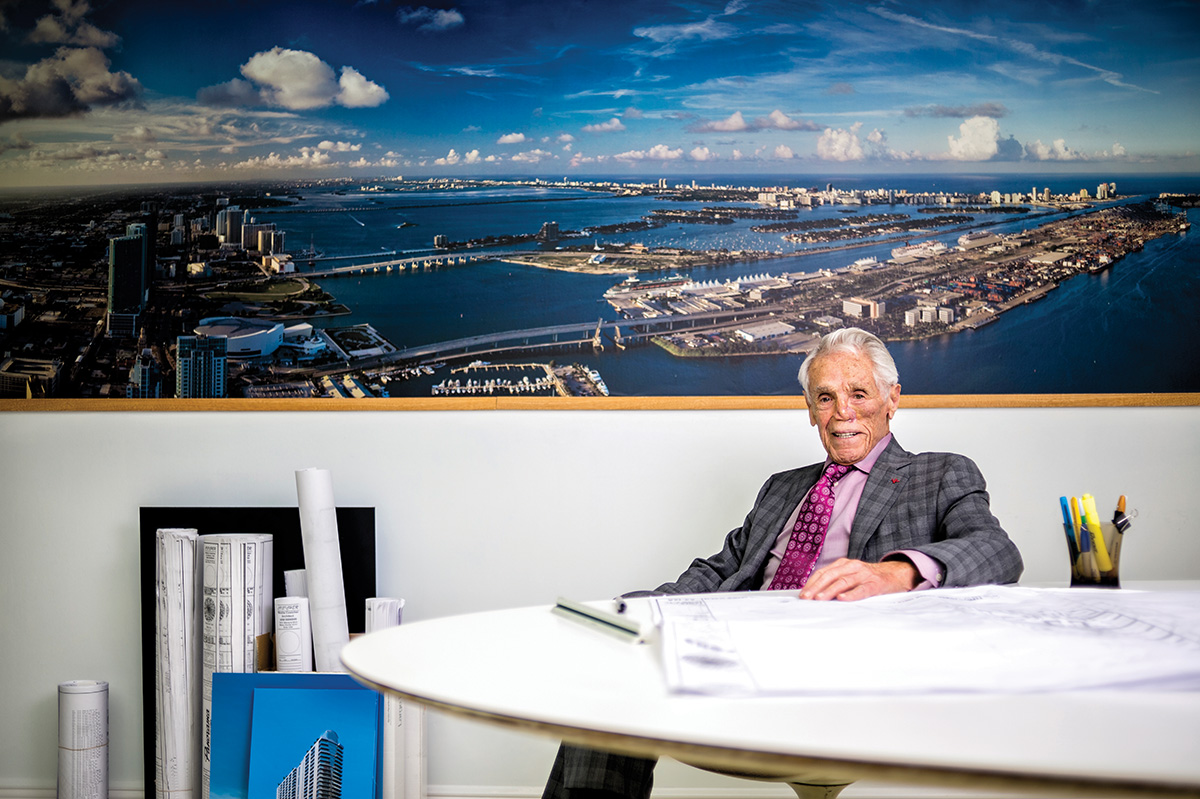 No one can deny that Tibor Hollo has seen his fair share of ups and downs throughout his life. Born in Hungary in 1927, he grew up in France after his father, who was an attorney, was transferred there. Once Germany invaded Poland and ignited WWII, the Hollo family was arrested and sent to a concentration camp during The Holocaust. Once U.S. soldiers liberated him and his father 3 years later, Hollo made his way back to France at the age of 17 and earned a degree in architecture before saving up some cash and heading straight to NYC with big dreams. "I was very jaded with Europe back then, so I made up my mind that I'd start my career in America," he says.
When he arrived, he worked a couple of odd jobs before landing a gig with a general contractor in New York. It wasn't long before he found his niche — waterfront properties. "Nobody wanted to build on the water up there, even though there were plenty of opportunities," he says. Hollo had found his calling. He gathered everything he owned, left his job and started his own firm. "I was willing to put in the work, complete everything on time, and offer very competitive prices with great results — my business took off fast," he says. It grew so quickly, in fact, that by 1956, his company was ranked as one of the Top 10 largest contractors in the U.S. by Fortune. "I was very lucky," he says.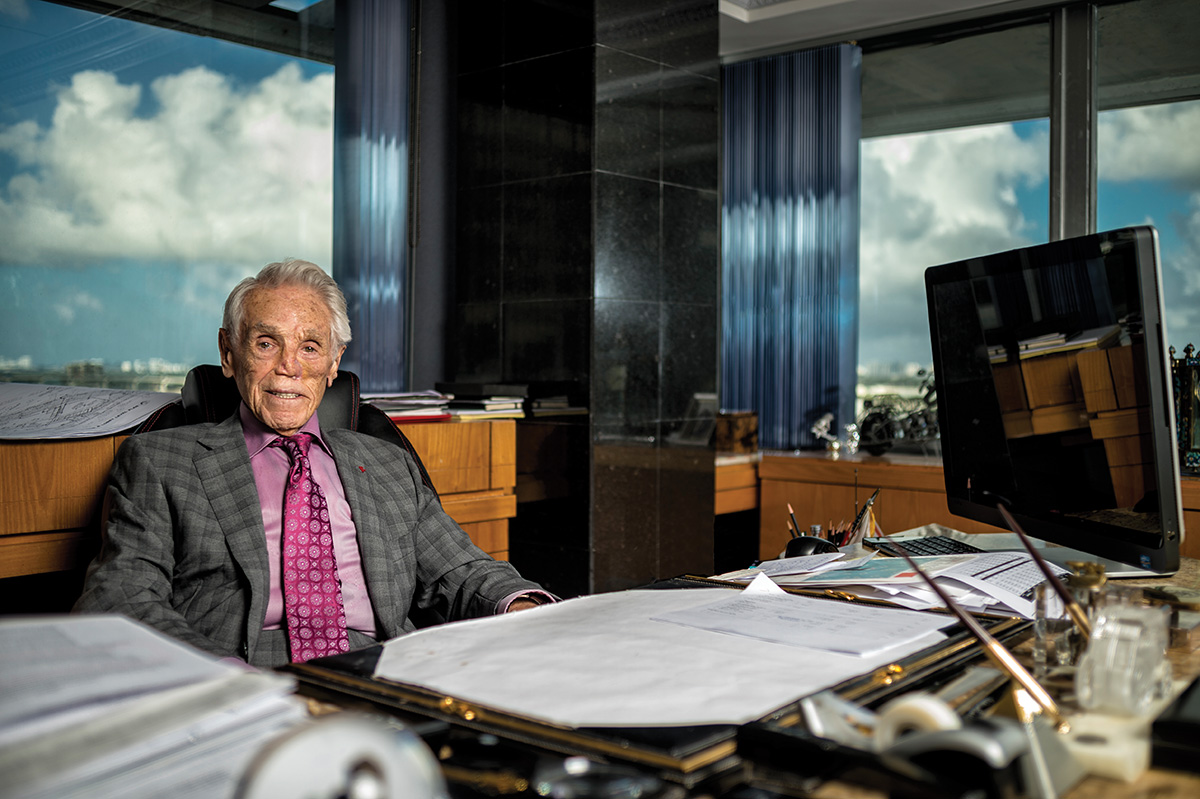 His new role had him traveling the world to work on a diverse portfolio of projects. "I've completed everything from a hydroelectric plant in Kenya to an airport installation, a tour of Greenland and a 150-mile railroad project in Venezuela," he says. But his successes aside, there came a point when he'd had enough. "I was burnt out," he shares, mentioning that his frequent trips around the world often had him dealing with cancelled flights, unexpected surprises and cockroach-infested hotels at every turn. "The final straw came when I was in Nairobi and had to contact a client in Hong Kong. I had to trek for 8 hours through the jungle to get to the closest post office so I could send a message halfway across the world…and then once their response came back, I had to go through the whole ordeal again." One thing the experience taught him was to delegate. "I learned my lesson — from that day on, I made sure to have a courier on staff."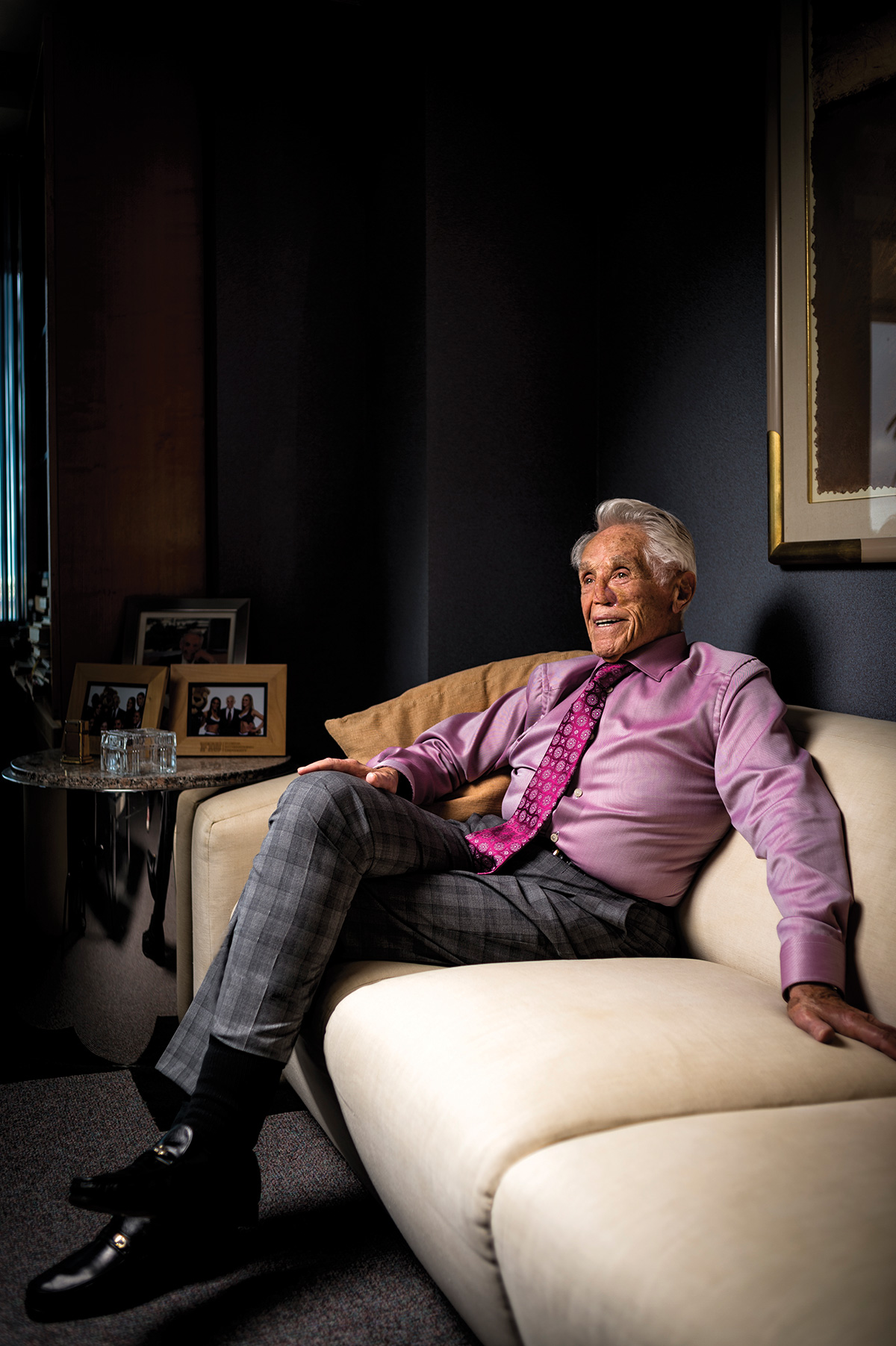 So it came that Hollo, just shy of his 30th birthday, decided it was time to give up his first company and start from scratch at the tip of The Sunshine State, after having visited Florida to work on a project in Cape Canaveral. "I really wanted to pick my own venues, I didn't want to have to travel anymore, I wanted to work on my terms," he says of his decision to become a bonafide developer. "I wanted it so badly that I actually gave my first company away for free so I could pursue my true passion."
The Magic City turned out to be the perfect place for Hollo to set up shop. An avid swimmer and watersport enthusiast, Miami served as the perfect backdrop for him to start building his empire. "The other city I had considered was San Francisco," he muses, "but on a visit there, I jumped into the water and everyone sunning themselves on the shore looked at me like I was crazy — it was so cold! When I came out, I was a little blue…but it helped me make up my mind to come to Miami."
So began the story of Florida East Coast Realty. At the time, there was nothing from Biscayne Blvd. to Biscayne Bay, so Hollo saw it as a prime opportunity to build something. "I saw a piece of land at the end of 135th St. off Biscayne Blvd. that jutted into the bay like a peninsula," he says. "I knew if I developed a building there, both sides would be waterfront and you could fish from the bay." And so in 1957 he developed a modest apartment mid-rise there, the first of many developments to come. "About 25 years ago, I was at the movies with my wife when a gentleman approached me with a big smile on his face," he says. "I had no idea who he was, but he informed me that he'd bought his very first apartment from me — a 2-bedroom condo on the bay that he'd paid $6,950 for. As it turned out, he had just sold it for $250,000. He hugged me and said: 'Thank you so much Mr. Hollo, because of you I can retire!"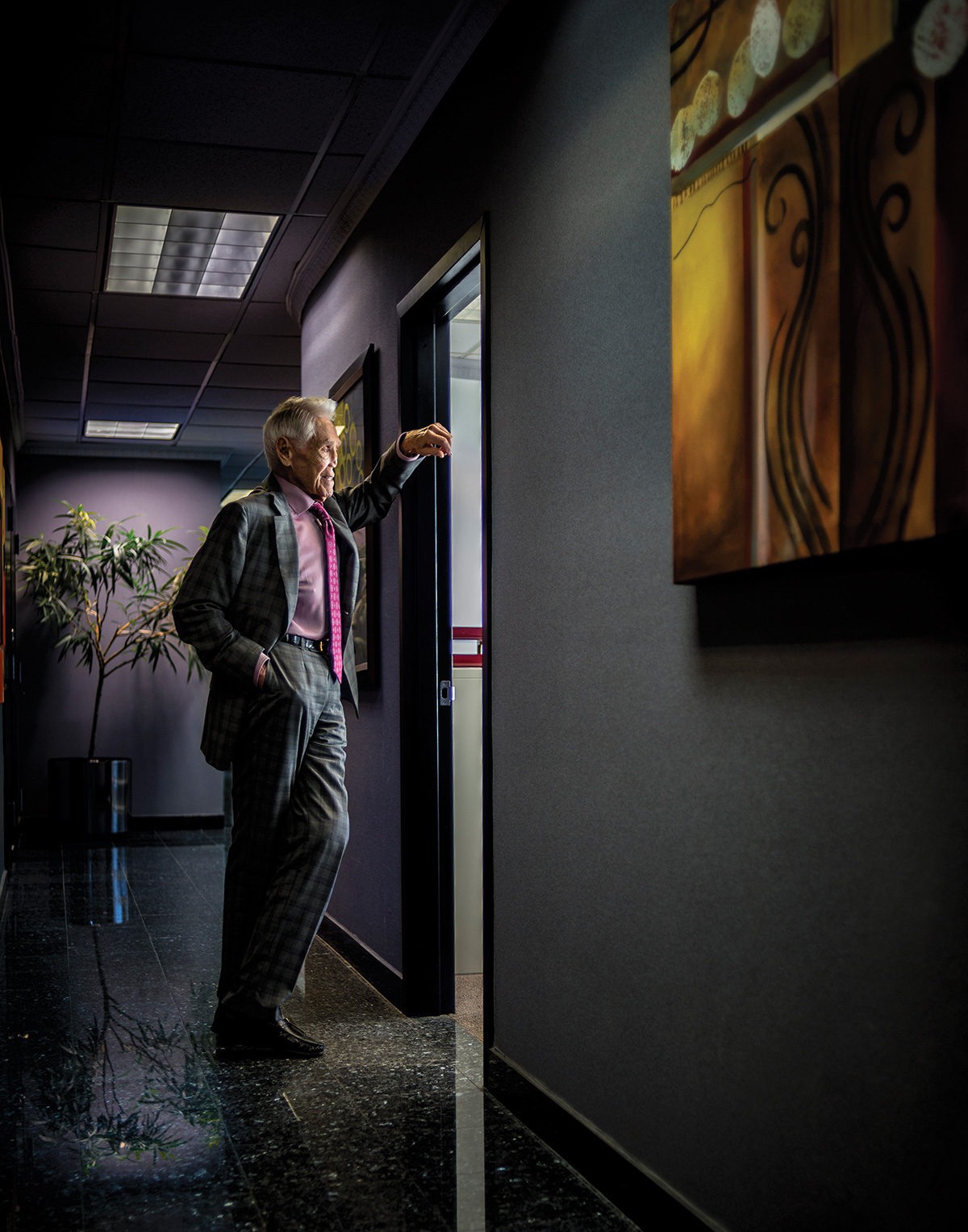 A few short years later in the early '60s, Hollo took his company to new heights with a project that was equally impacting, but in a different way — it was a 300-unit, 22-story residential building that had the distinction of being the tallest in Miami at the time. Then, in 1969 he built the first hi-rise office building in Brickell, Rivergate Plaza, before forging new ground in 1975 by developing the Omni area, a move that served as the catalyst for the rapid transformation of the lackluster district into one of the city's most important centers for commerce and recreation. More recently, he built the first new hi-rise apartment building of the millennium, Bay Parc Plaza, which opened in January 2000 and was fully occupied in record time. "I've always tried to focus on building one project at a time in order to really dedicate the time it takes to curate every last detail," he says. "No matter how big your organization, you lose the ability to do that if you build too much too soon."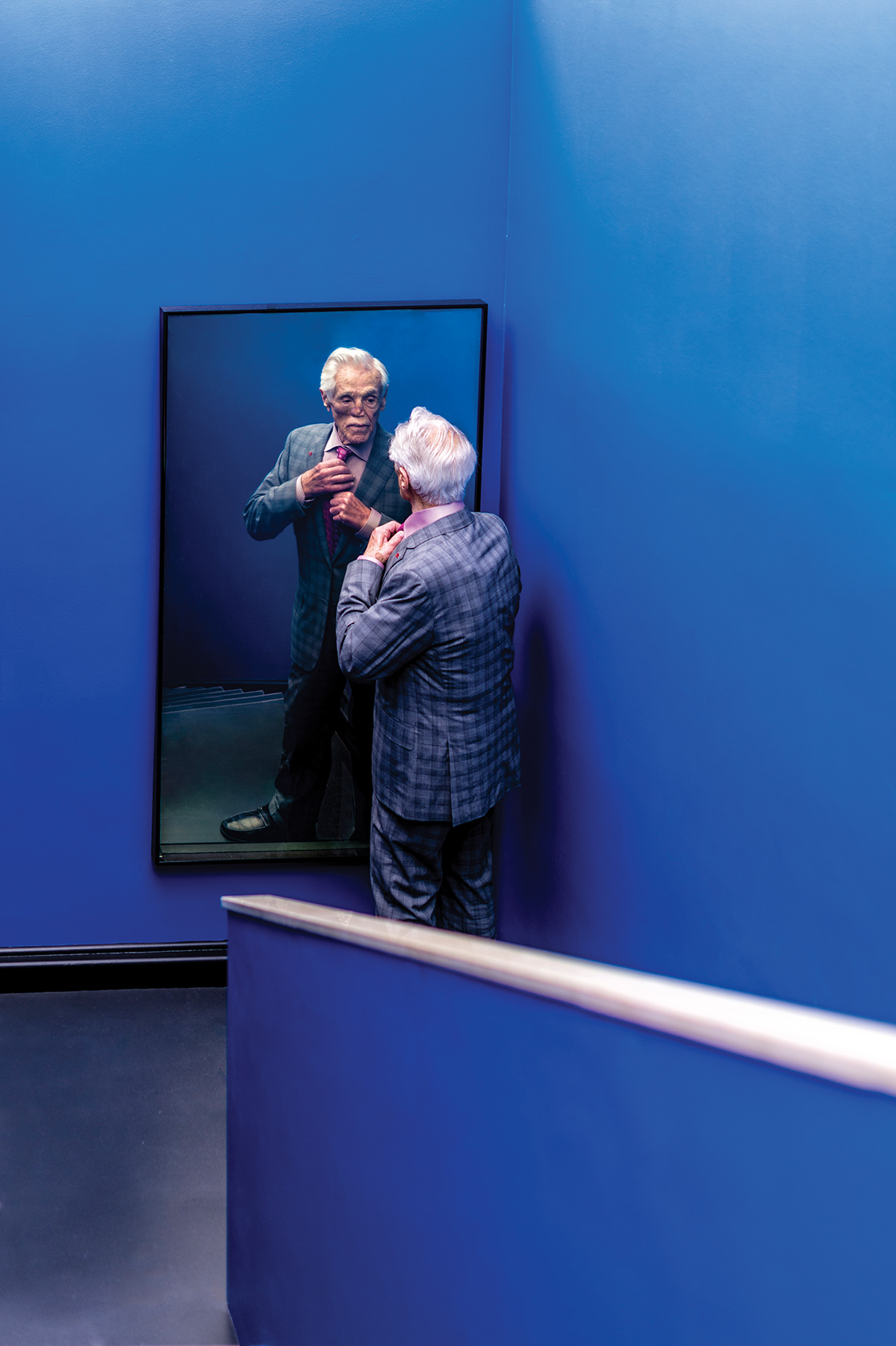 When asked what he's most proud of, he doesn't flinch. "The Grand is by far my most successful project to date because it provided a unique lifestyle to its residents that was way ahead of its time when I built it in the mid-'80s," he says. "It was aesthetically beautiful, had tons of retail space and top-notch amenities that were unheard of back then — I believe it's still the best residential option in the area…anyone who's lived there will attest to it."
Looking toward the future, Hollo's eyes gleam when he shares his vision for Panorama Tower, a luxury rental property that's expected to be a major game-changer in the real estate market, just as The Grand was so long ago. "People have changed since I started developing over half a century ago," he says. "The secret to luring residents today is to make buildings addictive." And that's exactly what he's doing with Panorama. The 83-story, 821-unit residential juggernaut is slated to be the tallest building in the entire State of Florida upon its completion. It will feature more than 50,000 feet of retail, over 2,000 parking spaces and a 2-acre recreation deck with 3 pools, 5 Jacuzzis, a playroom for kids, a 15,000-sq.-ft. gym, a full-service spa and a restaurant. "It will also have a Cyber Room for coffeeshop-style collaborations, an on-site kennel for pets, a marble community dining room available for residents to use for their dinner parties and a Muse Room for jam sessions, complete with audience seating," shares Hollo, mentioning just a few of the groundbreaking amenities planned for Panorama.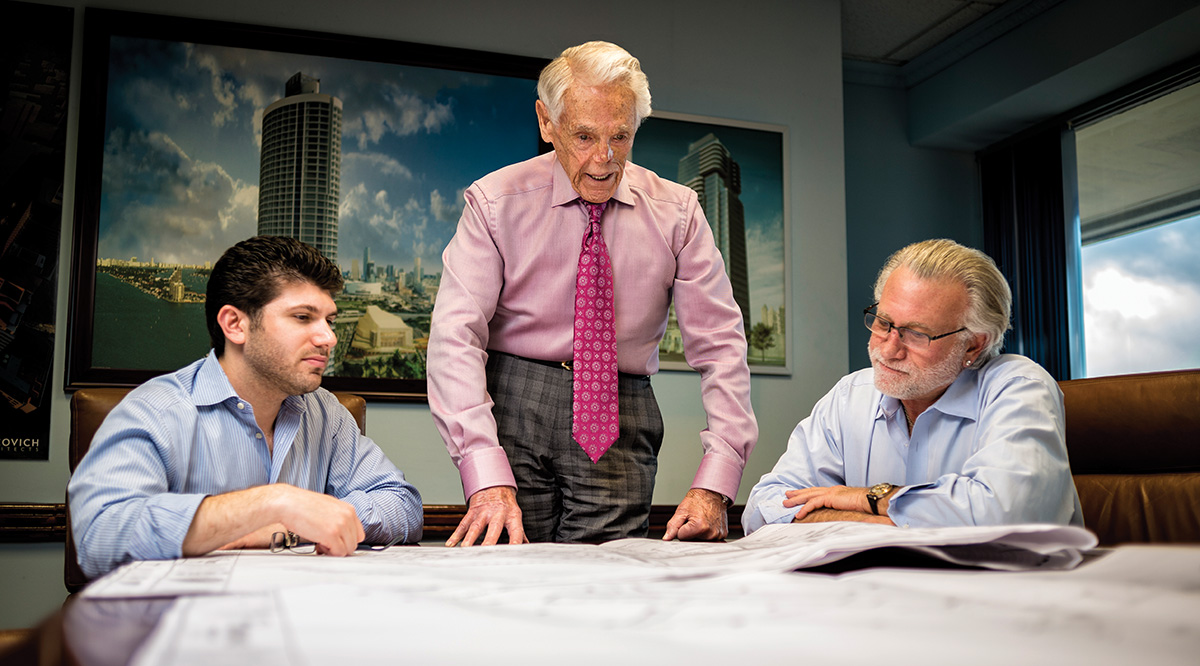 And even before Panorama welcomes its first wave of residents with open arms, plans are already underway for One Bayfront Plaza, which will be 200 feet taller and feature a mixed-use plan within 2 full city blocks that includes an upscale retail mall as well as an adjacent boutique hotel. To round out this latest wave of developments, Hollo says he will next set his sights on finalizing plans for Villa Magna, a pair of breathtaking 60-story towers on the last remaining piece of waterfront property in the Brickell corridor featuring sweeping views from Key Biscayne to Miami Beach.
Best of all, at 87 years old, Hollo says he has no plans of slowing down anytime soon. "What keeps me going is watching people enjoying what I've created for them," he says. "I had a dear friend tell me that if you enjoy what you're doing, it's not really work — so the way I see it, I haven't worked a day in my life!"