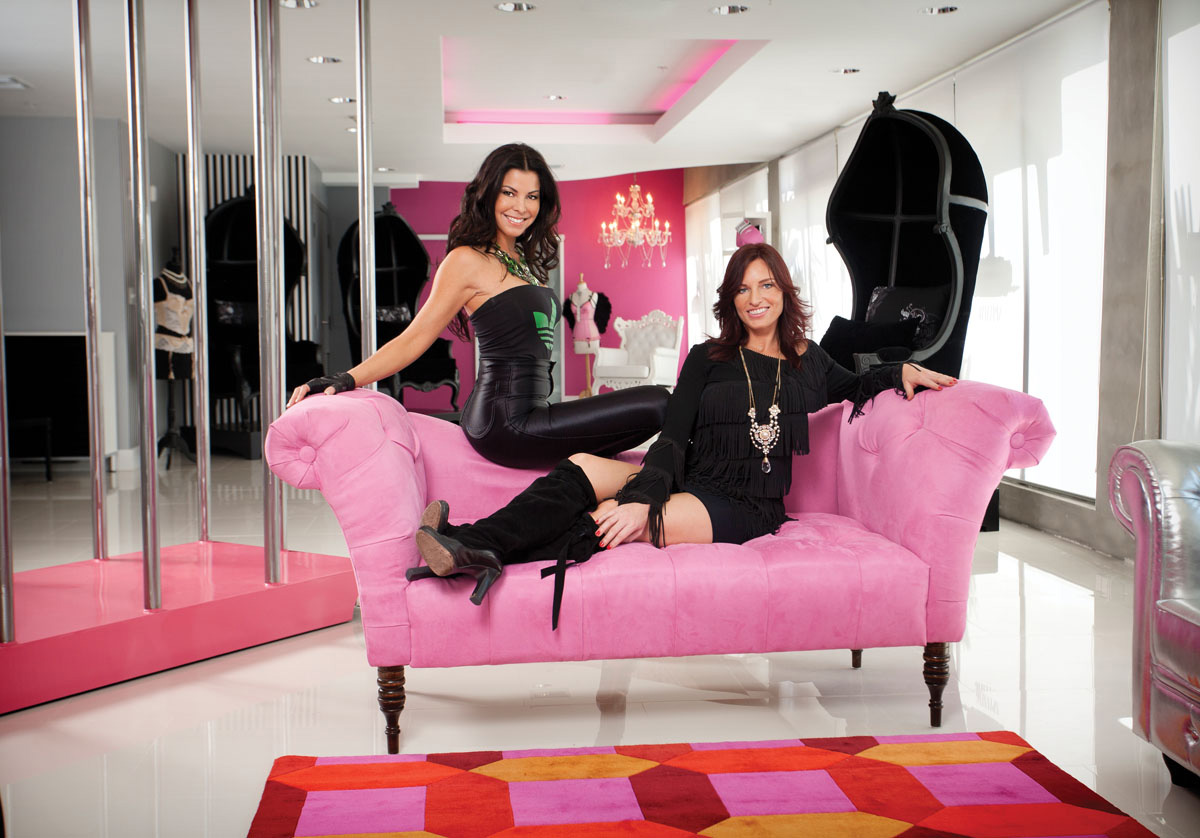 Suspended from a historic building and facing Biscayne Bay's horizon is the famous 1959 Coppertone Girl & Dog sign — a staple of all things Miami and a sort of lucky charm for Costa Rica-born Patti Alfaro and UK-born Jay Jiggins, who decided to open IronFlower Fitness in the area. "We wanted to be part of the neighborhood's organic growth and contribute something special to what we feel is currently a diamond in the rough," they say.
The ladies consider their business model to be a high-end social club for women. "We're the Victoria's Secret of fitness studios," says Alfaro. "Not only do we have the best fitness instructors in town, but we also offer daily access to a fabulous circle of women who lead, inspire and actively seek change on some level in their personal lives as well as the communities around them."
Upon entering the establishment, the décor you encounter includes crystal chandeliers, hot-pink accents, plush chaise lounges and black & white wallpaper. The place feels more like a boudoir than an athletic facility; and that's exactly the intention behind IronFlower Fitness.
Alfaro, a beautiful brunette with a TV and marketing background along with a lovely Kewpie doll face; and Jiggins, a gorgeously graceful redhead with peach-sprinkle freckles and an extensive background in dance and fitness have put a place together that's bedchamber-meets-Barbarella; a sort of VIP Mean Girls Club — minus the mean girls and with an extra dollop of cool.
Alfaro & Jiggins came together a couple of years ago with a grand scheme of an idea: To create a place with an ultra-girly ambiance where women could bond, all the while getting in the best shape possible. There's a codicil though: a "No Boys Allowed" policy. "Men have always played a role in IronFlower's conception…aside from that, the sexy fitness classes get our ladies in shape," says Jiggins. "But don't worry guys: As a gal's confidence improves, so do her relationships."
In addition to Zumba, Yoga, Boot Camp, Pilates, Ballet Barre Burn, Salsa, Spinning & Circuit options, you'll also find classes with creative monikers that include a few favorites: Pole Tricks, Exotic Pole & Floor and Stripperella. All of these classes are designed to get your inner sexy kitten purring as you work up a sweat. And that's just part of the fun.
IronFlower Fitness has devised a way to unite women by creating a pink & pretty cloister of a place that allows ladies to tap into their inner goddess while getting strong and all the more beautiful.
IronFlower Fitness is located at 7300 Biscayne Blvd. in Miami. To learn more, call 305.640.5270 or visit IronFlowerFitness.com.