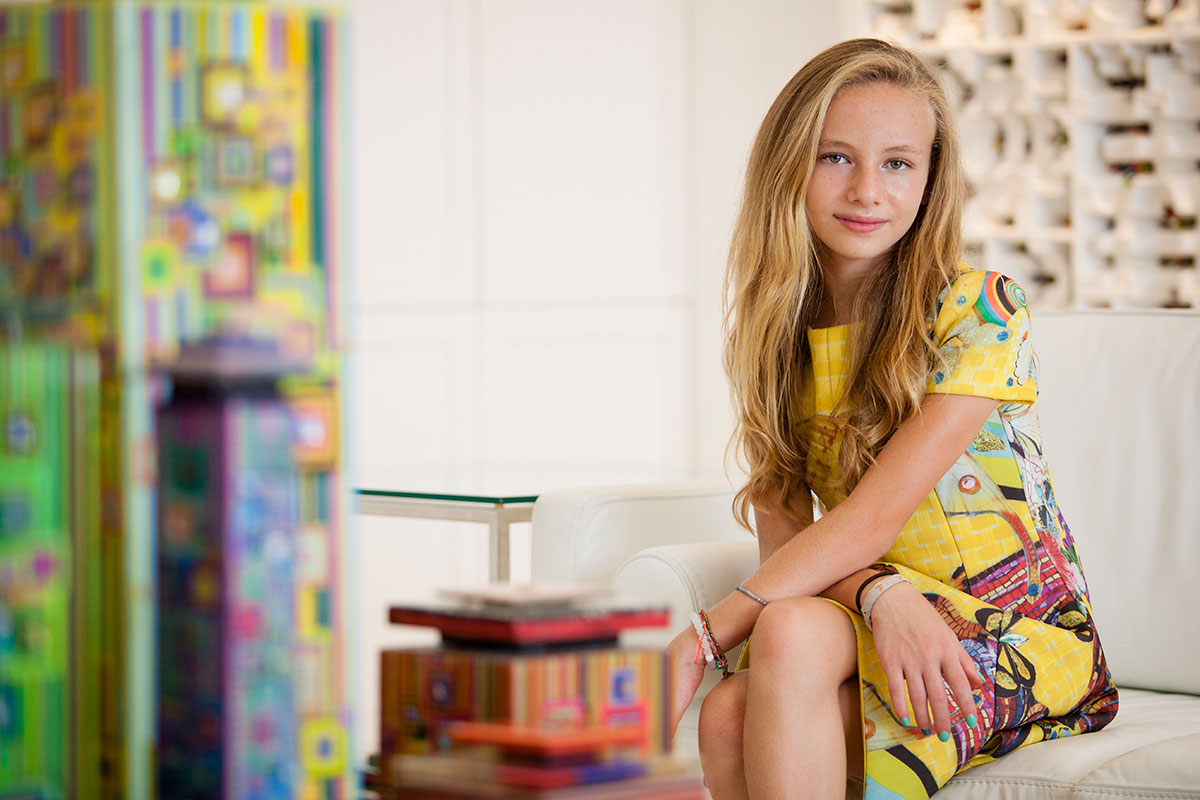 Take a moment to think back to what you were doing when you were 13 years old? Some of us may have been dreaming of becoming a fashion designer some day but spent most of our free time giggling with friends, braiding each other's hair and figuring out which science fair project would take home first prize. For Ariel Swedrow Weinberg, some of her free time is spent on the "normal" kid things like trips to the shopping mall or getting her nails done with her girlfriends; but the rest of the time, she's immersed in the creative process as she tends to her fashion and design line. Ariel started sewing when she was just 7 and her interest in textile design grew from her relationship with her grandfather, who works as an architect and loves to create vibrant art collages.
"The process starts with one of my grandfather's collages," she says. "I utilize the pattern of the collage and, along with my design, will sketch the silhouette and incorporate the textile, carefully noting the details in the textile so that it can be strategically placed in the garment." She closely assesses each intricate, multi-dimensional collage that her grandfather has created over the last decade — there are about 700 of them — and draws inspiration from the images she sees to create fun, colorful, elegant and unique garments. What's most captivating is her vision in creating these pieces that not only honors her grandfather's art but also showcases her eye for design and ability to translate these ideas into wearable pieces. "I've learned to take the challenge of creating the design I imagined into reality," she says, mentioning some techniques she uses to create her collections include digital printing, laser cutting and even LED lights. Another technique she uses: 3D printing. "This is exciting as I can have my collage garments come to life with greater intricate details," she says.
Currently, this sweet, personable, trailblazer plans to continue creating exciting and new collections that will make her more visible in the fashion world. She plans to continue sharing her industry knowledge in hopes of inspiring other youth to follow their dreams. As such, she teaches younger kids how to sew at Design Lab Miami where she too learned a bevy of her skills, and she supports Fresh Artists, an organization focused on keeping the arts in the public school system so that all kids have access to the arts; SwedroeByAriel.com.