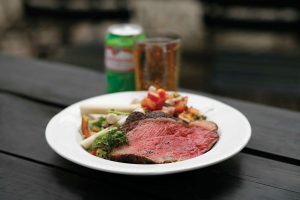 Benevolent Addiction
Somehow the Pão De Queijo appetizer at Steak Brasil has never been on America's Most Wanted, but that doesn't mean it isn't dangerous. Diners often inhale a dozen cheese buns with no recollection of their blackout binge. The slow food movement started because of meals like Feijoada; a black bean stew generously seasoned with boudin, bacon, sausage and smoked ribs accompanied by rice and collard greens. The star of their steak show is Picanha, a top sirloin cut covered by a layer of fat that caramelizes and melts into the meat as it cooks over an open flame. The struggle to stop eating gets serious when the dessert cart makes its rounds carrying Brigadiero Truffles or cocoa-infused caramels rolled in chocolate sprinkles; 190 SE 1st Ave., Downtown Miami; 305.415.2006; SteakBrasil.com.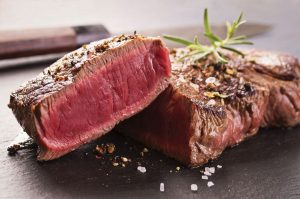 Vital Statistics
Chef-Partner Peter Vauthy denies being a geographer, but ask the origin of any ingredient on RED: The Steakhouse's menu and he'll provide you its hometown. Select the Grand Tasting including the extravagantly marbled Miyazaki Wagyu Steak and he'll deliver its birth certificate. The former commercial fisherman has such exacting requirements that only 1% of all beef earns a place in his kitchen. It then goes through weeks of aging before being considered grill-ready. Similar standards apply to every other dish from the Whipped Potatoes speckled with shaved black truffles to hand-picked Tempura Zucchini Blossoms filled with a fromage blend of fontina, parmesan, pecorino & ricotta. After indulging in a slice of Oreo-Cherry Cheesecake, try to remember what life pre-RED was like; 119 Washington Ave., Miami Beach; 305.534.3688; RedTheSteakHouse.com.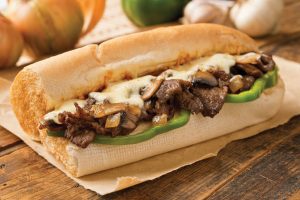 Perfectly Simple
The staff at A Little Bit Of Philly understands that hunger can cloud one's judgment, so their menu is just a single page. No frilly descriptions on card-stock paper here, just hand-tossed NY-style pizzas on the left and Philly-style cheesesteaks on the right. Sometimes wires get crossed and you'll order a Cheesesteak Stromboli or an Oven-Baked Grinder crowned with bubbly mozzarella and a healthy helping of basily marinara. Light fare includes airy garlic and olive oil brushed Party Puffs topped with parm. Beers run from free to $3 depending on the arbitrary special of the day that hopefully includes the house draft, Pat & Dave's Brew, a malty American amber ale that pairs with just about everything; 3940 Curtiss Pkwy., Miami Springs; 305.456.0481.