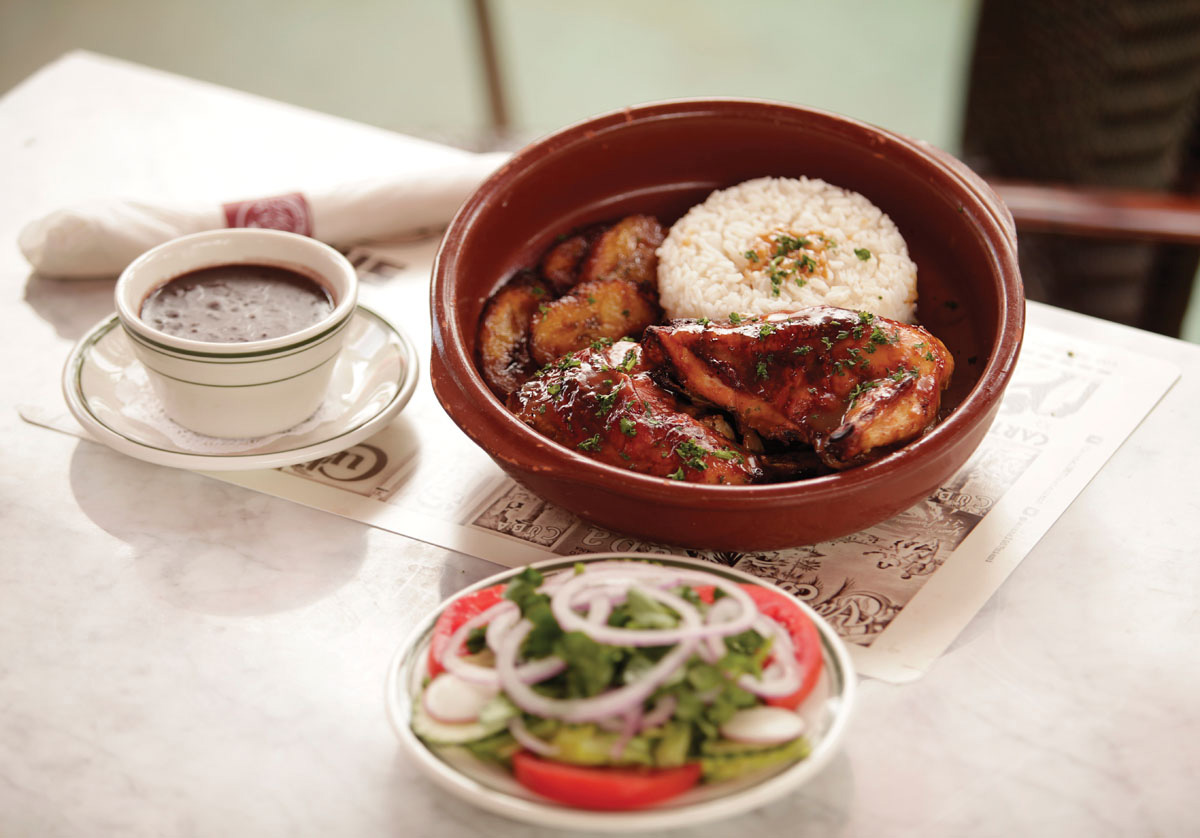 Signature Chicken @ Havana 1957
1451 S. Miami Ave.
305.381.6651
Havana1957.com
Why we picked it: Chicken is so common that few ever bother to take it beyond its familiar limits. Havana revived a pre-Castro recipe that calls for a 36-hour marinade, followed by slow roasting to accentuate the Cuban-style seasoning. One taste and you'll feel like chicken tonight and every night.
Open Bar @ Tu Candela
1200 Brickell Bay Dr.
305.300.1681
TuCandela.net
Why we picked it: The Japanese have an all-you-can-drink concept known as nomihōdai, and we're saying arigato to this bar for giving us a version of our own…with a fixed-rate regardless of how much you consume.
Skirt Steak Sandwich @ Thea Pizzeria
1951 NW 7th Ave.
305.777.3777
TheaPizzeria.com
Why we picked it: The perfect sandwich is greater than the sum of its parts and every part of Thea's steak sandwich is flawless. No matter what happens after lunch, it won't be as good as this marriage of sharp arugula, crunchy watercress, heirloom tomato and caramelized shallot steak on ciabatt.
Pão De Queijo @ Steak Brasil Churrascaría
190 SE 1st Ave.
305.415.2006
SteakBrasil.com
Why we picked it: Cheese and yucca flour are the parents of this chewy little appetizer from Brazil. There's as much quality as there is quantity to these hand-warming breads…and surprise, surprise…they're a complimentary starter.
El Macho @ Ceviche Piano
140 SE 1st Ave.
305.577.4414
CevichePiano.com
Why we picked it: Apparently the flaky sole fillet cooked in chili/lime/cilantro-based aji sauce isn't enough for some. This dish gets more extravagant with the addition of sautéed shrimp and spicy calamari that makes it one of the heartier seafood dishes in town.
Langoustines @ MC Kitchen
4141 NE 2nd Ave.
305.456.9948
MCKitchenMiami.com
Why we picked it: You won't be able to help but devour this uncomplicated canyon of shellfish featuring polenta creviced by garlic, basil, citrus zest and piquant pepper flavor. It's a dish you'll not only love, you'll want to enjoy over and over again. Love at first bite? Duh.
Papa A La Huancaína @ CVI.CHE 105
105 NE 3rd Ave.
305.577.3454
Ceviche105.com
Why we picked it: The cheesy (and slightly spicy) potato salad that predates the arrival of the Spanish in Peru is customarily served chilled with hard-boiled eggs and Alfonso olives cured in red wine. Explore it with every part of your palate.
Hotel California @ Burger & Beer Joint
900 S. Miami Ave.
305.523.2244
BNBJoint.com
Why we picked it: Served on a brioche bun, this 1/2 angus patty is topped with guacamole, grilled onions, jalapeño relish, cilantro sour cream and sharp cheddar…but the guys at B&B know that a fried egg on top makes everything better.
Live Music @ Blackbird Ordinary
729 SW 1st Ave.
305.671.3307
BlackbirdOrdinary.com
Why we picked it: Yeah, this one isn't quite something you can munch or sip on per se, but Blackbird has developed an extraordinary reputation for bringing bands back to Brickell. Afrobeta, Jacuzzi Boys G. Love and Special Sauce are just some of the acts that are revitalizing the local music scene, while the bartenders serve up the craft cocktails and beer.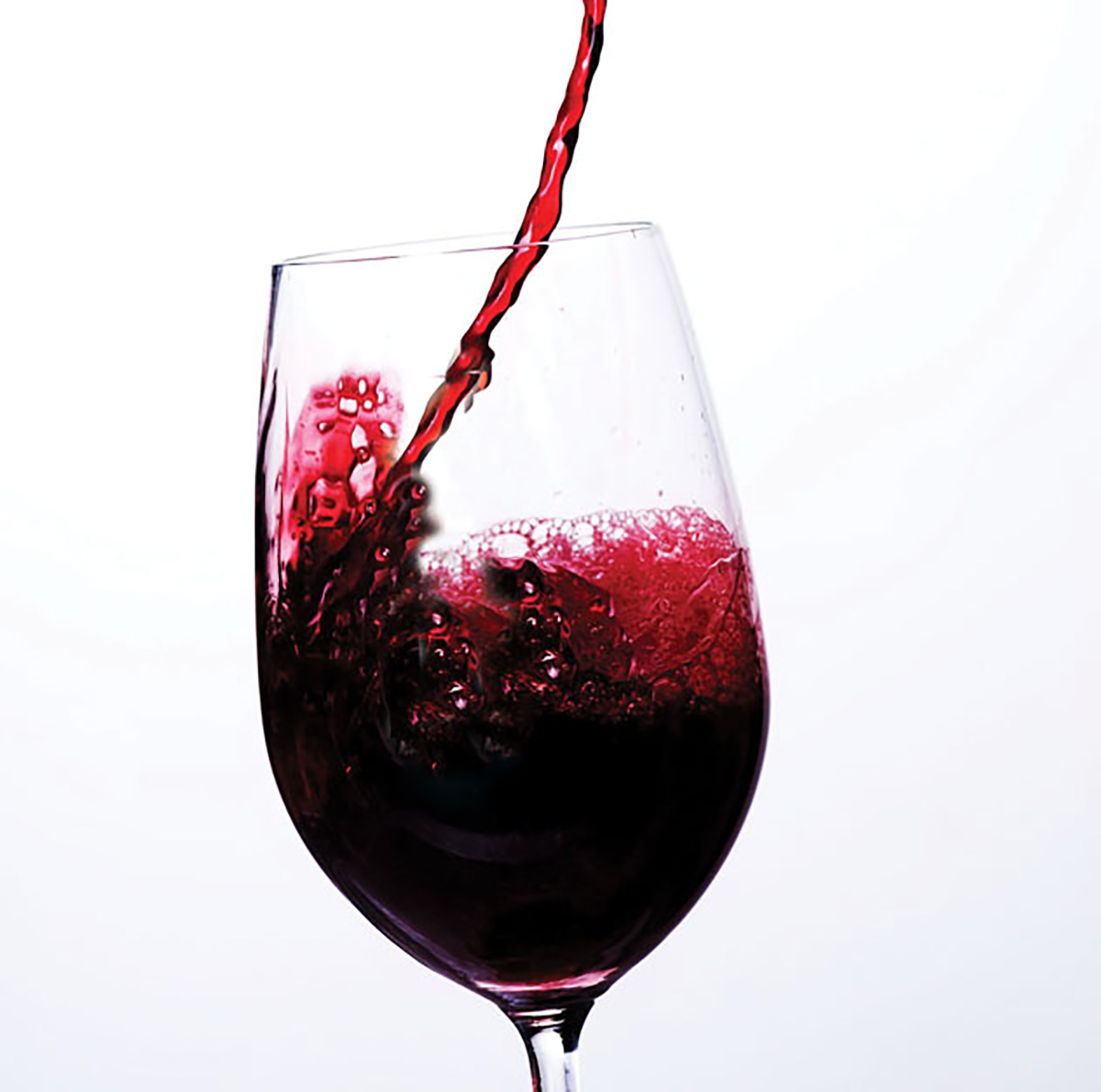 Wine List @ D'Oro Caffe & Market
17 NE 3rd Ave.
305.371.6300
DoroCaffe.com
Why we picked it: A gourmet market with more bottles of wine than a sommelier's bachelor party, who needs to shop anywhere else? Wine Spectator app begone, the staff have carefully selected a handful of the most popular varieties to match any pricepoint or meal pairing.
Carpaccio @ Segafredo Brickell
1421 S. Miami Ave.
305.577.9809
SZE-Brickell.com
Why we picked it: Arugula, grilled mushrooms, parmesan flakes, focaccia croutons, tangy artichoke-lime dressing and paper-thin slices of beef you could almost see through…if someone doesn't snatch it out of your hand first!
Barrel of El Vato's Private Stock @ El Vato
1010 S Miami Ave.
305.523.2393
ElVatoBar.com
Why we picked it: Nothing says you're ready to party quite like a mini-keg of tequila. Filled with small-batch blanco aged in Jack Daniel's American oak casks, this order will either be the beginning of a barrel of laughs or the best night you'll never remember.
Parrillada @ Novecento
1414 Brickell Ave.
305.403.0900
Novecento.com
Why we picked it: Wave off those waffles carnivores…brunch just got a lot better. This sizzling meat-with-a-side-of-meats platter includes grilled chicken breast, sweetbreads, two types of sausage, maybe a vegetable and steak for days.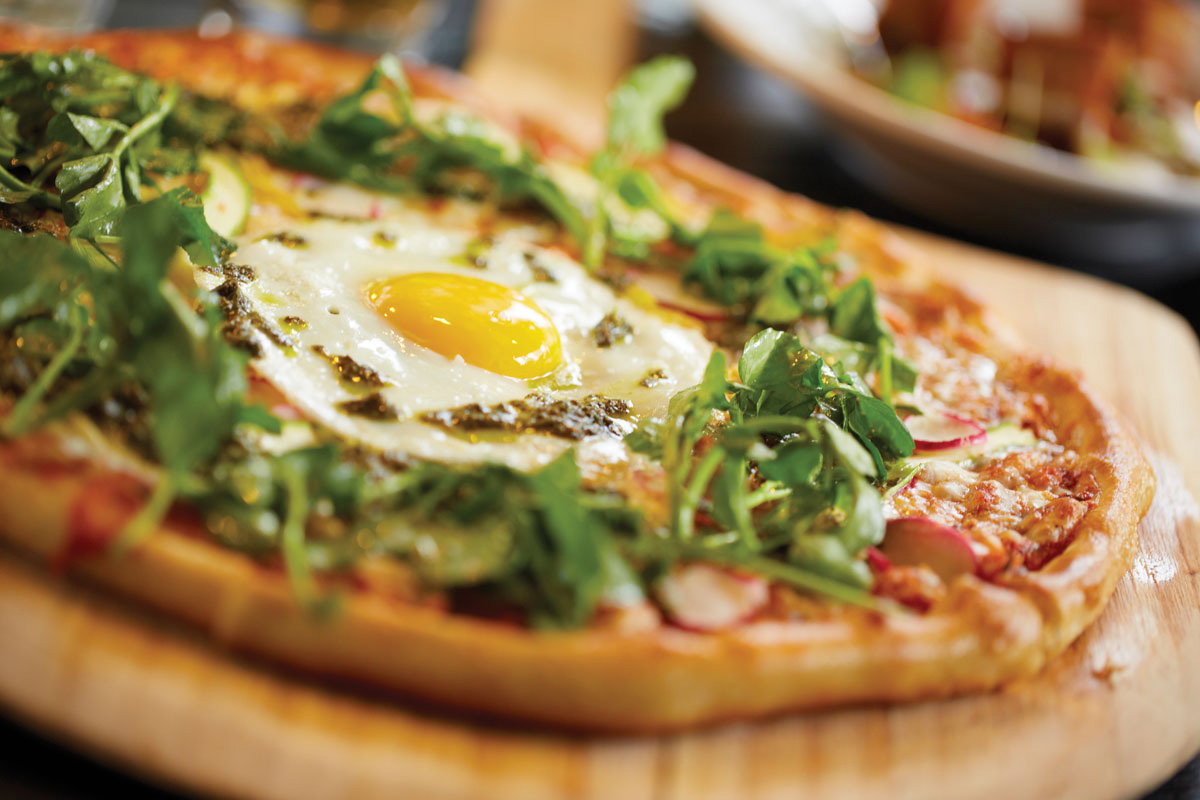 Farm Fresh Pizza @ Batch Gastropub
30 SW 12th St.
305.808.5555
BatchMiami.com
Why we picked it: Toppings like shaved parm, arugula pesto, sunny-side eggs and locally-sourced vegetables prove that Batch Gastropub pays as much attention to their brick-oven pies as they do their craft cocktails on tap.
Calle Ocho Roll @ NoVe Kitchen & Bar
1750 N. Bayshore Dr.
786.871.7727
NoveSushiMiami.com
Why we picked it: Featuring skirt steak, black beans, avocado and plantain rolled neatly together into delicious little bites, this roll represents everything that's right about the city. But don't worry, you wont have to mess it up with soy sauce, chimichurri is always served up on the side for dipping.
Toro Trio @ Toro Toro
100 Chopin Plaza
305.372.4710
ToroToroMiami.com
Why we picked it: Your hipster friends might think you're talking about filmmaker Guillermo Del Toro watching bull fighting with Benicio, but we're talking about the dining trinity that is Chef Richard Sandoval's pan-Latin menu.
Strawberry Fields @ Will Call
700 NE 2nd Ave.
305.577.5900
WillCallMiami.com
Why we picked it: Blending your Bacardi-based frozen strawberry-basil cocktail won't take too long, but we recommend you feed into your Beatle-mania with the jukebox, wearing round sunglasses and practicing your Scouse accent.
Game 7 Panini @ Tinta Y Café
268 SW 8th St.
305.285.0101
TintaYCafe.com
Why we picked it: This winning combination of chicken breast and mortadella is tossed in a skillet with remoulade then dressed with goat cheese, arugula and red onion before finally being flattened by a full-court panini press. It's a lunch any die-hard Heat fan would be proud to eat.
Provoleta @ LOL Resto Bar
801 Brickell Bay Dr.
786.615.8255
LOLRestoBar.com
Why we picked it: Argentina sees your flavorless American-style provolone and raises you a chili and oregano seasoned provoleta right off the grill. Go all-in by spreading it on bread, over sliced tomato, or on its own.
The Last Word @ Edge, Steak & Bar
1435 Brickell Ave.
305.381.3190
EdgeRestaurantMiami.com
Why we picked it: There's no debating with a melding of premium gin, herbal liqueur, cherry and a lime juice aperitif that you'll leave speechless after polishing off this drink.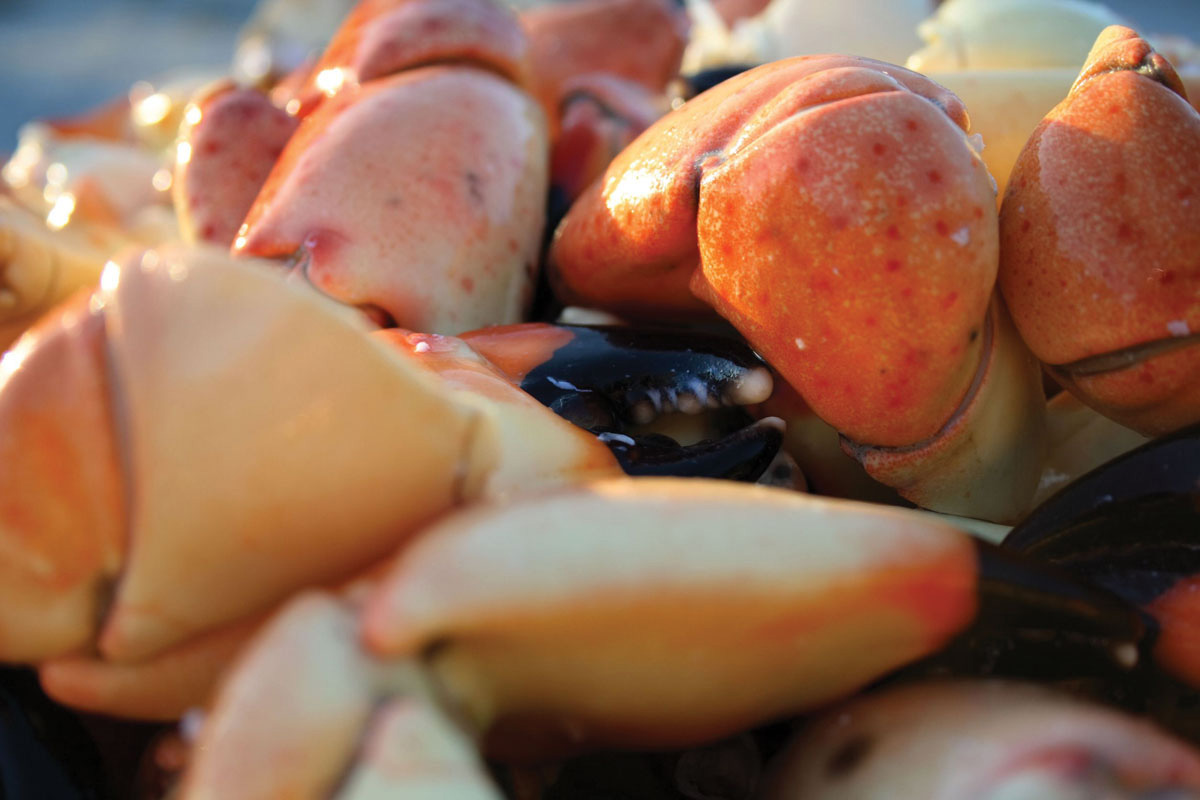 Stone Crabs @ Truluck's
777 Brickell Ave.
305.579.0035
Trulucks.com
Why we picked it: Cue Push It To The Limit from the Scarface soundtrack and get ready to battle with a limitless supply of sides and giant stone crab claws sure to satiate even the most ravenous of appetites. Spoiler alert: You'll quit before Truluck's does.
Fiocchi Gorgonzola @ Perricone's
15 SE 10th St.
305.374.9449
Perricones.com
Why we picked it: Pear alone or gorgonzola alone would be too cacophonous a filling for pasta, together they write a symphony. The crispness of the fruit and the creaminess of the cheese work (really) well with the walnut-Alfredo sauce.
Tequila Flight @ Rosa Mexicano
900 S. Miami Ave.
786.425.1001
RosaMexicano.com
Why we picked it: Starting the night with 3 shots of tequila is usually a bad idea but Rosa's collections of 60 varieties are designed to be tasted throughout the course of the meal.
Rare Bottle Releases @ OTC
1250 S. Miami Ave.
305.374.4612
OTC-Restaurants.com
Why we picked it: The Game Of Thrones-inspired Take The Black Stout by Brewery Ommegang, Gravity Brewlab's Uber-Tuscan Berliner Weisse and Cigar City's Marshal Zhukov's Imperial Stout have all had their local debuts at OTC.
Jalea Mixta @ Sabor A Perú
2923 Biscayne Blvd.
305.573.9637
SaborAPeru.net
Why we picked it: A fried seafood feast that includes lightly breaded fish, calamari, scallops and yucca topped with pickled onions and cancha (Peruvian corn-nuts). Bring a second stomach or a voluminous to-go container because this dish is the size of a science fair volcano and just as likely to make you burst.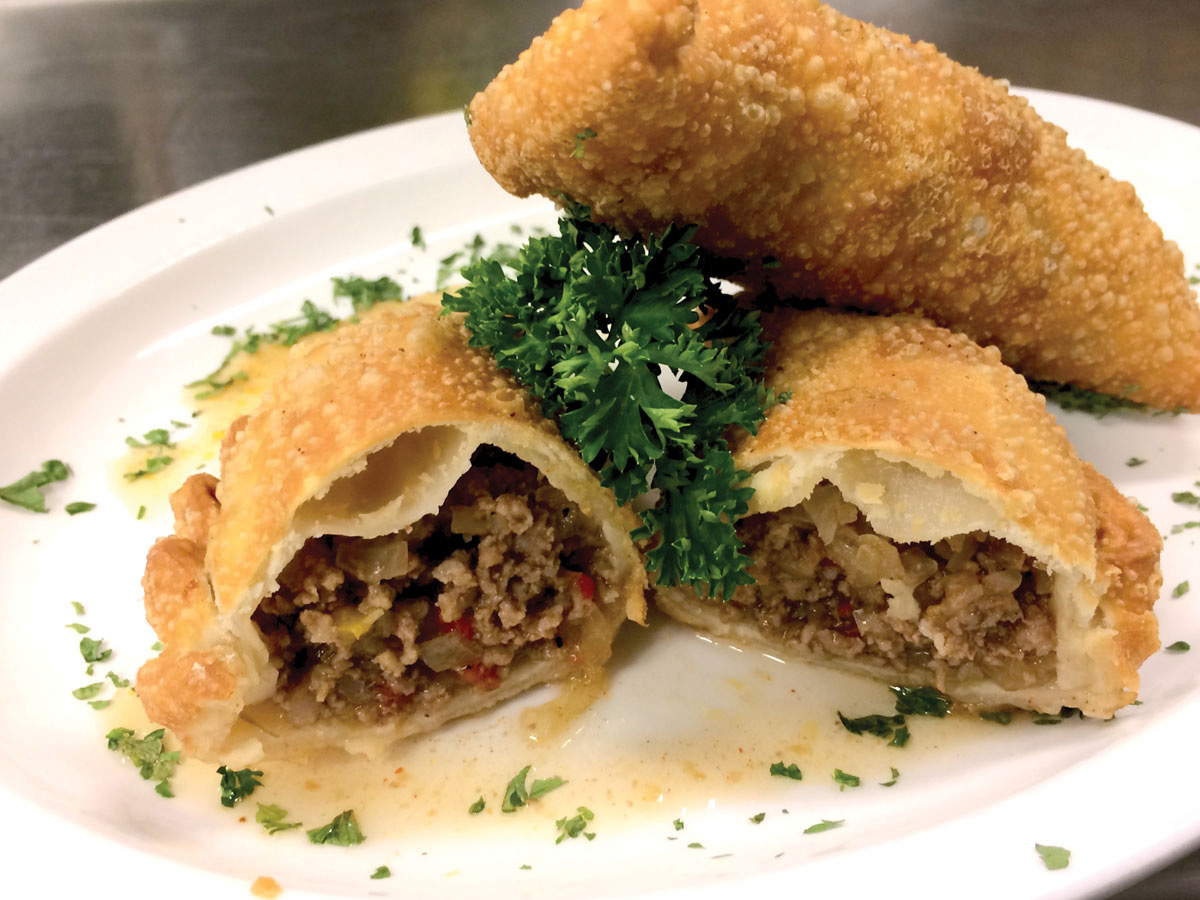 Empanadas @ Juana M. Brickell
923 Brickell Ave.
786.693.2725
JuanaMBrickell.com
Why we picked it: According to Greek mythology, Prince Paris had to choose the most beautiful among the goddesses and the results started the Trojan War. He had it easy compared to the choice you'll have to make between Juana's Beef, Ham & Cheese, and Cheese & Onion turnovers.
Pho @ Hy-Vong Vietnamese Cuisine
3458 SW 8th St.
305.446.3674
HyVong.com
Why we picked it: Pho-ggedabout having pho beef broth and rice noodle soup anywhere but Hy-Vong. Though usually a breakfast food in Vietnam, you can try herb, chili and lime condiments served on the side to customize your meal.
Macarons @ L'Entrencote de Paris
1053 SE 1st Ave.
305.755.9995
LentreoteDeParis.com.br
Why we picked it: If clouds were edible, you'd hope they'd come in 5 flavors like L'Entrecote's macarons. The 5-pack includes chocolate, coconut, key-lime, lemon and passion fruit flavors that dissipate almost instantly, leaving a sugary memory in its place.
Key Lime Pieshake @ Fireman Derek's
2600 N. Miami Ave.
786.449.2517
FiremanDereksPies.com
Why we picked it: When you arrive to this well-kept secret, be careful the first time you experience this creamy, slightly sour but mostly sweet milkshake that you can down at a frighteningly fast pace, because it's doubtful Fireman Derek responds to brain-freezes.
Tastings @ Wines By The Bay
888 Biscayne Blvd., Ste. 112
305.455.9791
WineBTB.com
Why we picked it: The busy calendar here appeals to everyone from novice explorers trying to make sense of it all, to seasoned veterans looking to expand collections. Wine bullies can practice sardonic laughter and vigorous swirling elsewhere.
B.L.F.G.T. @ Brother Jimmy's BBQ
900 S. Miami Ave.
786.360.3650
BrotherJimmys.com
Why we picked it: Life is complicated so why should you have to choose between a Fried Green Tomato Sandwich and a BLT when you can have both served between two pieces of toasted rustic bread.
3 Cheese Macaroni @ Biscayne Tavern
146 Biscayne Blvd
305.307.8300
BiscayneTavern.com
Why we picked it: An international blend of aged Wisconsin Cheddar, French Gruyere and Italian Fontina topped with an All-American bacon-breadcrumb crust will make you say yum in 3 different languages.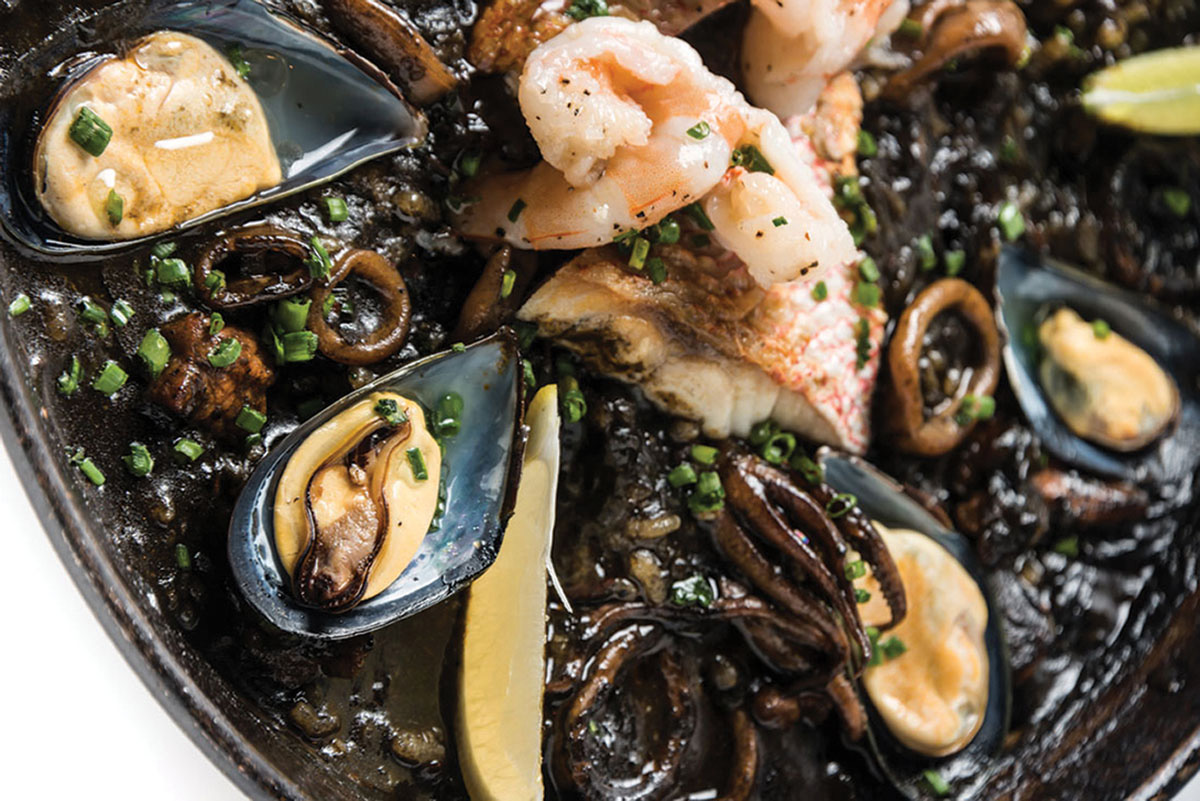 Black Paella @ Perfecto Miami
1450 Brickell Ave.
305.372.0620
PerfectoMiami.com
Why we picked it: Purple is the color of royalty and you won't know what you've done to deserve Perfecto's most regal dish colored with the light flavor of squid ink. The rice is cooked in a Spanish pan with…heck, every delicious thing in the sea.
Fried Pickles @ Sparky's Roadside BBQ
204 NE 1st St.
305.377.2877
SparkysRoadsideBarbecue.com
Why we picked it: This side dish is like a chatty group of pickles took a vacation and spent it rolling around on a cornmeal-sand beach and frying in the sun. Take them for a cool dip in a pool of Sparky's spiced ranch before you chomp away.
S'mores @ Gyu-Kaku
34 SW 13th St.
305.400.8915
Gyu-Kaku.com
Why we picked it: Enjoy all the country comforts of camping with this tasty do-it-yourself dessert that includes graham crackers, milk chocolate and marshmallows to roast over an open flame with a few pals.
Croquetas @ Crazy About You
1155 Brickell Bay Dr.
305.377.4442
CrazyAboutYouRestaurant.com
Why we picked it: Using jamón serrano in potato croquettes may seem like overkill, until the first bite is resting peacefully on your palate. One order may not be enough, so consider getting seconds, we won't judge.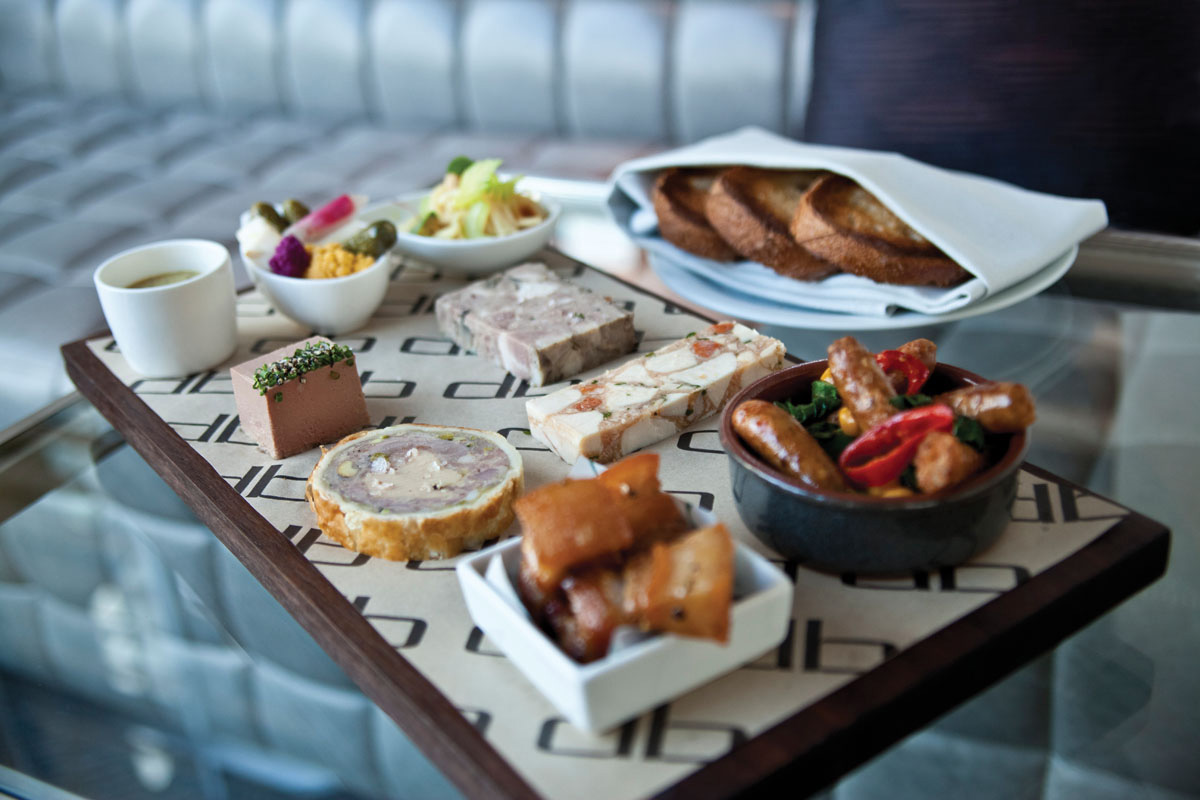 Charcuterie @ DB Bistro Moderne
255 Biscayne Blvd. Way
305.421.8800
DBBistro.com/Miami
Why we picked it: Any of the patés, terrines or galantines can stand on their own at DB but when plated together alongside brioche toast, stone-ground dijon mustard and bitter orange-fig marmalade…you'll be floored.
Escargots Bourguignonne @ Oceanaire
900 S. Miami Ave., Ste. 111
305.372.8862
TheOceanaire.com
Why we picked it: Just when you thought escargot couldn't get any better, Executive Chef Kareem Anguin tops oven-baked snails with flaky puff pastries that perfectly soak up the burgundy butter they're resting in, placing a permanent smile on your face.
West-Side Espresso @ Panther Coffee
2390 NW 2nd Ave.
305.677.3952
PantherCoffee.com
Why we picked it: Because pouring 40 oz. malt liquor on the floor for your homies is a slipping hazard, represent the West Coast safely with this velvety blend of responsibly sourced, locally blended and roasted coffee.
Acai Bowl @ Ten Fruits
143 NE 3rd Ave.
305.373.7678
TenFruitsMiami.com
Why we picked it: Move over oatmeal, your sexy Brazilian cousin just arrived for breakfast. This antioxidant-rich blend of Amazonian berries, banana and granola is an exotic — and nutritious — way to start your day.
Plantain Roll @ Aijó
1331 Brickell Bay Dr.
786.452.1637
AijoRestaurant.com
Why we picked it: Miami is fanatical about Lebron, traffic-free Fridays and extravagant sushi. Aijó's got you covered on one front with their Little Havana-style fusion roll with salmon, avocado, cream cheese, masago and tempura corn flakes rolled in slivers of sweet plantains.
Bottomless Craft Drafts @ The Democratic Republic Of Beer
501 NE 1st Ave., Ste. 103
305.372.4565
DRBMiami.com
Why we picked it: Not since Harold & Kumar went to Guantanamo Bay has a bottomless party been so entertaining. Every Friday, your choice of select brews on tap is available for a one-time fee of $20 all night long.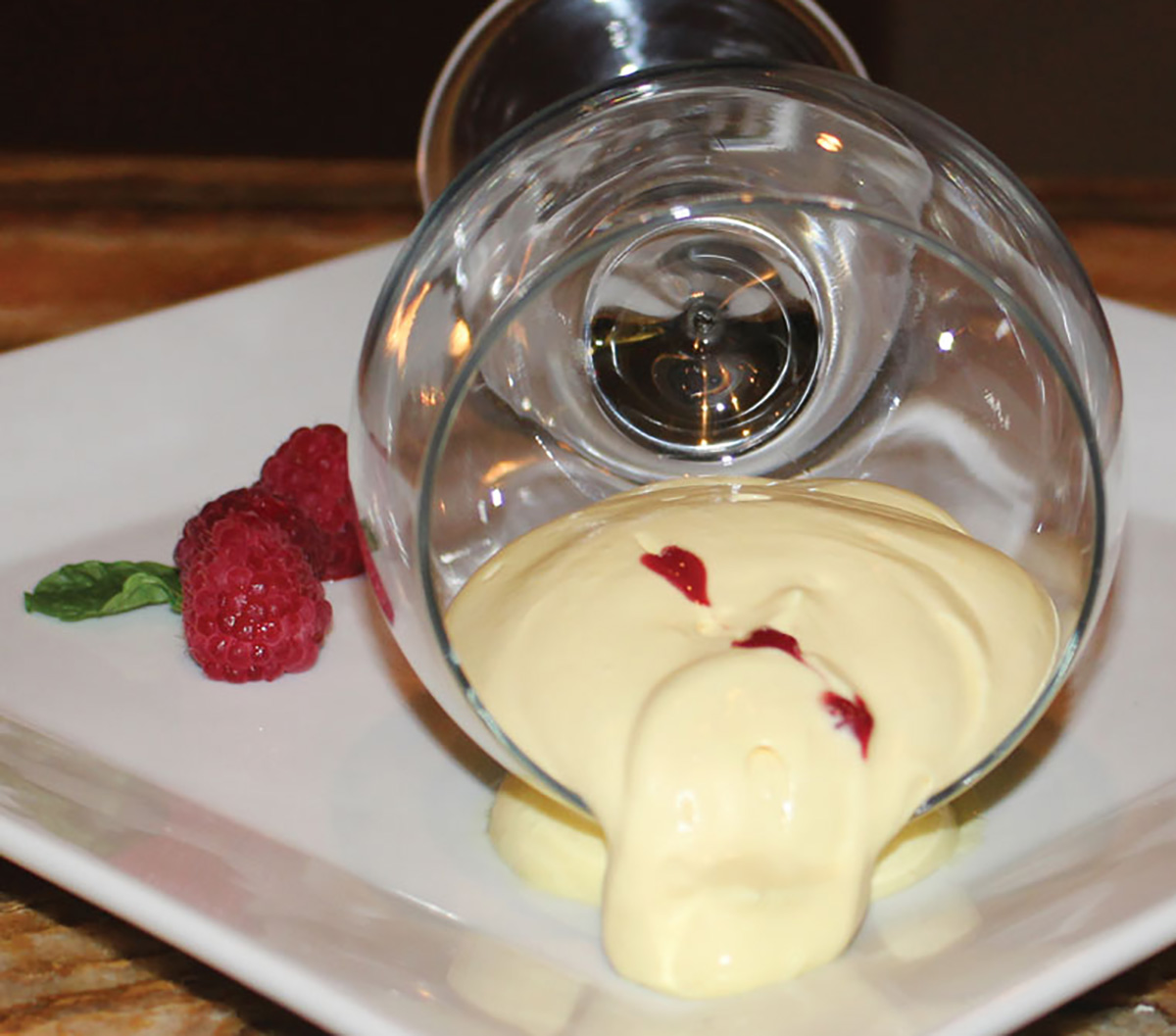 Passion Fruit Mousse @ Brasileiro
801 Brickell Bay Dr.
786.502.3829
BrasileiroMiami.com
Why we picked it: The tartness of the passion fruit prevents a full-on sugary siege on your tastebuds, while the plating is a feast for the eyes. It's a complex yet light after-dinner finish to a meat-centric meal.
Polenta Fries @ Harry's Pizzeria
3918 N. Miami Ave.
786.275.4963
HarrysPizzeria.Tumblr.com
Why we picked it: Your mom's not watching, so go ahead and use this tower of crispy cornmeal sticks to play Jenga. It's a game where the pieces often go missing and everyone wins.
Pavé @ Tutto Pasta
1751 SW 3rd Ave.
305.857.0709
TuttoPasta.com
Why we picked it: If the inventor of tiramisu had been a fruit fanatic rather than coffee crazy, you'd have this layered dessert of condensed milk custard, ladyfinger cookies and fresh strawberries topped with a tasty, semi-sweet strawberry reduction.
Gummy Martini @ Blue Martini
900 S. Miami Ave., Ste. 250
305.981.2583
BlueMartiniLounge.com
Why we picked it: We're not sure how many schools of Swedish fish were caught to make this cocktail, but we know it wasn't in vain. Gummy-flavored vodka, simple-syrup, lemon and nose-tickling bubbles add some cheer to this libation.
Frozen Top-Shelf Margarita @ Bongo's
601 Biscayne Blvd.
786.777.2100
BongosCubanCafe.com
Why we picked it: All the playfulness of neon green icees paired with the mischievousness of Cazadores Reposado Tequila and Grand Marnier. This margarita will help you stay refreshed while you're burning up the dance floor.
Polpetta Di Manzo @ Spaghettino
947 Brickell Ave.
786.220.7373
Spaghettino.com
Why we picked it: These beefy meatballs swimming in a pond of basil/garlic-laced pomodoro sauce covered with a heavy handed dollop of creamy ricotta cheese will awaken your appetite in ways you never imagined.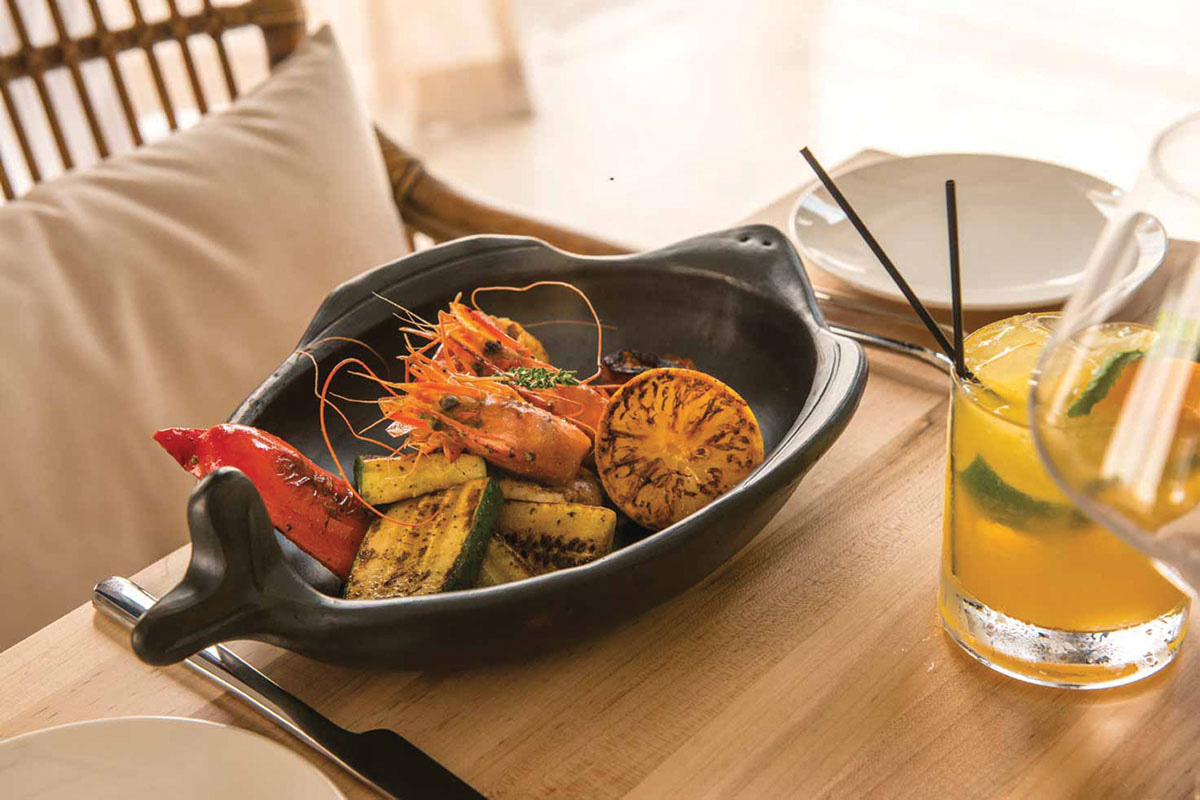 Jumbo Prawn La Plancha @ Seasalt And Pepper
422 NW N. River Dr.
305.440.4200
SeasaltAndPepper.com
Why we picked it: If you've got a big appetite, then anything with the word "jumbo" in the name should surely stand out as you hungrily skim through the menu. At Seasalt And Pepper, their La Plancha options are highlighted by a Jumbo Prawn creation that's marinated in extra virgin olive oil, fresh, herbs and lemon zest. Need we say more?
The Bento Box @ Naoe
661 Brickell Key Dr.
305.947.6263
NaoeMiami.com
Why we picked it: Owner/Chef Kevin Cory takes the idea of the traditional Japanese lunchbox and drops it on your head. Well not really, but if he did, it's definitely a pain you'll be willing to go through again and again once you've tried the ingenious rotating selection Naoe has set up that includes elegantly-presented soups, fried rice, sashimi and grilled seafood, among other goodies.