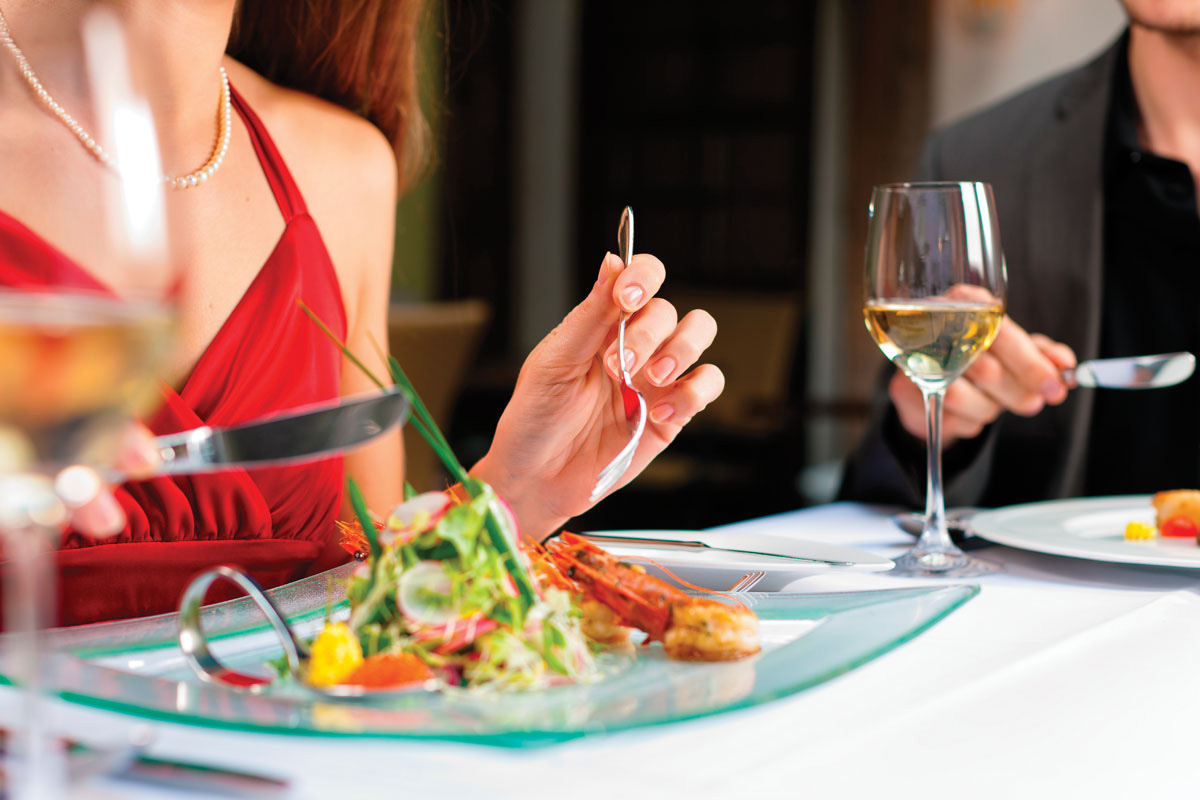 Porterhouse @ Chop House
300 S. Biscayne Blvd.
305.938.9000
ChopHouseMiami.com
Why we picked it: This massive 42-ounce steak (for 2, of course) is the epitome of what steakhouses aspire to dish out. It's big, impressive and totally unapologetic.
Brassica Leaves & Fennel Salad @ Atrio
1395 Brickell Ave.
305.530.6500
ConradMiami.com
Why we picked it: It's not that often you see brassica leaves in a salad, and this hearty version makes us wish we saw it more often. Featuring buttermilk, corn and slow-roasted tomatoes, this dish is sure to make you think about going vegetarian.
Fiore Indigo @ Toscana Divino
900 S. Miami Ave.
305.371.2767
ToscanaDivino.com
Why we picked it: This sexy cocktail that takes you to the Mediterranean via India utilizes gin, blueberries, rose water & cardamom bitters (when was the last time you saw tasted that?) and is finished with just a hint of citrus.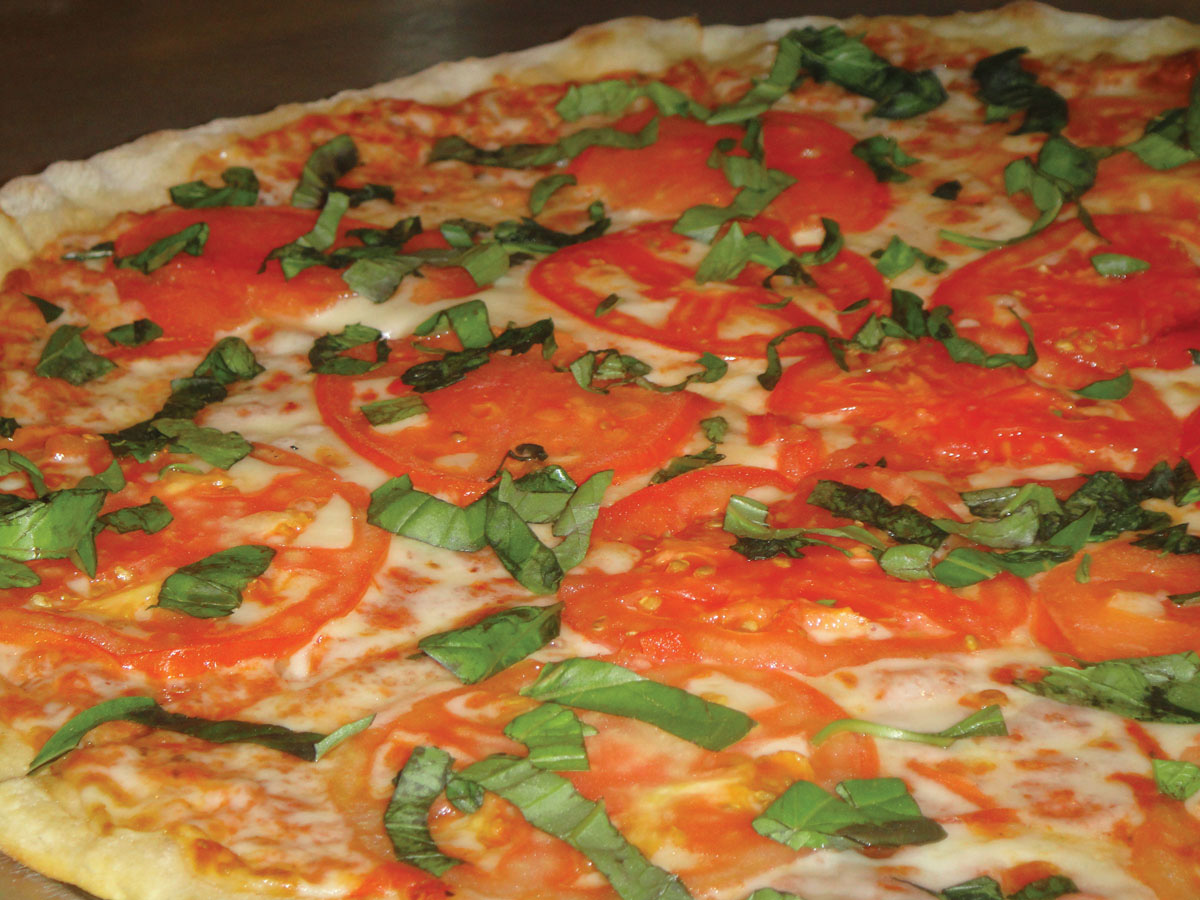 Pizza @ Mario The Baker
43 W. Flagler St.
786.316.0166
MarioTheBakerPizza.com
Why we picked it: With all the places in Miami for pizza, it's hard to pick a favorite, but with crisp crust, fresh toppings and fast delivery all over Miami, this joint should be everyone's go-to place for a hot slice.
Custom Pasta @ Vapiano
1221 Brickell Ave.
305.374.0311
VapianoInternational.com
Why we picked it: This cool new restaurant's unique concept, in which you place your order directly with the chef, allows you to personally customize your pasta with fresh ingredients and delicious sauces.
Yuzu Key Lime Pie @ Zuma
270 Biscayne Blvd. Way
305.577.0277
ZumaRestaurant.com
Why we picked it: Key lime pie comes with the territory when you live in South Florida, but it's easy to get tired of. Fortunately, these tart and unique slices remind us of why we love this tasty dessert in the first place.
Pulpitos @ Baru Urbano
1001 S. Miami Ave.
305.381.5901
BaruUrbano.com
Why we picked it: This grilled octopus salad is exactly what you've been craving: fresh, interesting and delicious. Don't be scarred of octopus, it's the grown-up version of that fried calamari we all grew up with.
Burgers @ B & B Joint
900 S. Miami Ave., Ste. 130
305.523.2244
BNBJoint.com
Why we picked it: With the burger wars raging on, everyone seems to have an opinion, and this is our opinion: B&B has the best burgers in town, at prices that won't break the bank. Plus, they have a beer selection to brag about.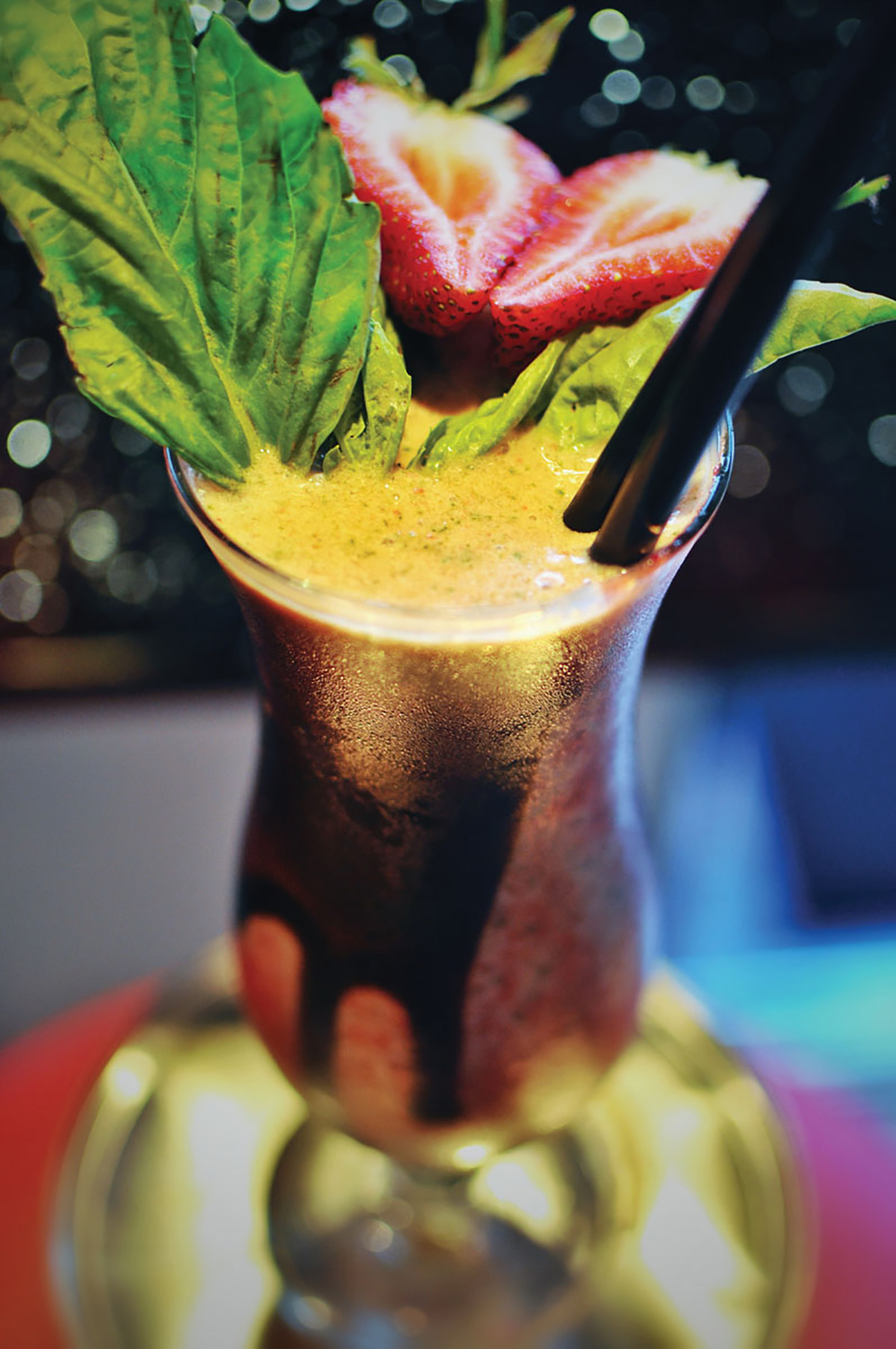 Caprese Swirl @ Segafredo Brickell
1421 S. Miami Ave.
305.577.9809
Sze-Brickell.com
Why we picked it: This has been described as the best caprese salad ever, only it's not a salad, it's a cocktail and an awesome one at that, with balsamic reduction, basil, strawberries and Leblon Cachaça.
Perfect Pear @ Blue Martini
900 South Miami Ave., Ste. 250
305.981.2583
BlueMartiniLounge.com
Why we picked it: We love simple cocktails made well and this is a perfect example, featuring excellent vodka, pear puree & lime. Better yet, you can't beat the ambiance!
Angus Beef Sliders @
Brickell Irish Pub
1451 S. Miami Ave.
305.381.6651
BrickellIrishPub.com
Why we picked it: This was one of the easiest choices for us: great beef, Jameson Irish Whiskey caramelized onions, aged cheddar, herb aioli…enough said.
Maine Lobster Pot Pie @ River Seafood & Oyster House
650 S. Miami Ave.
305.530.1915
TheRiverMiami.com
Why we picked it: Although the oysters here are the best in town, it's not the only thing on the menu. Their pot pie is succulent, with a flaky crust and perfectly tender Maine lobster.
Veal Churrasco @ Crazy About You
1155 Brickell Bay Dr.
305.377.4442
CrazyAboutYouRestaurant.com
Why we picked it: This cool, young place offers great views, and very reasonably priced food & wine. Their different take on churrasco is delicious and comes with shoestring fries and even an appetizer.
Lolita Julep @ Dolores Lolita
1000 S. Miami Ave.
305.403.3103
DoloresLolita.com
Why we picked it: Even though mojitos rule in Miami, the other drink that definitely deserves a well-earned place at our table is the mint julep, and this is one of our favorites with just a hint of the islands.
Lobster Thermidor @ Azul
500 Brickell Key Dr.
305.913.8358
MandarinOriental.com
Why we picked it: Although Lobster Thermidor is a relic of sorts in the food world, it's been rescued here and modernized, with fresh truffles and foie gras — it's culinary opulence at it's best.
The Art @ Red Bar
52 SW 10th St.
786.316.0303
RedBarGallery.com
Why we picked it: Ok, so you can't really eat the art here, but it's nonetheless a feast for the senses worth mentioning on this list. Plus, their cocktails are pretty stiff.
Crispy Oysters & Peppers @ Truluck's
777 Brickell Ave.
305.579.0035
Trulucks.com
Why we picked it: Although Truluck's is known for their top-notch steaks and hearty entrees, this creative appetizer is second to none and features fried oysters with tempura-battered shishito peppers and a ginger dipping sauce that gets the tastebuds reeling.
Smoked Salmon Bites @ Fado
900 South Miami Ave., Suite 220
786.924.0972
FadoIrishPub.com
Why we picked it: This traditional smoked salmon is served on "boxty" which is the Irish equivalent of a bilini and better than one, too. Served with capers and horseradish sauce, these are some of the most perfect little bites you'll ever eat.
Saganaki @ Taverna OPA
900 S. Miami Ave., Ste. 260
305.673.6730
TavernaOpaRestaurant.com
Why we picked it: Serving up great Greek food, even late at night, this is a favorite of locals looking for a good time. For us, there's something alluring about bubbling cheese that's covered with flaming brandy and hip-shaking bellydancers.
Brownie Tempura @ Doraku
900 S. Miami Ave., Suite 133
305.373.4633
DorakuSushi.com
Why we picked it: This is fusion at its best: Crisp, decadent and whimsical. Served with fruit puree, chocolate sauce and ice cream topped with macadamia nuts, it's worth saving a little room for this treat after you've enjoyed some sushi rolls.
Reneboy @ Aijo
1331 Brickell Bay Dr.
786.452.1637
AijoRestaurant.com
Why we picked it: One of the most surprising and delicious sushi dishes you'll ever have, this special menu item features crunchy rice, salmon, walnut and sweet eel sauce…ingredients that combine for something greater than the sum of its parts.
Sgroppino Al Limone @ Piola
1250 S. Miami Ave.
305.374.0031
Piola.it
Why we picked it: It's essentially a grown-up milkshake made with lemon ice cream and vodka and blended to the perfect consistency. Be sure to stick around for some of the best wood-fired pizza in town and a nice selection of healthy apps.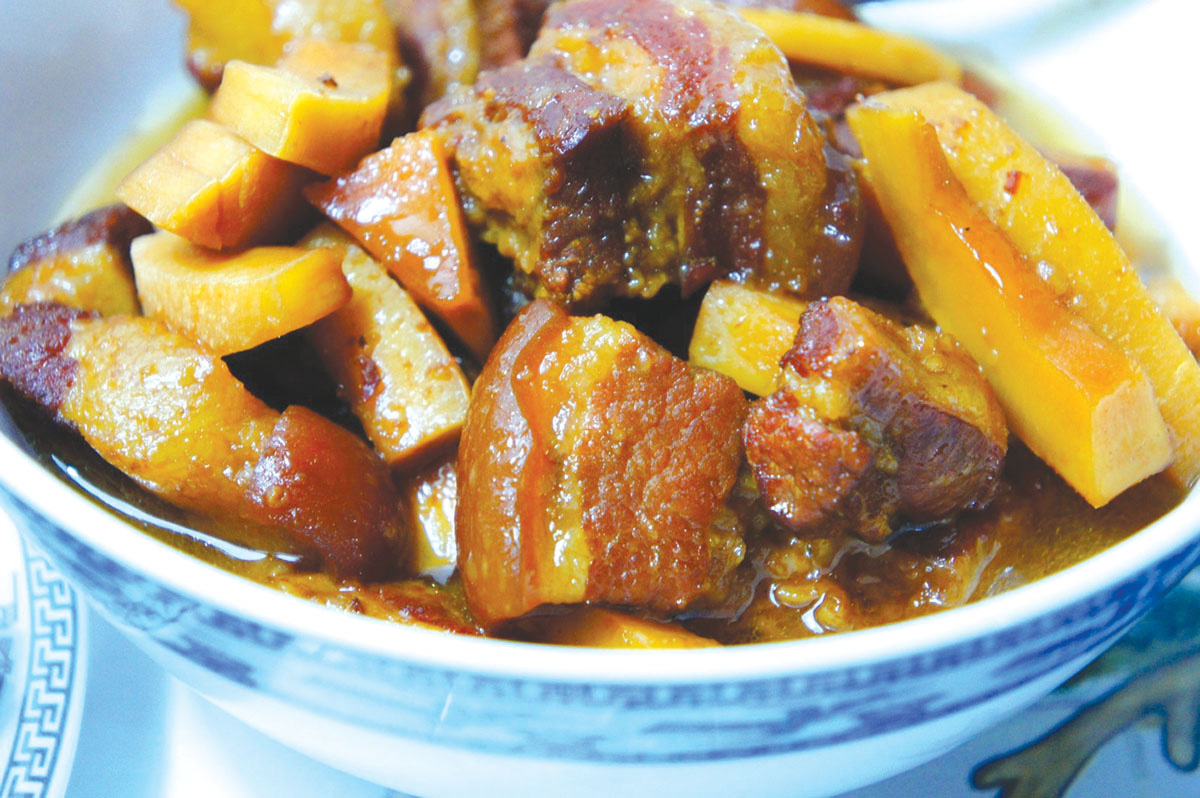 Thit Kho @ Hy Vong
3458 SW 8th St.
305.446.3674
HyVong.com
Why we picked it: This restaurant has a 30-year history of bringing traditional Vietnamese country cooking to Miami. Their pork stewed in coconut milk is a favorite and packed with flavorfully tender meat & potatoes.
Mixed Seafood Ceviche @ El Gran Inka Brickell
947 Brickell Ave.
786.220.7930
GranInka.com
Why we picked it: It's hard to beat a really good Peruvian ceviche, and they do it right here with tender, super-fresh fish, herbs and vegetables combining to yield the perfect pre-dinner appetizer or light lunch.
Tartare Sampler @ Edge, Steak & Bar
1435 Brickell Ave.
305.381.3190
EdgeRestaurantMiami.com
Why we picked it: Tartare is awesome, and here you can try their 4 different — yet equally exquisite — offerings: beef, octopus, ahi tuna & corvine. Be sure to stop by for their Sunday brunch, too.
Bar Snacks @ Toro Toro
100 Chopin Plaza, InterContinental Lobby
305.372.4710
ToroToroMiami.com
Why we picked it: From Smoked Swordfish Dip to Wild Mushroom Coca Flatbread and Hamachi Tiradito, the bar menu at The InterContinental's Toro Toro is good enough to inspire even the most resistant appetite.
MSC Cali Ocho Roll @ Sushi Maki
1000 S. Miami Ave.
305.415.9779
SushiMaki.com
Why we picked it: This is Sushi Maki's Miami version of their famous California Roll featuring crab, plantains, mango and guava all coming together to create a perfect bite that you can't find anywhere else.
Crispy Paratha Cake @ Little Lotus
25 N. Miami Ave.
305.533.2700
LittleLotusMiami.com
Why we picked it: This crispy savory pancake is topped with spicy tuna, red onion, cilantro, tomatoes and a sweet onion dressing. Little Lotus is still a bit of a local secret, so shhhhh.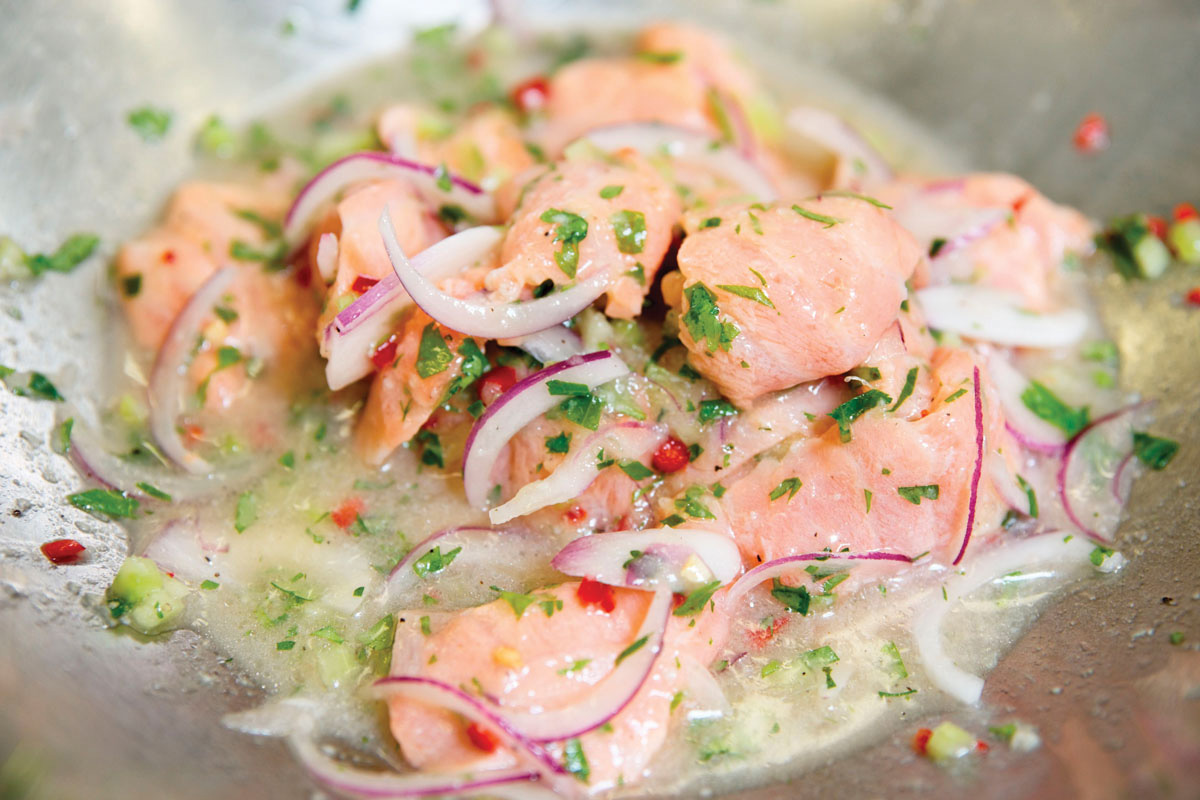 Mexican Cevice @ El Vato
1010 S. Miami Ave.
305.523.6449
ElVatoBar.com
Why we picked it: Simply put: This will be one of the best ceviche's you've ever had. Featuring mahi cured in ginger lemon juice, red onions, jalapeno and corn relish served with chips. Add one of their nice tequila cocktails to the mix and you'll never need to go South Of The Border again.
Smoked Scallop @ TIKL
1450 Brickell Ave.
305.372.0620
TiklRestaurant.com
Why we picked it: Sophisticated and sexy, this is the perfect start to any meal. The pickled chanterelles and the pink peppercorn elevate this dish to ethereal levels. In the heart of Brickell, TIKL is one of the best places to stop in for a bite and sip after work.
Roast Pig Collar @ Area 31
270 Biscayne Blvd. Way
305.424.5234
Area31Restaurant.com
Why we picked it: When it comes to pork, the best parts are hard to find, but luckily Area 31 carries our favorite: Pork collar served with bacon apple crumble & salsify…it's savory, fatty, and oh so good!
SuperMoon Perro @ La Moon
97 SW 8th St.
305.379.5617
LaMoonRestaurantMiami.com
Why we picked it: Mmmmm…smoked sausage, bacon and a perfectly cooked quail egg to top it all of…this is what a true Colombian hotdog should be…and is.
Brazilian Creamy Cracked Conch Chowder @ Tuyo
415 NE 2nd Ave.
305.237.3200
TuyoMiami.com
Why we picked it: Creamy and delicious with chunks of conch in a saffron, orange & star anise cream broth…need we say more? Although a perfect chowder is hard to come by, this place comes pretty close.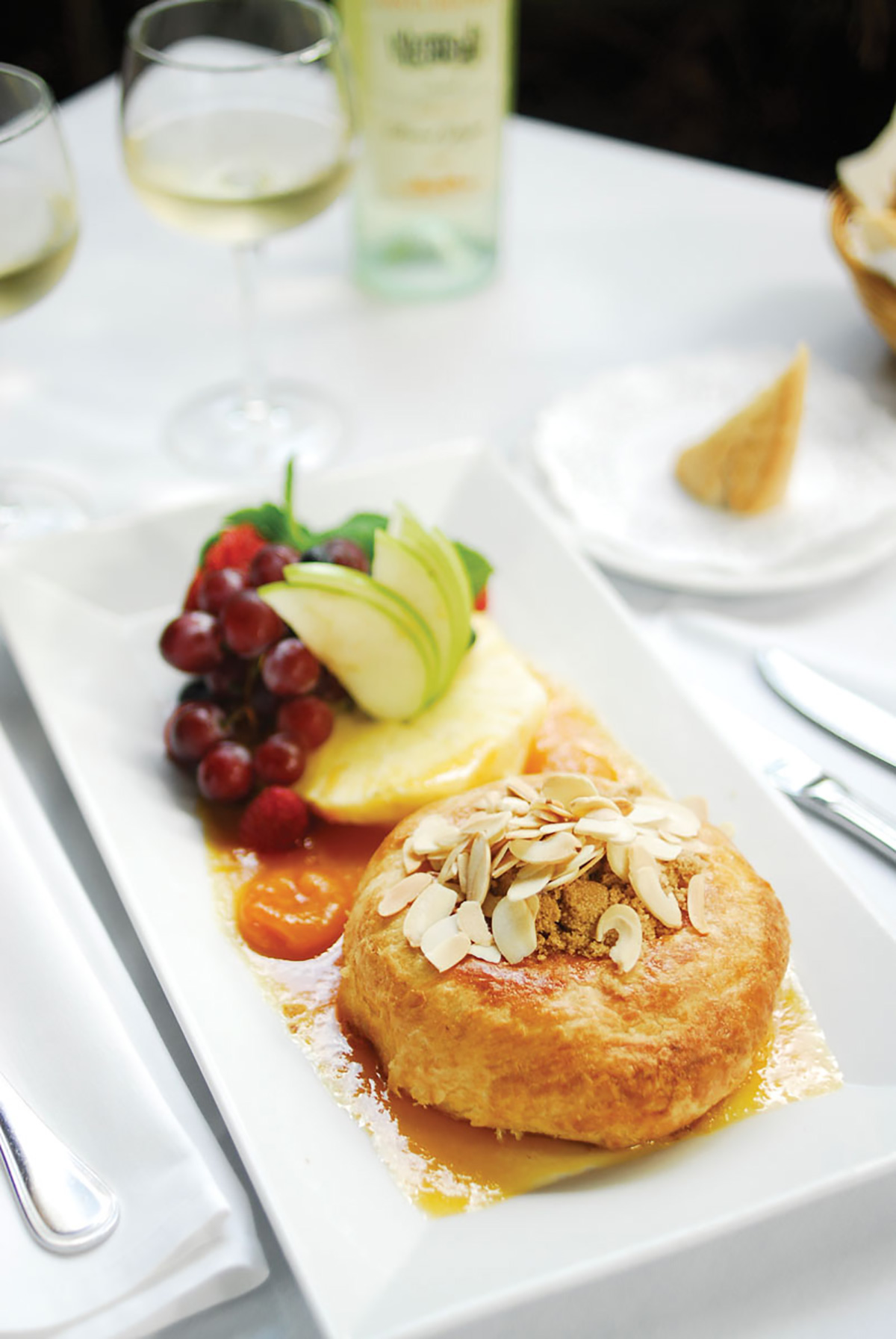 Baked Brie @ Perricone's
15 SE 10th St.
305.374.9449
Perricones.com
Why we picked it: This decadent app is a must-start to any meal featuring apples, gooey sauce and lots of cheesy goodness all within a crisp crust with heart-shaped crackers on the side. You'll fall in love at first bite…and come back for seconds.
Panacotta De Dulce De Leche @ Graziano's Brickell
177 SW 7th St.
305.860.1426
GrazianosGroup.com
Why we picked it: After having meat cooked over an open fire (a Graziano's specialty), this Latin riff on an Italian classic is a fine end to a leisurely meal because it's delicious and
not nearly as heavy as most other offerings in the city.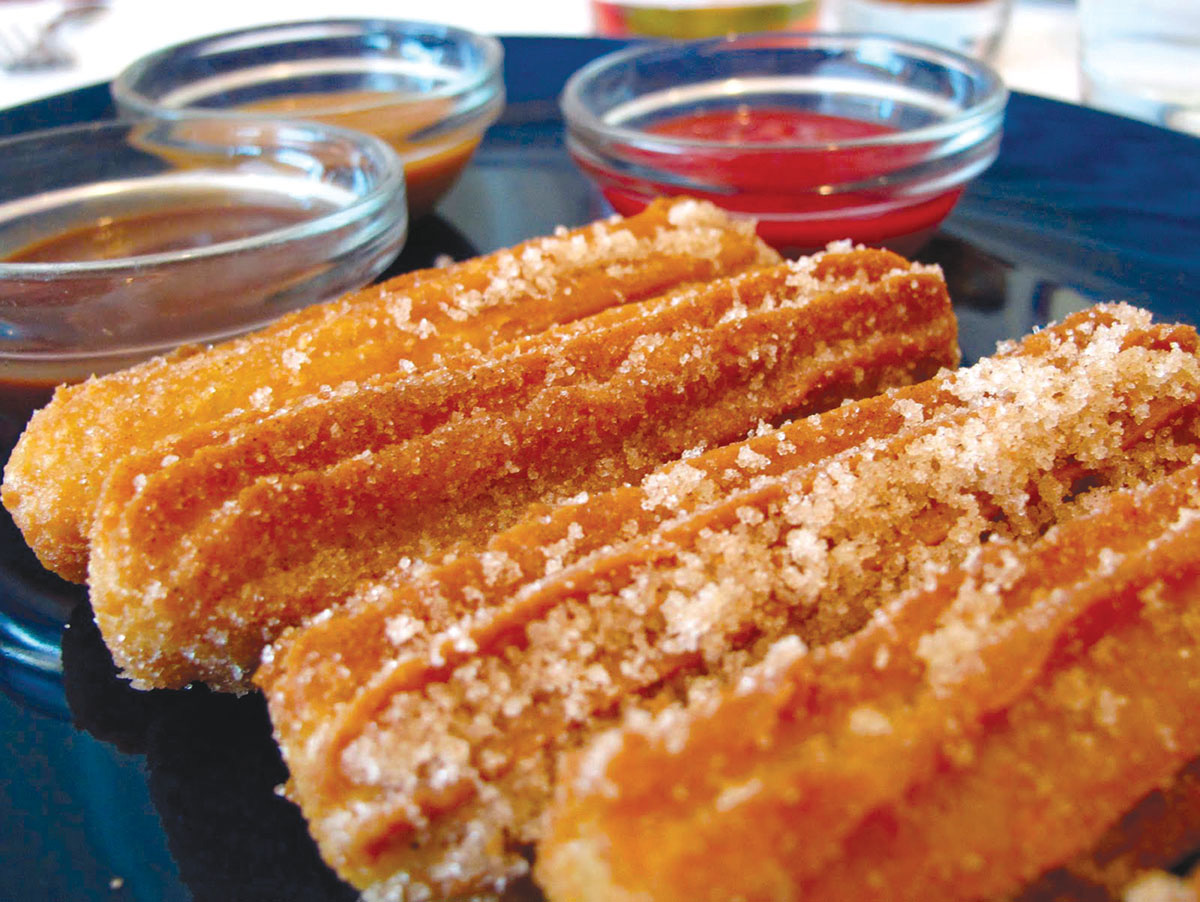 Churros En Bolsa @ Rosa Mexicano
900 S. Miami Ave.
786.425.1001
RosaMexicano.com
Why we picked it: Who doesn't love donuts? And these are awesome, light, fluffy and crisp with a trio of awesome dipping sauces. Be sure to get a cup of Mexican hot chocolate to go with it, too!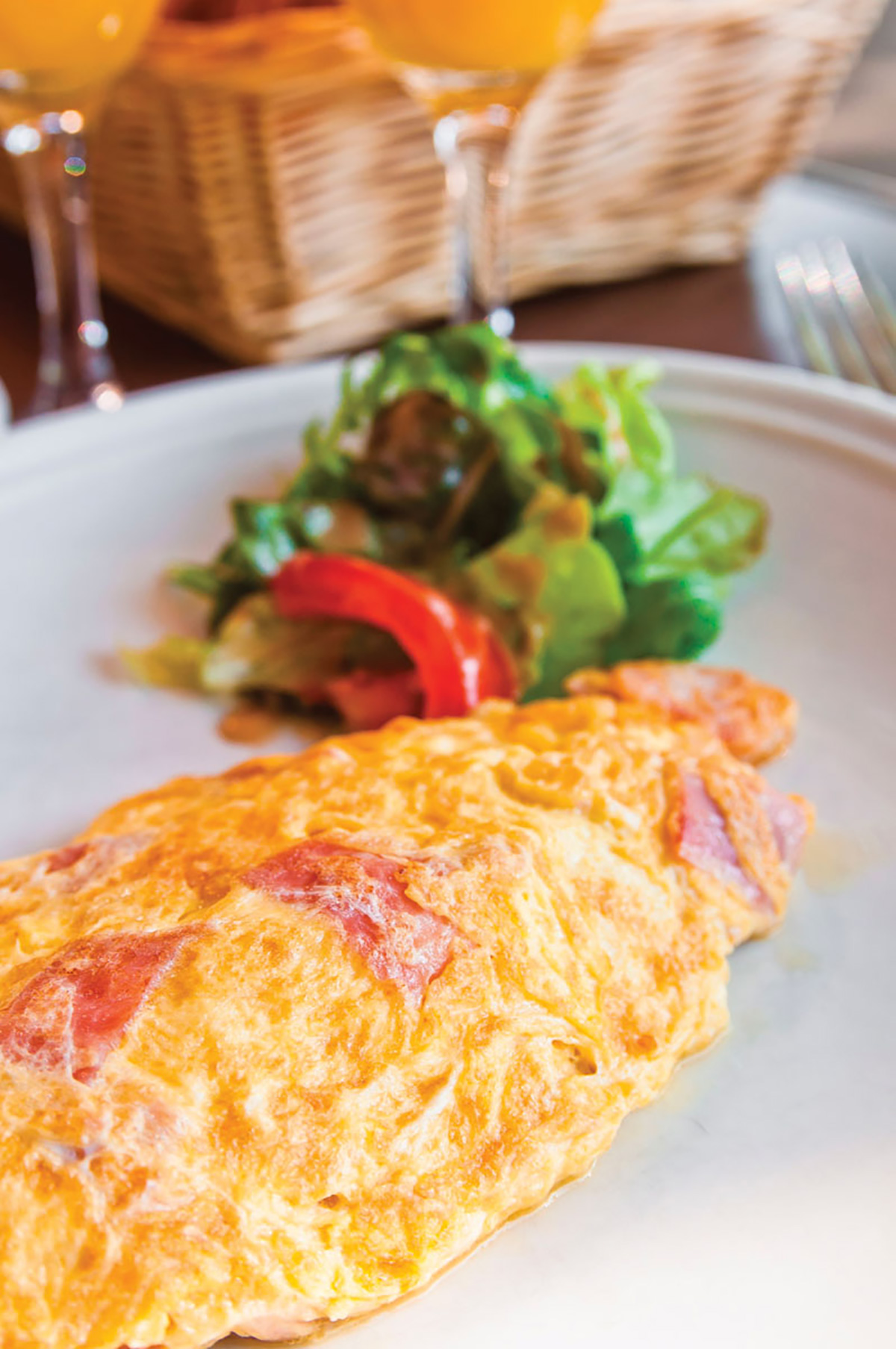 Omelets @ Balans Brickell
901 S. Miami Ave.
305.534.9191
Balans.co.uk
Why we picked it: Balans is our favorite place for breakfast, great coffee, good service, perfect people-watching, and of course…omelets! All of their custom and made-to-order options are fluffy and huge with anything you want stuffed inside.
SuVama Ceviche @ SuViche
49 SW 11th St.
305.960.7097
SuViche.com
Why we picked it: With their second location now open on Miami Beach, it seems SuViche is here to stay, and we couldn't be happier. While all their ceviches are good, this is our favorite, with mixed seafood and an eye-catching bright color.
Passion Fruit Curd @ DB Bistro Moderne
255 Biscayne Blvd. Way
304.421.8800
DBBistro.com
Why we picked it: This elegant, exotic dessert, presented with guanabana & raspberry ice cream, macadamia nut biscuit and caramelized white chocolate crémeux, is the utter definition of pure finesse.
Iceberg Salad @ Morton's
1200 Brickell Ave.
305.400.9990
Mortons.com
Why we picked it: We know…it's old-fashioned and can sometimes be a bit of a boring menu option on some menus, but we love it anyway! Crisp lettuce, oozing blue cheese dressing, bacon & chopped tomatoes — old-school or not, you gotta try it.
Elderflower Fizz @ Café Sambal
500 Brickell Key Dr.
305.913.8288
MandarinOriental.com
Why we picked it: Elderflower Liquor isn't something you see that often, which is a shame. It's light, sweet floral notes add the perfect touch to this cocktail made with gin, lemon & champagne.
Veal Lasagne @ Rosinella
1040 S. Miami Ave.
305.372.5756
Rosinella.net
Why we picked it: For over 15 years, Rosinella has been turning out classic Italian-American food and we think it's pretty darn good. Our favorite is their fresh veal lasagna that's rich, tasty, filling…and well, just plain awesome.
London Sparrow @
Blackbird Ordinary
729 SW 1st Ave.
305.671.3307
BlackbirdOrdinary.com
Why we picked it: This cocktail is made with Nolet's gin, lemon, passion fruit and just a pinch of cayenne for an added kick.
To-Go Sushi @ Publix
Various Locations
305.358.1575
Publix.com
Why we picked it: Sometimes it just isn't possible to sit down for a healthy meal during our daily grind. Luckily, nearly every Publix in town has a nice variety of prepared sushi options right on site ready to be picked up and enjoyed.
La Bomba @ D-Dog House
50 SW 10th St., Ste. 46
305.381.7770
D-DogHouse.com
Why we picked it: Heart attack? Maybe. Off most diets? Probably. Delicious? Definitely. A deep-fried beef hotdog wrapped in bacon, topped with mozzarella cheese, potato chips, coleslaw, green sauce, pink sauce, pineapple sauce and an egg for good measure.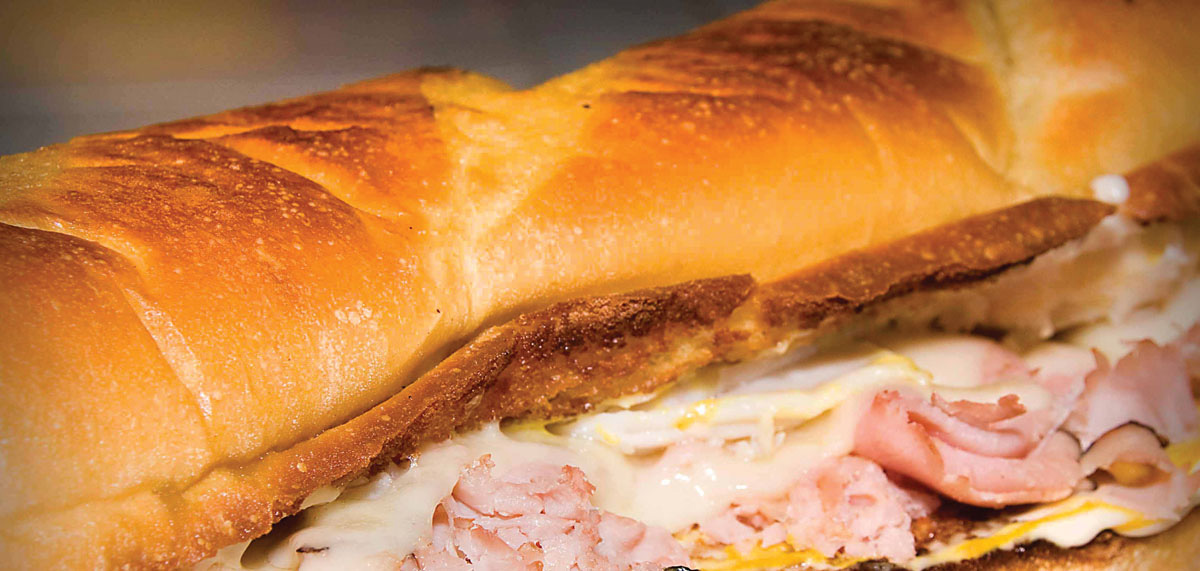 Midnight Sandwich @ Bongo's
601 Biscayne Blvd.
786.777.2100
BongosCubanCafe.com
Why we picked it: This is basically one of the best sandwiches in town: Sweet, thick and satisfying, this is one sandwich that should be on everyone's must-try list.
Pappardelle Milano @ Fratelli Milano
213 SE 1st St.
305.373.2300
RistoranteFratelliMilano.com
Why we picked it: Fresh homemade pasta, fillet mignon, porcini mushrooms, sundried tomatoes, goat cheese and more combine to create a dish to remember.
Tan Dan Mian @ MOMI Ramen
5 SW 11th St.
786.391.2392
MOMIRamen.com
Why we picked it: It's about time we got a ramen joint in town, and MOMI doesn't disappoint. Although tiny, they pack the flavor in with top-notch meats, broths and condiments.
Tater Tots @ The Filling Station
95 SE 2nd St.
786.425.1990
TheFillingStationMiami.com
Why we picked it: You probably haven't thought about tater tots since elementary school, and we don't blame you, but it's time to give them a second look, or at least a little taste…preferably crispy and seasoned like they come with every sandwich at The Filling Station
Croque Monsieur @ La Sandwicherie
34 SW 8th St.
305.374.9852
LaSandwicherie.com
Why we picked it: With 25 years of experience making sandwiches, it's no wonder this place is packed during lunch. And with more than a thousand combinations available, it's easy to find your favorite, and we surely found ours: The Croque Monsieur, featuring a serious dose of melted cheese and fresh ham…it's toasty and full of saliva-inducing goodness all year round.