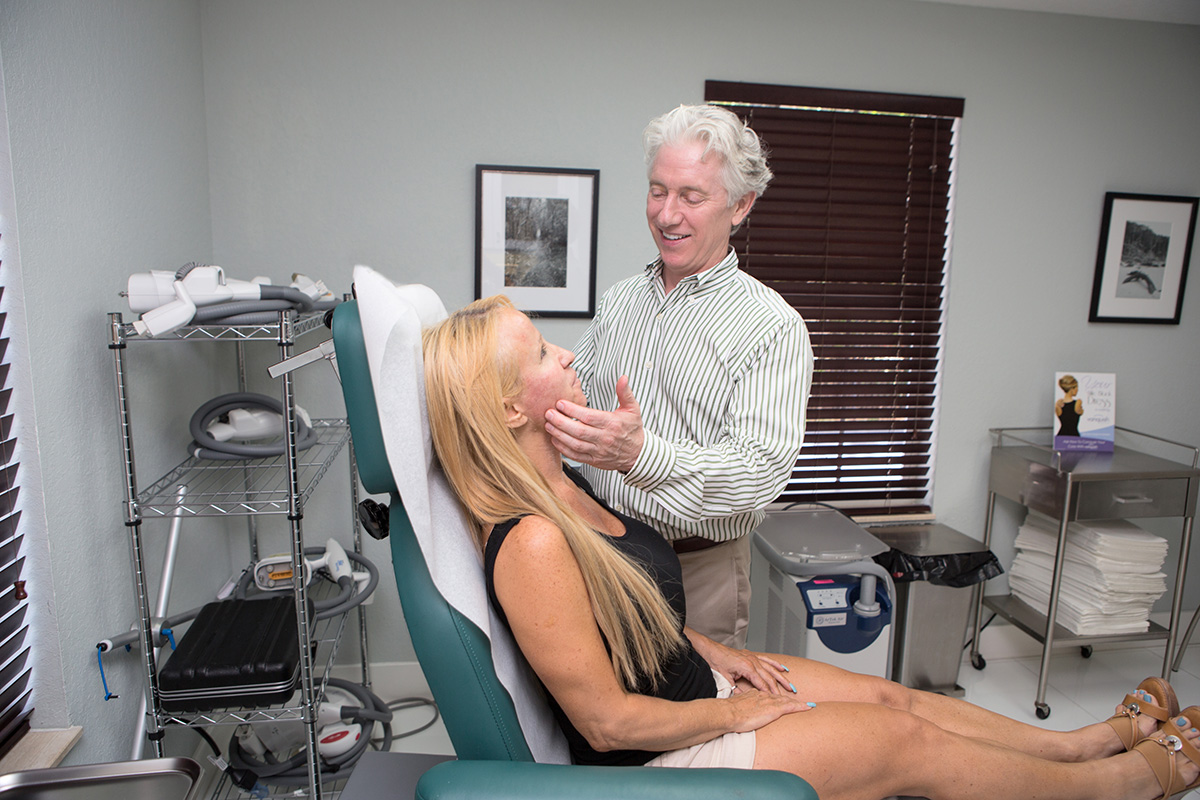 John J. Martin, Jr., M.D.
John J. Martin, Jr., M.D., P.A.
2912 S. Douglas Rd.,
Coral Gables
305.444.5950
JohnMartinMD.com
"During my residency in ophthalmology, I particularly enjoyed the plastic surgery rotation. I liked being able to see the results of my work externally as opposed to just working inside of the eye."
If a man was ever born for his chosen profession, it is Dr. John J. Martin, Jr. He was the third of 8 children in a medical family. His father was an ophthalmologist, his 2 older siblings physicians, and his 3 sisters have recently returned to school for nursing degrees. After medical school, he did a residency in ophthalmology where he decided to pursue a career in oculo-facial plastics — plastic and reconstructive surgery of the eyelids and face — so he came to Miami for a fellowship at Bascom Palmer Eye Institute. Today, his practice focuses on cosmetic facial surgery such as eyelid surgery, brow, face and neck lifts. In addition, he does a lot of laser resurfacing for lines, wrinkles and skin tightening, and also to improve scarring. Dr. Martin truly enjoys his work, especially interacting with a wide range of people throughout the day, including those patients who are reluctant to tell their spouse that they want surgery. "We had one woman who came in for a facelift," he says. "When her husband came to pick her up, he was quite surprised to see her face bandaged as he had no idea she was coming in for surgery. He wondered why she had been at the office for so long, but was glad that everything had gone well." What's the best part of his job? "It's fun getting to know my patients in addition to helping with their rejuvenation goals."
DOCTOR'S ORDERS
"One of the most common areas that people are concerned about are the frown lines between the brows. These lines can make them appear angry and stressed. Injection of some neurotoxin such as Botox or Dysport is an easy way to smooth out the lines in this area and soften the appearance."
ASK THE DOCTOR
Q: It seems that my cheeks are disappearing as I age. The nasolabial folds are getting deeper, but my cheek is getting flat.
A: "This is a common aging change. One of the best options for restoring lost volume to the face is with a fat injection where the patient's own fat is harvested and injected into the face. Since it's your own fat, it usually will last several years. In addition to providing volume, the stem cells in the fat can help to improve the skin texture."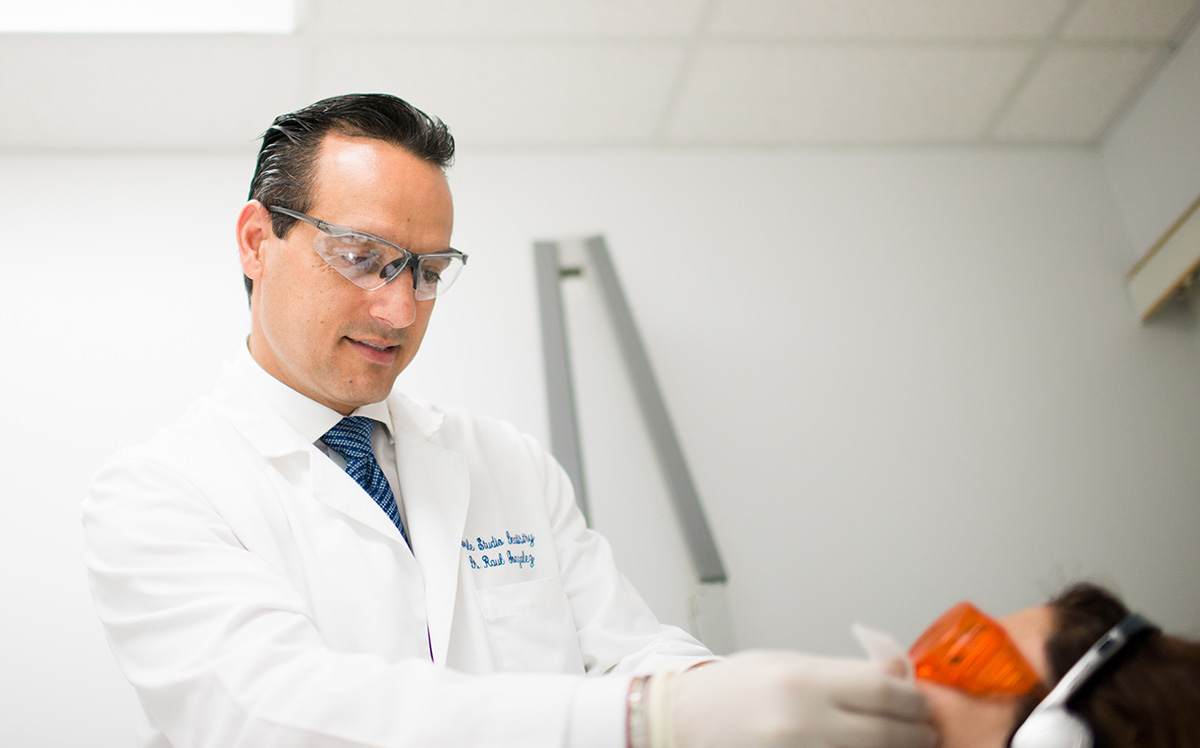 Dr. Raul C. Gonzalez
Smile Studio Assoc. Dentistry
1760 Coral Way
4201 NW 107th Ave.
305.856.1488; 305.594.4418
SmileStudioDentistry.com
Dr. Gonzalez is a leader in smile design — pageant winners, models and celebrities from all over the world come to him to make their smile outstanding.
Creating the perfect smile is an artform similar to painting a masterpiece. First one needs to be able to visualize the end result, then have the skill to turn it into reality. That's exactly what Dr. Raul C. Gonzalez does on a daily basis, improving patient's lives in the process, as he follows the example set by his now-retired maxillofacial surgeon uncle who taught him the importance of a humanitarian chairside manner. Add in the latest technology and you've got the full-service Smile Studio. "In my practice, our patients are treated as family members, and as such, we build long-term caring relationships," he says. "We work only with the latest and most advanced proven technologies and materials." One unique treatment is micro-dentistry, which allows the treatment of dental and gum disease with lasers in a minimally invasive and non-surgical way that avoids the need for anesthesia. He also works with advanced bone and gum disease, utilizing synthetic bone and gum-forming materials, grafting and regeneration. "If there are missing teeth, implants are the top option to replace them." What's more, he's focused on the next generation. "I firmly believe that the health and happiness of your smile starts in early childhood," he says. "Educate children on good oral health and invest time into making the best out of each of them. I see myself as a life coach for everyone from infants to the entire family." But he's not all work and no play — his other passions are technology and auto racing.
DOCTOR'S ORDERS
"Over the years, teeth collect stains, small cracks and chipped edges. Dental veneers (a.k.a. porcelain veneers or dental porcelain laminates) are thin, custom-made shells of tooth-colored materials designed to cover the front surface of teeth. Protecting your teeth with a veneer naturally improves your smile while protecting against further damages."
ASK THE DOCTOR
Q: Having a great smile is such an important part of life, affecting not only one's external image but their internal self-esteem as well. Are smile designs difficult?
A:"Smile designs are just one way to turn your smile into an outstanding, refreshing one. There are many options available including smile recontouring, direct one-day composite veneers and more complex ceramics, zirconium or porcelain veneers. What matters most is that maintenance protocols and nutritional as well oral hygiene instructions are carefully followed."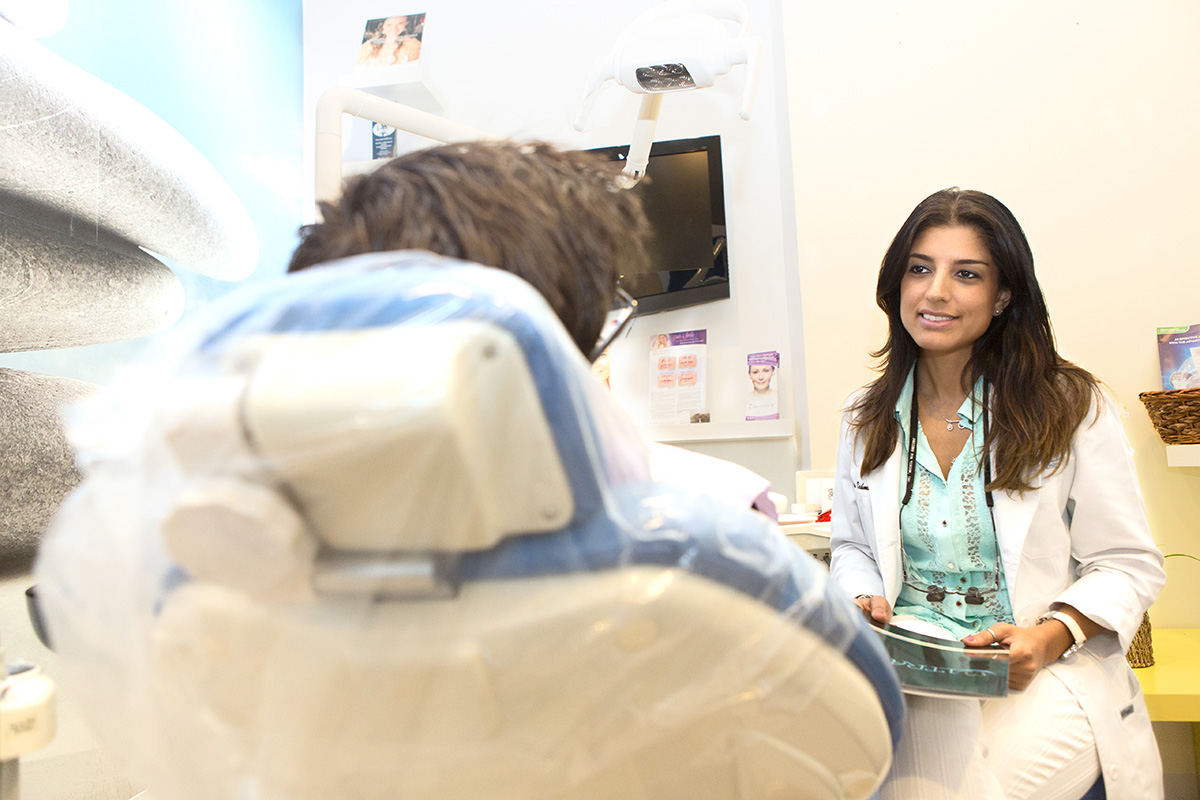 Dr. Neda Bahmadi
Ultra Smile Dentistry
168 SE 1st St., Ste. 1B
305.372.1020
UltraSmileMiami.com
"When you arrive for your appointment, you're welcomed with a snack and cup of coffee. You can even catch up on your latest show while you sit with the dentist. We offer a wide array of services, our most popular being Invisalign, veneers, bleaching, Botox and Juvederm."
"Dentistry wasn't always a passion, but being a healthcare provider was," says Dr. Neda Bahmadi. "If you know me, you would know I can never give enough, never love enough." She comes from a Persian heritage with a European background. "I spent most of my childhood in Brussels and was 17 when my family made the decision to move to Florida," she says. "I remember thinking palm trees and sunshine on a daily basis is going to be dreamy. I'm forever grateful to my parents for making that decision — it's made me the person I am today." Because of the solid education she received in Europe, she was able to catch up quickly in the U.S. and achieve more than she ever imagined. "They don't call it the land of opportunity for no reason," she says. "Ultra Smile Dentistry is the practice I had hoped for — it's modern, welcoming, open and topped with a wonderful team behind me." She stays up-to-date with the latest technology and uses the most advanced materials and digital x-rays available while continuing to educate herself with an abundance of continuing education courses, panels and seminars throughout the year." For patients that "hate the dentist," she makes it her goal to give them the most comfortable, pleasant experience possible so they don't feel as anxious next time. "Dentistry allows me to help my patients by ensuring their health with the added benefit of being able to boost their confidence with a beautiful smile," she says. "It also gives me the ability to create, design and open up the artistic side of myself."
DOCTOR'S ORDERS
"Porcelain Veneers are used to cover front teeth that are discolored, worn down, chipped, misaligned or have gaps between them. Veneers are wafer-thin and custom-made shells. It's a relatively conservative way of changing the appearance of your teeth."
ASK THE DOCTOR
Q: I know I need regular dental checkups, but shouldn't I know if I have cavities? There's nothing bothering me, my teeth don't hurt.
A:"A cavity doesn't necessarily hurt. It may be sensitive, but if it hurts, the bacterial infection, a.k.a. cavity, has grown so large that it has reached the nerve where pain is stimulated. By that point, it's probably not restorable with a filling anymore. The treatment then becomes more intensive and expensive."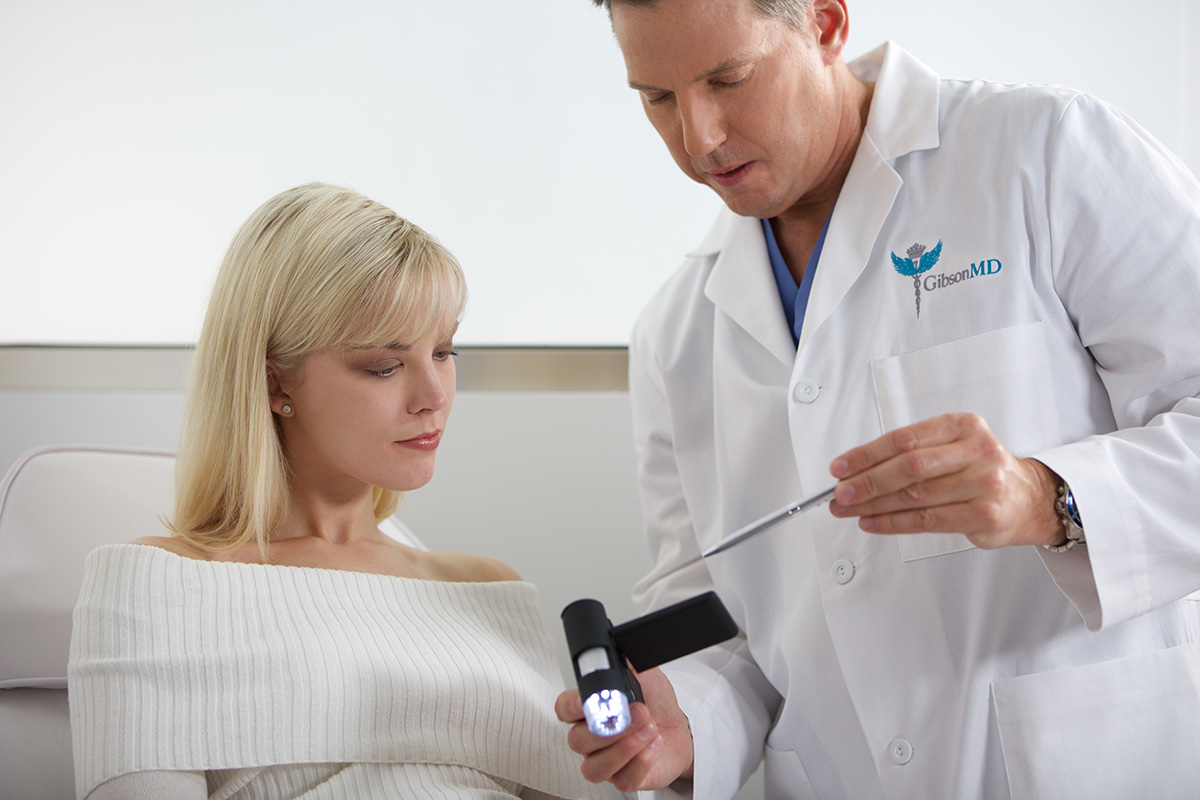 Jeffrey J. Gibson, M.D.
Jeffrey J. Gibson, M.D.
Plastic & Reconstructive Surgery
3661 S. Miami Ave., Ste. 403
305.858.1986
JJGibsonMD.com
"I pride myself on having impeccable attention to detail, extensive training and continued diligence to follow the newest developments and technology in my field while establishing a close relationship with all my patients and their families."
It's amazing to me how every person has a part of their body or face they're not happy with," says Jeffrey J. Gibson, M.D. "When people find out I'm a plastic surgeon at a cocktail party, the questions always start to fly about wanting a nip or tuck somewhere. Once I explain how safe and easy fixing your unwanted little areas has become, I always end up handing out my business cards." While he focuses on cosmetic and reconstructive surgery, he also does hand surgery, runs a day spa and has his own skincare line using the newest stem cell technology. Born in Indiana, he worked summers in Orlando as a lifeguard and got a scholarship for Swimming & Water Polo to Virginia Commonwealth University where he did his first research. Today, Dr. Gibson pushes advancements in skincare which may prevent the need for anti-aging surgery including his RxGenesys skincare line which is having a nationwide impact. "The most fulfilling part of my job is helping people," he says. "I enjoy using what I've learned to help folks overcome lifetime issues or deformities. I travel with my wife and team to do charity surgical missions in countries of less economic status to perform major life-changing surgeries. Patients sometimes travel many days to be able to receive our care…and the feeling of satisfaction helping such people is unrivaled."
DOCTOR'S ORDERS
You workout but can't get rid of that extra waistline and tummy fat? Take action with the quick, effective, time-proven methods of liposuction and/or abdominal plasty. A tummy tuck can now be done safely as an outpatient procedure costing around $7,000, while just abdominal liposuction will run about $3,500.
ASK THE DOCTOR
Q:What are the options for nonsurgical procedures to keep the face looking as young as possible to stay competitive at work and/or in the dating market?
A: "The new and emerging market I'm deeply involved in is based on the latest stem cell technologies for skincare. RxGenesys Skin Care Line is proven to reduce the appearance of wrinkles and fine lines by 56% in just 8 weeks, according to a clinical study by Princeton Consumer Research."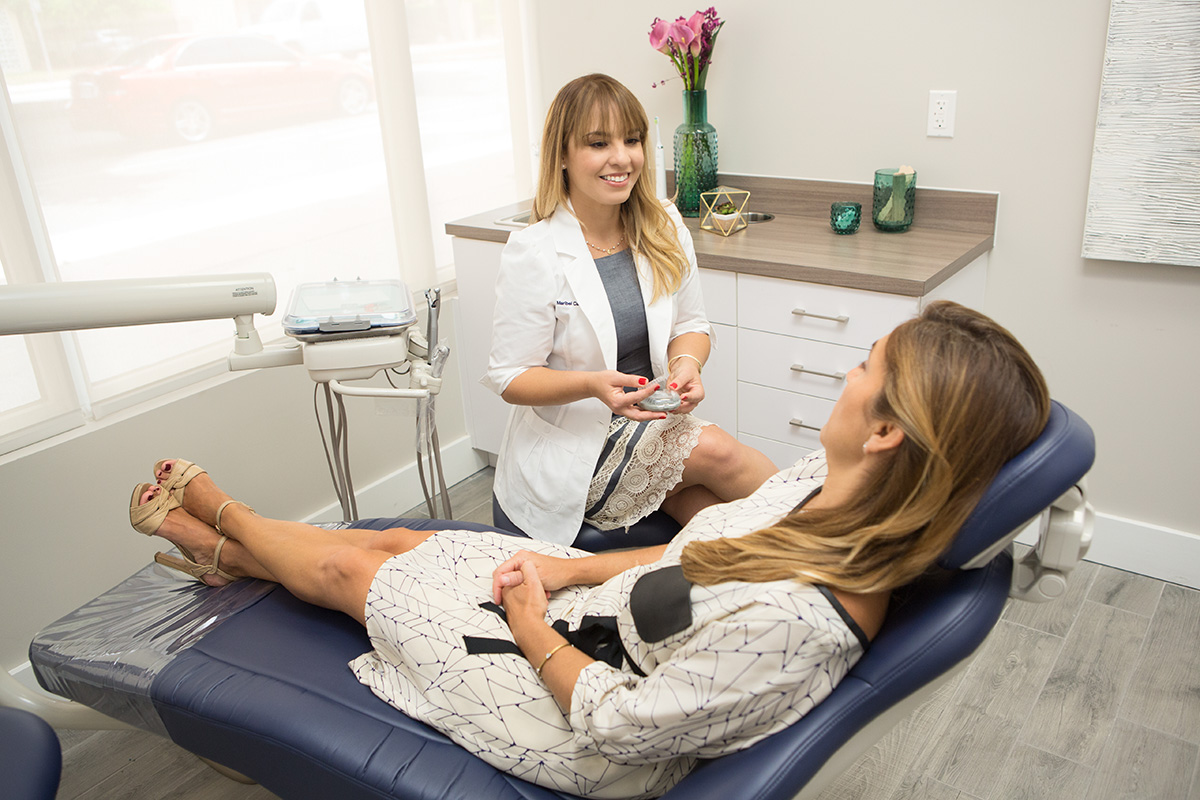 Maribel Carbia, D.M.D.
The Dental Studio
4100 Salzedo St., Ste. 20,
Coral Gables
305.666.0006
TheDentalStudioMiami.com
"I'm passionate about my career and make a constant effort to exceed expectations and achieve excellence with every patient and every smile…smiles that will surely make positive contributions within the community."
Maribel Carbia, D.M.D., has been surrounded by the world of dentistry her entire life. She was raised by a family who dedicated their lives, educations and professional careers to the achievement of the perfect smile. "A smile is the first thing the world sees, the definition of our happiness and our beauty," says Dr. Carbia, whose passion is helping patients with the best treatment alternatives available. "Serving my patients with genuine care, concern and a shared commitment has enabled me to grow a practice in a community I both love and am grateful to." She prides herself on providing gentle dental care for the whole family, offering dentistry for children as well as dental treatments designed to cater for the specific needs of older people. "This means your whole family can be seen, making it simple to coordinate visits for multiple family members," she says. "We also understand the demands and fast-paced lifestyle of Miami professionals, and open on select Saturdays and evenings for the convenience of our patients." In the end, experience, compassion and dedication are the hallmarks of this doctor's career. "My rich history and tradition in the art of dentistry, in conjunction with my unwavering commitment to service and community, has paved the way for amazing opportunities," she says, speaking of her practice, which has grown largely by word of mouth from satisfied patients who speak highly of her knowledgeable team and commitment to excellence. There's no better recommendation than that.
DOCTOR'S ORDERS
"At The Dental Studio, we can help rejuvenate your teeth through using the very latest cosmetic dental materials and techniques. We can give you a youthful smile that will not look out of place or unnatural."
ASK THE DOCTOR
Q:I've been hearing a lot lately about the importance of gaining and maintaining a healthy mouth and the role it plays in whole body health. How is this possible?
A: "It's easy to overlook the importance of this, but being unable to eat properly due to missing teeth can lead to digestive problems, and being unable to eat healthy food containing plenty of nutrients could affect your overall health. It's possible to restore your smile so all your teeth function correctly.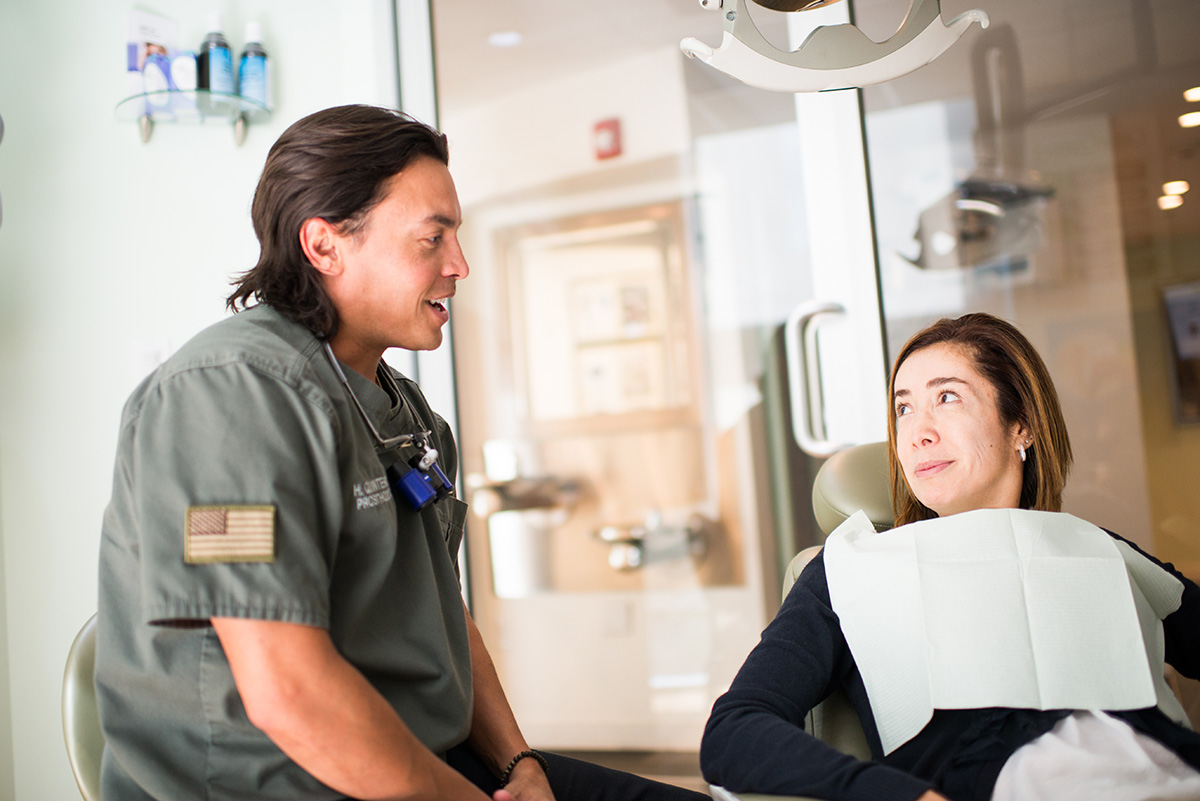 Hernan E. Quintero, D.D.S.
HQ Dontics Dental Centre
1060 Brickell Ave.,
Ste. M2/103
305.373.9699
HQDontics.com
"There's nothing more important than seeing patients smiling on their way in and out. It's gratifying when they arrive early to share their time with us and relax before their dental appointment — or just stop by to share a joke, and maybe cheer for the Real Madrid Soccer Team."
Hernan E. Quintero, D.D.S., is a multi-faceted man: a tireless dreamer, a perfectionist, an ideologist, a bit of an artist and of course a dentist, or to be more specific, a prosthodontist. "As a child I always knew I would work in the health field, I just never thought it would be dentistry," he says. "My mother provided me with a 'work hard and never give up' mentality and my father with a surgeon's gut." His vocational test said he should go into either medicine, dentistry or architecture. "I applied for all of them and ended up in dental school after listening to family advice," he says. Luckily, he realized he had made the right decision the very first week. "When I started sculpting teeth on wax, sketching anatomy and learning human physiology, I was instantly hooked," he says. As a prosthodontist, Quintero feels like he is "the architect, the orchestra director, the quarterback." His goal is to design and create beautiful smiles for patients, while coordinating efforts with other specialists in order to achieve the best possible results. His practice is a multi-specialty practice that provides patients with a comprehensive solution for all their dental needs, including prosthodontics, periodontics, orthodontics and endodontics — some of the core specialties involved in adult dentistry. "At HQ Dontics Dental Centre we will walk with you side by side, step by step, so you can smile with confidence," he says.
DOCTOR'S ORDERS
"A Smile Design Consultation will give you a good idea of non-invasive or minimally invasive dental procedures that can improve the way your smile looks — great improvements can be seen by just replacing a defective filling and doing a professional teeth-whitening."
ASK THE DOCTOR
Q:What is a prosthodontist? When would you need the care of a prosthodontist?
A: "A prosthodontist is a dentist who has specialized in treating and handling dental and facial problems that involve restoring missing tooth structures and jaw structures. A prosthodontist is an expert in cosmetics, dental implants, crowns, bridges, dentures and temporomandibular disorders."