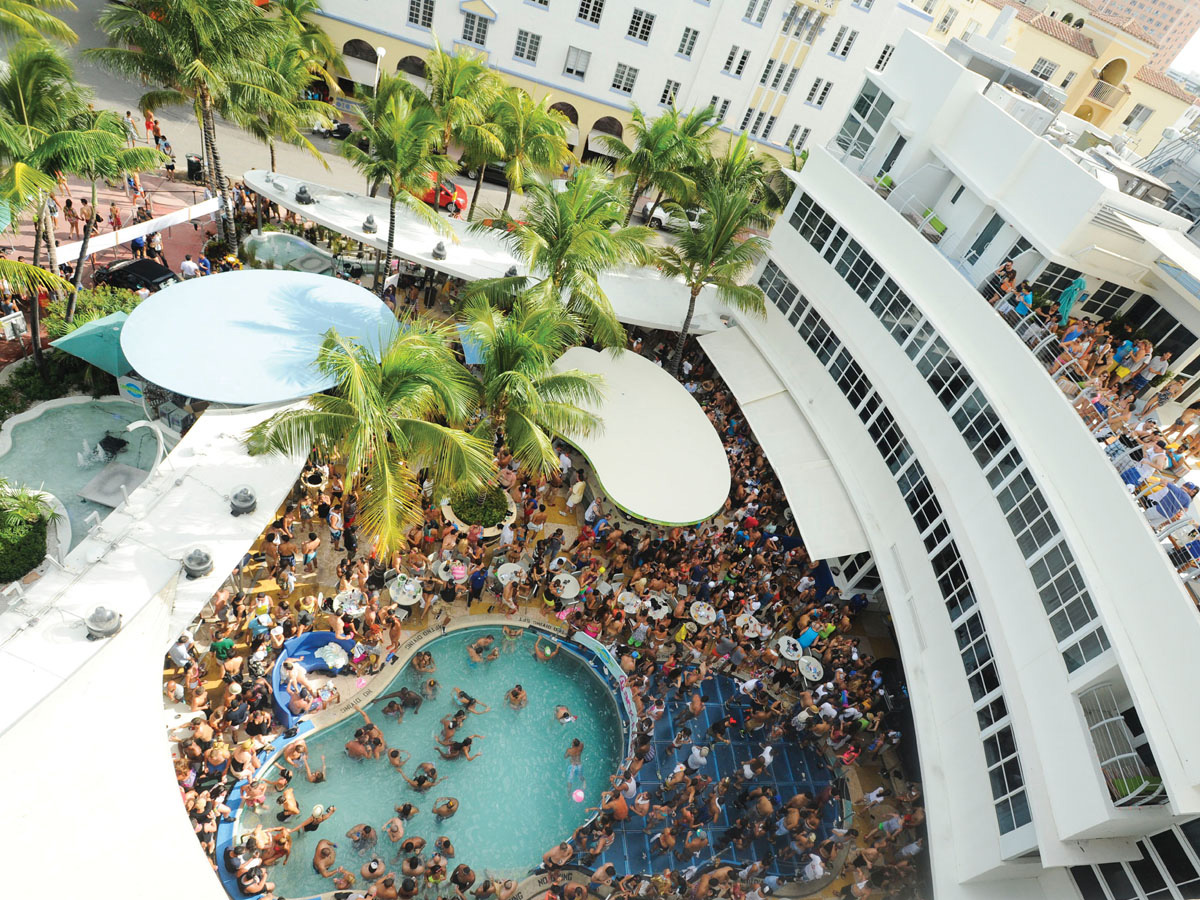 Let's face it, as Miamians we're forced to play host to out-of-town guests more than we'd like. Be sympathetic…they might call some ironically named placed like Paradise, Texas, or Livengood, Alaska, home, when we're really the ones living good in paradise. From their LED-brightened living rooms, fist-pumpers are going strong at dawn during Ultra and Bravo depicts year-round al fresco dining on The Real Housewives Of Miami. When they finally arrive, the challenge becomes finding somewhere that falls between their expectations of The Magic City and reality. The Clevelander fits right in the middle.
If I had a dollar for every time my don't-know-any-better friends were denied access to some over-glitzed South Beach bar because of a dress-code violation, I'd probably have enough to buy a pretty sweet longboard by now. With it, I'd kick and push my way down Ocean Drive's crowded sidewalks with my visitors, our throats parched and our stomachs grumbling, toward the guaranteed good times at The Cleve.
There's so many things I love about this place, that I can probably tell you what it is before I can tell you what it isn't. This bar/lounge/hotel/pool/restaurant has an egalitarian, everybody's-welcome vibe that attracts people from all walks of life. You're just as likely to see a sports fisherman in his signature head-to-toe Tommy Bahamas, as you are a businessman swirling cognac in a 90-degree weather-defying blazer. It's the kind of place you can find spring-breakers, cougars and off-duty nurses from nearby Mount Sinai sitting at the same table drinking a Rum-Runner out of a fishbowl.
As time-sucking as people-watching can be, my focus is usually on food when I'm here and the kitchen basically serves 3 types of menu items: Classics: These are tried-and-true options that everyone from Karachi to Kansas City loves like Chicken Tenders, Hand-Tossed Pizza and Chocolate Mousse Cake w/ Chocolate Sauce & Sweet Whipped Cream; Faux-Tropical: This is fare that tourists expect locals to eat like the crisp and crispy Calamari Caesar Salad and Coconut Shrimp you can take for a mouth-watering swim in a mini pineapple-watermelon chutney pool; Originals: I've been known to destroy their Signature Burger topped with button mushrooms sautéed in truffle oil, slick caramelized onions and pecan-smoked bacon that's perfectly complemented by the nutty notes of Swiss cheese. I like to finish my gastronomic adventures here with Deep-Fried Bread Pudding snuggling a helping of vanilla bean gelato that's covered with a caramel-rum reduction blanket. That's my version of the South Beach diet.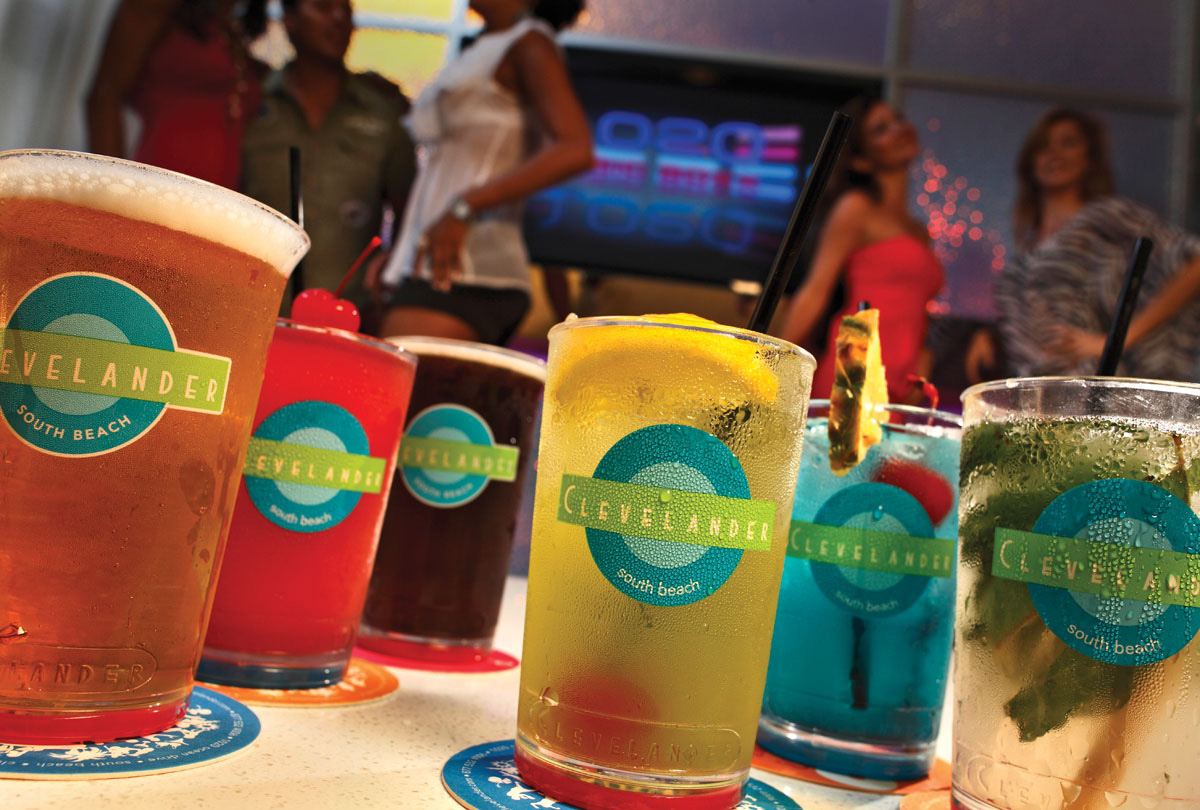 Shortly after a meal, I disregard what my mama told me so many times as a kid and make a beeline for the pool. YOLO. One time, I nearly went deaf from the nonstop woo-ing of a bachelorette party in full swing, but my handicap would have to wait…the pool was in dire need of a CANNONBALL! Afterward, I challenged the ladies to a game of aqua-basketball and lost as a result of our sluggish post pig-out state. The need to tend to my bruised ego was strong and led me to the sports bar.
When it comes to drinks, I'm not telling you not to order a beer but…don't order a beer. Going to The Clevelander and not ordering one of their signature drinks is a rookie move. There are just too many specialty cocktails to choose from, especially of the frozen variety. My go-to is the Raging Bull, a vodka-energy drink slush of deliciousness. Much like in the documentary Super Size Me, if I'm asked if I want to amp up the drink with a $2 floater, I always say yes. Ordering the margarita version of this drink at the point were the party gets into the shots phase is usually immediately met with boos and heckling…until it arrives and you meet the nay-sayers' wide eyes with a victorious smirk. They'll feel as though they've been collectively zapped by the Honey, I Shrunk The Kids laser when an 80-oz. flower vase shows up with hi-lighter-colored straws bobbing in a mixture of Don Julio, Grand Mariner, OJ and sour mix. You may initially balk at its $75 pricetag, but it's money well spent when shared…plus how much is 24 hours of Instagram stardom worth to you?
Sitting firmly in the nucleus of South Beach surrounded by an explosive array of bars, cafés and clubs, if you haven't been to The Clevelander recently, you're in for a treat. They've spent a gazillion dollars restoring the place to it's Art Deco heyday and journeyed into new territory with extra touches like a swanky rooftop bar area called C-Level if you prefer highballs to high-fives…either way, you're in for an epic adventure every time you visit this SoBe institution of good times.