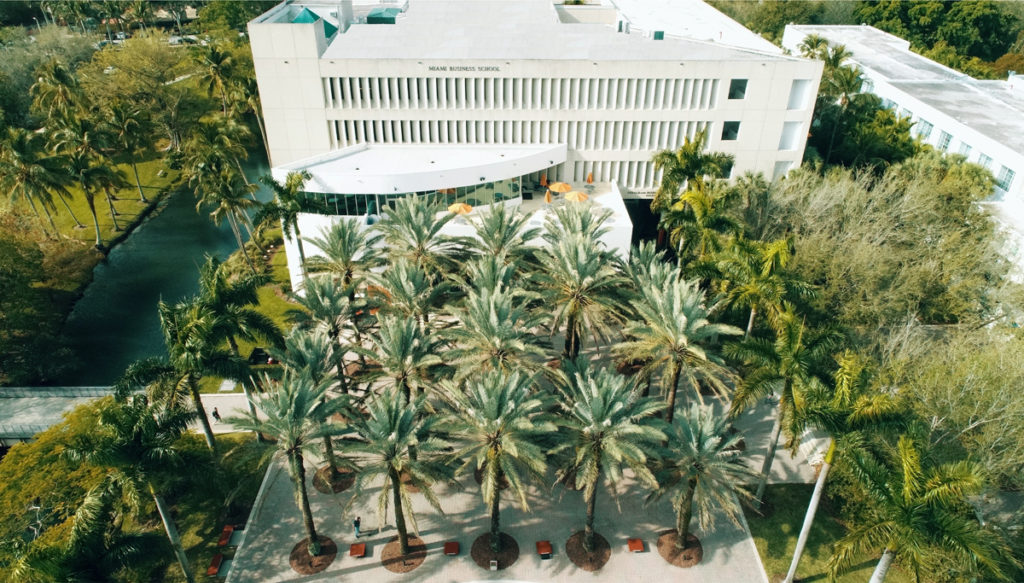 Located in one of the most diverse and dynamic business centers in the world, Miami Business School (commonly known as MBS) is building bridges across borders — from promoting sustainable business and positive societal challenges to fostering the entrepreneurial spirit and meaningful development.
Responding to the distinct needs and demands of the modern business professional, MBS students are learning in more ways than ever, with experiential opportunities both local and around the world. The professional and executive graduate business programs allow Miami professionals to purse their degree while continuing to work full-time. The School recently joined the OneMBA global consortium as the exclusive U.S. partner. Designed for business professionals who live and work around the globe, students attend globally coordinated classes in five countries across Europe, Asia and The Americas. Several of the Master's programs — including its MBA, which marked its 70th anniversary in 2018 — are now also available online.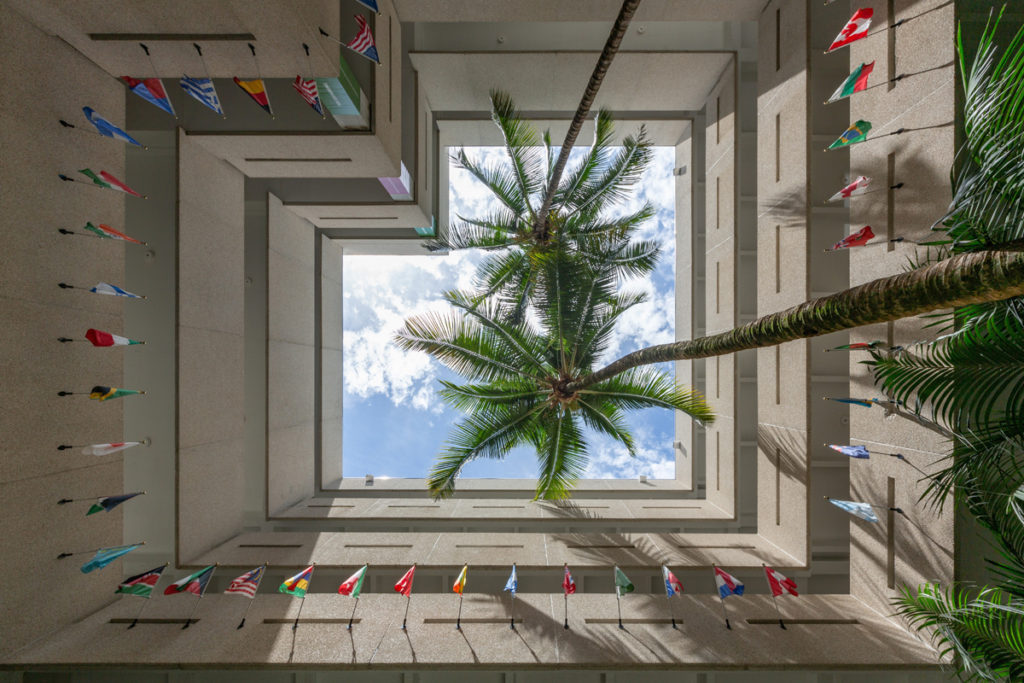 There are many ways for students to customize their degrees and curricula, while delivering a dedicated career services team that will help them maximize their return on investment. "The benefits of earning a degree are as diverse as the individuals seeking them," says Patricia Abril, Vice Dean, Graduate Business Programs and Professor of Business Law at Miami Business School. "If an individual does not have a business background, a degree in business is extremely practical. Every industry relies on business principles to be successful and we teach the skills that leaders need to excel in this area. At MBS, we develop management skills while offering access to a large network of students and alumni. Many students also apply to MBS to seek promotions or new opportunities that they otherwise cannot consider without an advanced degree or the needed relevant skills. Others seek a graduate degree in business to nurture their entrepreneurial endeavors of launching or reviving a business."
"The network at Miami Business School is massive. No matter what your goals are, there is definitely someone who can help you along the
way."
Most of these reasons translate into a desire to earn a higher salary, which in the world of business means earning a great return on investment. A person who obtains a Master's in Business is more likely to have a much higher salary than those without one. "As a foreigner, I was looking for opportunities to enhance my experience in the U.S.," says Gabriel Cambuí, Deputy Managing Director for Banco do Brasil Securities and an MBA student with the OneMBA program. "As I looked into education, MBS was by far the best option in town, the obvious choice. Everyone has a very busy schedule nowadays. It's becoming harder and harder to stop everything to do only one thing. I'd be lying if the financial aspect didn't make an impact, because it does. But even if it was not the case, being completely out of the marketplace for a couple of years would not be beneficial for me."
Connections are another integral part of MBS, where the global alumni network is 45,000 strong and spans nearly 130 countries. The university in its entirety boasts a global network of over 193,000 alumni. "I was hosting an alumni reception at a hotel lounge in Beijing and we all posed making 'the U' for a photograph," recalls John A. Quelch, Vice Provost at UM and Dean of Miami Business School. "A stranger at the bar saw us, came over and introduced himself as a 'Canes parent! You cannot underestimate the power of the U, until that moment you are recognized all over the world."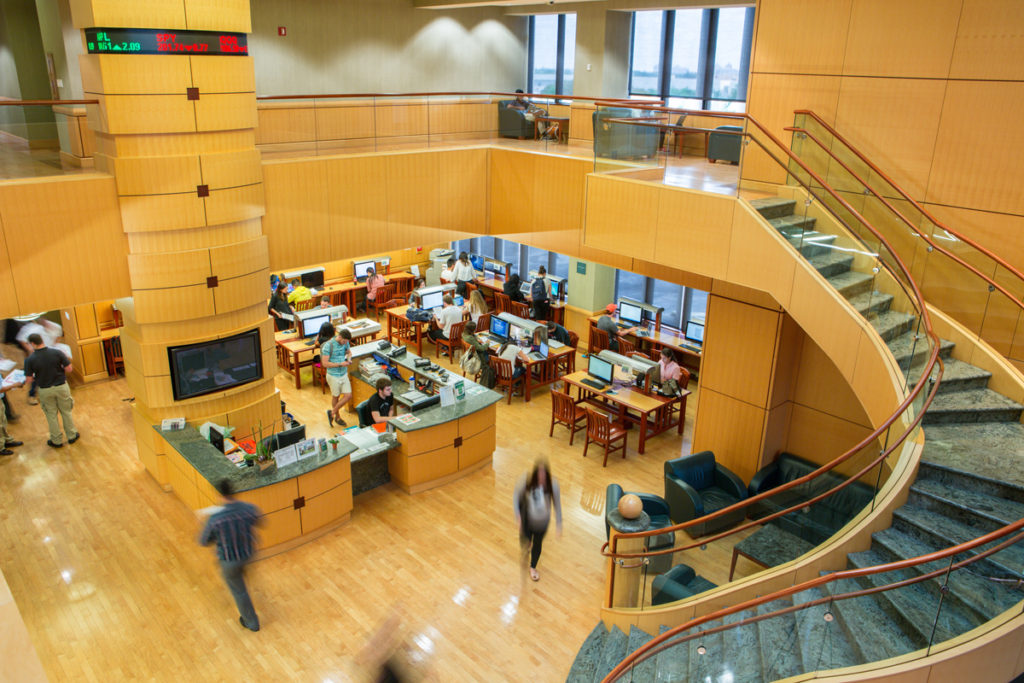 Under the direction of Dean Quelch (formerly the Senior Associate Dean of Harvard Business School), the school has been on an upward growth trajectory. Since becoming the School's Dean in 2017, the school changed its name from the School of Business Administration at the University of Miami to Miami Business School. The School has secured a position on the cutting-edge of Sustainable Business with a new Master's degree in Sustainable Business and with LEED Gold certification for its building on the Coral Gables campus. "Getting an MBA has always been a goal of mine," says alumni Alexandra Blasser. "I come from a 'Canes family, so getting my MBA at MBS was a no-brainer. I knew everything that UM has to offer, and by living in Miami, I have seen the power of the UM alumni network. I recently graduated and while I'm still grasping all of the many benefits that come with this achievement, the immediate benefit of earning a graduate business degree is the ability to see and understand the bigger picture. I studied business as an undergraduate at American University, and one of the major differences with a graduate degree is that we come in with work experiences and can apply the concepts immediately and in a strategic way."
Ms. Blasser was in the Professional MBA program, a two- year program with classes mostly on Monday evenings and Saturday mornings. MBS offers a suite of graduate business degree programs including two full-time MBA, five Executive MBA and eight Specialized Masters programs, serving more than 1,100 enrolled graduate students.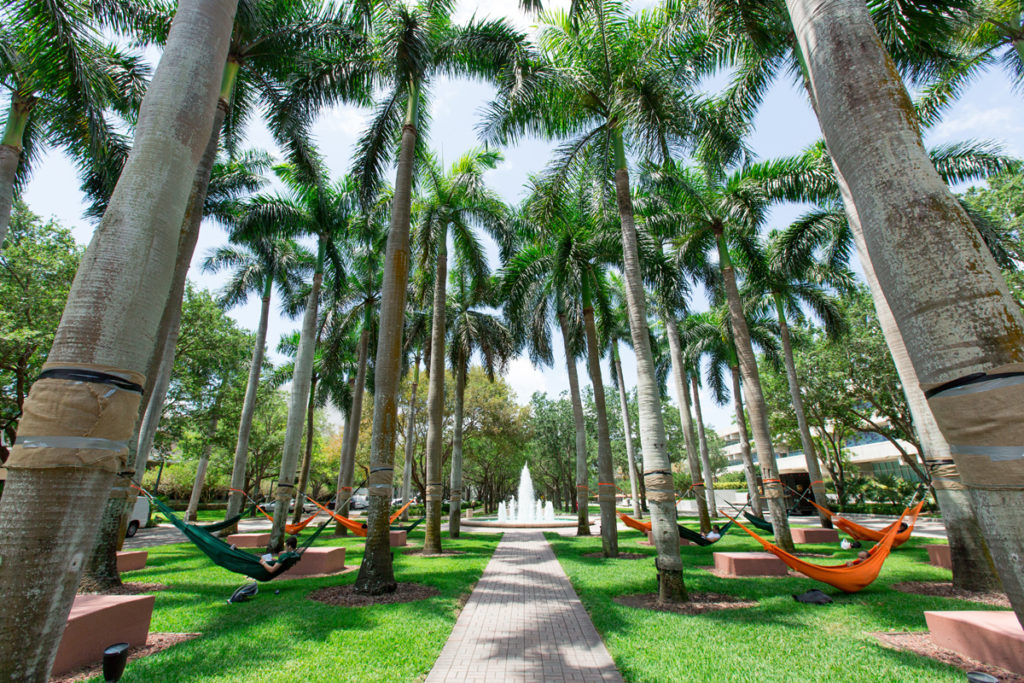 The faculty is globally recognized for teaching, professional practice and cutting-edge research, which drives business changes and shapes public policy. The Marketing Department, for example, is ranked #7 in the world in academic productivity based on the number of articles published per faculty member in top marketing journals over the last 3 years (source: University of Texas at Dallas). Management Professor Yadong Luo is ranked the world's most productive scholar in international business and international strategic management research (source: Management International Review). Their beloved Professor Emeritus A. "Parsu" Parasuraman is considered one of the most influential leaders in the field of services marketing and service quality. And Finance Professor Indraneel Chakraborty was named one of Poets & Quants "Best 40 Under 40" professors.
When you enroll at the Miami Business School, you are not only joining a global research university, but you are also becoming a part of a dynamic global hotspot for business, innovation and culture. A graduate business education from MBS is the key to unlocking new heights in your career, especially in Miami's increasingly global business ecosystem.
Miami Business School is located at 5250 University Dr., Coral Gables, Florida 33146. For more information on how to enroll or learn more about the programs offered, call 305.284.2510 or visit MBS.Miami.edu.