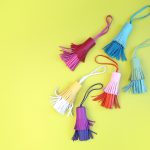 Tassel Keychain
These adorable leather tassel keychains are the perfect adornment for your handbag, keys or even your kid's backpack. Stylish, sweet and sure to bring a smile to your face, these leather tassels are easy to make and are big to please. Who knew you could do all this with just a few common pieces of leather and some simple household tools?!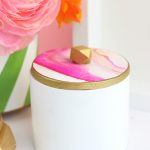 Jewelry Box
This is the perfect way to repurpose wood bracelets and create a new jewelry holder and night table or bathroom accent. Learn how to perfect the marbled clay technique that you're almost guaranteed to fall in craft-love with once you learn the magic of its versatility. Go ahead, learn how to recreate the luxe look and feel of these adorable adornments. It will be more than worth the effort.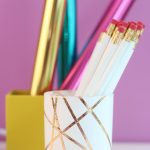 Desk Accessories
Although we've mostly gone digital, sometimes we need to reach for a good old-fashion pencil or pen. That isn't going to change any time soon! Keep them organized in a darling rose-gold foil pencil holder. By following a few easy-peasy directions, you'll be amazed at what you can accomplish with a little spray paint, double-sided tape and reactive foil.
CRAFTED STYLE
When I was just 7, I was making friendship bracelets, they were beautiful intricate little knots of twine tied into pretty patterns. I was going to start a friendship bracelet empire. It was going to be huge. I would revolutionize the bracelet industry. Turns out, friendship bracelets really never took off. But I guess you could say I've been crafting my style for quite a while. The art of "making" fills every part of my life and I truly believe there's a maker in everyone, it's just a matter of where you want to start. You don't have to paint a mural or knit an afghan to be a maker. All you need is a pair of scissors and pretty paper to create a fun party banner. Forgo cocktail straws for striped ones in your favorite palette. Pick up some inexpensive frames and spray paint them in a bold palette. Make is simple — and fun. You've just got to know it's possible and that you are able. Crafting your style is doable. I promise. Give it a shot. You'll be impressed with yourself.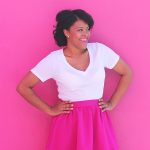 ABOUT THE AUTHOR
› Amber Kemp-Gerstel is the crafty Founder & Creative Director behind Damask Love, a crafting blog committed to sharing inspiration and instruction with DIY gals worldwide while hosting creative workshops throughout Miami; DamaskLove.com.