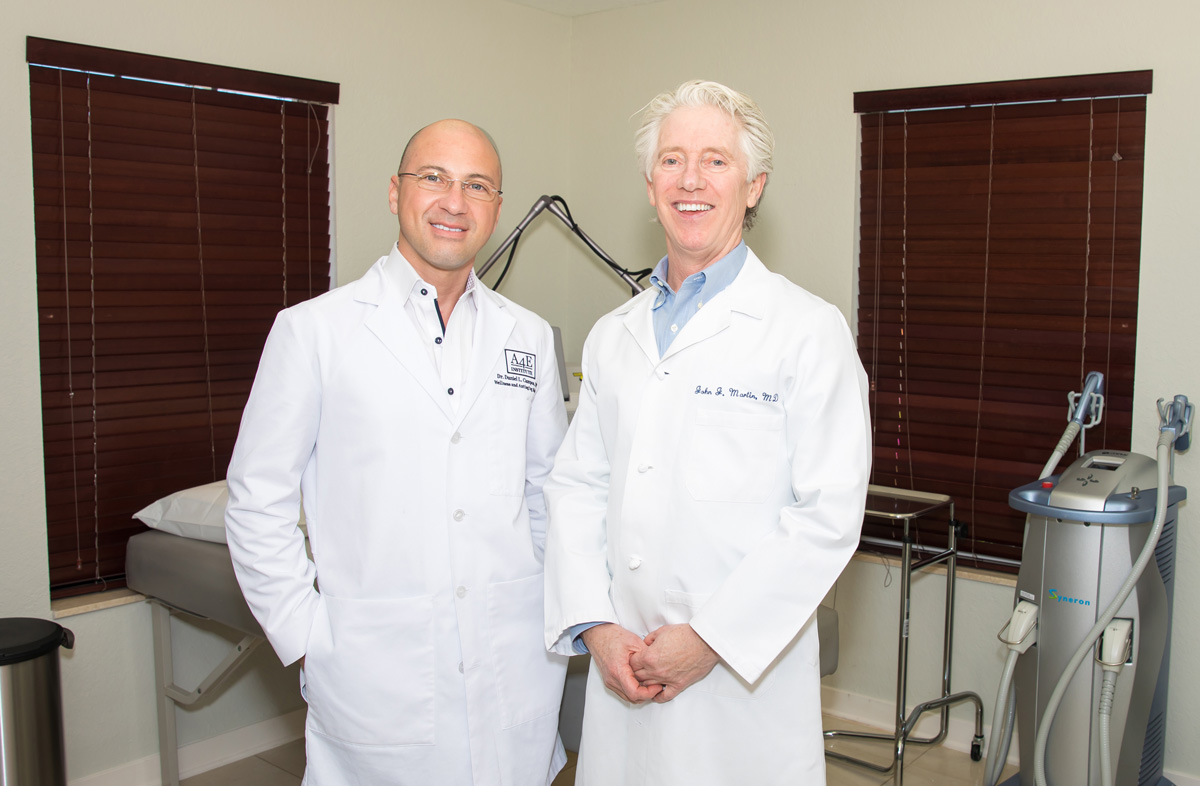 We live in a time of cosmetic treatments. If performed by qualified practitioners, they don't have to necessarily be surgical or result in an "unnatural" appearance. By selecting a medical practice with a wide range of treatment options, clients have the opportunity to make informed decisions that are tailored to their individual needs and treatment preferences. The new partnership between John J. Martin Jr., M.D., and Dr. Daniel L. Campos, DNP, takes two leaders in the field and puts them under the roof of one comprehensive practice.
The two met 15 years ago and worked together at the Coral Gables Surgery Center. As the two continued to evolve in anti-aging medicine, it became apparent that their services and specialties complemented one another, and a permanent collaboration was inevitable. What makes their practice stand out is that they both have similar goals for clients seeking to improve or maintain a youthful appearance, yet their path to reach those goals are different. Dr. Martin offers clients a wealth of cosmetic medicine knowledge and experience including surgical options; while Dr. Campos' approach is completely geared toward non-surgical or minimally invasive procedures and anti-aging treatments such as hormone optimization and laser-based therapy. With an artistic eye, keen sense of aesthetics and their combined knowledge of science, this unique combination of skills makes them true specialists in the field. "Despite our very different backgrounds, we both subscribe to the same ethical principles, we have a very similar aesthetic style and we both always put client's satisfaction first," says Dr. Campos.
Dr. Martin is internationally recognized for his medical and aesthetic procedures and teaches frequently as an invited faculty member throughout the world. He grew up in and went to school in Massachusetts, graduating from Harvard Medical School. He did his Ophthalmology residency in Philadelphia, followed by a fellowship in plastic surgery at Bascom Palmer in Miami. He specializes in cosmetic facial and ophthalmic plastic surgery, and is renowned for his laser skin rejuvenation, as well as fillers, neurotoxins and other non-surgical facial rejuvenation.     
Born and raised in Cuba, Dr. Campos came to the U.S. in 1995 and soon started to pursue his dream of revalidating the medical career he started in Cuba. After two decades caring for sick clients and serving as faculty for a local college, his professional goals refocused toward helping individuals retain the vitality and health of their youth through anti-aging medicine. "I not only believe we deserve living a long and healthy life, but in thriving at any age," he says. He is a member of the American Academy of Anti-Aging Medicine and graduated with highest honors from Nova Southeastern University with a Doctor of Nursing Practice degree. He obtained a Masters of Science in Nursing in the specialty of Adult & Gerontology Medicine from University of Miami and holds an Advanced Registered Nurse Practitioner license in Florida. He's also board-certified by the American Academy of Nurse Practitioners in the specialty of Adult-Gerontology Primary Care. "What's great about our client population is that we see everyone — all the way from a college student seeking to get Botox injections to prevent wrinkles to an 80-year-old widow who refuses to be labeled as grandma and wants to have a full facelift done to improve her appearance," he says.
This all-inclusive approach allows patients to come back on a regular schedule for things like Botox, then return to try other procedures that are offered with the result of keeping them looking and feeling their best without having to go outside the practice they are already comfortable with. That said, as with any successful business, it is going above and beyond what is expected that builds a truly loyal following. "The reason clients keep coming back to seek our services and recommend us to others, besides being happy with the treatment results, is trust," says Dr. Campos. "We listen to them and allow sufficient time for the client to ask questions to ease their fears and clarify any concerns they may have before, during and after each treatment. I believe this helps to develop a trusting and long-lasting relationship."
As experts, what are top considerations the doctors believe potential clients should consider when choosing a medical practice? "The experience, training and reputation of the provider is very important," says Dr. Martin. "Also essential are before & after pictures and recommendations from other patients." Adds Dr. Campos: "In my opinion, being available to the client is as important as how qualified you are and how much experience you possess."
Choosing a medical practice is an important decision, so it's nice when it doesn't have to be made more often than necessary. Drs. Martin and Campos share a long-term association, trust, and similarly high ethical standards. "Together we are able to provide a more full range of anti-aging and rejuvenation options since we do different procedures, covering both non-surgical and surgical facial rejuvenation and hormonal optimization for better living — that is our top priority."
The offices of John J. Martin, Jr., M.D., and Dr. Daniel L. Campos, DNP, are located at 2912 S. Douglas Rd. in Coral Gables. For more information, call 305.444.5950 (Dr. Martin) or 305.868.4811 (Dr. Campos); JohnMartinMD.com; A4EInstitute.com.