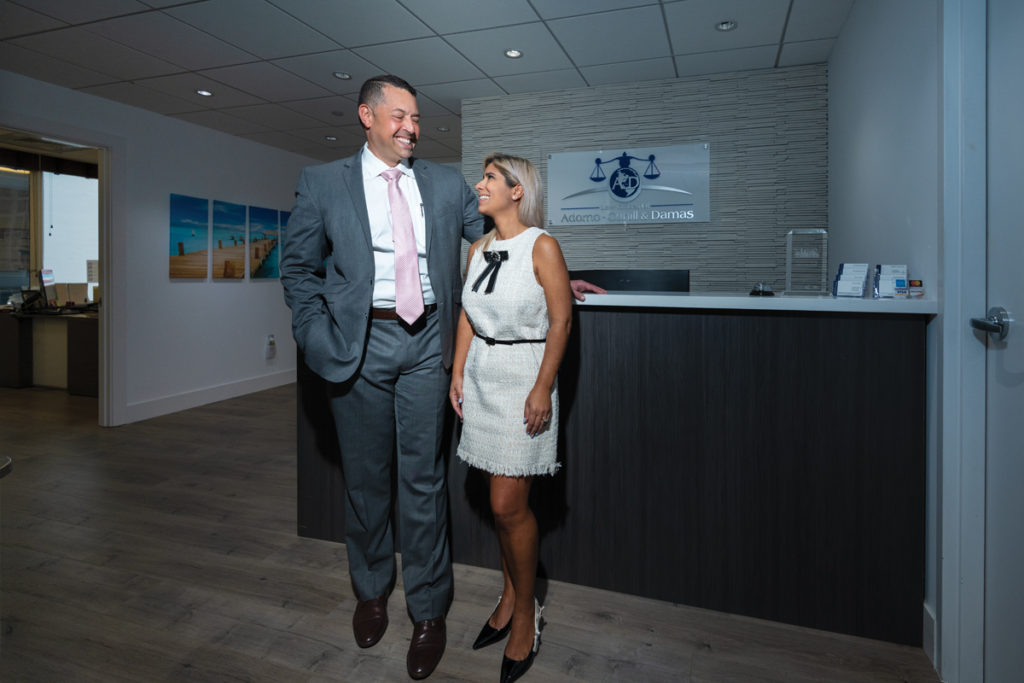 John Cunill & Amy Adorno
Back when the old "Grove" was the happening place to be in the late '90s, John Cunill and Amy Adorno met while playing pool at everyone's favorite old-school hangout, Sloppy Joe's. "We played a few rounds, struck up a conversation and the next day we met at News Café for coffee," says John. "We quickly learned we both had similar values, a hard work ethic and wanted kids in the future." The couple moved in together on Brickell Key later that same year and spent a few years getting to know each other before John popped the question. "Luckily, she said yes, and we've been together ever since," he says. "Our wedding day was very emotional — we were young and it felt like 'grown-up' life began for us that day." Today, the pair helm The Law Offices of Adorno-Cunill & Damas P.L. with their partner, Attorney Kenneth Damas. John works on civil litigation and criminal law cases; Amy handles real estate closings and real estate transactional work. Before launching their firm, the dynamic duo invested in real estate together. "At the turn of the millennium, we began seeing some opportunities in real estate in the Brickell area…we felt that the area had so much potential and that Brickell would be a perfect place for people to combine work and social life," they say. "We began investing in real estate from a long-term hold perspective. The more we invested together, the more we both instinctively knew what responsibilities we would each handle and it all worked out seamlessly." And it's been like that ever since. "We live together, we work together, we parent together and we pretty much do everything else together," they say. "We don't have to ask each other how the other's day went. Working together requires a special type of relationship where we each know our area of responsibility and understand that there's a company to run during the work day and lots of family fun to be had when we're off the clock. It's hard to believe that we've been working side by side for more than 20 years!"
Wedding Bells:The couple was married at the Colonnade Hotel in Coral Gables. "We had a Catholic Priest and Rabbi conduct our wedding which made it unique and captured the essence of Miami and the diversity we both knew and grew up with," they say.
Love Is In The Air: Amy says that John is definitely the more romantic one in the relationship. "He's always planning special trips, dinners and sends me loving texts throughout the day."
Parenting Power: "The birth of our kids immediately gave us a common goal that took priority over everything else in our lives," they say. "Learning to parent involves incorporating each other's upbringing and ideals to create a solid home life and future for your kids."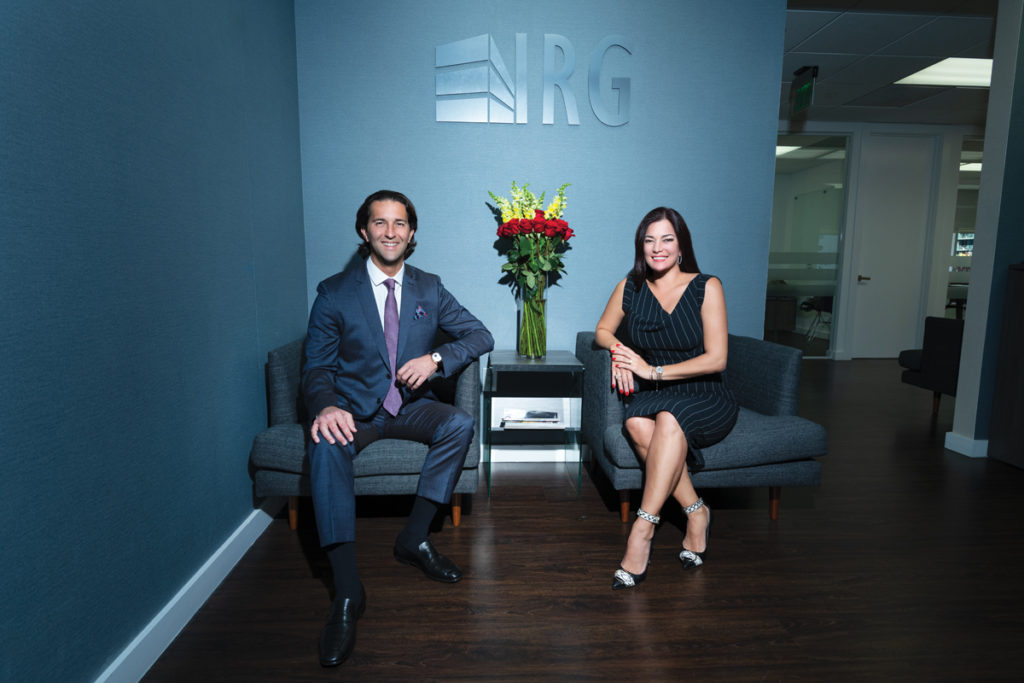 Cengiz Bayirli & Giovanna Guzman
When Giovanna Guzman gave a real estate presentation at her office to Cengiz Bayirli and his client from Turkey for a new project, a love match was written in the stars. That was 5 years ago. After a 2-year long-distance romance, with Giovanna in Miami and Cengiz in Turkey, the couple found themselves with not only a physical distance but a time difference as well. "We only had a little window of time to communicate," they say. Once Cengiz realized she was the one, to catch Giovanna off guard, he planned a proposal in the middle of the week, convincing her to get away for one day to the St. Regis in Bal Harbour. There, he surprised her with a fully decorated room, complete with rose petals everywhere. During a romantic dinner in the room, he proposed with a ring he personally designed and a second ring that had been passed down from his grandmother to his mother. "We decided to get married in our house on New Year's Eve and wanted to make it memorable for our family and friends," they say. "We built a bridge over the pool, which was symbolic of the beginning of us building a life together. Our bond remains strong to this day thanks to respect, honesty and admiration for one another, showing the same love and affection as the same day we met." When it comes to business, the visionary entrepreneurs own brokerage firm International Realtors Group as well as Property Invest USA, focused on selling turnkey investment properties in Baltimore with a minimum 10% net return guarantee. "We met while working in Real Estate, so it was only natural to embark on this professional journey together," they say. "Together we are stronger."
Around The World: "One of our most romantic experiences was a trip to Paris to celebrate our first anniversary," they say. "We also had an adventurous trip to Capadoccia in Turkey where we took a hot air balloon ride at dawn and stayed in a hotel built into the caves!"
Notable Qualities: The couple's natural temperaments and personalities balance each other out perfectly. "We bring out the best in one another every day," they say. "We aim to set a higher standard each day and always keep growing."
Complementary Partnership: The couple says their secret to success is remaining positive and consistent. "Sometimes we never stop working and bring work home," they say. "The upside is that because we're in the same field, we help each other brainstorm and find creative solutions."
Tara Solomon & Nick D'Annunzio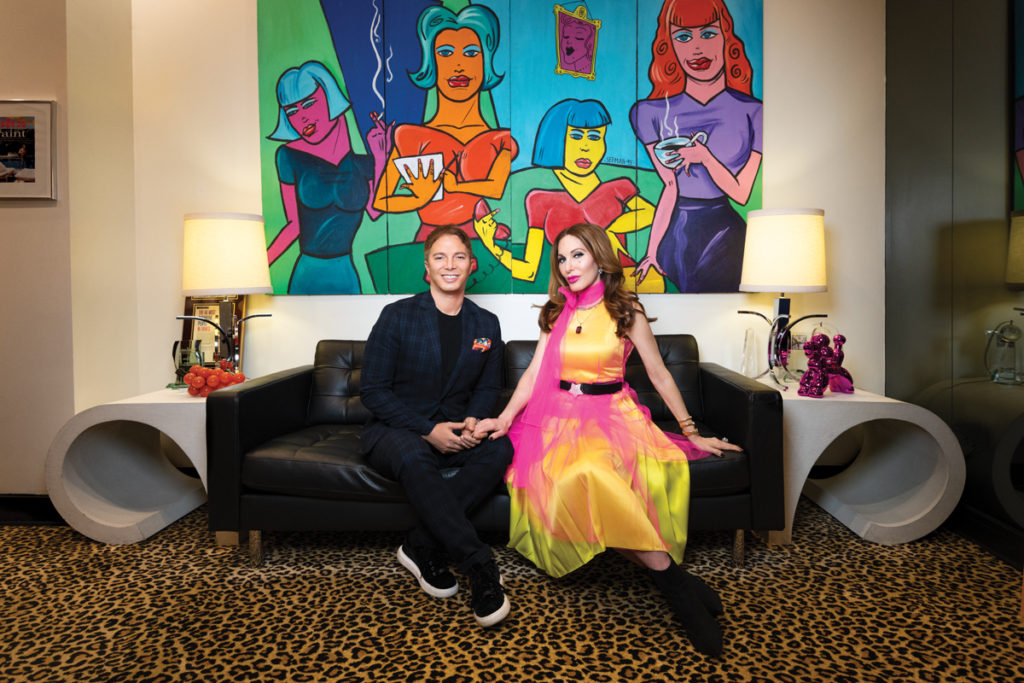 When Tara Solomon and Nick D'Annunzio met through mutual friends at the legendary Shadow Lounge in Miami Beach on Pearl Harbor Day 23 years ago, the spark was undeniable. They began dating almost immediately and were engaged 5 years later. "I designed Tara's engagement ring and waited for Brinks to arrive with it that morning," says Nick. "I planned a surprise weekend in Palm Beach at The Breakers. I snuck and packed her bags and told her we were going antique shopping in Palm Beach, which she loves. When we checked in and went to unpack, I realized that I'd forgotten the pants to my suit — I was going to propose at dinner that night. I had to buy a pair of unflattering pleated pants at the gift shop!" After a REALLY long engagement, they were finally married last year at home. "It was perfect," they say, mentioning their longtime friend officiated the 1960's-themed wedding that included a playlist from The Supremes, Elvis and Sonny & Cher. "We had our first dance to Simon & Garfunkel's Mrs. Robinson. The newlyweds run Tara Ink, one of Miami's leading full-service public relations, marketing, event production & social media companies with teams in Miami, Los Angeles and New York. The decision to start working together was a no-brainer. "We realized there was no one we trusted no more than each other," says Nick. "During challenging times, whether it's natural disasters, recessions or pandemics, we know that we'll get through it together." Adds Tara: "It's wonderful having a life partner who knows you inside and out, and loves and accepts you despite your eccentricities and flaws. We are very different people, and yet share the same core values. We are true soul mates." In fact, about 4 years ago, Tara had a reading with a past-life specialist and she traced her many lives with Nick back to the 1700s! "Our love is eternal!"
Cupid's Surprise:"Our first Valentine's Day was just two weeks after we started dating," says Tara. "Nick had a black & red Moschino bag with a heart on it delivered prior to Feb. 14, so I had a designer create a dress to go with the bag. Nick picked me up for dinner and had all these beautiful gifts waiting for me in the car. After eating, we drove to the beach and had champagne and strawberries, which he'd packed in a cooler in the trunk. It was a magical night!"
Professional Perks: "We have such vastly different roles and daily duties at the agency that sometimes we go an entire day at the office without crossing paths or speaking," says Nick. "But one thing remains forever certain: I always have the prettiest lunch and dinner date!"
New Perspective: "We work a lot, day and night, in our profession — that becomes a lot when we are running at full-steam during high-stress times," they say. "This past year has been a wonderful reset for us — altering our perspective, the way we work, and the workload we will accept."
Jessica De Quesada & Luis Moreno
Jessica De Quesada met Luis Moreno when he delivered a platter of Quiznos to a wedding she was planning at a ballroom 15 years ago. Both businesses were owned by the same investor. "Once he began asking about me to the owners, they started playing matchmaker," she quips. "We went on our first date a few months later." It seems they'd waited long enough — the lovebirds literally started planning their wedding during their first date. "We were at Bahama Breeze and that night he met my family, all my friends…we've been together ever since," says Jessica. "Our story is a little crazy — he gave me a ring a month after our first date inside of a greeting card…not the most romantic proposal, but it worked!" They got legally hitched at the courthouse a few months later and had a church wedding a few months after that. "We were both very nervous on our wedding day, but so excited," they say. "Our nerves were through the roof, but everything was perfect." Immediately after the wedding, a stint in culinary school for Luis yielded a mobile food truck business that paved the way for his first restaurant, The Crazy Tostón, serving up a Latin mash-up of flavors, fast-food style. Throughout her husband's culinary success, Jessica was creating her own empire with The Event Planners Miami. It wasn't until COVID hit last year that everything changed and they quickly combined their respective strengths to launch Love My Keto Meals. They sold 30 meal plans the first week and currently deliver more than 2,000+ meals a week. "As an added benefit, our customers have lost thousands of pounds collectively by incorporating our healthy and clean meals into their diets," says Jessica. So how has this husband-wife team made it work? "We give each other advice, but we stay in our lanes," they say. As such, Jessica brings the business, marketing & sales to the table and he's in charge of the kitchen.
True Love: Since their romance began, Luis has been showing Jessica how much he cares about her with little surprises here and there. "He always leaves things in my car — teddy bears, flowers, cards, love notes — and that always does it of me," she says. "We're always focused on our kids, our love for one another, our work and our growth."
Balancing Act: Raising two teenagers and tending to a new business venture, budgets, social media, emails, calls and customers is no easy feat, but somehow they make it work. "We have a very strong foundation — as the years go by, we've learned that it's our commitment and dedication to grow that has kept us together," they say. "We take it one day at a time and make sure each new day is better than the previous."
Forever Forward: "We always discuss our next steps, the future for our children and the stability of our family," they say. "As long as we know that our kids are happy and healthy, that's enough reason for us to keep going and focus on all the blessings in our life."