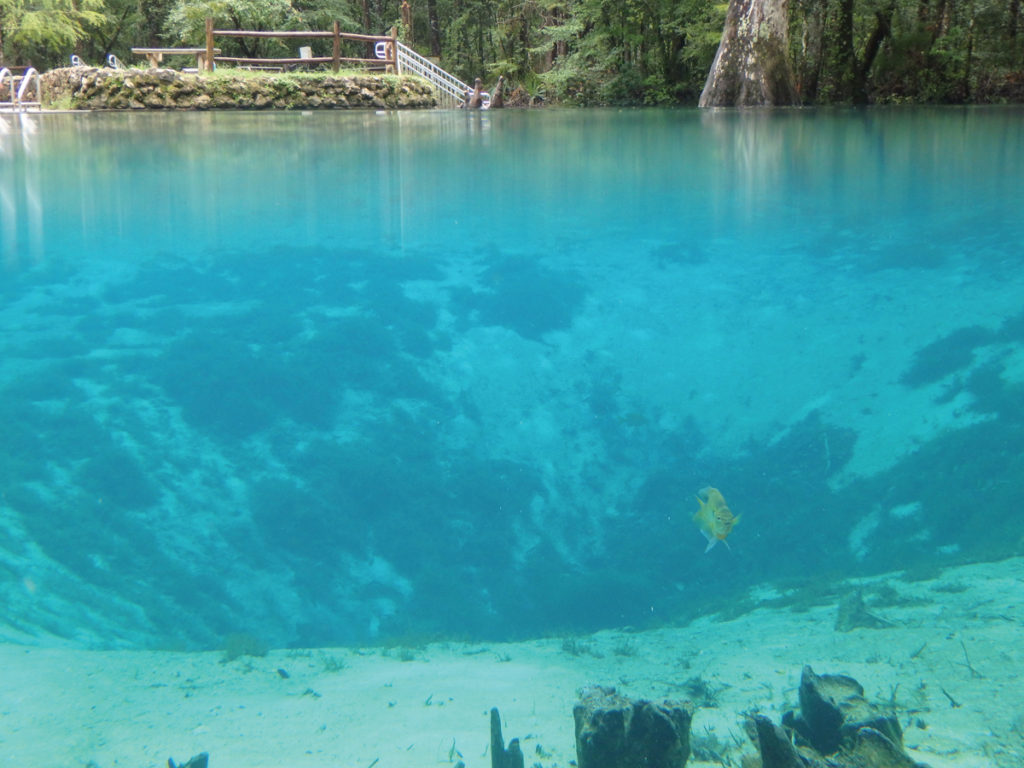 Ponce de Leon Springs State Park,
Northwest Region
Named after the Spanish explorer who sought to discover the Fountain of Youth, Ponce de Leon Springs State Park is a family favorite. Home to massive cypress trees and lush vegetation, this aquifer-fed spring has pristine teal blue water that remains a refreshing and constant 68 degrees Fahrenheit year-round. Picnic pavilions, seasonal guided walks with rangers, swimming, snorkeling and trail hikes available. Note: All of the springs have high visitation on weekends and holidays, and parks close when they meet capacity. — Photo courtesy of Florida Department of Environmental Protection
Best Lodging Nearby: Hotel Defuniak was built in 1920 and was originally a Masonic lodge. It is a holdover from a more elegant era full of opulence and jazz. When you make your reservation, make sure to also ask for the "Dinner & Ghost Tour" experience; HotelDefuniak.net.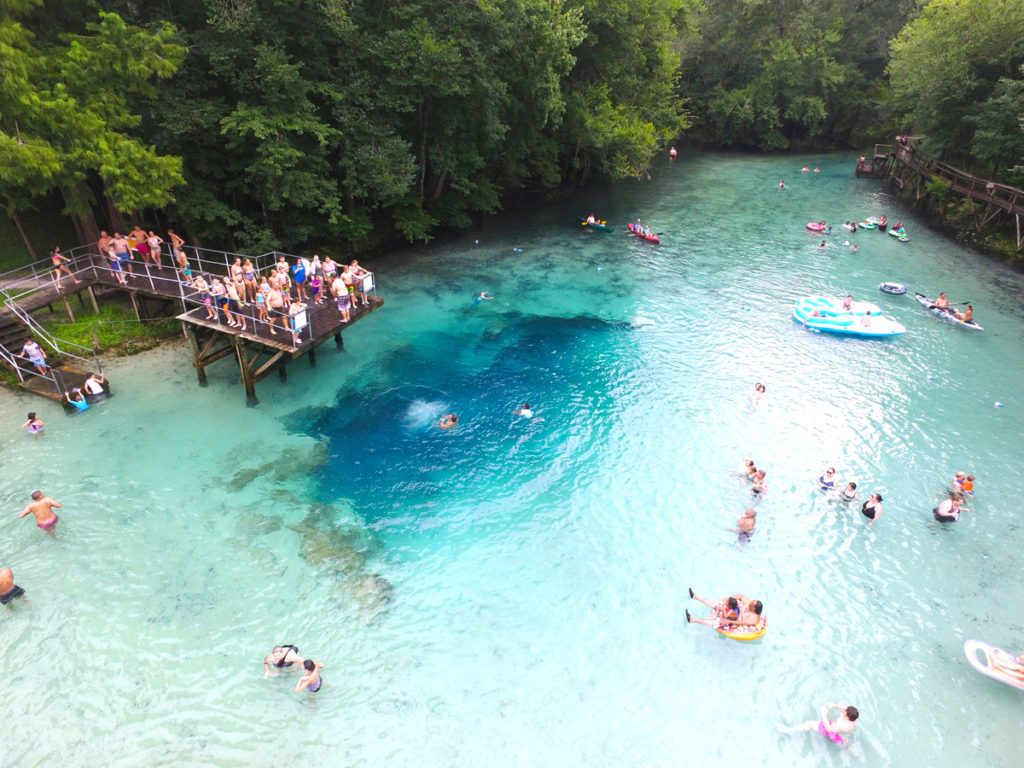 Gilchrist Blue Springs State Park, North Central Region
Located in Gilchrist County, this spring is the newest addition to the Florida State Parks family. The park sits on 407 acres and features natural flora and fauna as well as a collection of freshwater springs, with a large second magnitude spring that pumps 44 million gallons of water per day. Close your eyes and picture the perfect summer camp and you get an idea of what to expect at this place. Sprawling oak trees, picnic tables, a wooden boardwalk, turtles sunning themselves on logs, and the most inviting crystal clear aqua blue water imaginable. Hiking, snorkeling, swimming, kayaking, paddle boarding and canoeing are preferred pastimes here. Tent camping and RV sites available. — Photo by Russ Mick
Best Lodging Nearby: Ichetucknee Bed & Breakfast @ Smoakhouse Ranch is surrounded by Florida wilderness and farm animals. This historic property offers the option of staying at the main farmhouse or in a cozy cabin accommodation; SmoakhouseRanch.com.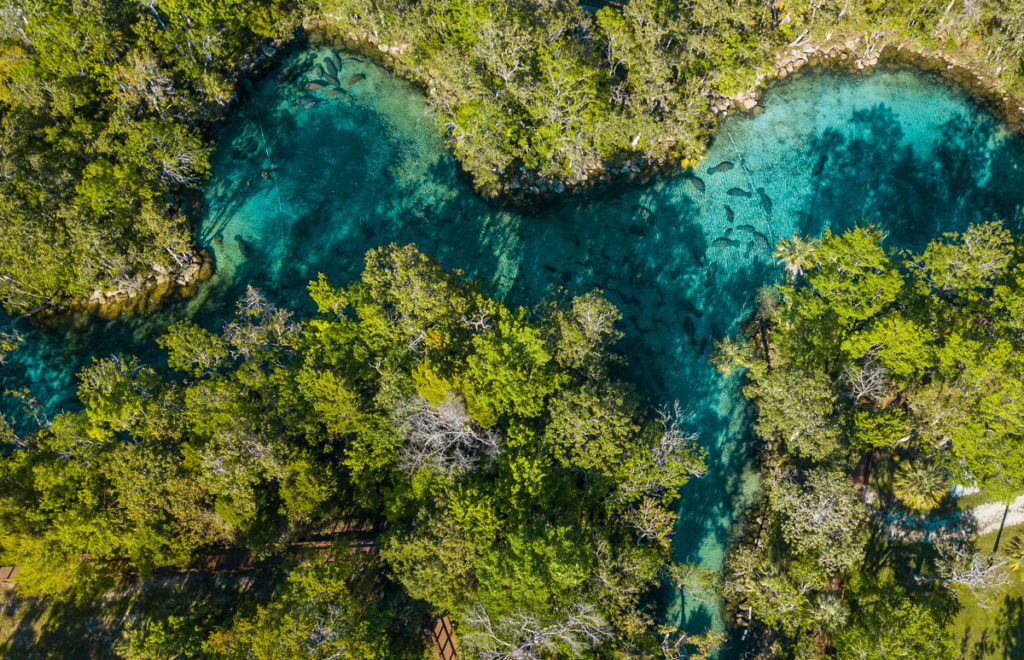 Three Sisters Springs at Crystal River National Wildlife Refuge,
Central West Region
Located in Kings Bay, Crystal River National Wildlife Refuge was established in 1983 to protect the endangered manatee population. Today, it's become world-famous for manatee eco-tourism. All manatee tour companies in Crystal River operate under a special use permit from the U.S. Fish & Wildlife Service, which runs the refuge. Among the 70-plus springs scattered within the 600-acre bay, the most beautiful and celebrated is Three Sisters Springs.
Best Lodging Nearby: Plantation on Crystal River sits on the water on the south end of Kings Bay. Aside from lodging, it has the Plantation Adventure Center. From here, you can set up your guided Swim With The Manatees Tour; or opt for a fishing charter, kayaking or scalloping in the Gulf of Mexico. Upon your return, West 82º Bar & Grill will "cook your catch" for dinner; PlantationOnCrystalRiver.com.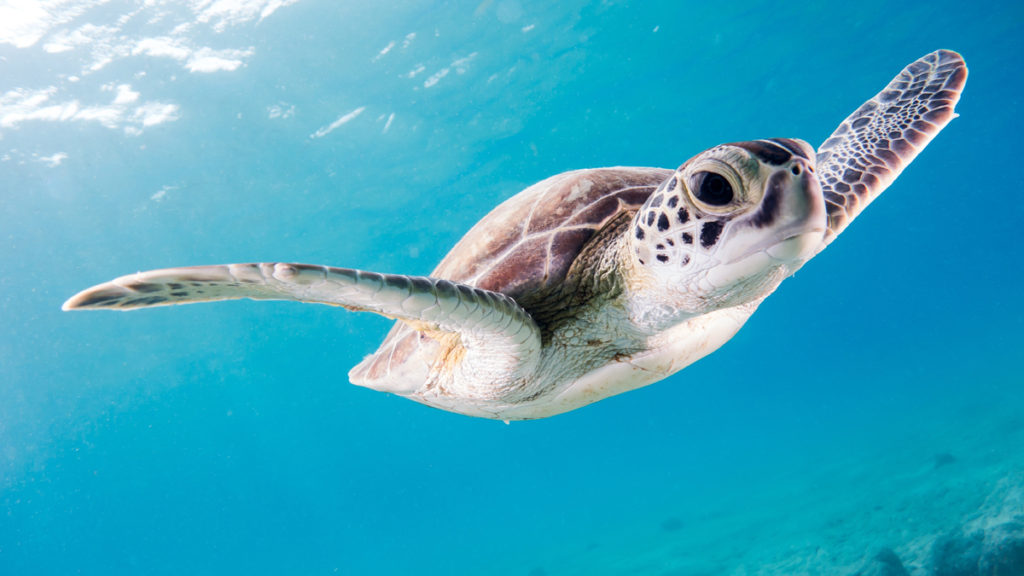 Ginnie Springs in High Springs,
North Central Region
Flowing out of the Santa Fe River, privately owned Ginnie Springs just 45 minutes northwest of Gainesville is the social media darling of all the Florida springs. Among many other claims to fame, Jacques Cousteau dove here in 1974. It's known for its network of underwater caves, making it a preferred scuba diving destination. The water is so pure at Ginnie Springs that Coca-Cola has a permit that allows the company to extract 600,000 gallons a day for their Dasani water. Tent camping and RV sites available. Diving equipment, kayak and inner tubes can be rented on-site. No drones or 4-wheelers allowed.
Best Lodging Nearby: Listed on the National Registry of Historic Homes, The Laurel Oak Inn Bed & Breakfast is a restored 1885 Queen Anne Victorian home with Southern hospitality and East Coast elegance; LaurelOakInn.com.
Rainbow Springs State Park, Central Region
Opened in the 1930s as a family-owned attraction, Rainbow Springs State Park was acquired by the State of Florida in 1990. Situated within the Ocala National Forest, it still has its trio of original man-made waterfalls. At the main park, visitors can go for walks in the gardens, or splash around in the roped-off swimming area. Tents, RVs and well-behaved pets allowed. Other springs located within the Ocala National Forest you should visit: Alexander Springs, Juniper Springs and Silver Glen Springs. — Aerial photo by Chris Zuppa; Dock photo by Clint Johnston
Best Lodging Nearby: Seven Sisters Inn is a historical Bed & Breakfast circa 1890. The Gothic Victorian home is located in Ocala and is claimed to be the most haunted inn in America; SevenSistersInn.org.