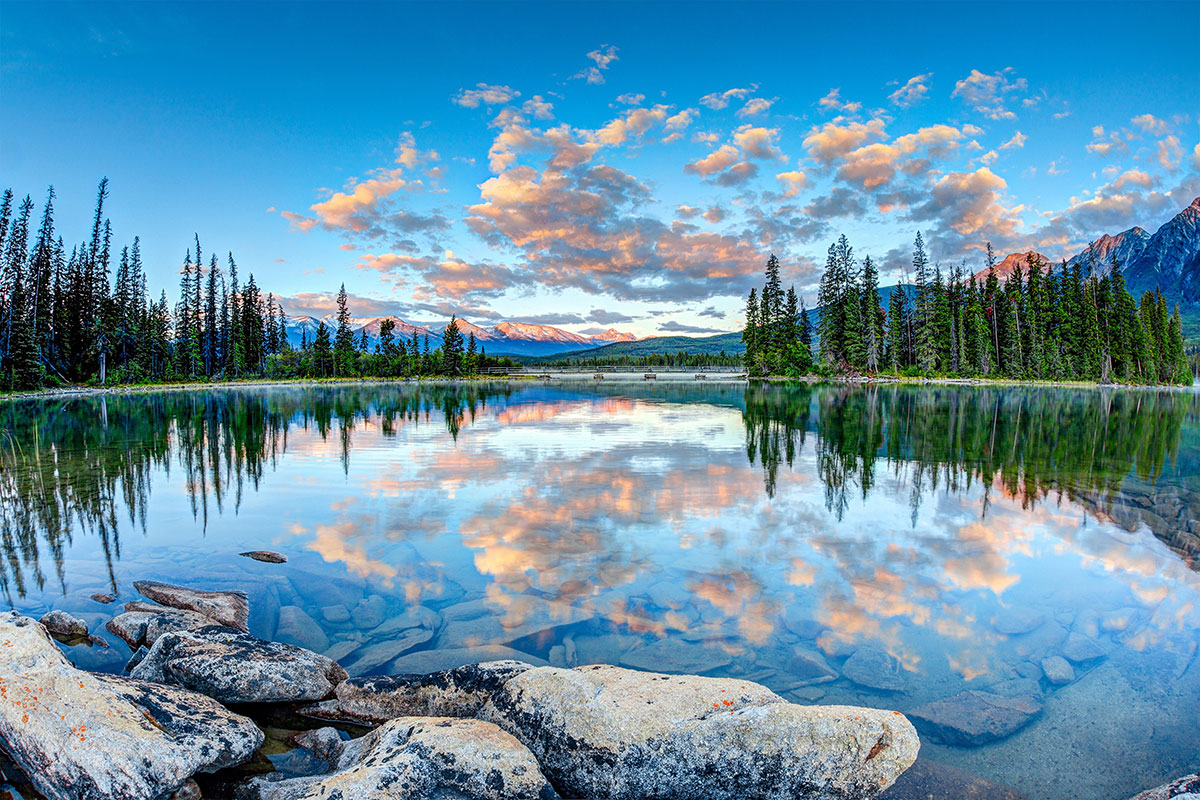 Vibrant, booming, diverse and culturally rich — Toronto is Canada's largest city, and a melting pot of ethnicities. Nicknamed "The City of Neighborhoods", there are more than 140 languages and dialects spoken here. It's become a destination for travelers that enjoy multi-cultural cities, live music venues, museums, and, of course, global cuisine.
It's a place of skyscrapers, towering metal with polished glass beaming effulgence upon the town. For luxe accommodations, Thompson Hotel is situated in the King West Village and nestled in a historic factory building. With views of Toronto's cityscape, Lake Ontario and a 40-foot infinity pool on the rooftop lounge, it declares itself luxury-modern. Rooms are decked out in a contemporary design with floor-to-ceiling windows and accents of dark wood, lush orange and cool white. Think business professional combined with chic opulence. If you'd like to be in the glamorous Yorkville Quarter of the city, the Four Seasons Yorkville is the hotel for you. The property blends warm sophistication, contemporary design and sumptuousness. Awarded a Five Diamond, it lives up to its reputation in service and comfort. Also located in Yorkville, The Hazelton is an exclusive 5-star hotel designed by Yabu Pushelberg. With a collection of art displayed on the property, stunning rooms and a top-notch restaurant, ONE by Mark McEwan, this hotel is unrivaled when it comes to sophistication in the heart of Toronto.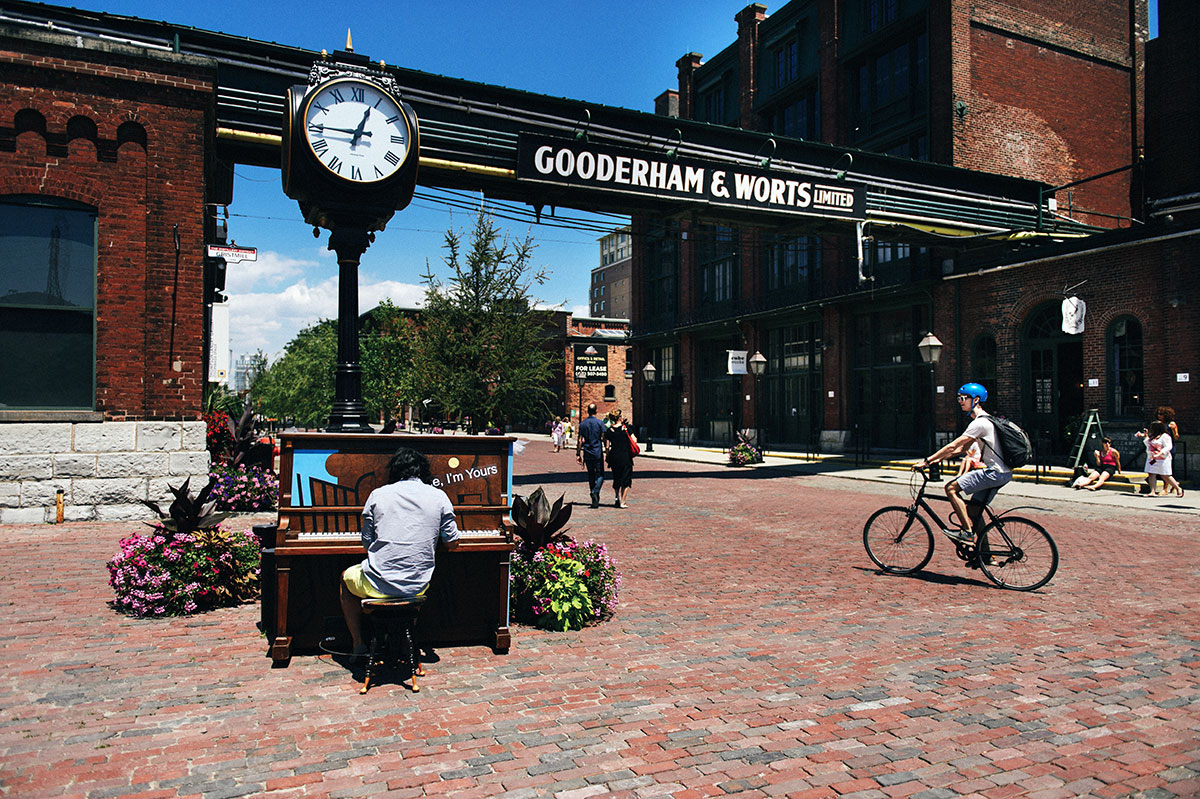 Once you've settled into the hotel of your choice, you'll quickly realize that you've arrived at a burgeoning metropolis for foodies. Venture to Little Italy or to Koreantown, Little Portugal or Greek Town and you'll find everything from Hungarian goulash, to African fare, Mexican eats and Lebanese delicacies along the way. Accompany the gastronomy with a cold pint from one of the city's 20+ local breweries. The first stop in this town is the Distillery Historic District. Once a derelict collection of 47 Victorian industrial buildings, in 2003 the area was transformed into an internationally acclaimed village brimming with creativity. Visit the many contemporary galleries and bustling pubs, shop the stores with local art and dine at the dapper (with a side of hipster) restaurants and cafés.
It's impossible to visit Toronto without seeing the CN Tower, and I mean that as in: you can't possibly miss it! Lean and long, it takes over the Toronto skyline. Just a few years ago, it was the tallest freestanding structure in North America. That's no longer the case, but it still grants astonishing views of this city. It now also provides visitors Edge Walk: a chance to walk on the roof leaning vertiginously on the edge of the main pod. Side note: This is not for the weak at heart. The thrill level rests at 100+.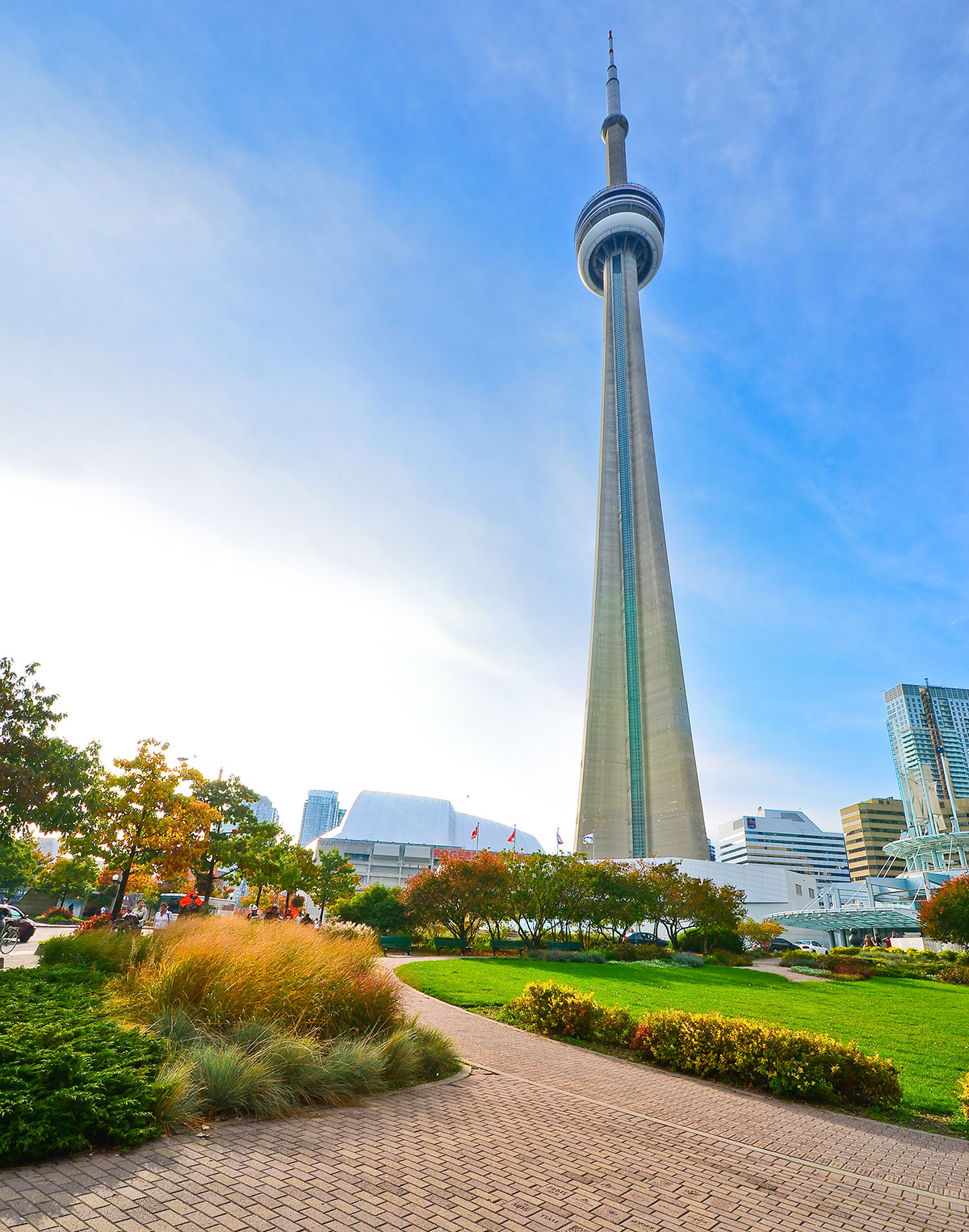 Another must-see stop dates back to 1803. The St. Lawrence Market is a piece of living history in Toronto. Considered the top food market by National Geographic in 2012, visiting the market is an optimal way to delve into the culture and fusion of flavors this city offers. Some temptations not to miss out on include the Eggy Portuguese Tart from Churrasco of St. Clair. The best way to describe it is as a fluffy burst of creamy happiness in one bite; it's a silky yellow custard served piping-hot in a flakey crust that oozes goodness. And you can't dare say you've been to Toronto without trying their world-famous Peameal Bacon On A Bun. It's a grilled sandwich with Canadian back bacon. It's only truly legit from Carousel Bakery.
For some leisure time in the outdoors, head to the Toronto Islands. As story goes, in 1858 a storm separated a swath of land from the mainland, forming a cluster of islands. This is the place where locals venture to for a mini-getaway. Just a short ferry ride away, you can set up a picnic while overlooking the lake, go for a bike ride or canoe and kayak around the canals and waterways separating the different islands. It's a full day of serenity just mere minutes from the city.
And while discussing serenity, a drive to the heart of the Niagara wine country, Niagara On The Lake, should be next on the list. It's an ideal scenic stop en route to Niagara Falls proper. The wineries and vineyards in the area range from small, farm-like estates to established tourist destinations complete with outdoor concert venues. They provide tours of the vineyards, the history of the harvest, tastings and most have onsite restaurants. Some of the notable wineries in the area are Flat Rock Cellar, Featherstone, Fielding Estate and Peller Estates Winery, where Executive Chef Jason Parsons offers fine dining of regional cuisine paired with the estates' award-winning wines. Make your reservation well in advance because finding a spot is not easy, and walk-ins will quickly realize this is not the type of place you just stroll into without lots of pre-meditation.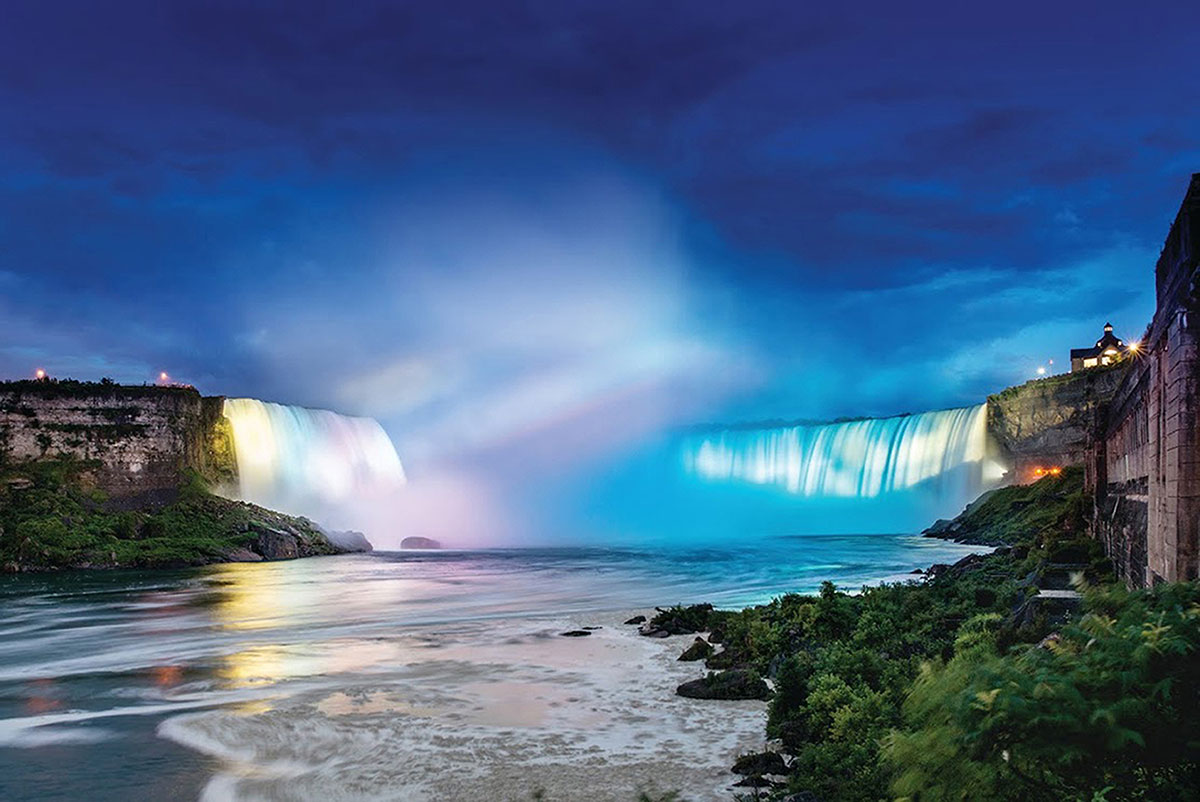 Once you're done feasting to your heart's delight, Niagara Falls is just a 20-minute drive away. Stand in awe as you come face-to-face with one of the planet's most thunderous natural wonders and #1 honeymooner destination. It's actually a trio of falls: the Canadian Horseshoe Falls, the Bridal Veil and the American Falls. There are a couple of ways to experience Niagara — a helicopter tour over the cascades, taking a cruise right up-close or a tour that takes you behind the mass of tumbling water aptly named Journey Behind The Falls. Niagara Falls is especially beautiful during the Winter Festival Of Lights, when the Falls are illuminated nightly from November through January.
As you're planning this year's travel itinerary, go ahead and jot down Toronto, Ontario, on your list of cities to experience. It offers a booming metropolis brimming with cultural experiences, world-class hotels, museums, beautiful landscapes, vineyards, an eclectic variety of gastronomy and one of the most impressive natural wonders in North America. That alone is worth the trip.