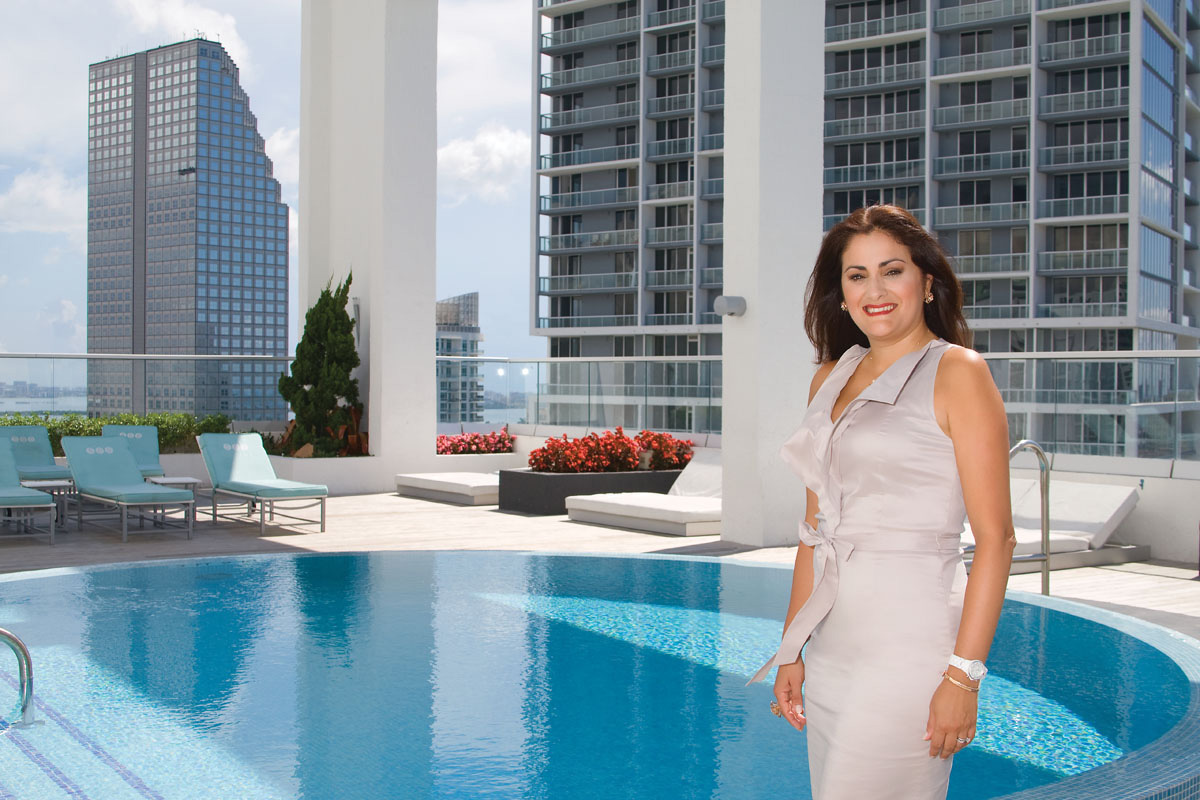 Real Deal
"I pride myself on caring for the interests of my clients as though they were my own."
Maria Antonieta Laviosa grew up in Venezuela where she obtained a Bachelor's degree in Civil Engineering before moving to U.S. 11 years ago to further her studies. "The plan was to go back to Venezuela after I finished school," she says, "but due to unforeseen circumstances, I moved to Miami." While in The Magic City trying to find employment, she met some acquaintances who encouraged her to obtain a real estate license. "Since then I've been working very hard and learning as much as possible about this field," she says. Three years ago, when the market started slowing down, she decided to open her own full-service real estate firm with her husband. "Many people said that it was crazy but for me it made perfect sense because it allowed me to establish all the operational aspects of the business and be ready when the good times returned," she explains. "We grew up faster than expected, and are soon moving to a new, bigger and more beautiful facility at 500 Brickell West Tower. We're excited about what the future holds for us!"
Quick Facts:
Her top power lunch tip isn't what to order. "Make sure to get everything in writing," she advises. "This is a very important thing to keep in mind."
She's a great party planner. "I love to cook for friends and family," she says. "My husband says that I make the best paella, but I'm personally a sucker for sweets."
Her favorite words are ones she lives by. "My words of wisdom include good sense, prudence, astuteness, sharpness and success," she says. "And persistence is my secret to success."
Text by Achilles Stone; Photo by Antonio Eli
Maria Antonieta Laviosa is a Real Estate Broker for Concept International Realty Inc.; 1110 Brickell Ave. Ste. 400 & 500 Brickell West Tower, 2nd Floor; 305.329.1489; ConceptIntlRealty.com.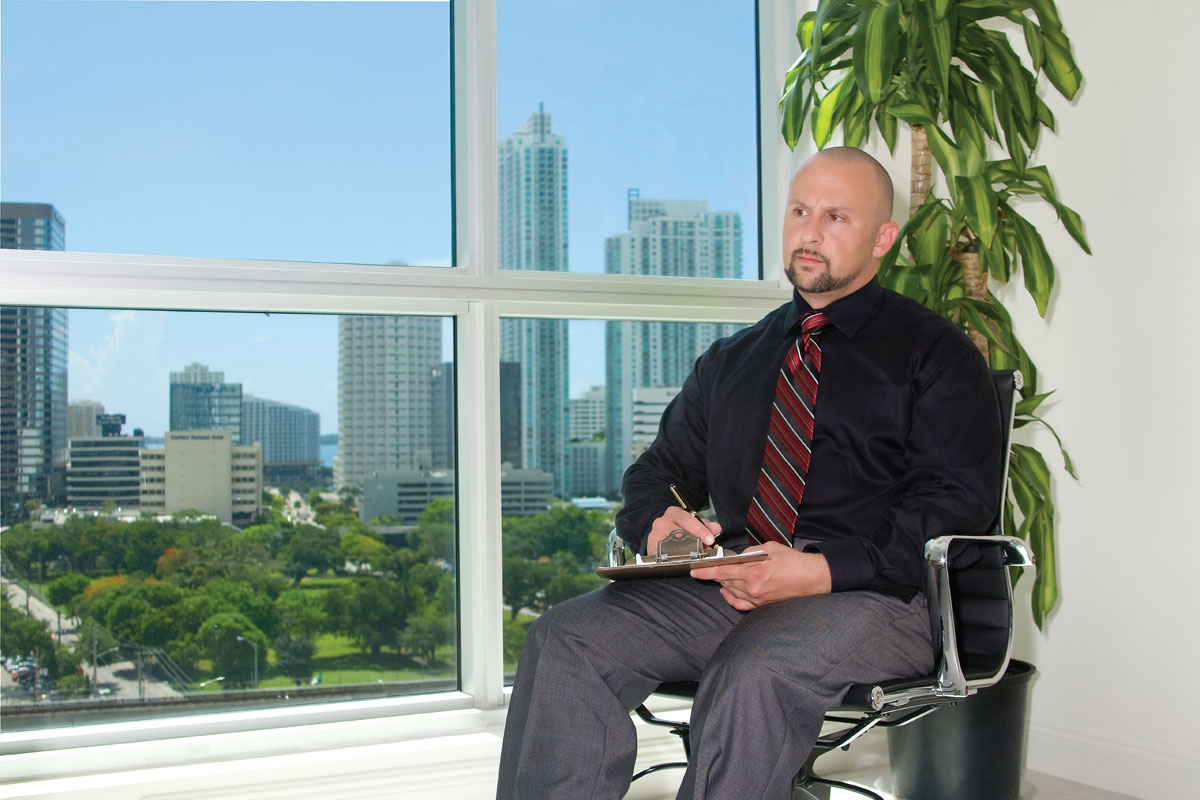 Next Level
"It's fulfilling to help someone discover something new about themselves and find peace and contentment after years of turmoil."
As a psychologist, Brickell-based Dr. Gregg A. Pizzi helps people achieve happiness and well-being by getting to the root of the issues and problems that stand in the way of their success. On the forensic side, he works directly with attorneys by providing psychological evaluation, consultation and expert testimony when their clients' mental status comes into question before the court. So how exactly does someone come to hold such an important profession? "I had a challenging adolescence, and was fortunate to have had the opportunity to benefit from psychotherapy," he says. "I developed a high respect for the profession and decided that I wanted to help others achieve their goals." And his clients are one of the main aspects of his job that makes each day worthwhile. "I've been told that I'm very easy to talk to, and people tend to feel comfortable with me right away."
Quick Facts
He's extremely open-minded. "Regardless of my personal opinion or feelings about an issue, I pride myself on my ability to put my own 'stuff' aside so that nothing impedes my objectivity in my work," he says.
As a boy, he was always highly organized. "I turned my room into a play office, and on my birthday and holidays my parents would send me to the office supply store with a blank check," he says. "It was heaven!"
At 13, he learned his first Spanish word. "I achieved fluency just before the age-cutoff where accents become inevitable," he says. "Native speakers are often surprised to find out that I'm not Hispanic."
Text by Achilles Stone; Photo by Antonio Eli
Dr. Pizzi is a Psychologist with Dr. Gregg A. Pizzi & Associates, P.A.; 175 SW 7 St., Ste. 1205; 1.888.DRPIZZI; DrPizzi.com.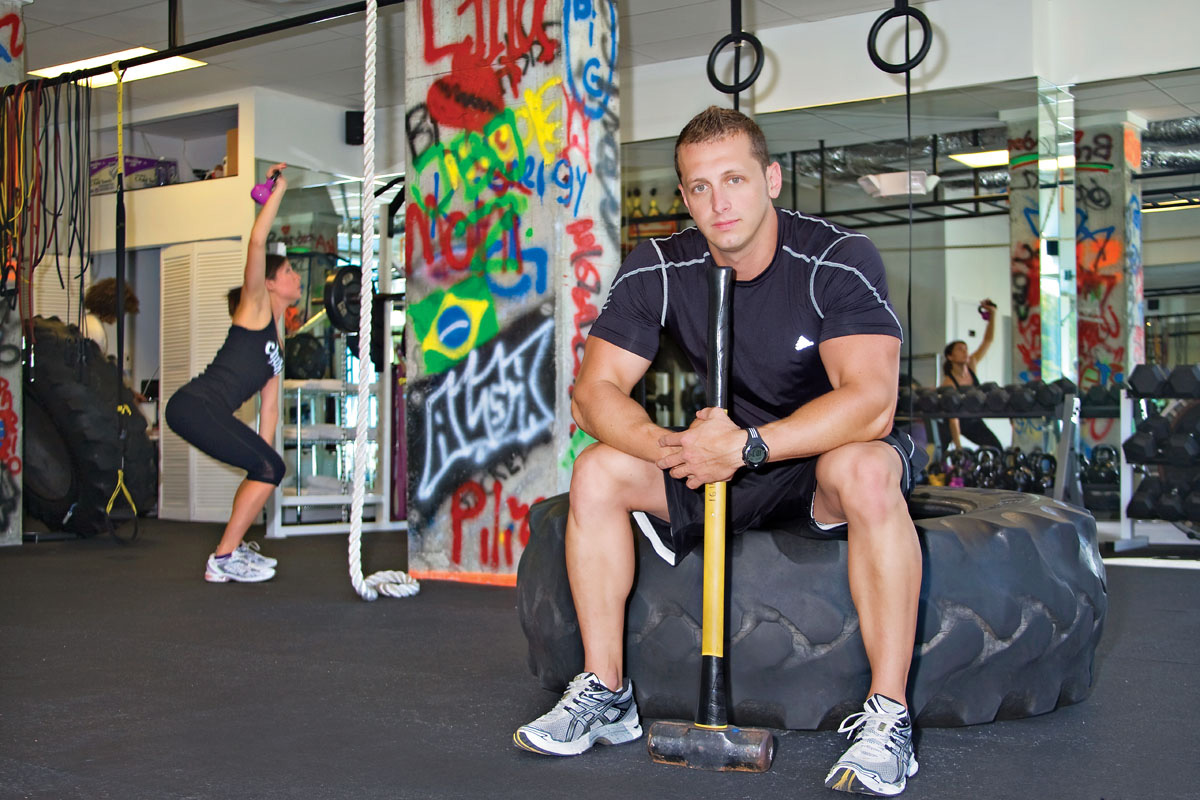 Move It!
"As corny as it sounds, I like to see people succeed who have never exercised or thought it was impossible to reach their goals."
When he was a teenager, Alex Cure-Ferreira liked working out and thought he knew everything about exercising each time he went to the gym. Then he took a course in exercise physiology and everything changed. "I was amazed at how little I knew about the human body as it pertains to exercise," he says. "I became fascinated with learning more and more about the human body." With a goal of becoming a successful, informed personal trainer, he never stopped learning or taking courses about how to stay ahead on clinical research and any innovations in the field. Today, he owns Cure Fitness in Miami. "The biggest thing I've learned is that there's no such thing as 'one workout fits all'," he says. "At Cure Fitness, I create a unique, customized exercise training program for each of my clients, whereby I identify their needs and wants before helping them achieve all their goals."
Quick Facts:
Even during his first job, he was interested in fitness. "I used to work at Sports Authority selling shoes," he says.
The equipment at Cure Fitness is very unique. "I've invented and have patents on the equipment I use with my clients," he says. "I like to push my clients to the limit — safely…and with a sense of humor."
He has big plans for the future. "I want to open a series of Cure Fitness gyms that are an innovation in the world of fitness," he says. "They will be state-of-the-art, yet organic with more equipment that I'm in the process of inventing and developing."
Text by Achilles Stone; Photo by Antonio Eli
Alex Cure-Ferreira is a Personal Trainer with Cure Fitness; 1800 SW 1st Ave., One Plaza; 786.286.2480; CureFitnessMiami.com.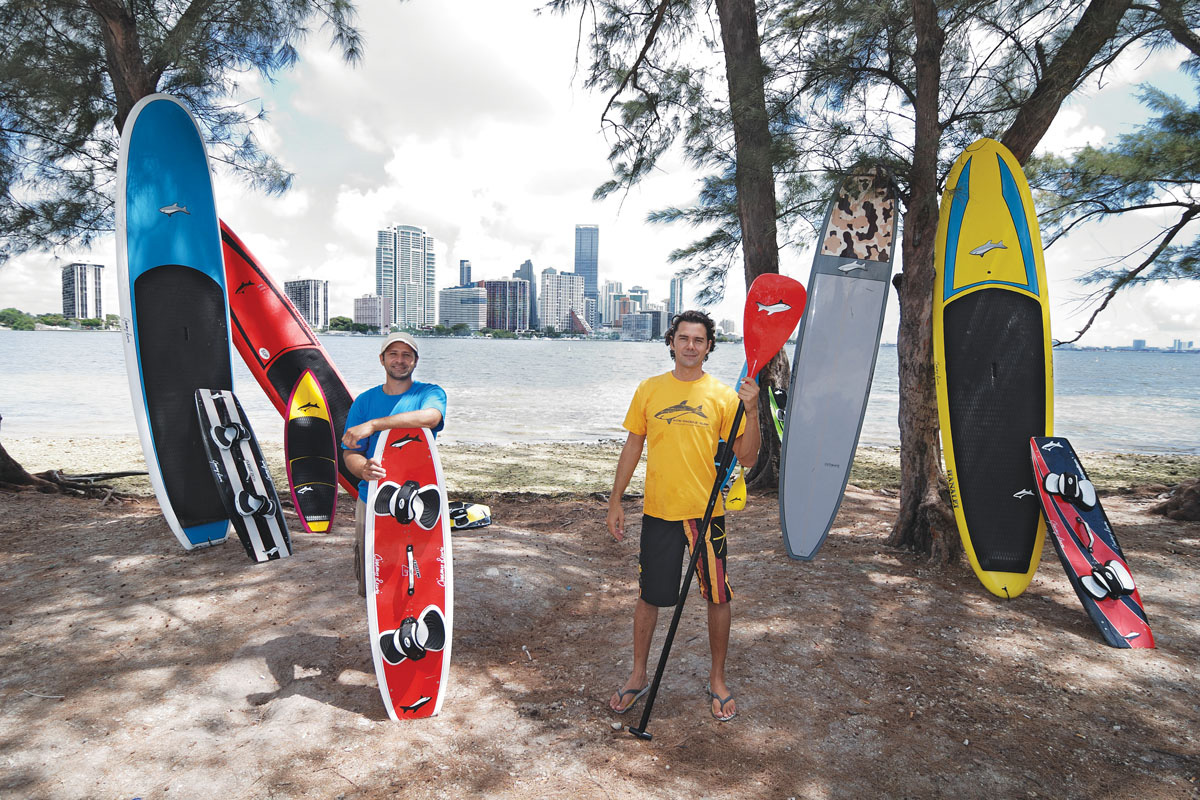 Tide Masters
"When you're passionate about something and you have a great product to offer, there's no stopping you!"
Garry Menk & Ken Russell of Fuacata Sports know a thing or two about having a good time. As the exclusive distributors of Jimmy Lewis Stand Up Paddleboards, Kiteboards & Surfboards for the U.S., Latin America and the Caribbean, they have what many would consider a dream job. "As a wholesale distributor, it's always tempting to deal directly with consumers and make a direct sale with a greater margin," they say. "We decided to make a plan that would prioritize our network of dealers in every way possible — not only in pricing, but in added-value." So what's the best part of their day? "Finding the time to get out on the water," they say. "We have access to the finest high-end boards in the world. It's like having the keys to an exotic car dealership!" Over the next year, the duo plans to double their network of stores to more than 150 dealers while celebrating Jimmy's 40 years of shaping by giving away Limited Edition anniversary boards.
Quick Facts
Their first paddle event was a hit. "The shear amount of people funneling down the Gables Waterway was incredible to watch," they say. "For us, it was a true moment of pride. And raising over $20,000 toward the waterway cleanup wasn't bad, either."
Once, during a demo, a manatee came under Ken's board, rolled over and hugged his flippers over the rails for about 10 minutes. "Maybe he was just thanking me for not having a propeller," he says.
After high school, Ken became a professional yo-yo player. "My mother was the yo-yo champion of Japan and my father had the original patent on the modern yo-yo," he says. "It's in my blood."
Text by Kaya Baez; Photo by Robert Sullivan
Ken Russell & Garry Menk, Fuacata Sports, LLC; 4111 Barbarossa Ave., Miami; 786.206.5724; JimmyLewis.com.