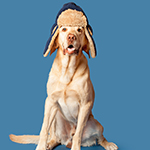 Rigger
A certified ladies' man looking for his forever home, this special Labrador would be ideal for just about anyone looking for a long-term four-legged friend! A dedicated walker who loves spending his evenings curled up at the feet of his favorite people, this retriever has an A+ temperament that will be a welcomed addition to any home; LRROF.org.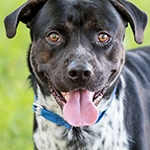 Rex
A marvelous Mixed Breed (and quite a handsome devil) this spry young dog would be ideal for a home that wants a young pup but unwilling (or unable) to provide the time commitment a puppy entails (see what we did there?). Loving, loyal and eager to be in on all your suredly exciting adventures, Rex is a dog's dog who just wants to have fun; Paws4You.org.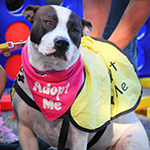 Disco
A stunning American Bulldog Mix saved by her rescue over two years ago from a Broward County kill shelter, Disco's every bit as groovy and fun-loving as her name implies! She's housetrained, loves to play with her toys, loves long walks and is great with kids…what else do you need to know about this delightful and (possible) future family member?; 100PlusDogsOfEverglades.com.
Fetch, Fido!
As a child, you had a dream of having a dog who you could throw a ball with and have him bring it back and drop it lovingly at your feet. Instead, you find yourself chasing Fido with him taunting you with that "catch me if you can" glare. Amazingly enough, your dog has trained you! What you're currently doing is fetch in reverse! But we can learn from our dog and use that knowledge to beat him at his own game. First, hold the ball a few feet in front of him and move it around excitedly. Because dogs are naturally attracted to movement, this often piques their interest. Once you've got his attention, throw the ball no more than 5 feet away from you. If he goes to pick it up, quickly clap your hands and start running away from your dog while encouraging him to chase you. If your dog starts coming to you but stops short, just clap more while continuing to run away from him. Under no circumstances do you move toward him! Previously he refused to move in your direction, and now you're going to refuse to move in his. The moment he gets close and drops the ball, immediately throw it. This is his reward. Don't be discouraged if he will only fetch a few times in the beginning. Be sure to end the game while he's still successful so that during subsequent play he'll be more likely to fetch longer. The most important lesson of all? Be patient! There's nothing we can't do with our dogs when we combine play with their natural instincts. Happy fetching!
ABOUT THE AUTHOR
› Dee Hoult is the CEO of Applause Your Paws, South Florida's largest privately owned pet dog-training company, and Miami's top user-rated dog-training company on Yelp.com.