Usher In The Sails!
Strictly Sail arrives on The Key
The 5 biggest days in boating will dock once again at Miami Marine Stadium Park & Basin over President's Day Weekend, attracting an estimated 100,000 boating enthusiasts to experience the 2018 Progressive Insurance Miami International Boat Show. The 77th year of the show is the most exciting yet with the addition of Strictly Sail to the Virginia Key location to create one comprehensive boating event. Boaters and sailors alike will have the unique opportunity to browse, board and buy more than 1,400 boats in-water and on-land, enjoy the new VIP deck lounge, as well as Discover Boating Hands-On Skills Training workshops, tents filled with water toys, nautical accessories, gear, marine technology, pop up fashion boutiques, and more than 200 boats available for sea trials for serious buyers, all in an island oasis setting with expansive views of Biscayne Bay and the Miami skyline. It's positioned to become the most successful and immersive show in the extensive history of MIBS.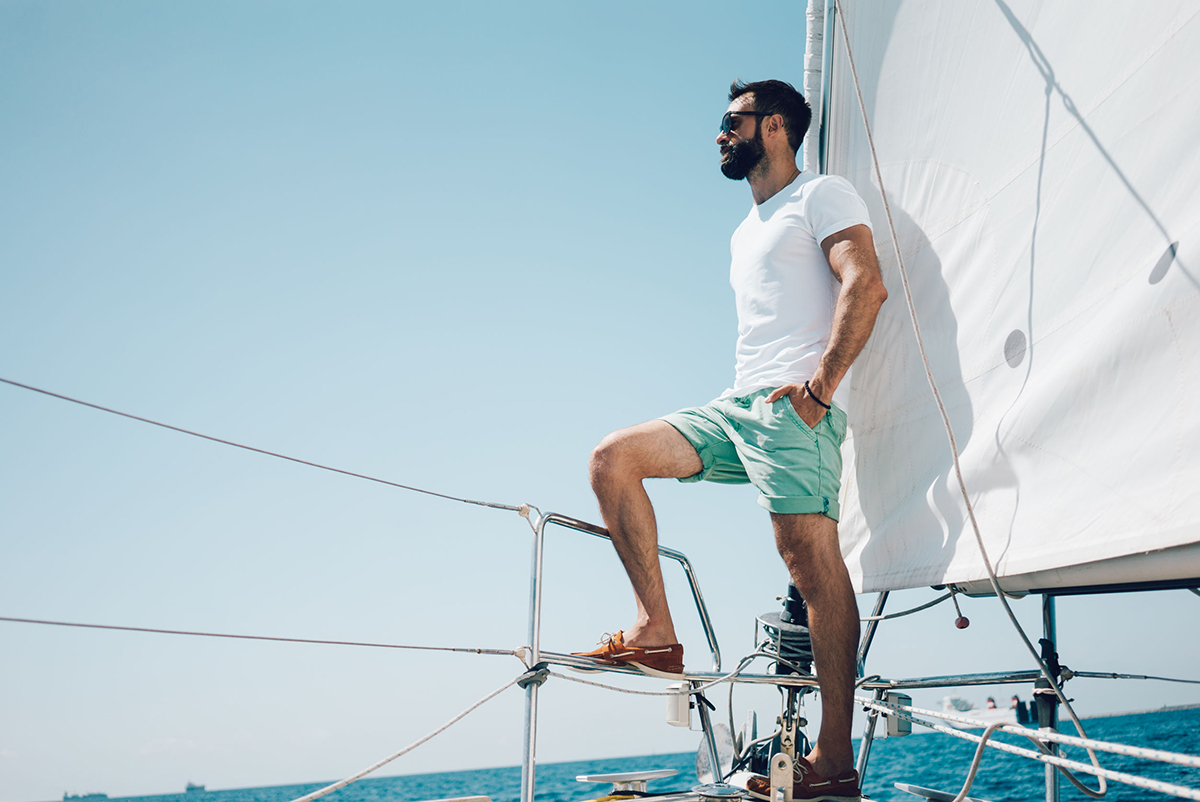 Total Access
Navigating MIBS Made Easy
Merging venues during MIBS makes accessing all aspects of the show considerably easier and also comes with the added bonus of streamlining the transportation options to get you there. Having two years under its belt on Virginia Key, show organizers have taken extensive feedback from exhibitors and attendees to deliver an enhanced transportation plan. In years past, more than 85% of water taxi-goers traveled from two key stops — Bayfront Park and American Airlines Arena — making them a priority for Year 3. Located near ample parking and public transportation options, these two stops offer the fastest and most convenient ways to get to the show. Free water taxi pick-up and drop-off locations will be located at both locations. In addition, complimentary shuttle buses will run to-and-from the parking hub in Downtown Miami at the American Airlines Arena, getting more people to and from the show in less time. Shuttle buses and water taxis will begin at 9 a.m., one hour before the show opens, and conclude at 7 p.m., one hour after the show closes. The last departure to Miami Marine Stadium is 4:30 p.m. The final departure for return service from Marine Stadium to Bayfront Park and American Airlines Arena is at 7 p.m. Convenient parking options on Virginia Key will again be available and can be reserved and prepaid in advance on the show's site. Shuttle buses and Freebees, as well as a 15-foot wide walking path, will make getting to-and-from parking lots to the show entrance easy, safe and efficient. Parking opportunities on Virginia Key include: Lot A: On Arthur Lamb Jr. Road for general parking on Virginia Key; Lot B: On historic Virginia Beach Drive for general parking on Virginia Key; Lot C: At the Miami Aquarium for preferred parking and handicap parking on Virginia Key; and Valet: Located at the entrance to Whiskey Joe's (includes Freebee shuttle service to the show entrance). Public transportation options offer access from the north, south, as well as Broward and Palm Beach counties via the Metrorail, Metromover and Tri- Rail. Don't want to wait in line? There's always Uber, Lyft and ZabCab. As with previous years, the key is to plan ahead to have a great time!; MiamiBoatShow.com.
Prime Perspective
Behind The Scenes With A MIBS Insider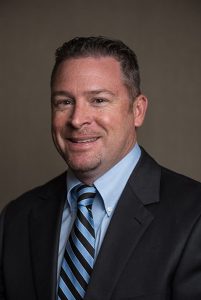 "In 2018, we will continue our decadeslong track record of creating an event that celebrates Florida's boating culture and that attendees, exhibitors and the Miami community can be proud of. Because of construction at Bayside's Miamarina, that venue is no longer a suitable destination for Strictly Sail Miami. Having seen the success of MIBS on Virginia Key, both the sail and power segments of the industry believed the time had come to offer the boating community a single streamlined experience that encompasses all the industry has to offer. We've created an ideal, picturesque boat show venue at Miami Marine Stadium that's perfect for both power and sail, bringing these two shows together to deliver the ultimate experience. With a footprint of more than 1 million sq. ft. of exhibit space (on-land and in-water), we have more than 1,100 exhibitors displaying innovative new products, including accessories, boats, sailing gear and much more. The show footprint on land is fixed and the only growth this year comes in-water. We've added nearly 125 boats in-water this year, where nearly 700 new boats will be featured. This represents expansion by existing exhibitors and the addition of a couple dozen new boat brands in-water. This year, we have more than 175 boat brands, an all-time high, making it one of the best places to get a first look of the latest products on the market." — Larry Berryman, MIBS Manager
Ready To Wear
Aim For Style & Comfort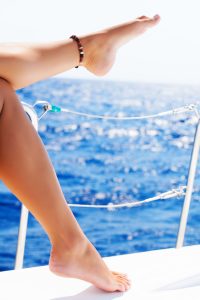 The first thing to remember when looking through your closet for a chance to trot out your nautical finery is the rule of thumb at boat shows is to "Dress for the go not the show." Boat shows start with what's on your feet. Flats are best since they can be taken off easily when exhibitors ask you to remove your shoes before boarding their boats. Untying laces or undoing buckles gets old very fast. As for the rest of the outfit, you'll see everything from posh blue blazers to sailing t-shirts ready for the rag bin. Fashionistas opt for cruise wear, clothing that is lightweight and airy, but nothing too short as you'll be climbing on and off a lot of boats. The male go-to outfit is just as one would dress for a day on the boat: Columbia PFG shirt or a trendy high-SPF longsleeve performance shirt and lightweight shorts with deep pockers. Finally, a hat is essential, even if it's just a ball cap, though bigger is always better. And don't forget the sunscreen!
Gourmet Delights
Relaxing & Dining Waterside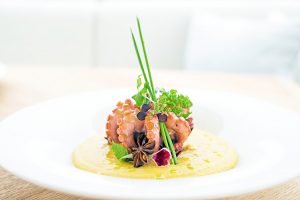 Get your tastebuds ready! This year's show boasts an tasty new menu of dining options from Great Performances, known for providing last year's spectacular eats as well as catering the Miami Open and other top local festivals. The premier catering and events company has partnered with an array of wellknown Miami restaurants food trucks and multiple industry professionals to offer gourmet dining options that include Latin Café, The Knife Steakhouse, SuViche, Novecento, Sushi Maki, Killer Melts, Monty's, Mulberry 1965 Pizza, King Of Racks BBQ, HipPops, BC Tacos, Ocean Breeze, Mr. Bing, The Vintage Ice Cream Guys and Relentless Roasters. There are also a delectable array of culinary choices through Great Performances branded concepts including the ever-popular All American Classic & Sandwich Shop.
New Kid On The Block
Introducing Miami Yachts Group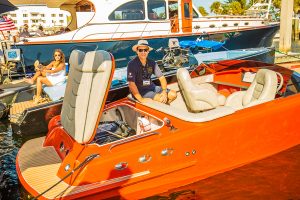 In 2015, Brazilian entrepreneur Mauricio Comitre was invited by a friend to visit MIBS and introduced to the owners of one of the largest boat manufacturers in Brazil who were interested in entering the American market. He did his market research and began importing the boats to South Florida. "I quickly realized that I wanted to manufacture my own brand," he says. "I started attending and participating in various boat shows all over the world and looking for potential manufacturers that could inspire me to fill a market void back home." Today, Miami Yachts Group produces and develops limited-edition models to provide their clients with the ultimate level of luxury, power and technology. They recently debuted two vessels: Tangerine, a 22-footer that features a signature silhouette from the 1960s and can reach top speeds of over 50 mph; and Black Onyx, a 24-footer designed for easy cruising and lounging on the water; MiamiYachtGroup.com.
RSVP Required!
Obtaining VIP Access To The Best Parties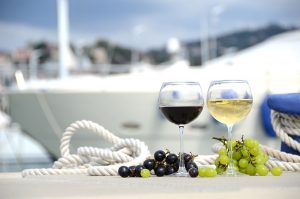 Scoring an invite to one of the lavish VIP parties at MIBS is a matter of social engineering: Getting to the people who give out the invites! The easiest way is to buy or have bought a large boat from the manufacturer or broker. A sincere interest in a boat is another good opening, as is making friends with key people during the show. What can you offer in exchange for a coveted spot on the guestlist? Are you a writer or blogger who can give them good press? How many Facebook followers do you have? Mingle with event coordinators, sometimes they want people to help fill up an event. And always be sure to dress the part. Invitation-only parties aside, everyone should check out the show's new VIP Experience. The $125 charge is a bargain to enjoy all-inclusive access to the show and its features, fully complimentary food, drinks and entertainment, the exclusive indoor A/C VIP lounge and the outdoor deck with breathtaking views of Miami and the displays; MiamiBoatSHow.com/Attendees/VIP-Experience.
Gadget Showcase
Not-To-Be Missed Toys, Tech & Accessories
Nautic-On
This user hardware/software interface from Brunswick will connect boaters of all technical capabilities with their boats to enrich the boating experience. It's like the Nest System for your vessel as it monitors, diagnoses and communicates information to the boat owner. The scheduled launch date is April 2018; Nautic-On.com.
Floating Camcorder
Capturing life's adventures on video isn't always smooth sailing, which is why JVC developed Everio Weatherproof Camcorders that can endure foul weather, get bounced around and still be ready to shoot. The new Everio R Lineup features 5-hour battery life, powerful optical zoom and other advanced functions to create unique videos that can't be captured with a smartphone; JVC.com.
Descent Mk1 Dive Watch
Perhaps the ultimate Smart Watch, the Descent Mk1 from Garmin contains a stateof- the-art dive computer with surface GPS positioning and rich color-mapping. It's packed with features including the ability to mark dive exit and entry spots, record depth, temperature, ascent/descent rates and much more — all while looking good on your wrist when you're not on the boat; Garmin.com.
Duo Sensor Barometer
The Mintaka Duo's unparalleled precision makes it a perfect asset for mariners. The compact unit features two independent atmospheric pressure sensors to give data in mb, hPa, kPa, Hg, H20, and cm H20 and provides graphic pressure history displays from the past 30 minutes to the past 120 days. It can be used fixed or portable, which comes in handy during hurricanes; Weems-Plath.com.
Night Vision Binoculars
A far cry from the clunky Russian surplus night vision binoculars that mariners used in the 1990's, FLIR Discovery 8x Night Vision Binoculars allow users to comfortably view long distances for extended periods of time. The rugged, lightweight, versatile design features fast all-glass optics and a housing that resists water and fogging under extreme conditions; FLIR.com.
My First Tervis
Stylish, virtually unbreakable Tervis cups, mugs, and even wine glasses, have long been the choice of boaters who want to keep their drinks cool and sealed tightly so they don't spill a drop in choppy waters. Now the young ones have their own drinkware. The My First Tervis Sippy Cup is comes in a variety of fun marine-themed and other designs and is as durable as its larger siblings; Tervis.com.