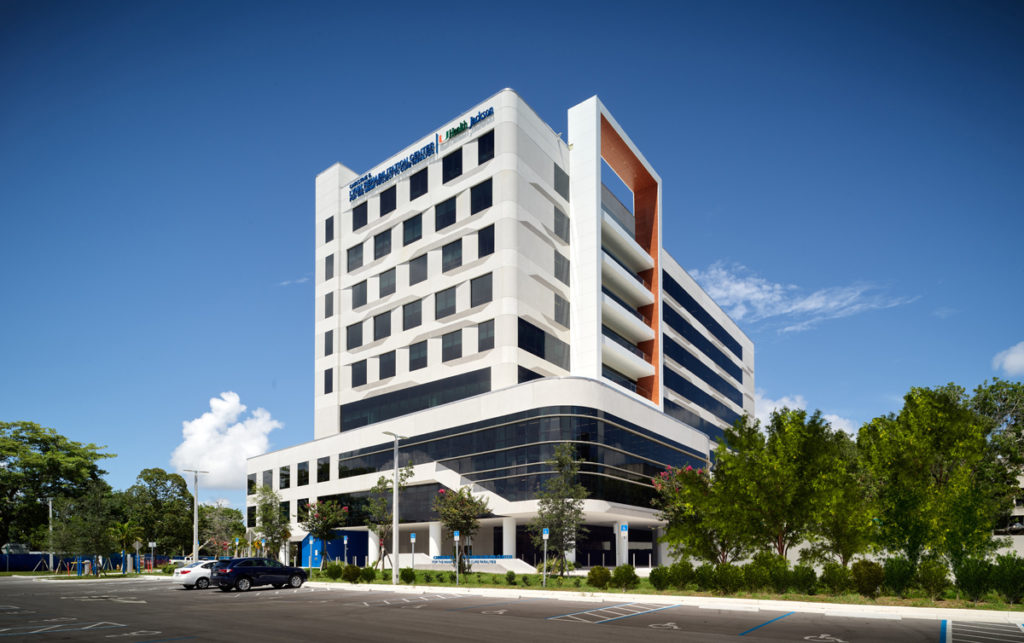 The Christine E. Lynn Rehabilitation Center for The Miami Project to Cure Paralysis at UHealth/Jackson Memorial was designed from scratch to be one of the country's elite facilities for patients recovering from traumatic brain injury, spinal cord injury, cancer treatment, and other complex conditions. "This building is the first of its kind in South Florida, and one of only a few world-class, state-of-the-art physical rehabilitation hospitals in the nation," says Carlos A. Migoya, President & CEO of Jackson Health System. "Our multidisciplinary rehabilitation professionals use leading-edge diagnostic and treatment procedures, along with advanced technology to help our patients achieve the best possible outcomes. The benefits include faster and more accurate evaluations, as well as the ability to deliver highly precise therapeutic services."
The planning team went to great lengths to include all functions of rehabilitation into the building. For example, in order to provide therapy patients with a real-life experience practicing getting in and out of the car — which can be challenging for people who have suffered catastrophic injuries — they hoisted a full-size car into the building before the outer walls were enclosed. The vehicle, generously donated to the Jackson Health Foundation by Gus Machado Ford, is integrated into a variety of different therapies.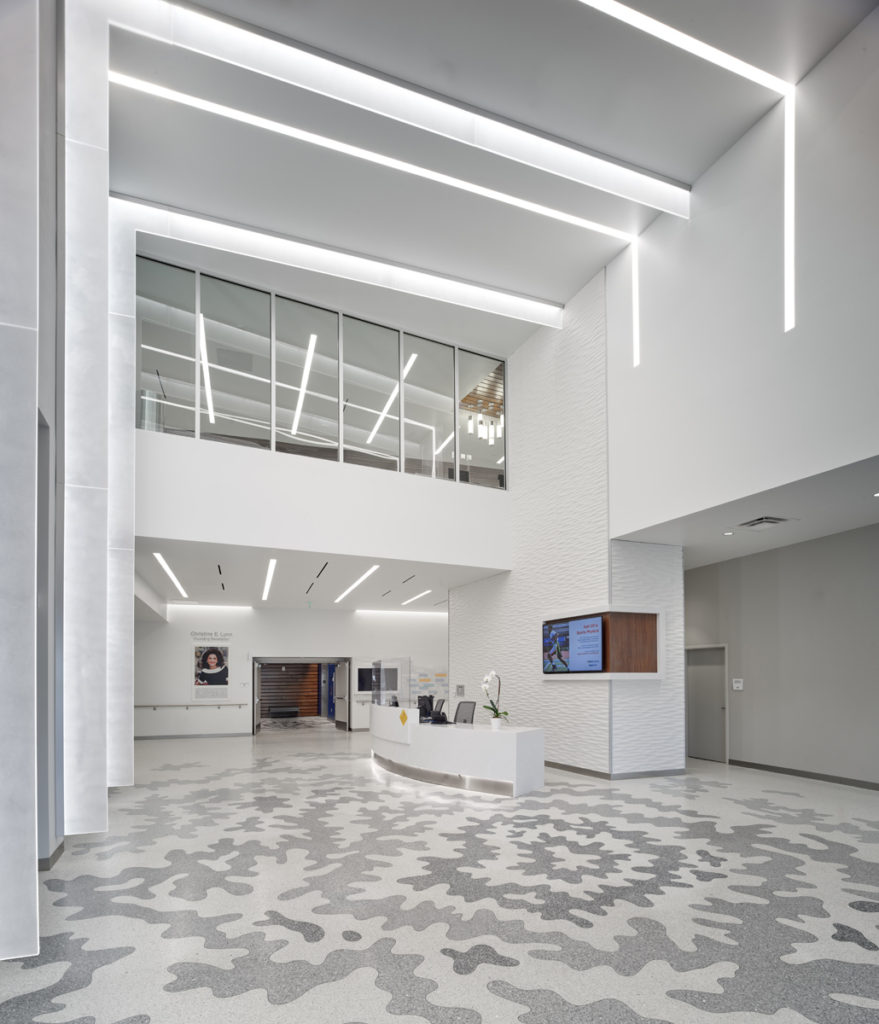 The entire facility is filled with next-generation technology, including a Hydroworx Aquatic Therapy Pool with high performance features like variable depths, a moveable floor, an underwater treadmill, resistance jet technology, computer and camera systems and much more. Additionally, a Bioness Integrated Therapy Systems I300 Foot Drop system helps many patients with neurological conditions to walk more naturally with increased speed and improved balance. The Foot Drop delivers programmed, low-level electrical stimulation to activate the nerves and muscles that lift the foot, helping patients regain their mobility. The team also uses the H200 Wireless System to activate the nerves and muscles of the hand, while the seven Zero G Gait Trainers provide dynamic support as patients practice walking, balancing, climbing stairs, and sit-to-stand maneuvers. If sensors detect a sudden change in the body's position, a sturdy harness lowers the patient gently down.
The family-centered building design includes a full aquatic center, meditation space, an activity garden, and extensive public art installations. To prepare patients for maximizing their real-world mobility, there are airplane seats, driving simulators, and, of course, the Gus Machado Ford full-size car in the building. Prior to discharge, patients and their caregivers can stay in the hospital's "transitional apartments," where they can practice safe skills, such as transfers to the bath and navigating household hazards, in a real-life environment.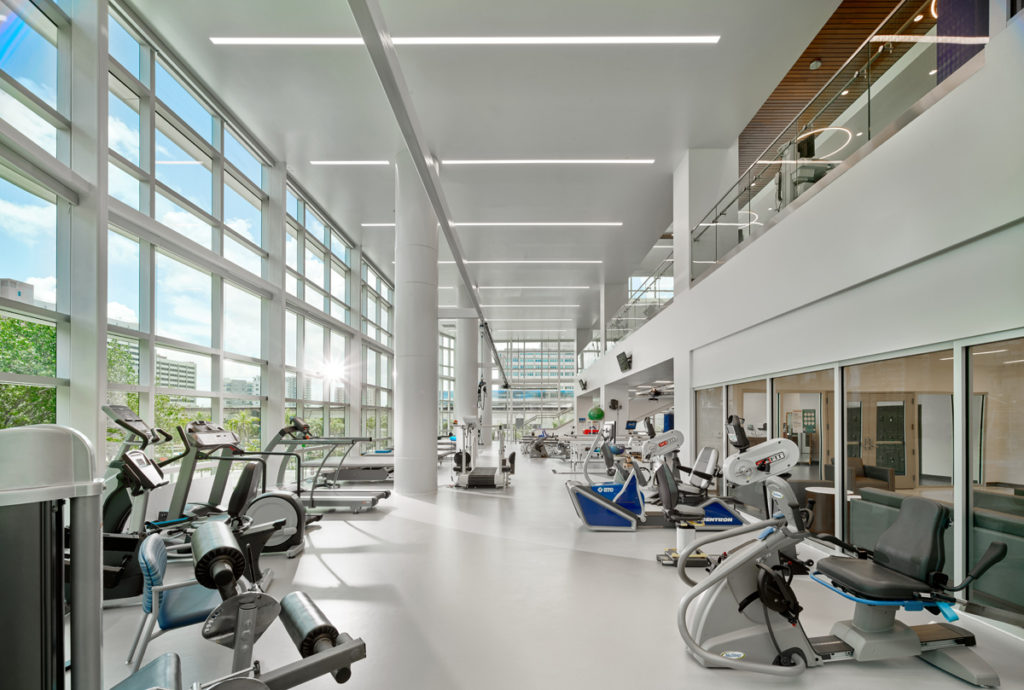 "Every aspect of the facility and program are underlined by a focus on comprehensive care," says Migoya. "Even the building's layout is designed to ensure researchers, families, inpatients and outpatients are sharing spaces — a constant reminder of the way Lynn Rehabilitation integrates academic study with the day-to-day treatment of patients. And its location in the heart of one of the world's most international cities ensures that Lynn Rehabilitation will be a hemispheric hub for diverse teams of caregivers and patients."
The team of caregivers — from specialized doctors and nurses to all types of rehabilitation therapists (physical therapy, occupational therapy, speech therapy and recreation therapy, etc.) — are experts in their field and have countless proven successes with patients of all ages who have suffered a catastrophic injury or illness. Beyond their unmatched expertise, the rehabilitation team dedicates themselves to every patient by developing an individualized treatment plan and providing compassionate care throughout their medical journey.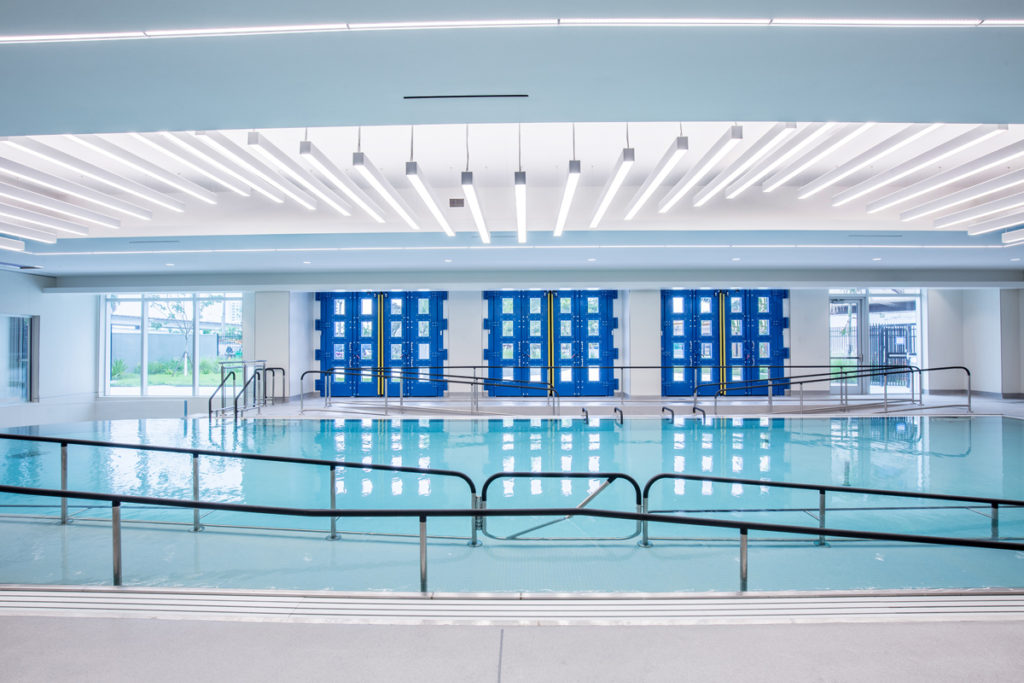 In November 2013, more than 65% of Miami-Dade voters supported Jackson's Miracle-Building bond program. At the time, Jackson envisioned using that $830 million investment as the foundation of a $1.1 billion capital plan, with most of the balance coming from Jackson's own operating revenues — their evidence to Miami-Dade taxpayers that they would share in the responsibility of building Jackson's future.
Almost 7 years later, the program has exceeded every expectation. Dozens of projects have already been completed. A big portion of the bond dollars have been reviewed by an independent Citizens' Advisory Committee (CAC) and assigned to projects by the Public Health Trust Board of Trustees, with more than half of the $830 million already spent. Jackson's own contribution to the program has grown massively beyond the original vision, and has currently more than matched the bond to form an unprecedented $1.8 billion program.
A signature project of this ambitious program, Lynn Rehabilitation's 9-story, 250,000-sq.-ft. hospital, houses 80 inpatient rehabilitation beds with space to add an additional 16 in the future, as well as clinics, designated research spaces, diagnostic and treatment areas, outpatient therapy space, and faculty offices. The hospital, which opened in March 2020, delivers inpatient care, as well as outpatient services for patients with spinal cord injuries, brain injuries, and a broad spectrum of medical and physical conditions. This building also allows for the integration of medical research via the academic partnership between Jackson Health System, UHealth-University of Miami Health System, and The Miami Project To Cure Paralysis. "Rebuilding your life after a stroke, traumatic brain injury, spinal cord injury, organ transplantation, cancer, or other challenging medical conditions can be a long journey, but at Jackson Health System's world-class rehabilitation facilities, you are in the best hands," says Migoya.
Lynn Rehabilitation is just one part of dynamic Jackson Health System, one of the nation's largest and most respected academic medical centers. Its six hospitals, three campuses, and 13,500 team members are united by Jackson's care values: compassion, accountability, respect and expertise that drive every decision. With more than a century of public service in its community, Jackson remains a proud public institution that promises a single, high standard of care for every resident of Miami-Dade County while meeting the entire world's emerging needs in specialty medical treatment. The Lynn Rehabilitation Center is Jackson Health System's first new hospital created from the ground up since 1999.
The Christine E. Lynn Rehabilitation Center for The Miami Project To Cure Paralysis at UHealth/Jackson Memorial is located at 1611 NW 12th Ave., Miami, FL 33136. For more information or inquiries, call 305.585.9600 or visit JacksonRehabCare.org.