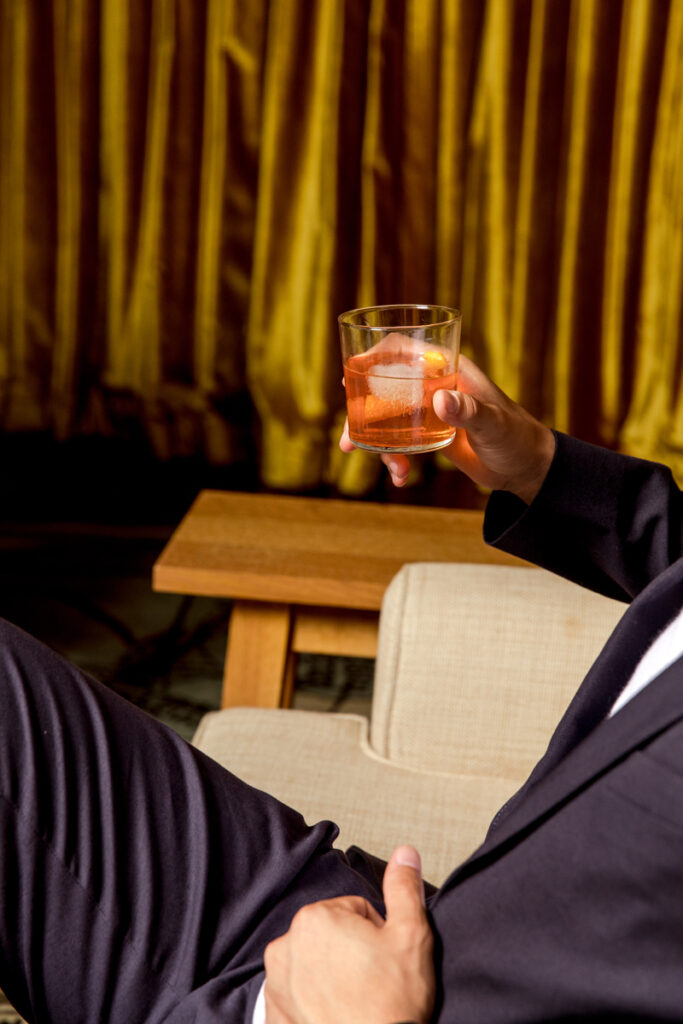 At Fi'lia, diners are family. The Italian way of life demands time to slow down and savor the moment with people you love. Fi'lia was designed as the perfect place to do just that; they're passionate about making everyone feel at home. That desire is reflected in every aspect of the restaurant, from the personalized service to the hours they spend in the kitchen preparing everything in-house. "Our pasta, bread doughs and sauces are all homemade at Fi'lia," says Executive Chef Victor Rosado. "Even our cocktail ingredients are made fresh daily." Their open kitchen is also unique, featuring a big wood-fired oven and grill in the center, where you can watch the chefs work their magic over an open flame. "The aroma in the restaurant is just amazing," he says.
They recently began offering a fantastic Pronto Lunch special during the work week. For just $19, guests can enjoy a two-course lunch with options like creamy tomato soup, caesar salad, and classic cacio e pepe. "We understand our lunch guests are often on-the-move, on-the-go and short on time, so we ensure everything is served pronto without compromising the quality of our food and the attentive service Fi'lia is known for," says Chef Rosado. The Pronto Lunch special is available Mon.-Thurs., from 11 a.m. to 4 p.m.
At its heart, Fi'lia remains an Italian-American restaurant…but with their new lunch and dinner menus, as well as world-class cocktail program, they are drawing inspiration from Miami and the Mediterranean, too. In addition to traditional Italian comfort foods like artisanal pizzas and house-made pastas, they now offer Italian regional specialties with creative twists, like their corn raviolo with decadent lobster and truffle mushroom risotto.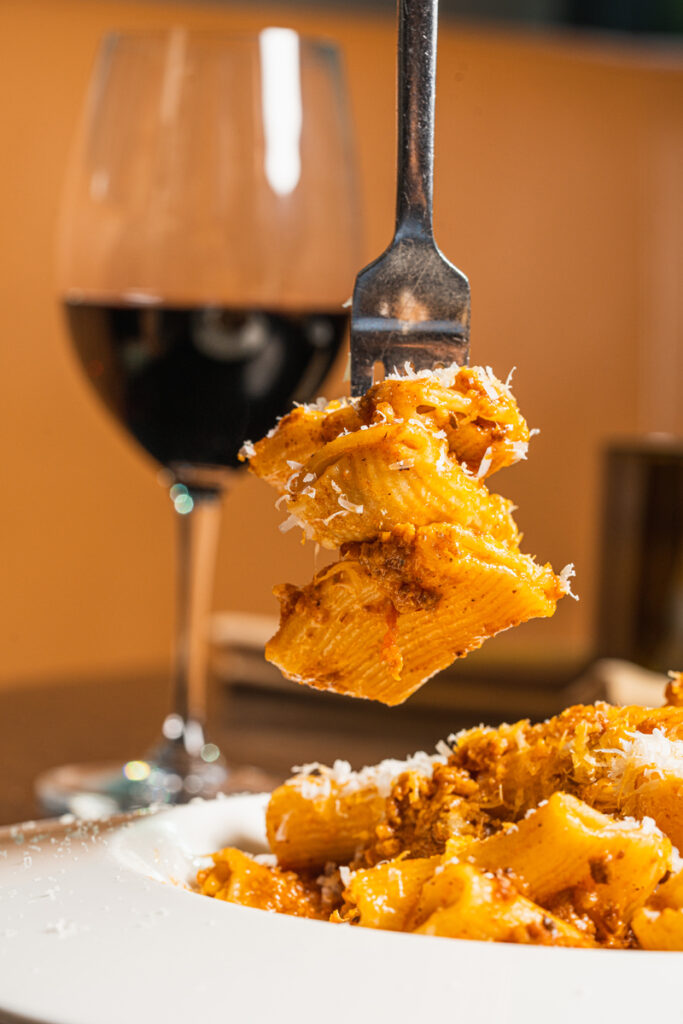 In all, the menu is an elegant mix of classic and contemporary; and the ambience is just like it, warm and familiar, but refreshingly modern. In fact, they recently revamped the entire Fi'lia restaurant — from the interior design to the al fresco terrace — with beautiful results. The inside dining room has modern white-and-wood decor and cozy banquettes with lots of natural light, and the outdoor terrace is perfect for group celebrations right in the heart of Brickell.
Whether it's a quick lunch or a large family dinner, the F&B programs come from the heart. "We believe in doing things the proper way of using only the best premium ingredients, sourcing locally and preparing everything in-house — no matter the time and effort that takes us," says Chef Rosado. "Our guests deserve it, and we as chefs and bartenders are better for it."
Their roasted half-chicken is a particular crowd pleaser, and it takes a lot of time to prepare. First it's brined for 6 hours, then they sous vide the chicken for 2 more hours with lemon, rosemary and garlic. After that, it's grilled to perfection over an open flame and finished with a secret Italian adobo recipe for a juicy, delicious dish unlike any chicken you've ever tasted. Another local favorite is the exceptional grilled octopus, first massaged for several hours, then braised for an hour with red wine, Italian sofrito and seasonal herbs, resulting in an unbelievably tender dish. Once prepared, it's then cooked on a wood-fire grill with smoked paprika and served over a chickpea spread with pepperoncini and Italian salmoriglio.
The new cocktail program is quite innovative as well. This season, they wanted to embrace their Italian roots while also incorporating their love for Miami's tropical fruits. To find the right balance, Chef Rosado and his team went back in time and studied an ancient Roman "shrub" technique that preserves fruits in a concentrated syrup of vinegar and sugar, combined with a unique blend of spices. "What you get are refreshing cocktails with a perfect balance of tartness and sweetness," he says. "We're always looking to elevate the Fi'lia experience. In addition to our recent renovations and new food and drink menus, we plan to introduce an Aperitivo Hour with specially-priced cocktails and light bites inspired by Italian aperitivo culture."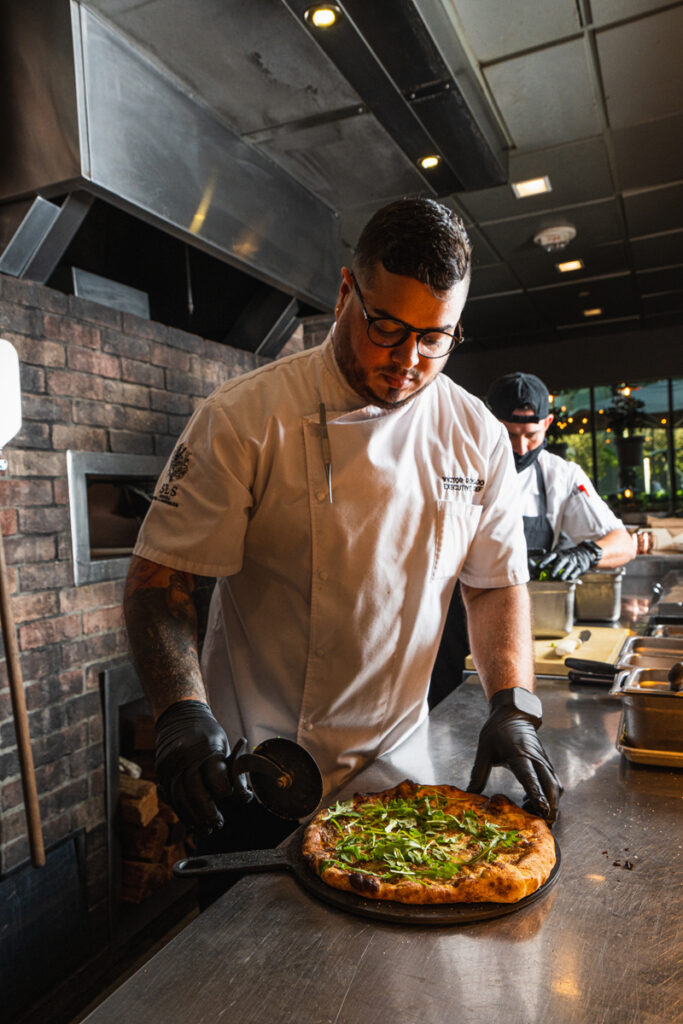 However, it is not enough to have an amazing gastronomic experience. "Our extraordinary service complements our cuisine, and the overall atmosphere at Fi'lia," he says. "Each team member is a true ambassador of the brand and what we stand for. We have the 'extra mile' mentality and the commitment to always offer a friendly, personalized experience that makes guests feel at home."
One of their favorite longtime patrons is a local family, who has been loyal to them since the day they opened their doors. "This year they went on a long work trip, and honestly we were anxiously waiting for them to come back," he says. "The family has a young daughter who we wanted to surprise with a 'welcome home' gift, so we came up with a fun idea. We got her a nice teddy bear, which we named Mr. Gatto, our little cat chef. Then we went around the property taking pictures and created a small album of Mr. Gatto making pizzas, helping the kitchen team, etc. When the family came back from their trip and joined us for dinner, I personally introduced Mr. Gatto to his new friend and presented the photo album of all the adventures he had while she was away. A big smile and warm hug made every single effort worth it. We take care of our family, and they are indeed part of the Fi'lia family."
Over the years, the team has built meaningful relationships with locals who come back time and time again, not just for the great food and drinks, but to connect on a personal level with the staff. "In many ways, our home has become their second home — we share life with them," he says. "Serving our community and sharing in those moments, that's a daily accomplishment we're very proud of."; sbe.com.