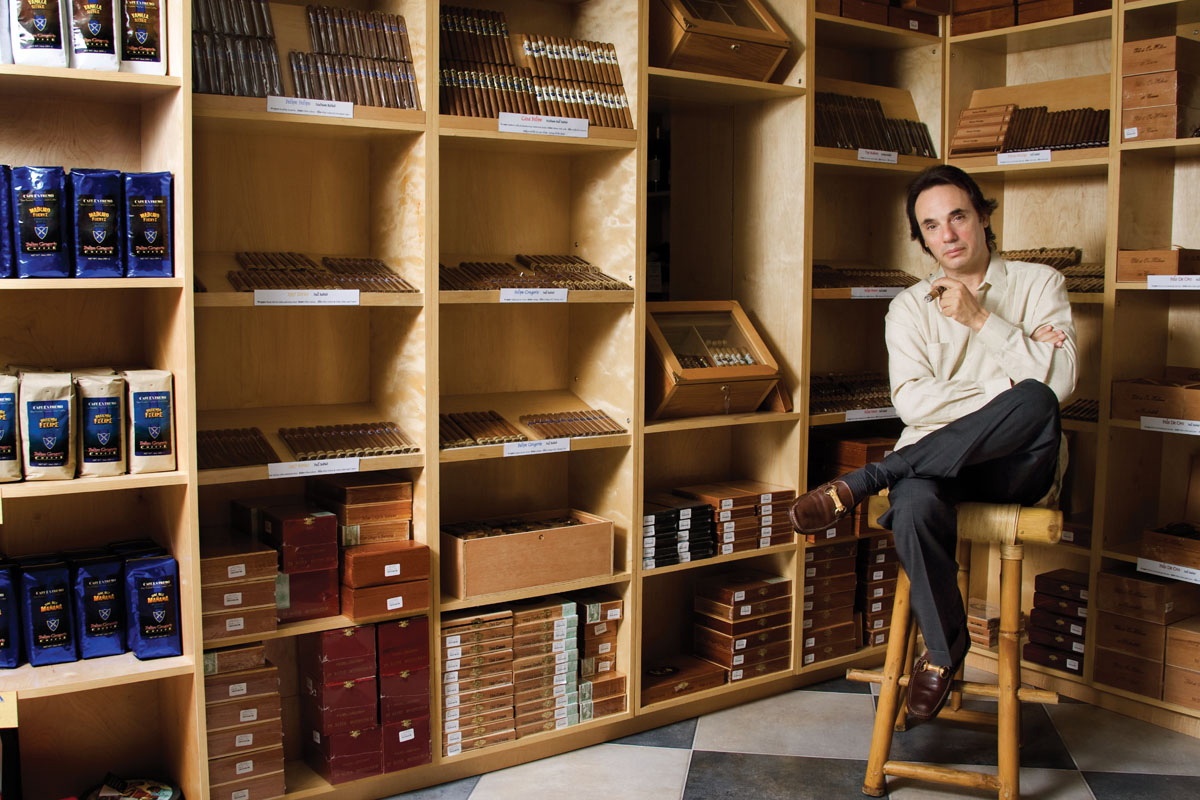 While most people enter a world of stress at work, Philip Gregory Wynne finds an escape at his Little Havana-based business, Casa Felipe. The wine and cigar shop, located at 900 SW 8th St., opened just a few months ago, bringing to Miami what Wynne refers to as a great place to relax and enjoy the freshest hand-rolled cigars on the planet.
Among its many lures, Casa Felipe features an in-house cigar roller, a wine room and tasting tables all surrounded by cigar showcases and autographed photos that hang on the walls. Working with Wynne is Gulf War veteran and in-house wine expert Christopher Orr, and "local marketing man" Sebastian Coll. "Once you walk into Casa Felipe, your senses will be captured by various aromas, which will hopefully override your stress," says Wynne, a 51-year-old aficionado who was introduced to cigars as a teen in Geneva by the legendary Zino Davidoff. "I love cigars because they take your mind away from the present and transport you to the past."
But more than just enjoying a good cigar, Wynne's passion is in creating his own blends, a craft he learned in 1990 from Don Jorge Buesos, the grandson of the man behind Honduras' first factory, which dates back to the 1800s. "I work with different tobaccos and regions to combine their characteristics in order to achieve a balance of flavor and strength," he says. "The inspiration of the blends comes from the different varieties of tobacco I try, while the artistic imagery of the brand is what inspires me."
"My passion is cigars, the creation of new blends and brands," he says. In fact, it was Wynne's own premium brand, Felipe Gregorio, that inspired the opening of Casa Felipe and its name. "As you come and sip on a fine Bordeaux or puff away on an amazing cigar, you can drift off into a neverland of sorts," he marvels. "In the words of Franz Liszt, 'A good cigar closes the door on the vulgarities of life'."
It's the reason Wynne went into business. "I've been truly blessed to be a in a business that is a serious equalizer of economic classes. It has happened that a blue collar worker, a policeman and a Fortune 500 CEO have all shared a cigar with me. The bond of the cigar overcame all social dimensions," he says. "We were just four guys enjoying a smoke and a glass of wine."
And a good glass of wine at that. With more than 50 varieties of Bordeaux wines that are rated 90 and above in Wine Spectator and Parker, Wynne takes great pride in the fine international products available at Casa Felipe. As a cigar-maker for a number of French Chateaus, Wynne says he has "insider relations" with many wine producers. Bring out the tumblers!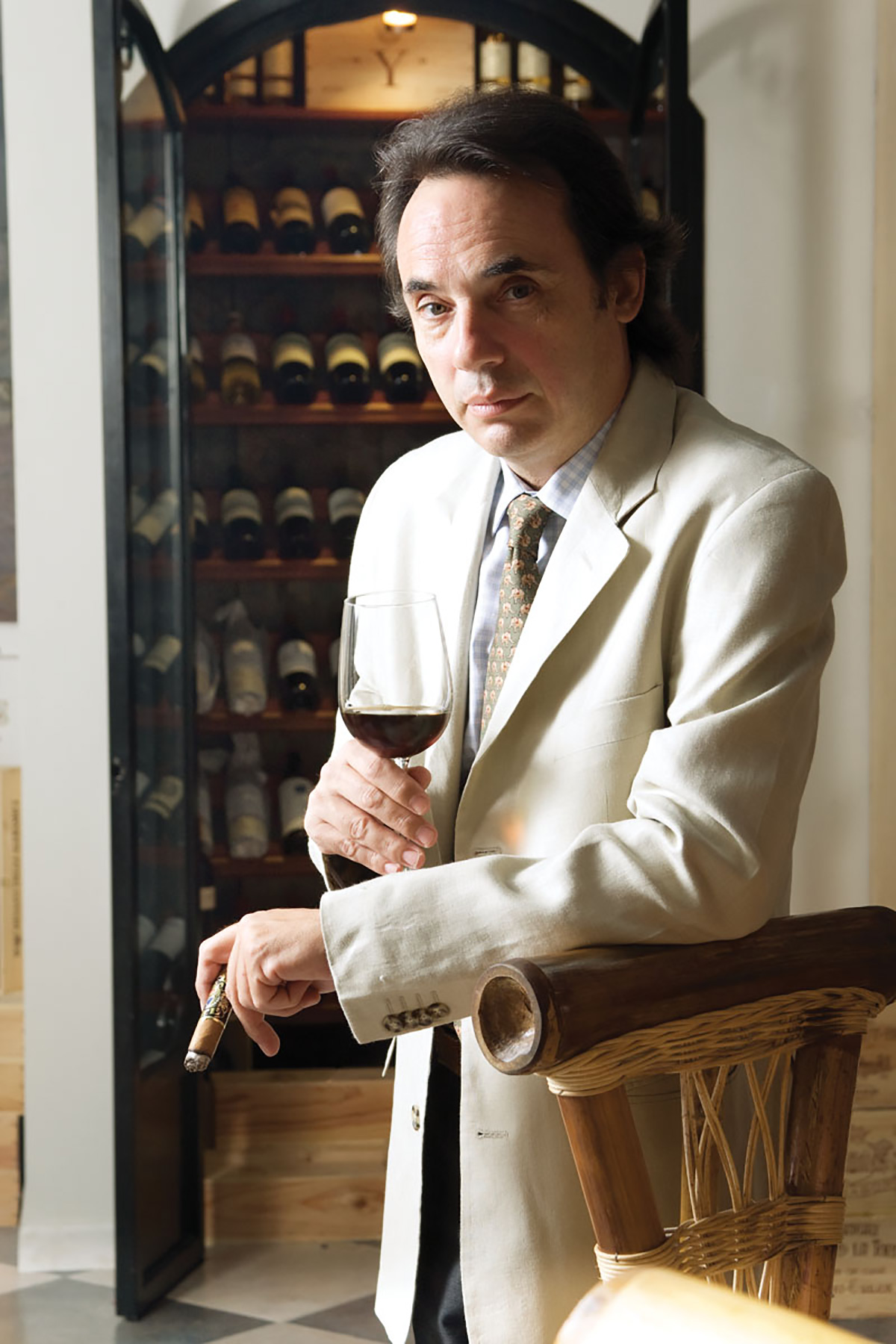 As the son of a U.S. diplomat, Wynne spent the first 18 years of his life overseas in Korea, Italy and Switzerland, where he was born. At 18, he moved to the U.S. where he studied International Relations and Political Science at American and Georgetown universities in Washington, D.C. "It was a natural choice based on my background," he says. "Having a multicultural background has helped me in the international focus of my business."
Today, it's safe to say his business is just as multicultural as he is, offering cigars from the Dominican Republic, wines from France, and coffee blends from Africa and Central and South America. And if that's not enough, Casa Felipe also offers a hookah bar and a light menu. Through his establishment, Wynne hopes to evolve the palates of Brickell's finest, as long as they're old enough to enjoy his offerings.
Of course, he's happy to join them. "I spend the day at my warehouse tasting cigars and tending to my core business," he says. "In the afternoon, I go to Casa Felipe where I enjoy a glass of wine and the company of my customers."
And then he's off to Key Biscayne, where he has been living for the past six years in the Ocean Club with his three children: Anthony, 15; Milana, 13; and Adriana, 11. "I like walking around the Key or riding my Vespa and also playing soccer," he says, adding that he enjoys the uniqueness of the island.
Among Wynne's other passions are reading, fishing and traveling to exotic destinations, most of which tie into his everyday life. "It's about patience for man and love for nature."