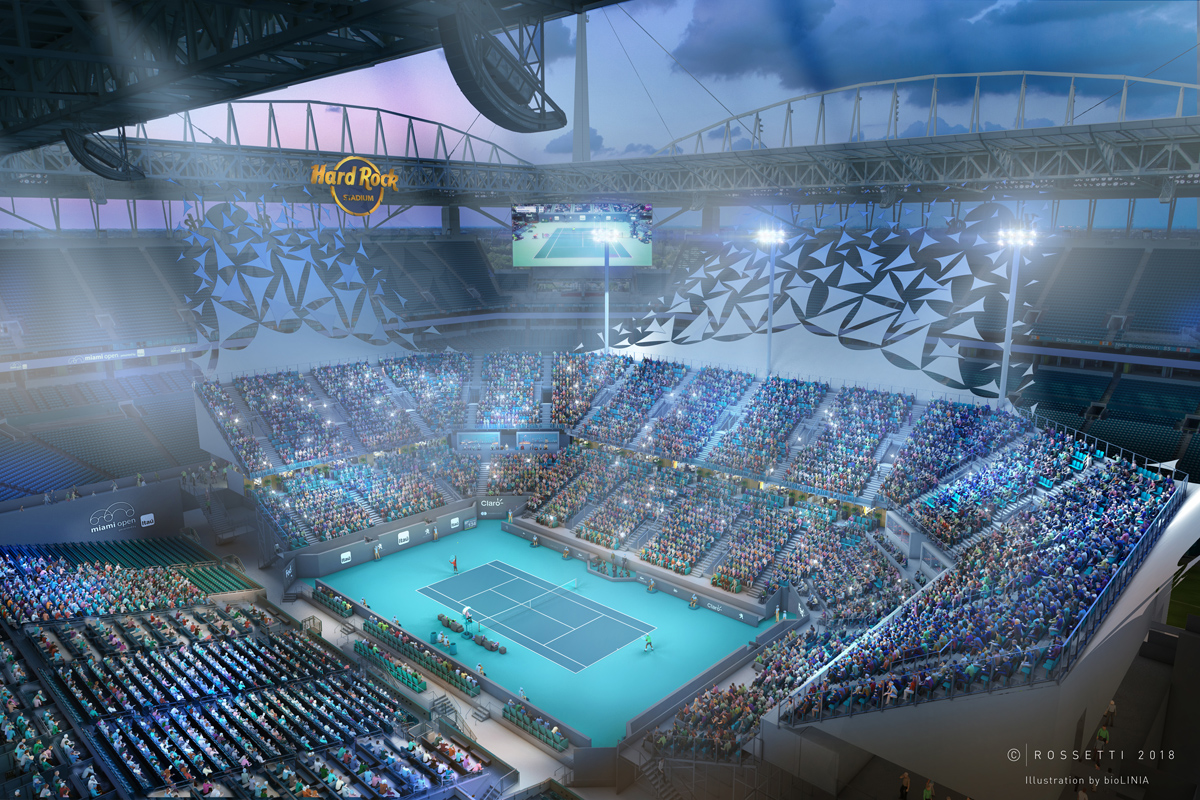 Stephen Ross spent $550 million renovating Hard Rock Stadium and the Miami Open takes full advantage of those improvements to present players, sponsors and patrons with elevated amenities that are truly unique in the sport of professional tennis. "From top to bottom, the fan experience at the tournament will be greatly improved," says Tournament Director James Blake. "Whether it is the luxury seating, abundant shade, new culinary options, plentiful parking next to the venue, hospitality options or expanded entertainment spaces, I think all of our guests will be amazed. The luxury seating and hospitality offerings now provided are second to none. Areas like the 72 Club presented by Ultimate Software, The Nine and the Club Level are amenities unlike anything else in tennis."
The heartbeat of the new Miami Open venue is found in the virtually non-stop excitement happening on the center court housed within Hard Rock Stadium itself. Surrounded by 14,000 seats, it's an architectural masterpiece that is at once intimate and luxurious while taking full advantage of the recently installed state-of-the-art shade canopy.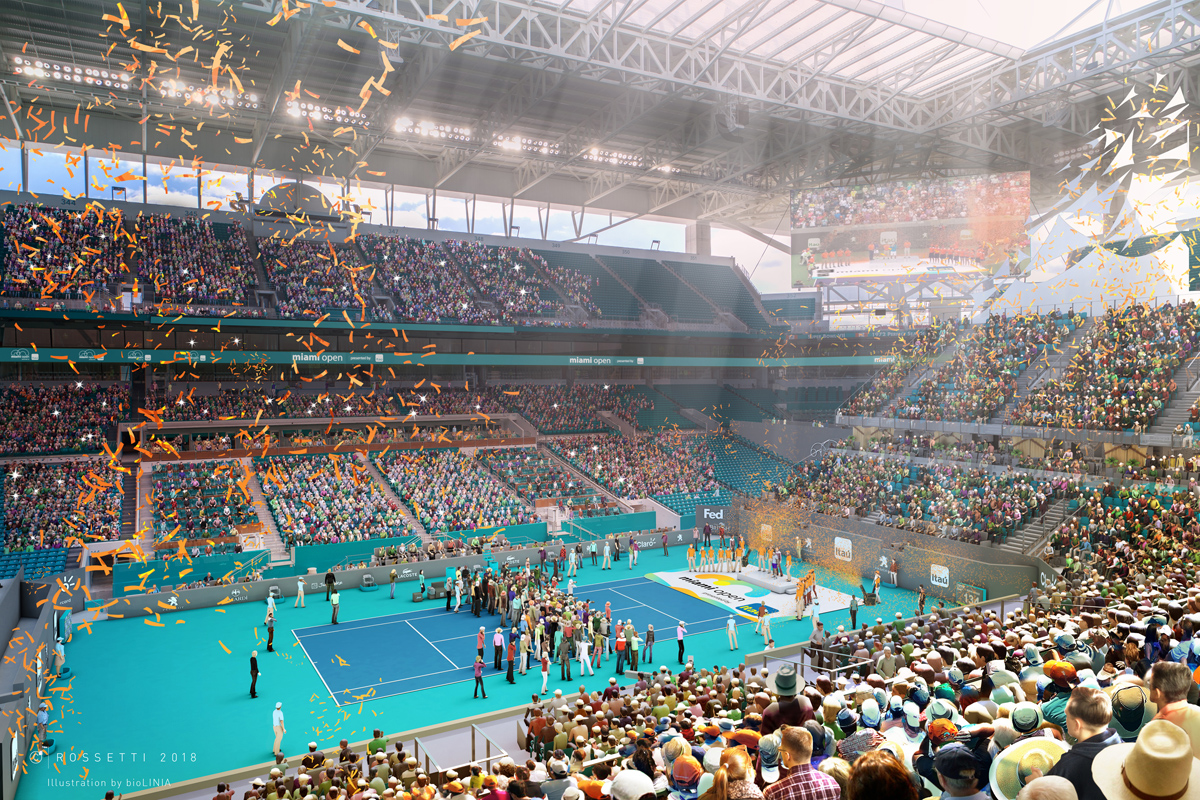 The 72 Club presented by Ultimate Software takes the luxury experience to another level with exclusive access to a club featuring all-inclusive food and beverage, premium parking, and lounge-style seating with ideal sightlines to all the action. Those looking to make things even more exclusive can opt for a private 4-person box located along center court, which offers the same ultra-comfortable seats plus the ability to watch replays and highlights on your own private video screens. The elite amenities rise even further with 12-40 seal luxury suites available for all matches.  
The new permanent Tennis Campus directly adjacent to Hard Rock Stadium will boast 29 competition and practice courts within a verdant oasis, including the largest outdoor video screen of any tennis event visible from any vantage point on the campus. The site is massive and beautifully landscaped with Spanish Steps, a Great Lawn and an Olive Grove. There will be more seating on the outer courts including the practice courts. Entertainment-wise, the site will include upgraded culinary options featuring many popular local restaurants, abundant seating spaces and an art installation for guests to enjoy. There will also be improved Wi-Fi and media facilities as well as efficient access to expedited parking directly adjacent to the stadium and tennis campus — thus eliminating the need for shuttle services to and from distant parking lots common with the previous facility.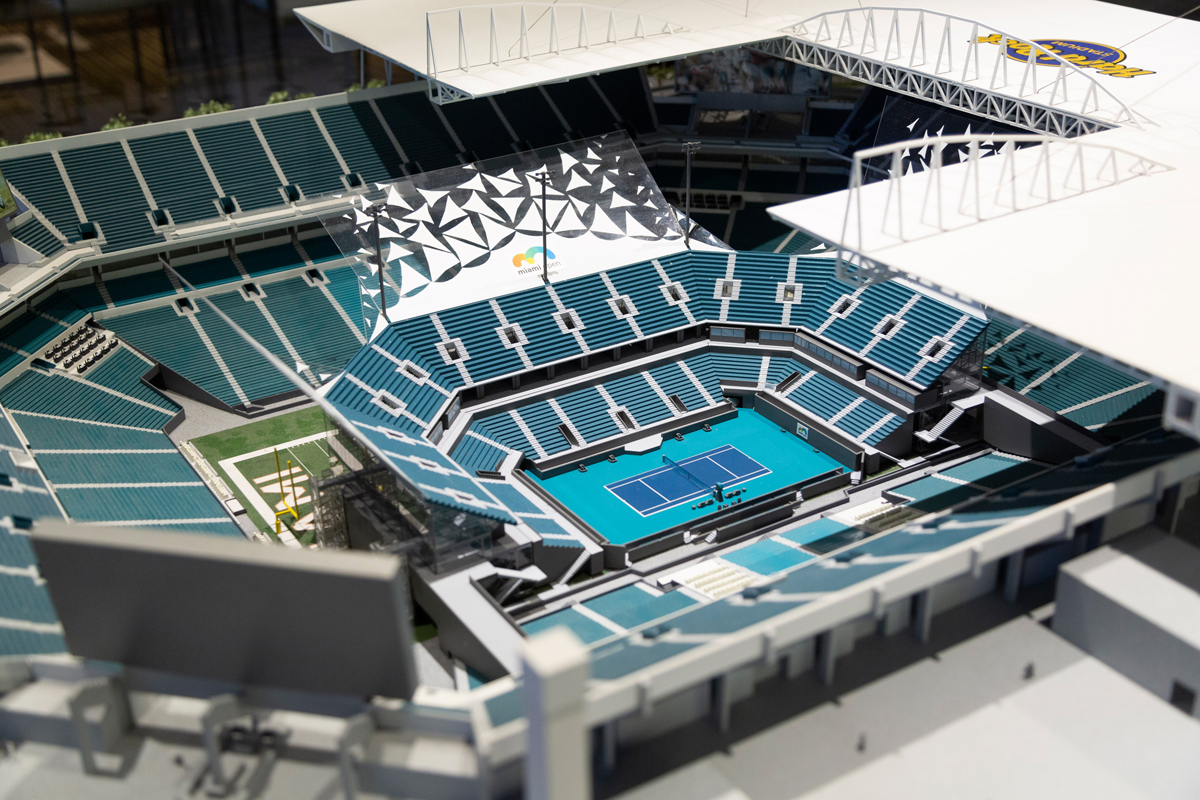 Players will benefit greatly as well with triple the space, including more private areas for players' families, upgraded food options, larger fitness facilities and more room to move around, all in keeping with the goal of providing an overall superior experience. "Ticket sales have been going very well," says Blake. "We have already surpassed last year's total number of duration package seats sold, and overall we are currently 22% ahead of last year. We have also seen a lot of excitement among sponsors with Itaú and Lacoste already renewing their sponsorships even before the first event at the new venue."
The move comes after a successful 32-year run on Key Biscayne. "Our vision has long been to restore the Miami Open to its rightful place as the '5th Grand Slam', and bringing the event to a re-imagined Hard Rock Stadium was a crucial first step in the process," says Mark Shapiro, President of Endeavor, a global leader in sports, fashion, events and media, operating in more than 30 countries. The company owns and manages the Miami Open presented by Itaú along with some of the world's greatest sports figures and fashion icons. They stage hundreds of live events and branded entertainment experiences annually and are one of the world's leading independent producers and distributors of sports and entertainment media. They also specialize in sports training and league development around the world. "With the commitment from Itaú, we have a hands-on partner that will support us in elevating the experience to even greater heights," says Shapiro.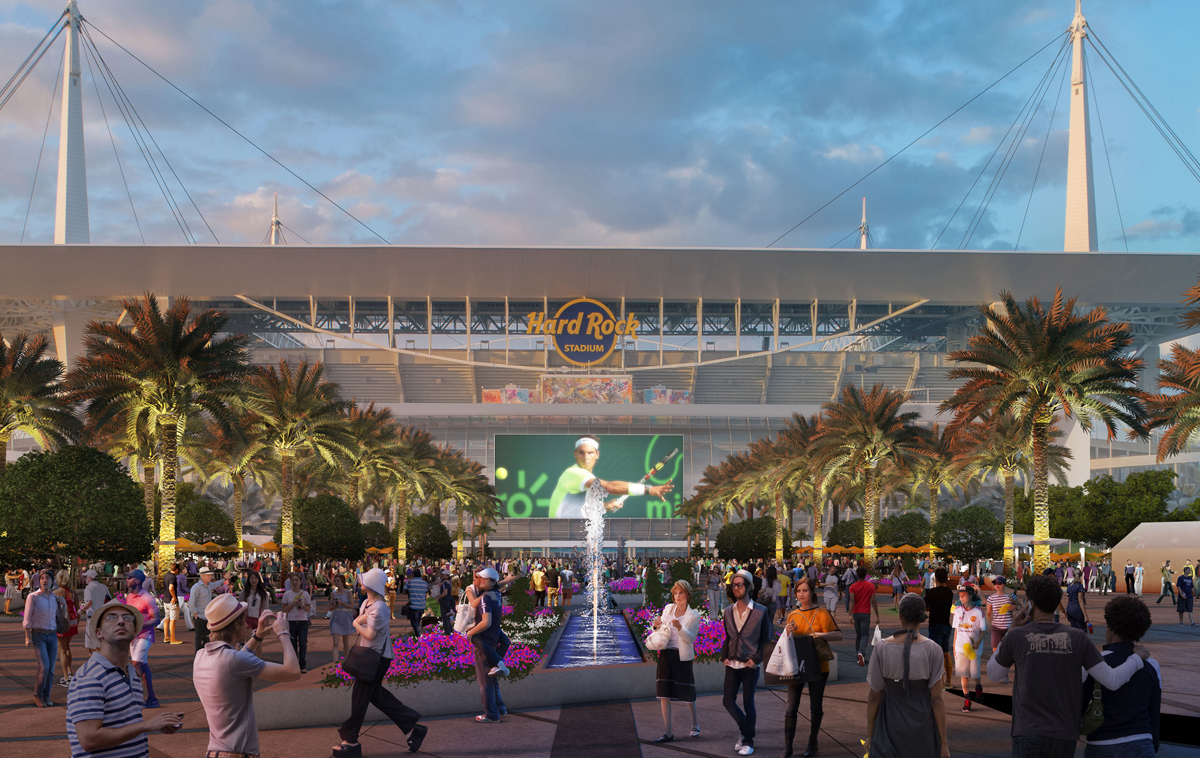 Itaú's relationship with tennis goes all the way back to the 1970s, when they first sponsored the Itaú Tennis Cup in Brazil in 1970. Since then, its platform has evolved, and is comprised of a wide range of sponsored projects. What's more, the company is involved in training centers that promote sport initiation and young athletes' development, such as Tennis Institute and Tennis Route, as well as high performance tournaments, such as the Miami Open, which the bank has sponsored since 2009, becoming the presenting sponsor in 2015. "The transformational power of sport is what has motivated us to invest in tennis for more than 40 years," says Fernando Chacon, Executive Director at Itaú Unibanco. "Currently, we support from the junior level up to high performance tennis, culminating in the Miami Open, one of the most important tournaments on the circuit. It is immensely satisfying to have renewed this sponsorship through to 2024 as the principal partner in the event, which receives more than 300,000 visitors annually and is broadcast to more than 190 countries. At the Hard Rock Stadium, where a significant increase in audience is expected, we shall be able to expand our relationship with the public, clients and athletes thanks to the new home that offers an unforgettable experience for the fans of the sport."
Blake agrees wholeheartedly. "This is a very exciting time for the Miami Open," he says. "The Hard Rock Stadium's facilities and the tennis facility being built are like no other venue in tennis today."
Already one of the sport's largest and most prestigious events, and considered the most glamorous stop on the ATP and WTA tours, the Miami Open presented by Itaú will played Mar. 18-31 at its new location at Hard Rock Stadium in Miami Gardens. It promises to combine the best of sports and entertainment in a two-week extravaganza unlike any other. Located in the one of the world's most beautiful and diverse cities, the Miami Open presented by Itaú has an energy, culture and excitement that's uniquely Miami. 
The Miami Open presented by Itaú takes place Mar. 18-31 at Hard Rock Stadium, 347 Shula Dr., Miami Gardens, FL 33056. For more information, call 305.943.6736 or visit MiamiOpen.com.