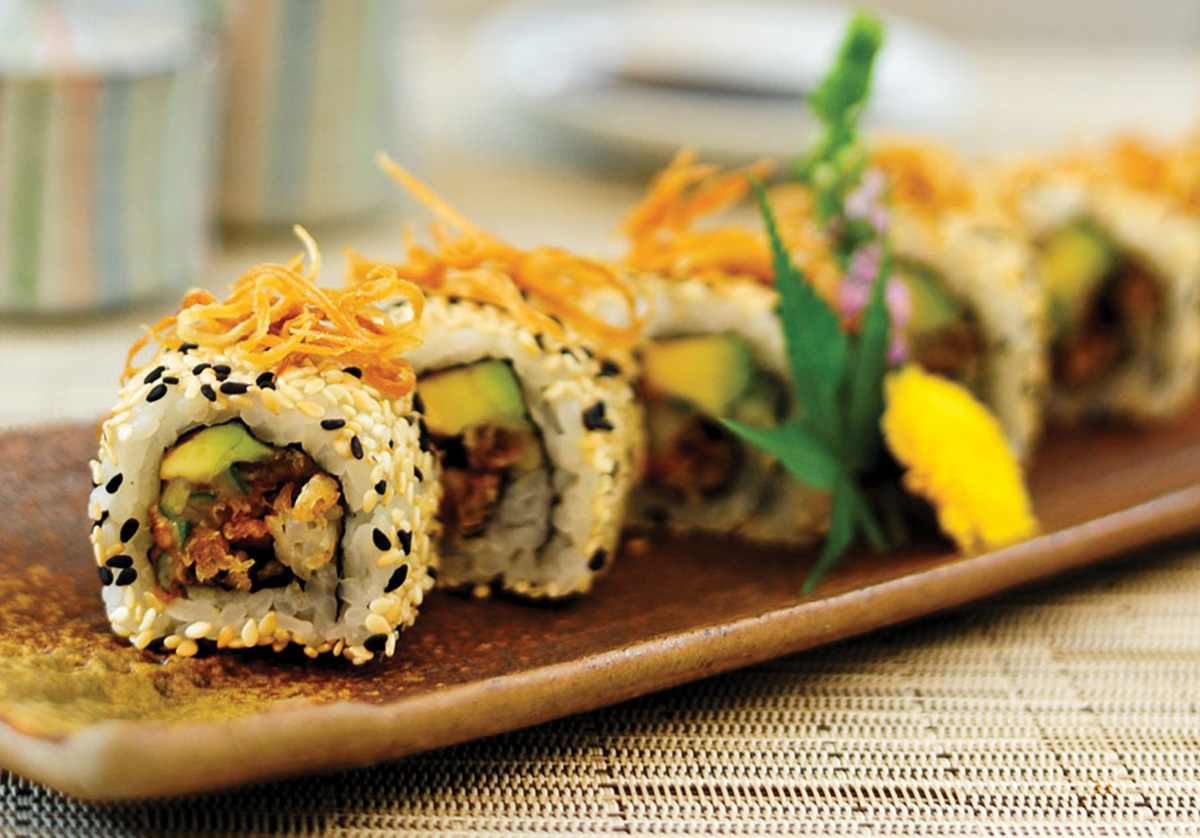 As far as countries go, Japan is the Santa Claus of Asia. They've given the world such gifts as karaoke, Godzilla film…and sushi. As Americans, we've lost face by trivializing the latter. So much so that's it's barely recognizable as the Death Row feast it once was has manifested into a food-like freak show: "Mango, roasted red pepper, marinated artichokes, and cream cheese rolled in rice and seaweed paper topped with a cashew-mango medley, then drizzled with kiwi-wasabi glaze."
Fusion, you've gone too far! Originally defined as a meal that embodies minimalism, sushi should only include raw or lightly poached seafood and vinegared rice, attached by a pea-sized dollop of freshly grated wasabi, and seasoned with the lightest coat of soy sauce. It doesn't have to be so limited, but the aforementioned Yellow Monkey Roll has lost something in its interpretation.
Due to the scarcity and expense of quality products during American Sushi's formative years, a trend developed to disguise semi-reliable seafood with cream cheese, cucumber and avocado fillers. We've had our fill of tempura-fried, irradiated shellfish-stuffed, spicy mayo-splattered, illuminated by Fourth Of July sparkler rolls of unknown provenance. It's time to get back to basics without having to travel on a plane, train or boat! That's right, Miami is literally as far as it can be from the Land Of The Rising Sun and yet we still have a handful of spectacular Japanese restaurants that fit into one of the following categories:
Kaiten-Zushi, or conveyer-belt sushi, isn't new to The Magic City but it has rarely deserved a round of applause. Imposter restaurants will usually pop-down as soon as they pop-up because the stringent standards of cleanliness and organization aren't met. Two that have had long-term success are Katana (Normandy) and Shima (Miami Lakes). Both excel at serving an impressive range of snack-sized portions in a slow-moving merry-go-round that will have you quickly devouring plate after delicious plate.
Izakayas, the Far-East version of tapas bars, only care if there are any party people in the house. Maido (Doral) and Su-Shin (Coral Gables) focus less on decoration and more on execution…after all, you're there to drink. These establishments differ from your average roll-pusher by offering umeshu (plum wine), shochu (bridges the gap between rice-wine and moonshine) and more varieties of sake than hot or cold. Like wine, sake is classified by the territory it's grown in. Skilled chefs know exactly what dish pairs best with each selection.
Moving on, Sushi-ya, a.k.a. comfort food specialists, like Naoe (Brickell Key) and Umi (South Beach) take extra care to assure each piece is prepared as close to live as possible and served at the correct temperature. They're also conscious of sourcing local, seasonal and sustainably-caught species.
If what you've read on this page has you thinking "sushi snob" — it's OK, someone has to frequent the faux-Japanese joints in town or we'll have a huge hole in the culinary scene. Regardless, consider taking it to the old-school, to when sushi was actually healthy, didn't have to impress with loud in-your-face flavors, and didn't insult consumers. Go ahead, save money on airfare, and start your sushi travels today, right here at home.