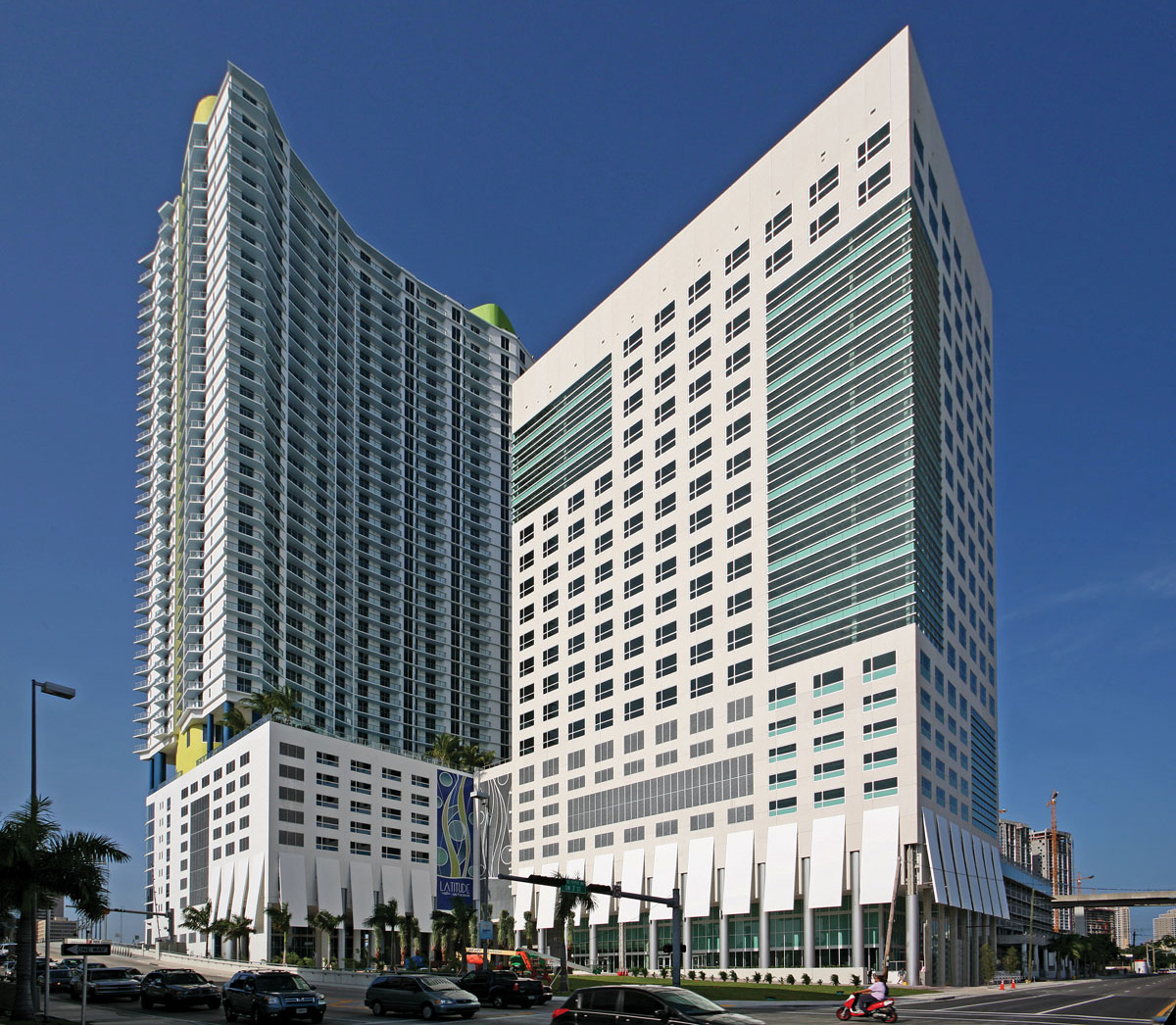 Whether you have just launched your business or you've been in business for decades, one thing's certain: Your office space can sometimes make or break a deal. Enter Latitude One, offering 230,000 square feet of Class-A commercial office space at the center of the Miami River Renaissance. "The most important message we'd like to convey is that there are two different buildings here at Latitude," says Karen Fish-Will, President of Peabody Real Estate, LLC, and VP of Peabody Properties Miami. "First, there's Latitude on the River, a residential property that's 85% sold with the remaining 15% leased 100%. Then there's Latitude One, offering office condos — it's not a parking garage for Latitude on the River as many have mistakenly assumed from time to time."
Latitude One is in the heart of Brickell's residential, financial and entertainment district which is home to more than 100 international and domestic financial institutions, and is the country's second-largest banking center. This, coupled with its close proximity to state and federal courthouses and direct access from SW 2nd Ave., makes Latitude One an optimal locale for a countless number of professions. "Being away from Brickell Avenue's bumper-to-bumper traffic provides our tenants with easy one-block access to I-95 as well as 2-3 blocks distance to the courthouses, 15 minutes to the airport and walking distance to area amenities," says Fish-Will. "Our smaller boutique-style offices offer state-of-the-art systems, column-free floors, floor-to-ceiling windows and breathtaking views of Biscayne Bay and the Brickell skyline."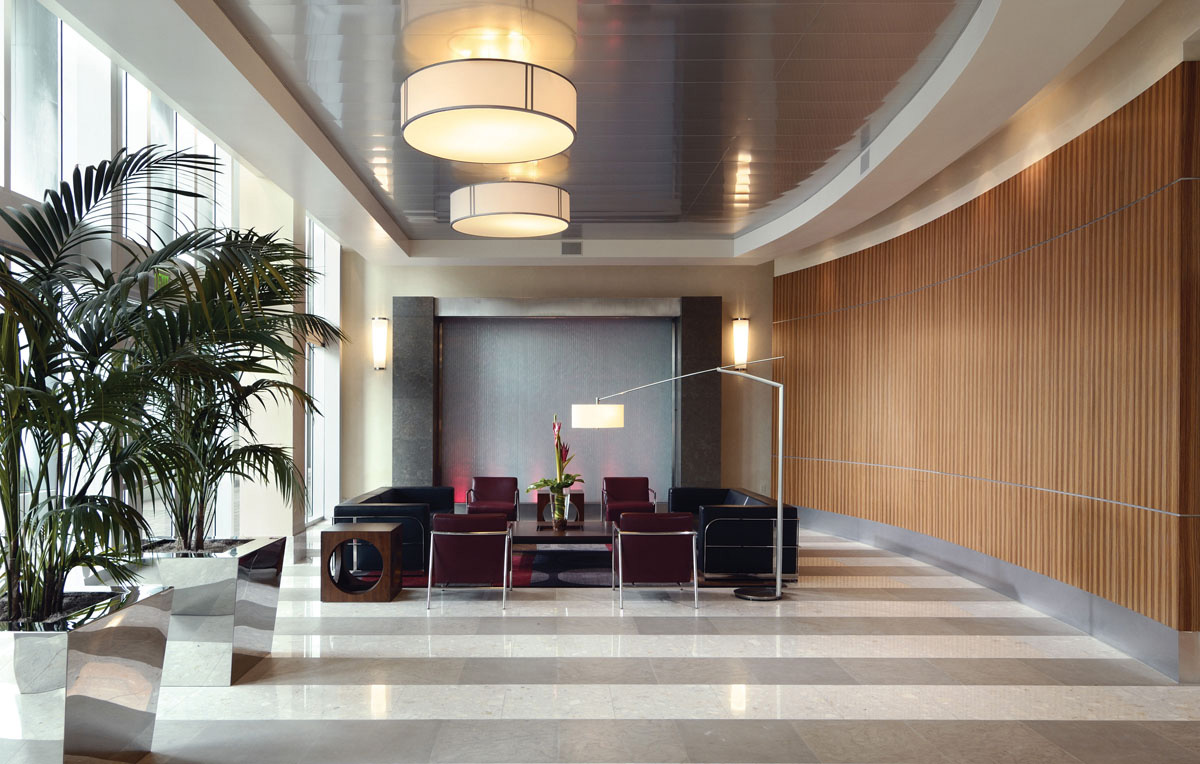 Recently, Latitude One's team has established alliances with the Spanish-U.S. Chamber of Commerce, Beacon Council, Coral Gables Chamber of Commerce, Commercial Industrial Alliance of South Florida and the Real Estate Association of Greater Miami & The Beaches. They've also earned: 2008 Gold Award for Mixed use Project & Live/Work for Architecture; 2008 Silver Award for Mixed-Use Project & Live/Work for Interior Design; Florida's Best 2008 Builders Overall Product High Rise For Sale; Florida's Best 2008 for Builders Overall Product for Commercial Mixed Use; Florida's Best 2008 Judges Award for Recreation & Amenities; 2008 Top Residential Developers Award; and McGraw Hill Construction's Best of 2007 Award of Merit for Mixed Use.
Branded as a "boutique" office building, Latitude One specializes in smaller units starting at 647 sq. ft. Most of the owners of the smaller offices have built-out the spaces for immediate occupancy. "These turn-key, ready-to-move-in units and fully furnished executive suites and business centers are ideal for small attorney offices, fund managers, creative businesses, public relations companies and insurance, legal and accounting firms — basically smaller businesses that want to be in the Brickell area, but don't want to pay Brickell rates as high as $45-$65/sq.ft., or deal with the traffic congestion in the area," says Fish-Will. "Latitude One's location in West Brickell offers great unobstructed views and no traffic delays," says Fish-Will.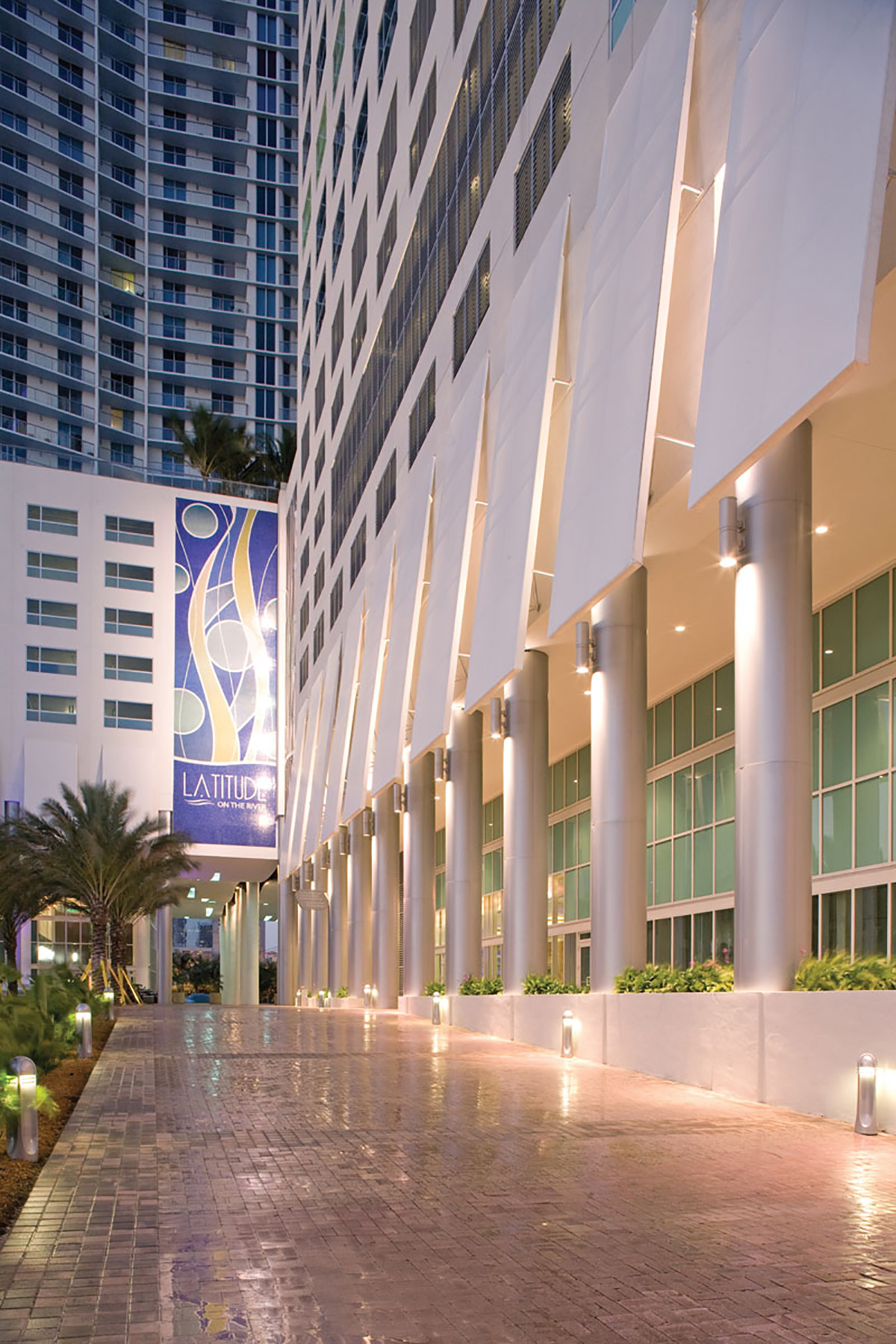 Latitude One also has offerings for businesses with larger space requirements that can be built-out to the tenants needs. "We are currently developing a 9,000-sq.-ft. executive suite floor which we expect to have ready by fall," says Fish-Will. Among their most recent initiatives, they are offering independent lawyers office space rented on a daily, weekly or monthly basis (up to 2 months) so they don't need to commit to a long-term lease during these tough economic times. "Perhaps they aren't ready to make the plunge into a full lease, or they need the use of an office for a full day of depositions, meetings, etc.," says Fish-Will. "We want to help these people test the waters as far as leasing office space so they don't have to commit to more than they need."
Besides the attorneys they are attracting, Latitude One has already signed some big-name tenants including Graziano's Steak House, Assist-Card, Future Q, RTI Productions, Anti-Aging Spa, Inmarsat, Mundo Pass and numerous legal service providers due to the proximity of the Courthouses. "We've also received lots of interest from the Latin American community thanks to the city's caché with international entrepreneurs and business leaders of major corporations that want to have a presence in the U.S.," says Fish-Will.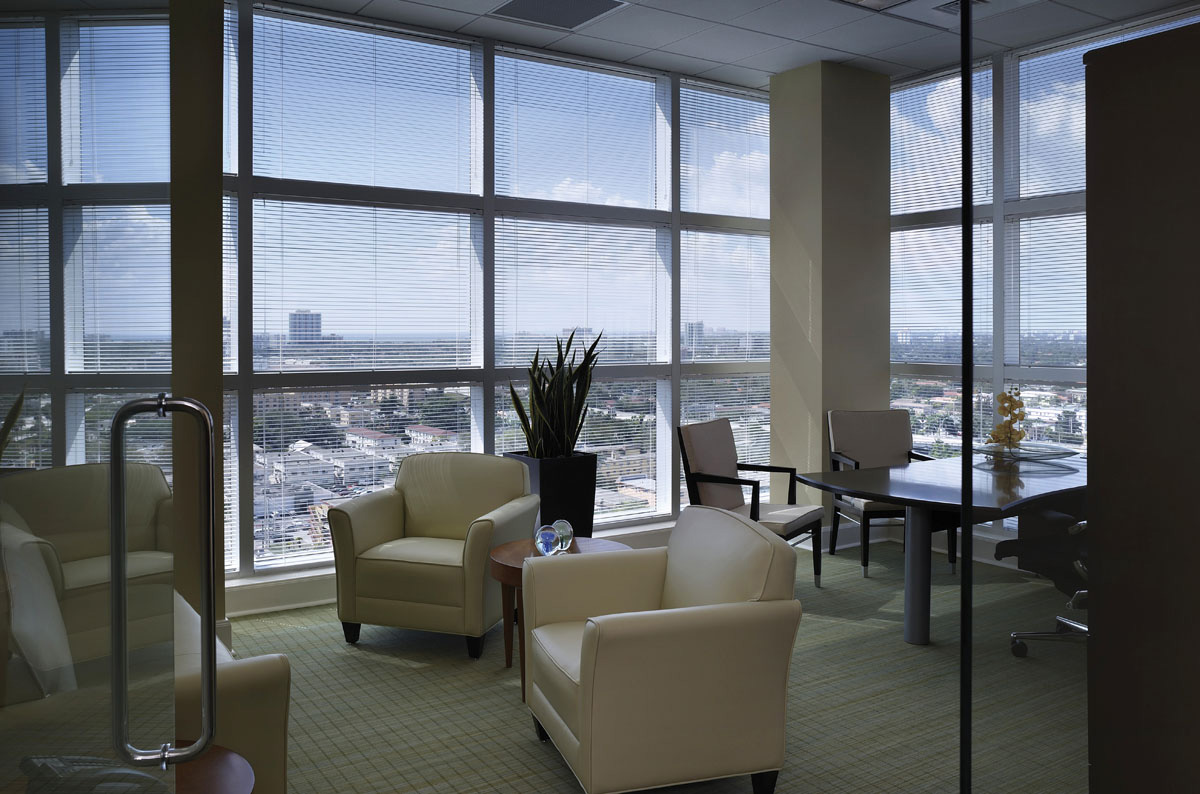 Designed by revered architectural firm Arquitectonica to maximize operational flexibility, Latitude One's blueprint offers a highly efficient center core, and can accommodate just about every floor plan configuration in its 24 stories. Beneath its imposing architectural design is a relaxed atmosphere uncommon to similar major metropolitan areas. At its focal point, the Riverfront Promenade provides a unique atmosphere, surrounded by a world-class Riverfront Bistro, where tenants can relax on the lushly landscaped plaza or enjoy a riverfront stroll toward the services that truly celebrate the eclectic nature of the Miami River. "Latitude One is easily accessible to all major thoroughfares, becoming one of the area's most recognizable corporate addresses," says Fish-Will. The building is also just steps from the excitement of Mary Brickell Village and the central Brickell Business District, where you will find every imaginable business and social amenity. Adds Fish-Will: "We've recently partnered with Oxxo Care Cleaners for concierge dry-cleaning service and with Pronto Car Wash, so your vehicle is polished to perfection while you work!"
Perhaps even more luring than its amenities and façade is Latitdude One's location within Brickell's Enterprise Zone, an address that translates into huge tax benefits for business owners as it offers credits for some wages as well as property and sales tax breaks. "Ownership of an office condominium at Latitude One allows you to deduct your real estate expenses, capture the tax benefits of depreciation and increase your overall net worth," explains Fish-Will. "Additionally, it protects your business from unpredictable runaway rental increases. This is not only a smart business opportunity, it's also an intelligent investment in the record-breaking appreciation of tried and true Brickell real estate."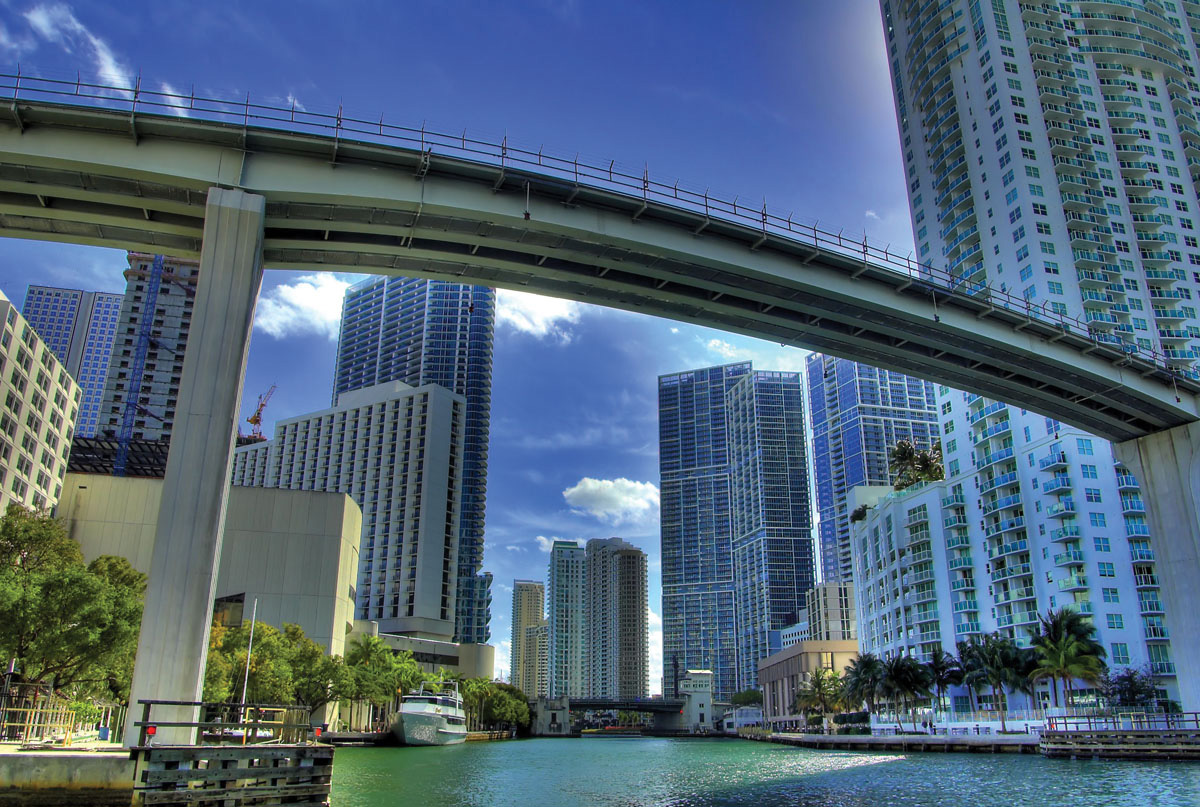 Currently, offices at Latitude One are leasing between $25-$35/sq.ft., depending on the floor, location, view, size and build-out details. For more information, visit Peabody Real Estate, LLC, at Latitude One, Suite 1612; call 786.539.4884 or email Info@LatitudeOneMiami.com.