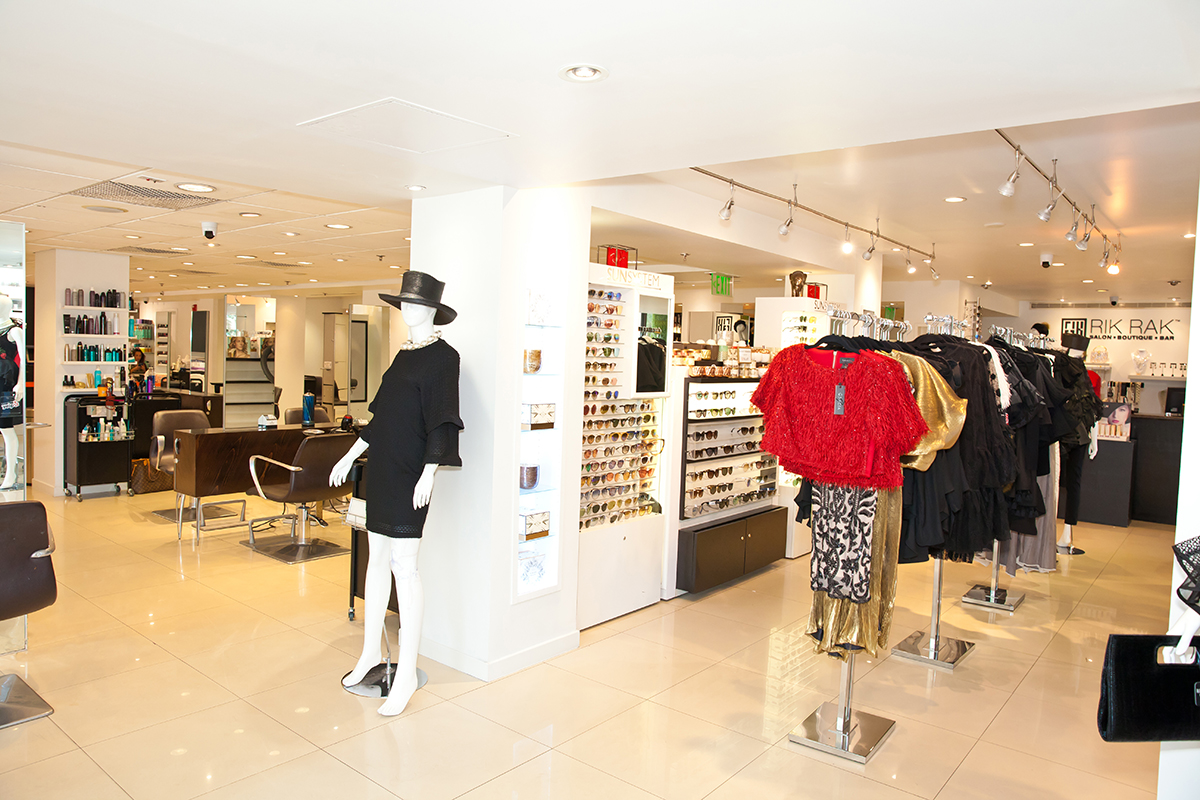 Beauty and fashion are highly competitive industries and nowhere more so than in the fashionista paradise that is Miami. A number of key factors are required to achieve even initial success: Just the right blend of talent, creativity, vision, the ability to stay on the cutting-edge and predict trends, and fabulous customer service. It's clear that Salon Rik Rak has that magic formula and more as they celebrate their 30th Anniversary as a pioneer in the Brickell area, an achievement that speaks to their knack to attract and retain clientele as well as their ability to effectively manage the business through all business cycles.
So what's the secret to their longevity? "It's our unique offering of a salon, boutique and bar serving an upscale and professional clientele," says Raquel Watters, President. "Guests can receive multiple services at the same time while enjoying a delicious snack or meal before browsing the boutique and sipping their favorite wine from the bar. We're not a typical salon: We offer many spa services as well as an extensive selection of fashionable clothing and accessories. Many guests receive their services and leave with an outfit for a night on the town."
One of the salon's all-time favorite client experiences was when Barbra Streisand's assistant called to book a colorist for her at Rosie O'Donnell's Miami Beach home. "Rik went and initially met with Ms. Streisand's husband, James Brolin, who reviewed photos with him of her preferred hair color under various lighting conditions," says Raquel. "Ultimately, she was thrilled with the outstanding results that Rik accomplished and had hoped that he would join her professional beauty entourage. While Rik was flattered with the offer, he politely declined; he did, however, accept her invitation for VIP seating at her concert that weekend!"
The salon's 6,000-sq.-ft. site is an oasis of the senses where guests can indulge in everything from highlights to high heels, from exceptional facials to delicious chef-crafted meals ranging from a selection of gourmet salads and sandwiches to small-plate entrées, making it a popular place for locals to get together with friends. But the heart of the business is beauty. The Rik Rak staff has been gathered from around the world to serve the stylish and contemporary Brickell community. The shop is designed for clients to browse the trendy apparel, handbags and chic jewelry as they sip on a glass of wine while their keratin treatment or balayage processes. The salon has a team of top hair & makeup stylists who are experts in all of the most popular treatments and services including balayage, highlights, lowlights, ombre and other specialized techniques like human hair extension services, beautiful blowdrys, curls and updos. Spa services include facials, waxing (for women and men), eyelash extensions, body treatments, nails and makeup.
While this would be a successful business model in any situation, it's the spirit behind the salon, the energetic duo of Rik & Raquel, two individuals with a passion for life that's only rivaled by their talent for creating timeless, unforgettable styles, that has kept clients coming back for 3 decades and recommending Rik Rak to family and friends.
Rik's career took off over 30 years ago, and today he enjoys a reputation as one of Miami's leading colorists. Fashion has been in Raquel's family for decades — her mother was a very talented high-end patternmaker and seamstress whose sense of style and meticulous attention to detail inspires her to this day. Raquel's lifelong zest for fashion took shape when she created her own boutique, Tango, in Coral Gables. When the two met over 30 years ago, the connection was instant, as was the idea to create a haven for all things chic and stunning: Rik Rak Salon Boutique & Bar, a fusion of design, beauty and lifestyle.
At some point in time over the past 30 years, including currently, one or more of their children have been staff members in addition to their expert team of beauty pros. "All of our associates are talented professionals with training and education from all over the world, and we provide ongoing education in the latest, up-to-date techniques," she says. "For example, today we are hosting a hands-on class which is focused on the newest cutting and color techniques fresh off the European runways; it's because of our size and reputation that international beauty companies come to train at our salon."
Raquel credits a large part of their ongoing success to the talented staff and the results they achieve, plus their attention to detail and development of relationships that focus on each client's personal needs and desires. "The staff is talented and committed," she says. "Their primary focus is outstanding customer service. It's what keeps our loyal guests returning time and time again!" As such, the employees are "family" and each year Raquel and Rik like to show their appreciation by hosting an annual Rik Rak holiday party at their home. "It's always been very important to show gratitude to our staff for their support," she says. "We couldn't make it without them!"
What's more, the duo strives to maintain excellence via the latest trends in both beauty and fashion. Their future plans include being open to new business opportunities which provide synergy with their core principles. They're also looking to expand to bring their offerings to an expanded clientele. "While being surrounded by all of the beautiful things in my boutique is fantastic, the most fulfilling part is the impact that I have on my clients during their Rik Rak experience," says Raquel. "I love seeing them leave with the latest trendy styles and feeling confident about themselves."
Rik Rak Salon is located at 1428 Brickell Ave. For more information or to schedule an appointment, call 305.371.7324 or visit RikRak.com.