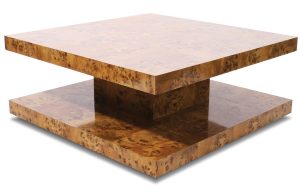 Unique Texture
Like its namesake, the Bond Cocktail Table from Jonathan Adler is refined, edgy and timeless. Its iconic design would lend an air of glamour to any room, but it's the utterly unique and luxurious texture of this piece that makes it a true standout. The table's intriguing look comes thanks to the use of rare burled wood, pieced and encased in Lucite for durability. It makes this piece as liveable as it is stylish; $2,950, JonathanAdler.com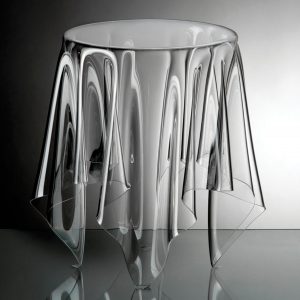 Ghostly Presence
No, the house isn't haunted, but this Illusion Table certainly lends spaces an ethereal air. This iconic piece was designed by John Brauer, who was inspired by the sight of café tables in Copenhagen draped in flowing, elegant white cloths. Brauer's creation takes the form of the cover and transforms it into the furnishing itself, crafted in light-infusing plastic. The resulting look is deceptively simple with a serious design punch; $290, Essey.com.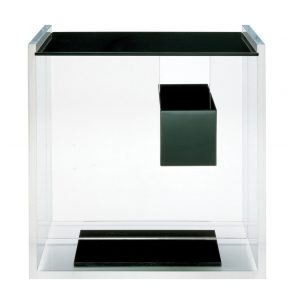 Intriguing Secret
Who knows exactly what lurks in the heart of this Segreto nightstand? Well…you will, if you make it yours. Formed of transparent plexicor for a clean, modern look, the drawer in its center is all opaque black, making it impossible to see what's inside. Even if all you're hiding are earplugs and a jar of pickles, this piece makes them both infinitely intriguing; $2,250, Zanotta.IT.
Entering & Exiting
Any kind of space, from commercial to residential, is decorated according to needs, dimensions and usability. Creating a welcoming environment is a key factor for designers who look for the ultimate sofa, chair, painting, lamp or table, but there's one element that's always fundamental, one element that sets the mood: The door. The door is the first and last piece you see and interact with when entering or leaving a room, so why not make it a memorable moment? A door can be minimal or substantial, with a handle or a floor-to-ceiling bar. There's so many options. When engineering doors, Lualdi keeps in mind esthetics and functionality above all else. Additionally, Lualdi creates custom designs for residential and commercial applications, matching the most unique needs in materials, dimensions and usage. From doors with no handle to hinges, Lualdi's craftsmanship and engineering techniques have been passed from generation to generation, establishing the company as a leader in the industry.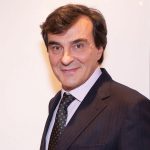 ABOUT THE AUTHOR
Alberto Lualdi, President of Lualdi works closely with designers, architects and engineers to create the ultimate door. Lualdi has a showroom in Miami and in New York; 1.305.461.5464; Lualdi.com.