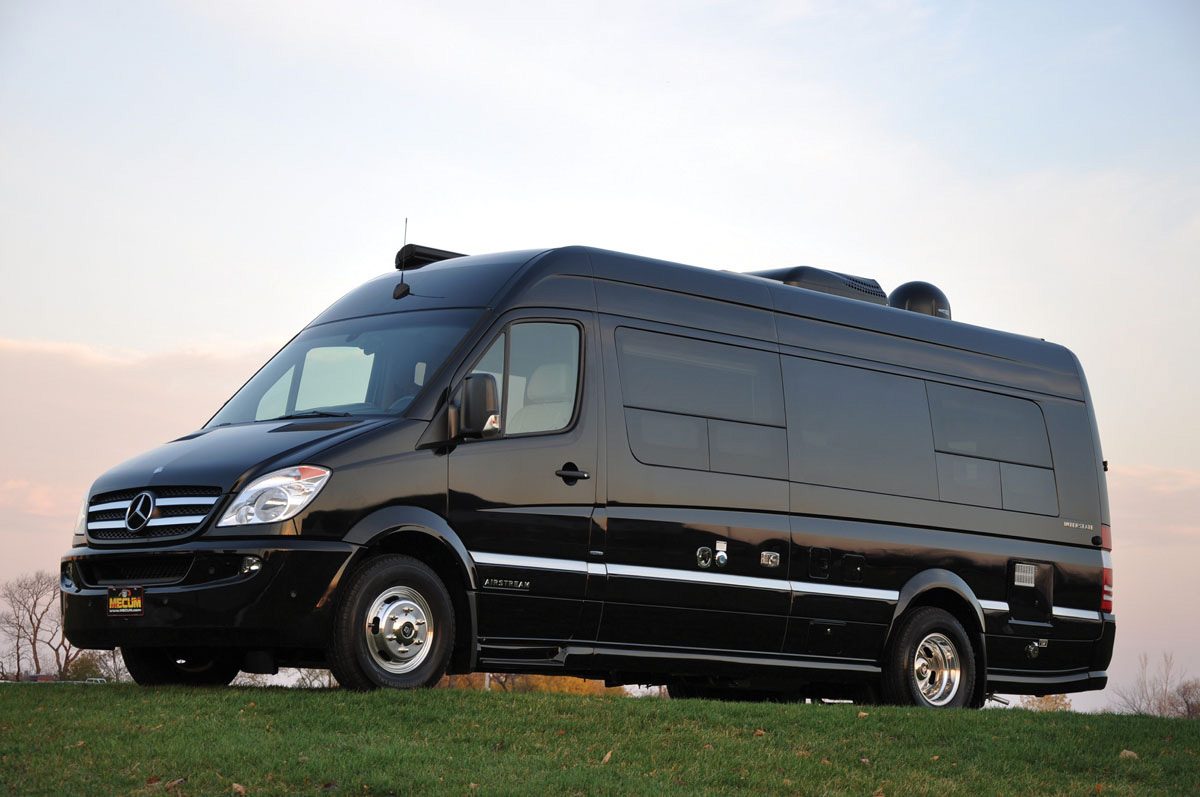 Airstream Interstate
This is what happens when you combine a pair of the most iconic names in transportation and RVs. Since 1932, Airstream has set the standard for luxury recreational vehicles, while Mercedes-Benz invented the car. Best known for their luxury travel trailers owned by celebrities including Ralph Lauren, Airstream chose a Mercedes-Benz chassis and engine to create the Interstate, a luxury RV that's especially well-suited for those who might be intimidated by driving something larger than some condo units. While most Class A Motor Coaches are literally the size of a bus, the Airstream Interstate is not much longer than a large van, and low enough to enter most garages. Powered by a 188 hp Turbodiesel V6, it's also easy on fuel, too, getting 18 mpg on the highway. Inside, there's seating for 9 and spa-quality overnight accommodations for 2, making this the perfect RV for football tailgate parties or weekend getaways; $144,914 for EXT extended lounge model; Airstream.com.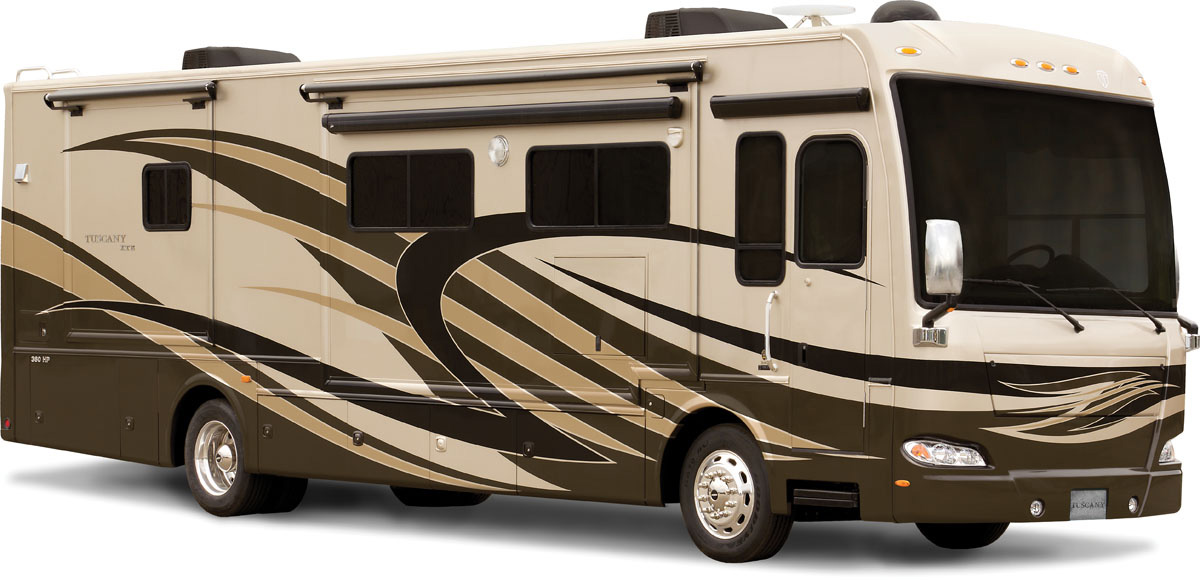 Thor Tuscany XTE 36MQ
If you're looking for a luxury motor coach that can accommodate up to 6 overnight, but isn't quite as big as others on the market, consider Thor's Tuscany XTE 36 MQ. This singe rear-axle model has the classic "pusher" design, with the Cummins 360 hp Turbodiesel mounted in the rear, Porsche-style. The overall dimensions, however, make it easier to navigate city streets. Additionally, there's no compromise in interior comfort, as 4 slide-out wall panels provide a cavernous interior when you arrive at your destination. A pass-through "basement" under the cabin floor allows you to bring all the sporting gear you can imagine, while the full-length wardrobes mean you don't have to worry about not packing enough clothes for even a month-long adventure. Even first-time drivers will feel at home behind the wheel, with the huge windshield offering floor-to-ceiling visibility, enhanced by the huge rearview mirrors and rear-mounted CC TV; Starting at $174,750; ThorMotorCoach.com.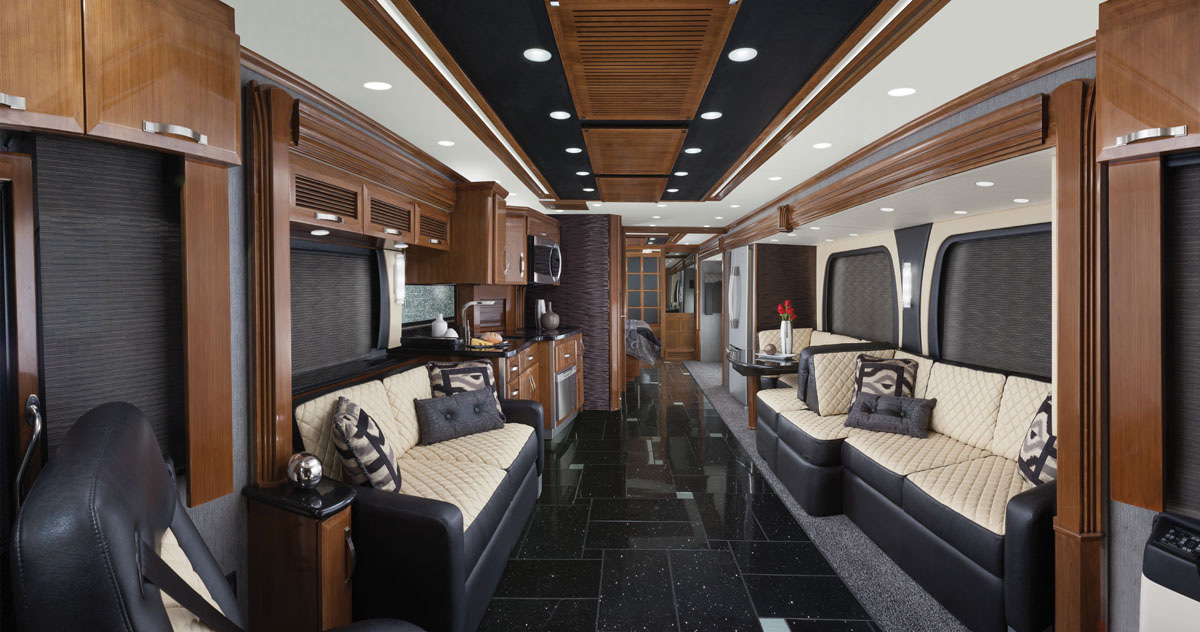 Newmar King Aire
The Newmar King Aire sets the standard for unique, luxurious, refined appointments; this is clearly one of the most well-engineered land yachts on the road. From the proprietary Comfort Drive uber-power steering to the Safety Cruise collision avoidance system, this is a big vehicle that handles as easily as a grocery-getter minivan. Other significant amenities include the Nav & Go GPS system utilizing a touchscreen that would be right at home on a superyacht, making it easy to find your way. Each King Aire is custom-built to reflect the owner's exact desires, but even the "standard" features are unique, such as the galley floor that features thousands of tiny "stars" made from recycled glass, and the galley sink, crafted of Hard Roc borosilicate glass and illuminated by LED accents. The interior fit and finish is reminiscent of a Feadship, with plush fabrics, silky-smooth leathers and woodwork that are as beautiful as they are functional; $836,768; NewmarCorp.com.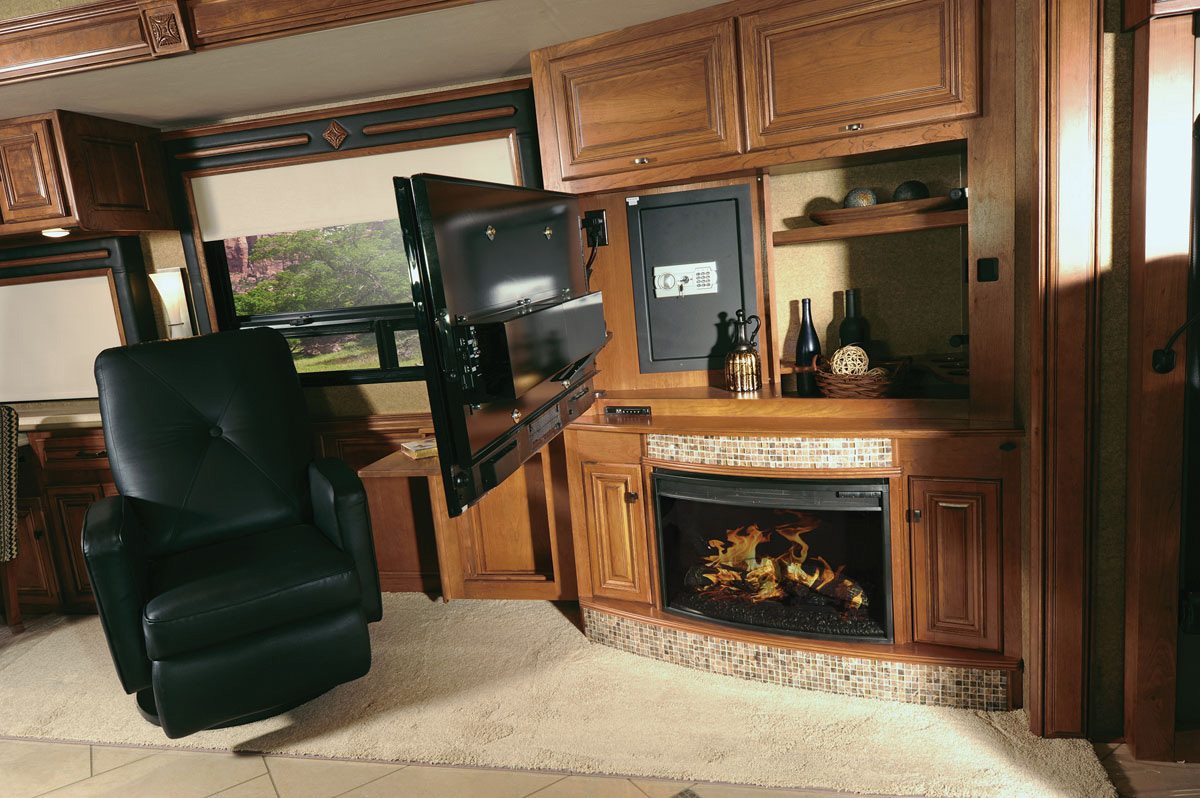 Winnebago Tour
Want to travel like the rich and famous? Step aboard The Tour, Winnebago's flagship, an awe-inspiring way to get from Point A to B in uncompromising comfort. The Tour takes a 42' floorplan and uses it to create a magnificent motorcoach. The tag-axle chassis features a lowered center of gravity for maximum stability underway even on winding roads. A 450 hp Cummins Turbodiesel engine makes it a breeze to cruise at 70 mph all day long. Long drives are also a pleasure, thanks to the 6-way adjustable cab seats complete with heat, massage, adjustable lumbar support and powered footrests. At the end of the day, you're already home, with Corian countertops, porcelain tile floors, LED lighting, a 32" HDTV and a galley that rivals the one at home. Overnight accommodations vary, but all allow you to sleep at least 6 in yacht-quality comfort; Starting at $380,085; Winnebago.com.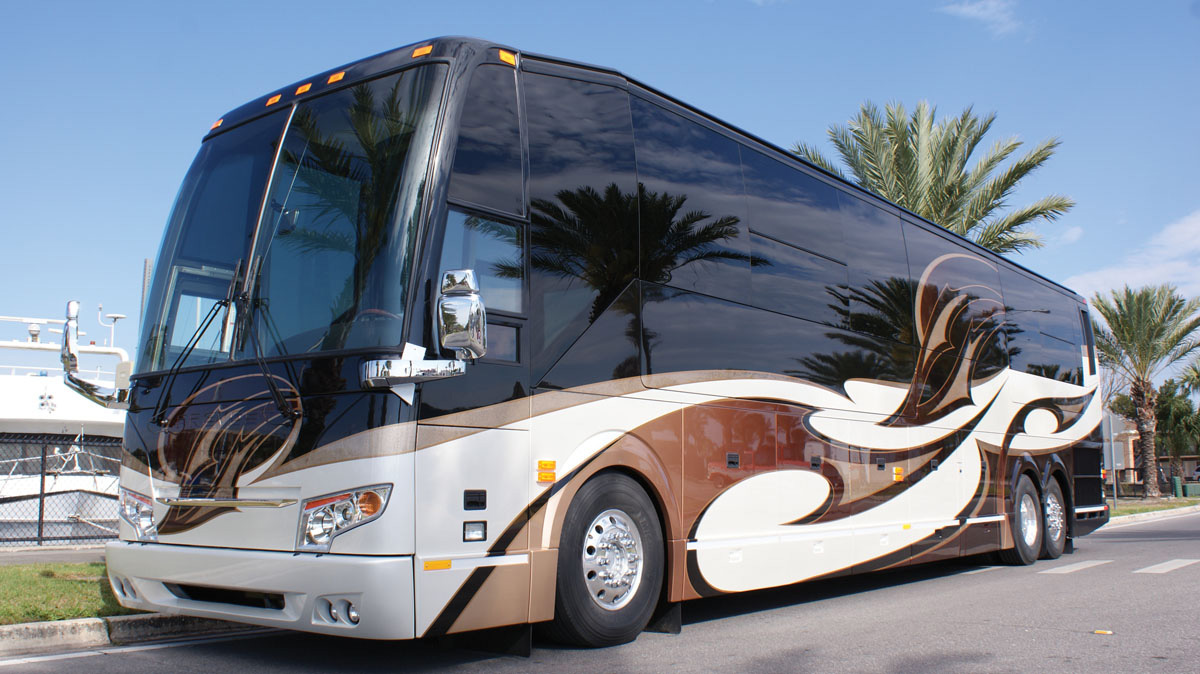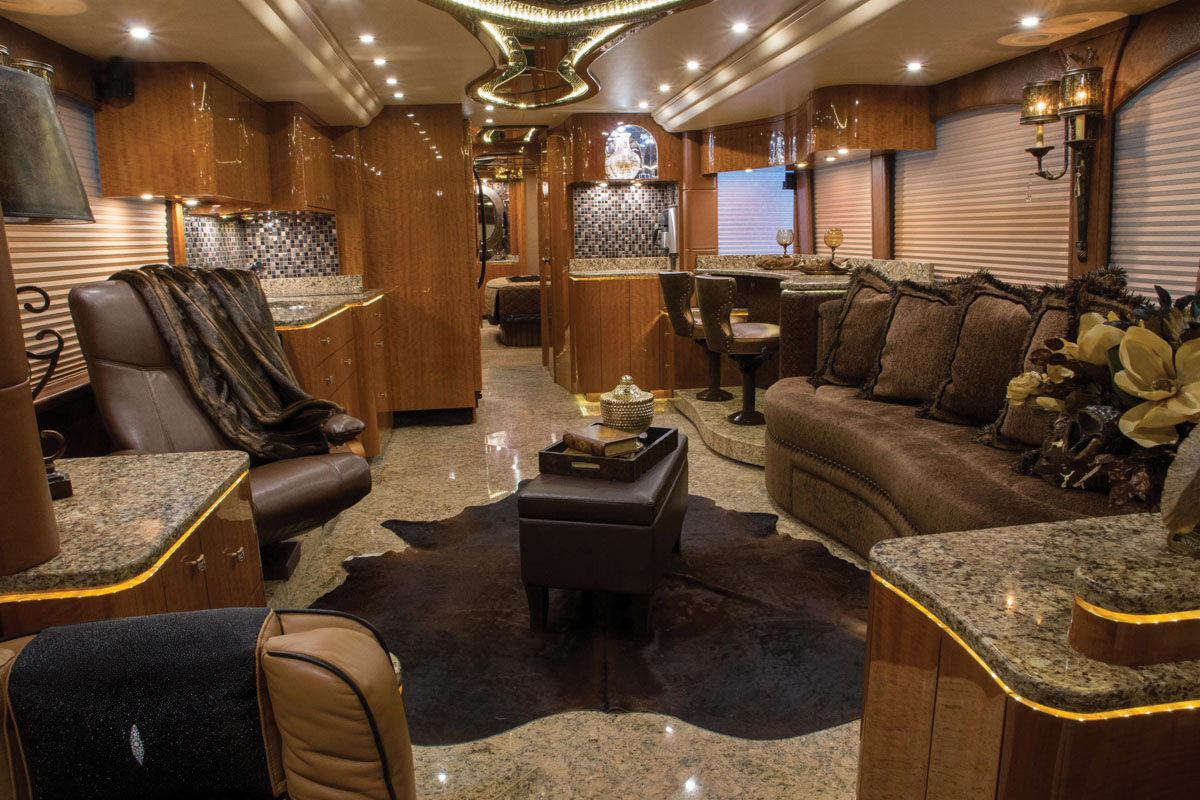 Prevost H Series
No discussion of luxury motor coaches could be complete without a Prevost. The Gold Standard of RVs, the brand defines the term "land yacht" and makes this one of the most sought-after ways to travel the highway, whether you're with a gaggle of celebs or with a group of orthodontists on the way to Sturgis, South Dakota, for this year's Harley rally. The all-new H Series features an interior that rivals the most posh Gulfstream corporate jets. It has the tallest shell, the most floor space and the largest windows of any RV on the market plus a whopping 505 cubic feet of under-floor storage! One of many things that makes a Prevost stand apart from the crowd is the exterior paint, a proprietary formula that ensures an unrivaled glass-like finish. Virtually all areas and aspects of this ride can be built to the owner's exact specifications — from custom exterior paint schemes to one-of-a-kind interior floorplans and accommodations. The only limiting factor is the owners' imagination; Pricing on request; Prevostcar.com.