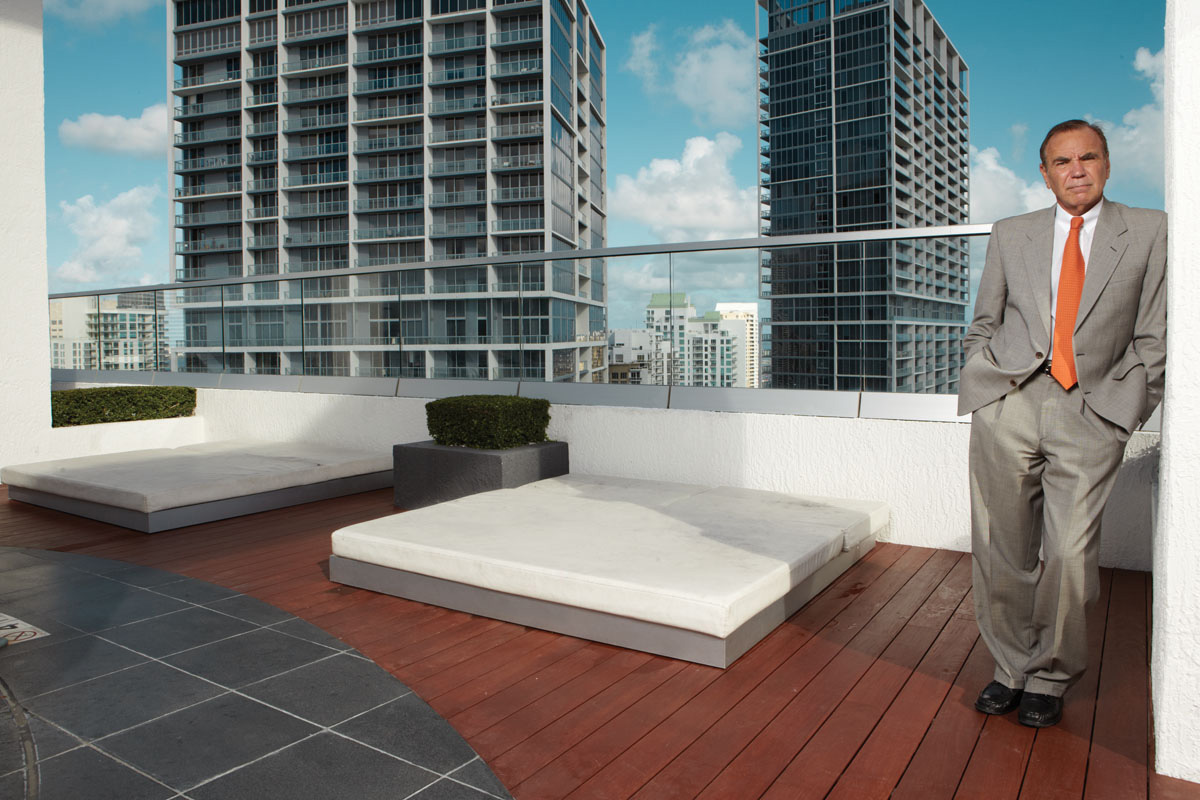 It's Sunday night and The Magic City's glitterati and jetsetting elite are dining at the city's finest restaurants, attending exclusive, invitation-only, red-carpet openings and witnessing live fire dancers and ribbon-cuttings as they sip champagne with society's finest. Jorge Pérez has been invited to just about every party in town…but he isn't having any of it, at least not tonight. You see, Pérez is at home in bed, reading a mystery novel on his Kindle waiting for his Sunday night lineup of shows to start — beginning with a nail-biting episode of Boardwalk Empire and ending with a healthy dose of Sgt. Brody's "good guy/bad guy" storyline on Homeland. "These past few years have taught me to take it easy," he says.
From 2008-2010, The Related Group's high-profile CEO, who is known for the eye-catching projects he's erected around the world including Downtown Miami's ICON Brickell, The Plaza, 50 Biscayne and 500 Brickell, experienced the most formidable years of his life, struggling to restructure more than $1.5 billion of debt on vacant condo projects while dealing with a large tumor doctors discovered in his pancreas. At the height of the economy, he was one of the largest multi-family developers in the country and one of only a handful of billionaires in the U.S. When the economy stalled and left him with a half-dozen condo projects set to open in South Florida, serious threats of looming foreclosures and a pile of debt at his doorstep, he knew tough times were ahead. "Those are the days I wish I could forget, but can't because of all the lessons they taught me," he says. "Back then, even the good news was bad. I'd be lying to you if I didn't admit that there weren't some days when I said this is NEVER going to get better." He admits at times he felt highly impatient and wanted everything done yesterday. "When the real estate market took a turn for the worst, I had to adapt to the schedules of the lenders. I had to learn to calm down, but it wasn't easy," he says. "I remember getting very agitated with all the going back and forth, the waiting, the poker faces."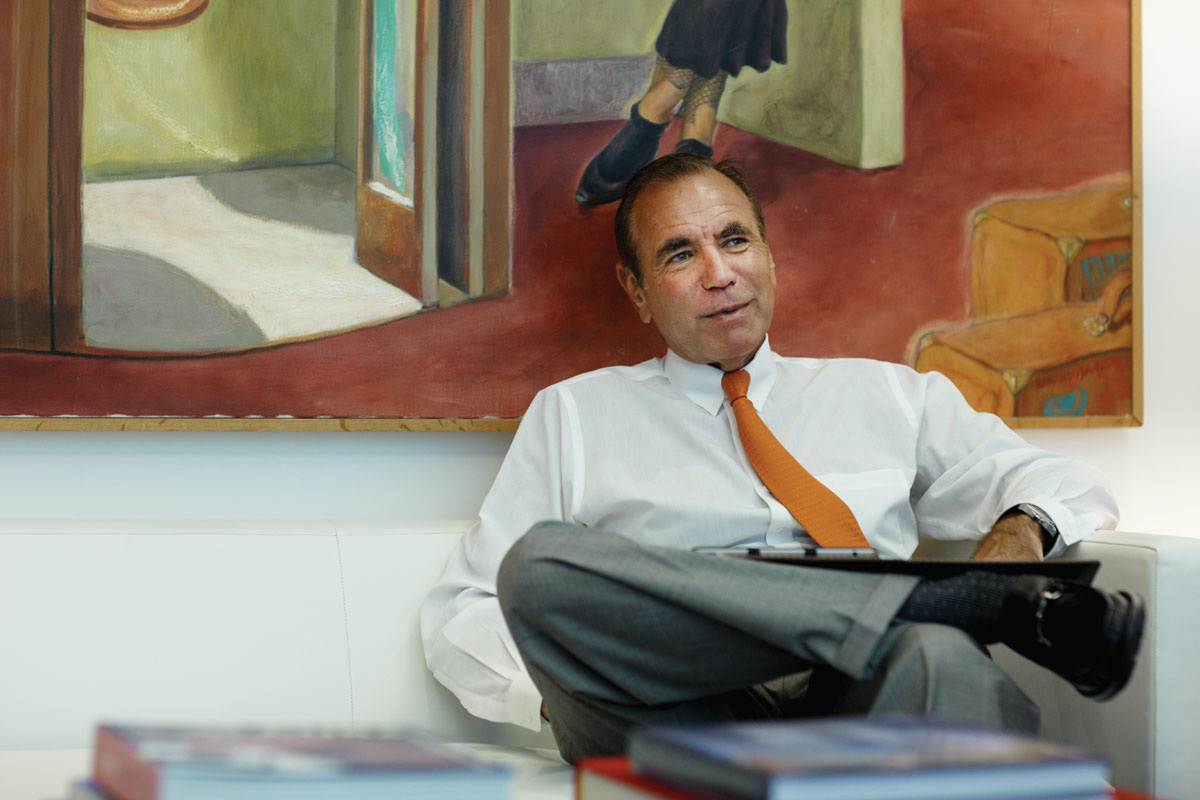 Perhaps some of the hardest moments during this time were the successive transfers of ownership he was forced to make for his developments. "They're all my babies," he says. "To this day, it still drives me nuts when someone changes something in one of the buildings, primarily because I put so much thought and research into every detail. Even though I don't own them anymore, I know each and every one of them will forever be a significant part of my legacy."
In terms of his health scare, thankfully everything worked out, but not before the challenging ordeal left its mark on Pérez. It was 2009 and doctors found a tumor the size of a golf ball in his pancreas. Although the doctors told him they had to operate immediately, Pérez had other plans. "I told them "Are you crazy?"… everything that could go wrong had gone wrong in 2009, there was no way I was going to gamble with such a serious operation in the worst year of my professional career," he says. As the new year approached, he traveled to Punta Cana in the Dominican Republic, ate and drank like a king, gaining 20 pounds in the process. "As soon as 2010 came, I went in for surgery," he says. "The night before the operation, the doctor said that I didn't seem worried — and he was right, I wasn't…there was nothing I could do to change the outcome." After nine hours of surgery to remove the tumor, doctors eventually declared it benign, and Pérez was ready to get on with his life.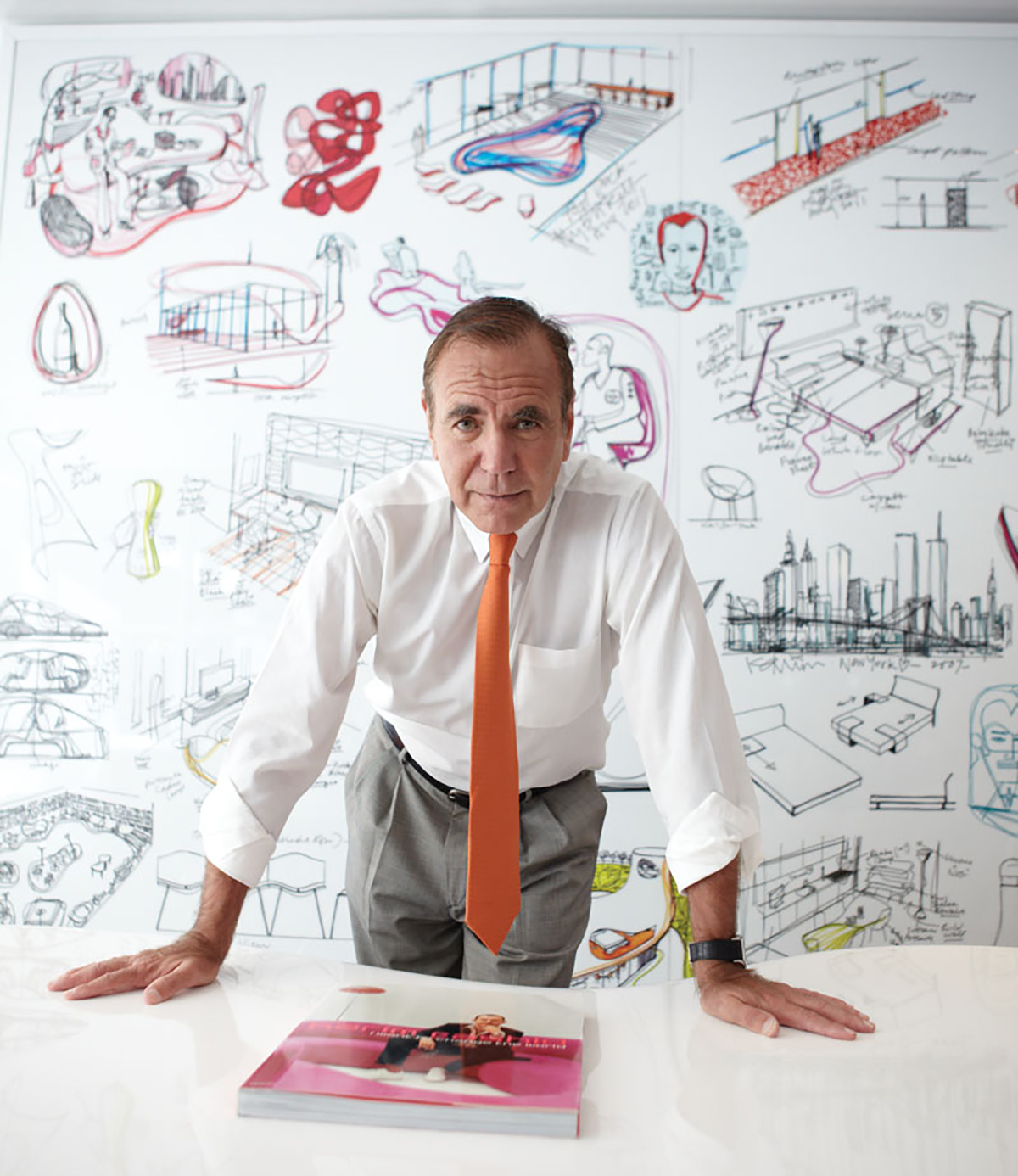 He describes last year as a light at the end of the tunnel, thanks to the fact that he had already put processes in motion to ensure Related survived the downturn. As the market began changing, Pérez began planning new deals. As opposed to focusing on creating new developments, his company became a buyer of distressed assets that served as appealing rental options. "We've realized that there are two areas we have great expertise in that are going to be huge trends for the next 5 years: affordable housing and market-rate luxury rentals," he says. He goes on to explain that his new strategy helps even out South Florida's overbuilt real estate market by converting unsold units into rentals until the recovery comes full circle. It's a plan that allows him to keep his company debt-free while giving him immediate, already-built inventory when people are ready to buy again…though, he admits, development is where his passion lies. "I'm a builder at heart," he says. "I like to create things."
Pérez says he's in a place now where he understands that it may take two years to get something done, instead of two months. "Now, when I get upset about a business discussion, there's an instant reaction, followed by a brief recoil," he says. "I sit back, let things sink in. My mind shuts down, I go into a trance. I think, I take notes. Internally, I play out the 'as-ifs' — in order for me to be making the right decisions, I can't let emotions take over, I must let ideas marinate."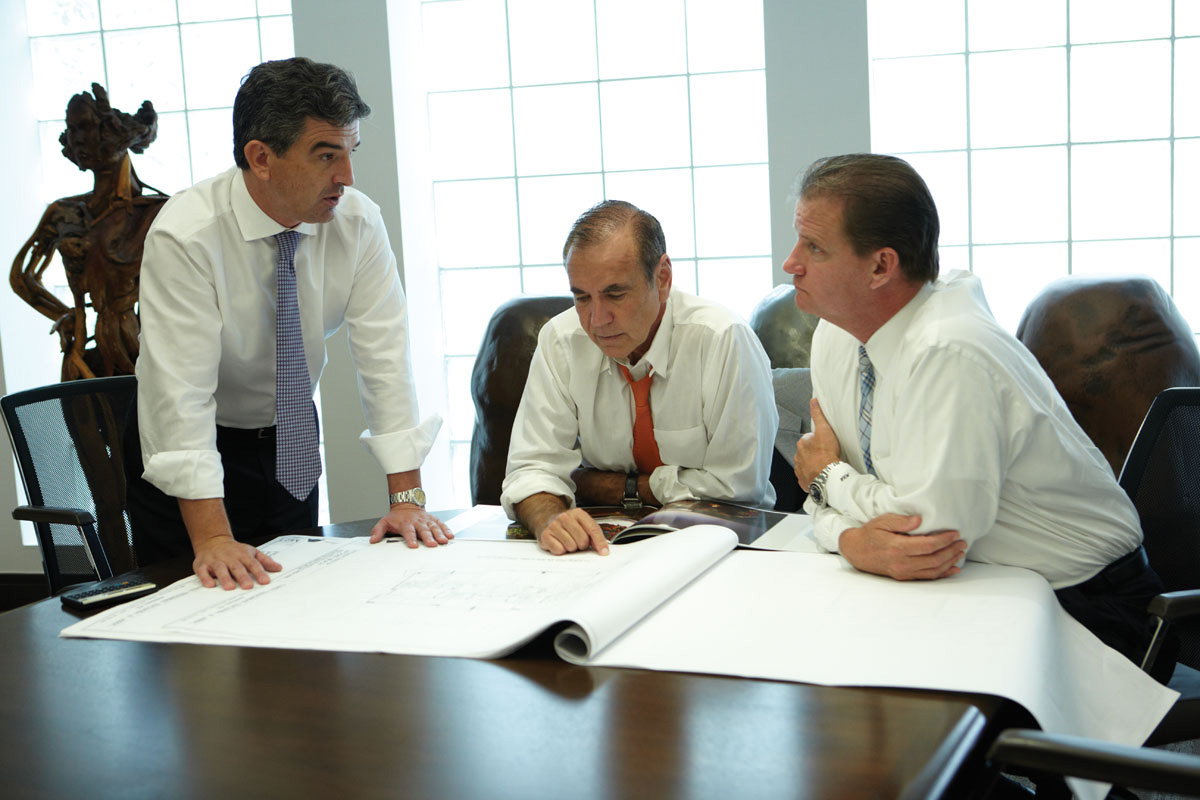 With their forthcoming projects, Related will require buyers to pay more than 70% of the cost of building their condos before closing. "We're coming up with riskless innovation," he says. "We're doing things that are creative and make coming to the office a lot more enjoyable." Current projects include a handful of developments in Florida including the highly-publicized mybrickell, a small condo building adjacent to 500 Brickell in Downtown Miami. "The area surrounding this new property is evolving more and more each day thanks to new restaurants, bars, cafés, and entertainment and shopping options opening up left and right," he says. "Projects like Brickell CitiCentre and other developments in the area are doing a lot to get the momentum going and get people excited about everything that's going on."
And with a new outlook, comes a new look. Thus, the iconic beard Pérez donned for 40 years is history, after he shaved it on a whim while in Turkey with his family. So far, the reaction has been mixed. "My wife almost didn't recognize me, and my youngest son literally started crying when he first saw me," he says. "During a recent business meeting in Brazil, I had an executive refuse to believe it was me when I arrived in his office for a meeting. Once I was able to prove my identity to him, he looked me square in the eye, laughed, and told me I look much younger without the beard, but far less important. I never in my wildest dreams imagined that I'd ever have people question whether or not I was Jorge Pérez — or that I would have to prove to them that I was!"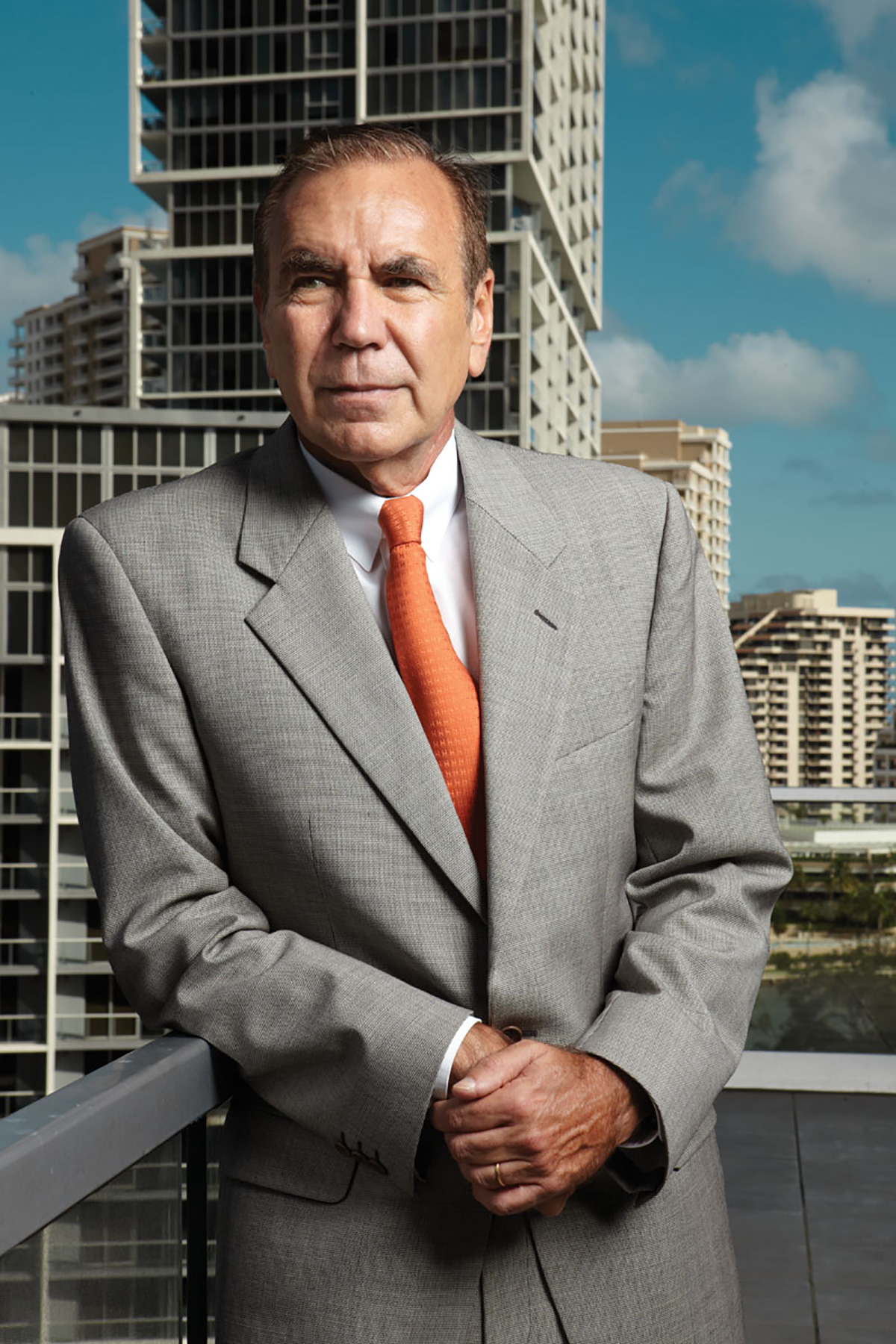 Looking toward the future, Pérez is not only focused on his continued growth, but also on his legacy, and he understands the importance that contributing to the community has on his goals. "I would not be who I am without Miami," he says. "The city has given me every opportunity." This appreciation for the city is why the renaming of the Miami Art Museum as the Jorge M. Pérez Art Museum of Miami-Dade County means so much to him. "Ever since I was in college, whenever I had a few extra bucks to spare, I would go spend it on art," he says. "Leaving my collection to the museum is something that's of extreme significance to me and I'm honored that such an instrumental institution to the future of our community will now bare my name. When people say my name 50 years from now, I want to be remembered as someone who cared."
But his vision for Downtown Miami expands much further than just the arts. He believes that in order for the city to reach its full potential, it needs to attract more of the financial, research and trade sectors. "We need to do a much better job at attracting businesses that will help the city evolve — and the community needs to be a lot more active in order for this to happen," he says.
When it comes to Miami's progression, Pérez believes we're on the right path but not quite where we need to be yet. "To say we're like New York City or Chicago…we're kidding ourselves — except, maybe, when it comes to the condos we build…those are definitely much better," he quips.
Pérez says that Miami is also in desperate need of a dynamic urban park, something he hopes to work with community leaders to develop. "I envision a city where people will have no need for a car…they will move by foot, bike, trolley, mass transit and cab," he says. "The Miami of the future will be a clean city with little smog and lots of opportunities to live, work, play, learn and be active 24/7."
So what does Jorge Pérez think about Genting's gargantuan Resorts World Miami project, a plan that includes a parcel of land at Omni Center that Pérez once had a lot of plans for? "I think the Genting proposal is something that definitely needs a serious community discussion," he says. "With all the economic uncertainty, I'm afraid that we might try to make a short-term decision with major long-term repercussions — everyone knows that you shouldn't go grocery shopping when you're hungry…and I think that's what we may be doing in this case. I believe that there could be a middle solution that makes sense, we just have to start a dialogue to find it."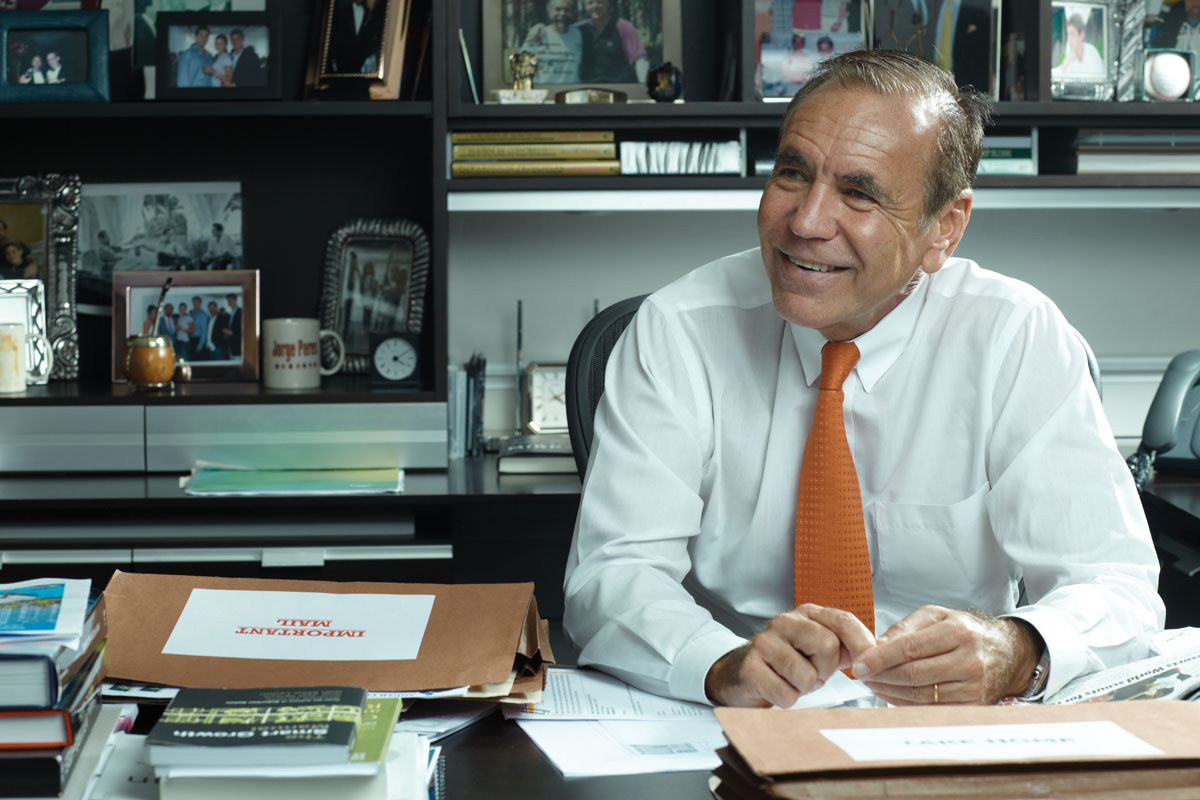 His view on Miami's real estate market is equally sensible. "In this field, we'll always have ups-and-downs, but we've weathered them before," he says. "There are 3 very important things to remember to come out on top: 1.) Don't be too greedy; 2.) Understand the market forces at play; 3.) Remember that leverage is a double-edged sword. The reason we couldn't withstand this is because we had too much debt, so now we're forced to deleverage. I now consider the worst-case scenarios…and they are much worse than ever. Today, I'm involved in much less, but every venture is much more secure."
With the future looking brighter, and if hindsight is 20/20, what did Pérez learn from this entire ordeal? "The main lesson I took from this is not to let it happen again," he says. "No man is an island, and no one can control the entire world around them. The market is bigger than any one individual, and anyone can be taken down. When I was on top of the world, I was everyone's golden boy, people would say that wherever I was, success would shortly follow. I've learned a lot of humility since those days. I've become much more conservative in risk-taking…I'm not avoiding it, but I'm deeply conscious of it."
So what advice does he have for young professionals and aspiring developers who hope to one day reach Jorge Pérez status? "It's really not all that complicated — keep learning, pay attention, don't just do what is asked of you, learn what it means — they can take everything away from you, but they can never take away the knowledge of your experiences," he says. "If you think short-term, you will make small decisions…the key is to balance short-term challenges with long-term projections today — that's what will make you who you are tomorrow."