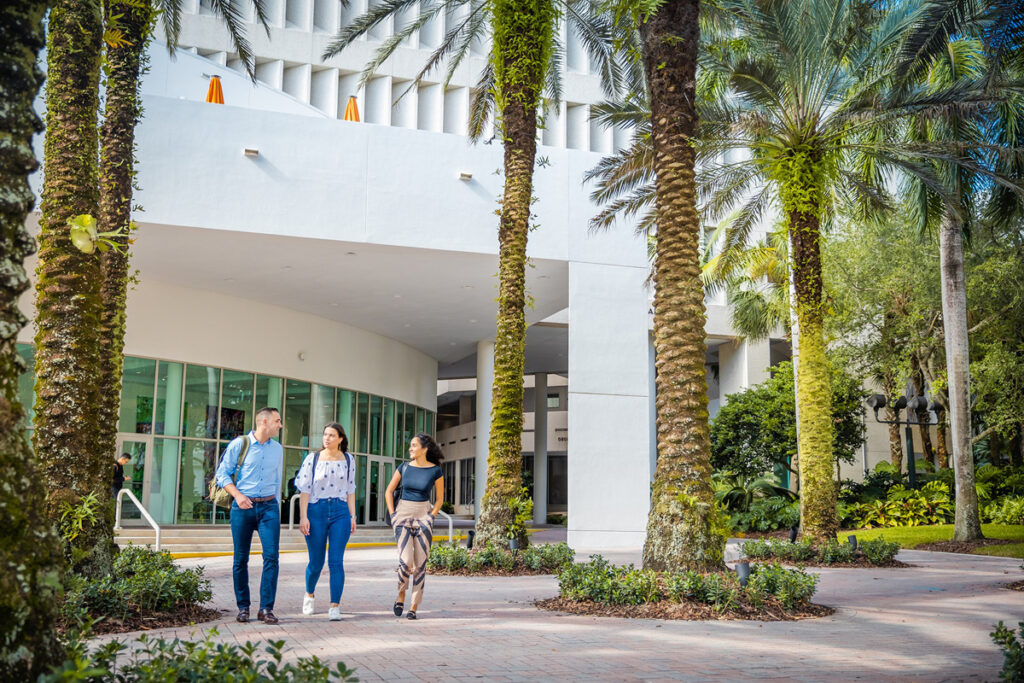 Achieving triple-crown accreditation means that a school has earned accreditation from AACSB (The Association to Advance Collegiate Schools of Business), EQUIS (EFMD Quality Improvement System), and AMBA (The Association of MBAs) — the three most prestigious business school accreditation organizations. Miami Herbert Business School is one of only three business schools in the U.S. to achieve this distinction. All three organizations assess a business school according to different criteria and scope, based on factors such as internationalization, faculty and research. 
The recent AMBA accreditation is the only accreditation out of the three that focuses on MBA programs specifically. "This latest accreditation from AMBA recognizes continuing progress at Miami Herbert," says Ann Olazábal, Interim Dean of Miami Herbert. "At Miami Herbert, we cultivate a premier learning community that values diversity, technology, a global mindset and sustainable prosperity. We don't just talk the talk, or only walk the walk — we shape the future."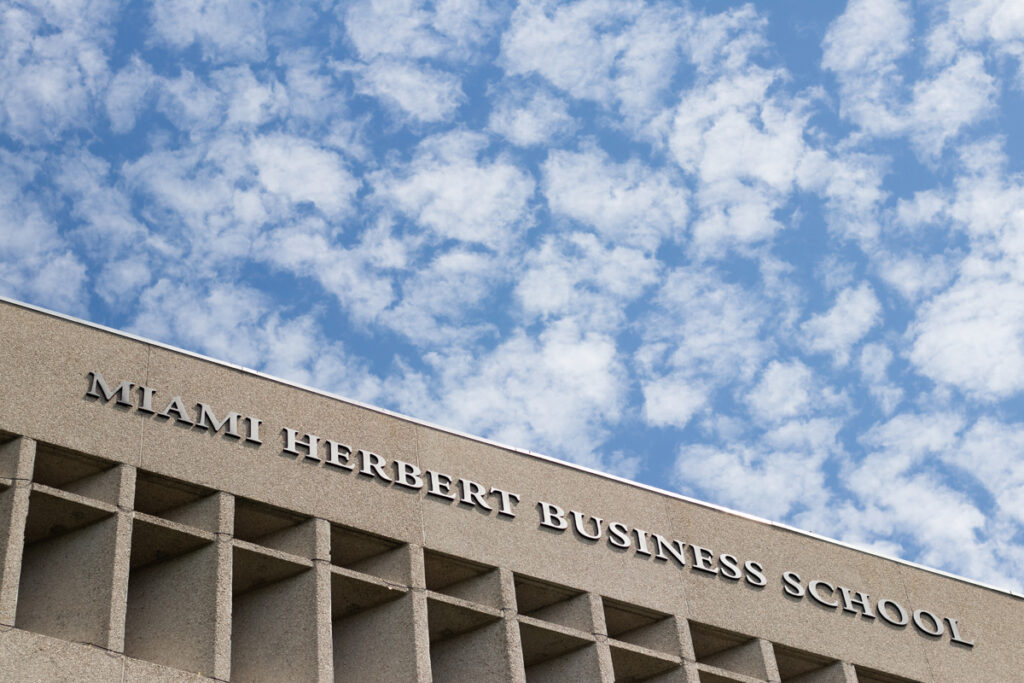 Andrew Main Wilson, Chief Executive of the Association of MBAs & Business Graduates Association, was delighted to welcome Miami Herbert Business School into the network of the top 2% of business schools globally. "This School is internationally known for its quality of teaching and research," he says.
The kudos keep coming as the recent 20th Annual Better World MBA Ranking, released by Corporate Knights, found Miami Herbert ranked No. 3 nationally and No. 15 internationally. Better World MBA Ranking is the only major ranking that evaluates accredited MBA programs' commitment to equipping graduates with the skills necessary to solve pressing business and social challenges in order to succeed in a rapidly evolving global business climate. Corporate Knights evaluated 160 programs spanning 12 countries based on their integration of sustainability into the curriculum and research, centers related to sustainability, faculty diversity and alumni sustainability impact — a new indicator for 2022. "Today's top MBA programs understand that future corporate leaders will be tasked with integrating social, environmental, and economic factors into daily business decisions," explains Toby Heaps, CEO & Co-Founder of Corporate Knights. "By adapting their curriculums, these programs are equipping students to deal with new realities and challenges already shaping the global business community."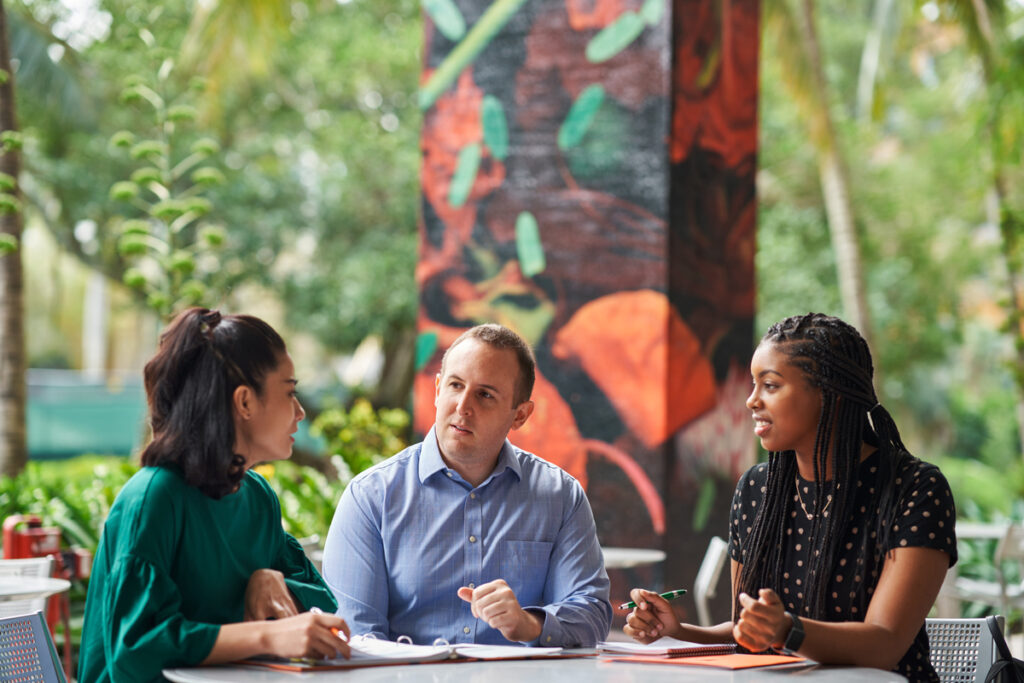 Olazábal says the recognition is a result of the School's drive to integrate sustainability across the business curriculum. "Our MBA program is equipping students to address pressing global issues through the lens of business so they can purposefully lead in any industry," she says.
This year, the U.S. Green Building Council, a preeminent organization assessing sustainable building practices, awarded Miami Herbert its highest rating for existing buildings: a Leadership in Energy & Environmental Design (LEED) Platinum Certification for Operations & Maintenance. "This recognition is an example of Miami Herbert's commitment to walk the talk in sustainability, innovation and global impact — it's weaved into our curricula and in our buildings," says Olazábal. "My hope is that the building's recognition inspires University of Miami students to learn sustainable business practices they can use in their chosen fields."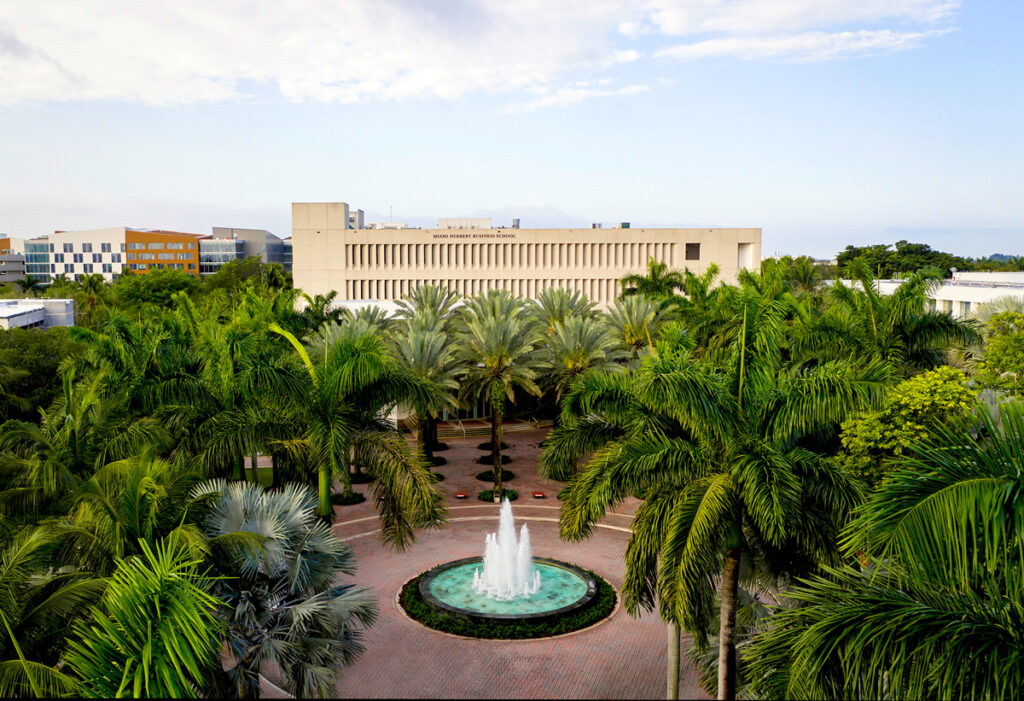 In 2019, Miami Herbert launched a first-in-the-nation STEM-certified Master of Science in Sustainable Business to fulfill an emerging need for professionals who understand the social and environmental impact businesses have on stakeholders. The program is part of a school-wide focus on sustainability, which includes a Sustainable Business Research Cluster, presentations by thought leaders in business sustainability, the Chief Sustainability Officer Summit, and membership in the UN Sustainability Solutions Network. This year's Platinum Certification was achieved by implementing practical and measurable strategies and solutions in areas including water savings, energy efficiency, waste reduction, and indoor environmental quality. The LEED rating system is based on earning points under these categories, and Miami Herbert's building scored 80 out of 110 points.
The building's continuous sustainability updates and renovations were spearheaded by Blanca Ripoll, Executive Director of Events Management, Building Operations & Special Projects, who also led the year-long LEED certification process alongside Spinnaker Group consultants, which guided the school in the first LEED O+M Gold Certification in 2019, and the University's Facilities & Operations Department. "Knowing that our recertification was approaching, we began tackling LEED requirements months in advance and decided we should apply for Platinum Certification given our constant and significant green upgrades," says Ms. Ripoll. "And today we can proudly say we are the only LEED O+M Platinum-Certified higher education building in Florida, as well as the only LEED O+M Platinum building in the state."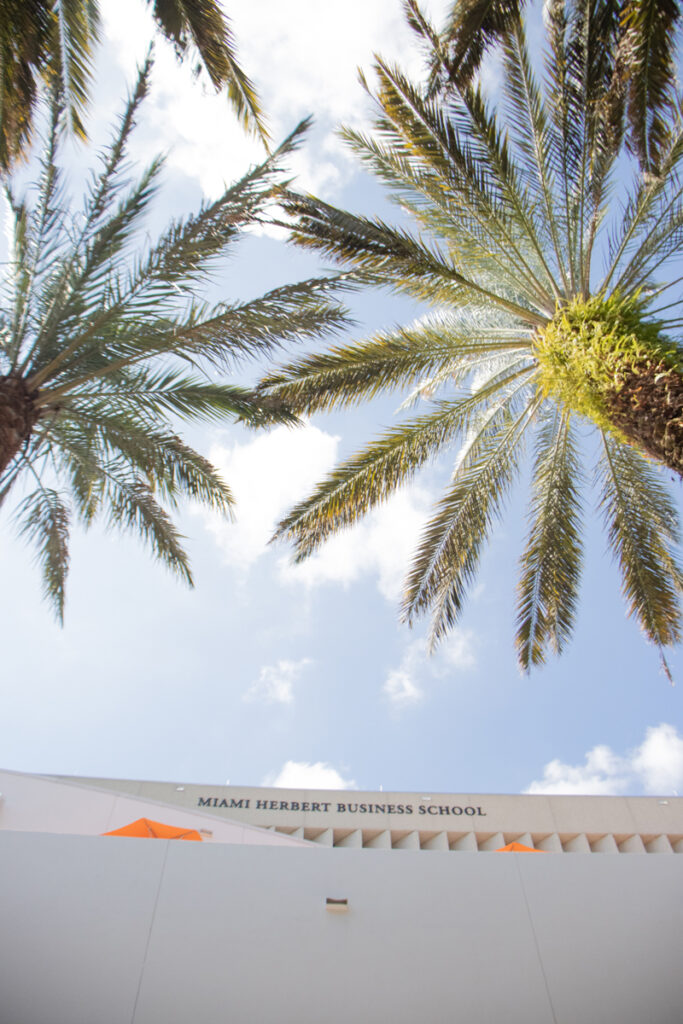 Miami Herbert is one of three higher education projects in the U.S. to achieve LEED O&M Certification at the platinum level. This accomplishment notes significant performance highlights of the 163,885-sq.-ft. facility that has been expanded on since its original 1982 opening date. Notable O+M highlights and accomplishments include: participation in FPL's SolarTogether program, a community solar program, helped in lowering greenhouse gas emissions by 604 metric tons of CO2e compared to 2019 levels; and prioritizing waste reduction efforts with an average of 54% of waste sent to recycling, recovery, or reuse facilities. Miami Herbert also reduced total water use by 74,000 gallons compared to 2019 levels. Energy conservation efforts led to reduced cumulative energy use by 1.09M kBtu compared to 2019 levels. And the best is yet to come. "Miami Herbert's LEED Certification demonstrates tremendous green building leadership," says Peter Templeton, USGBC President & CEO. "LEED was created to make the world a better place and revolutionize our buildings and communities by providing everyone with access to healthy, green and high-performing buildings."
As the administration looks toward the future, Miami Herbert is a prime example of how innovative work can create local solutions that contribute to making a global difference; Herbert.Miami.edu.