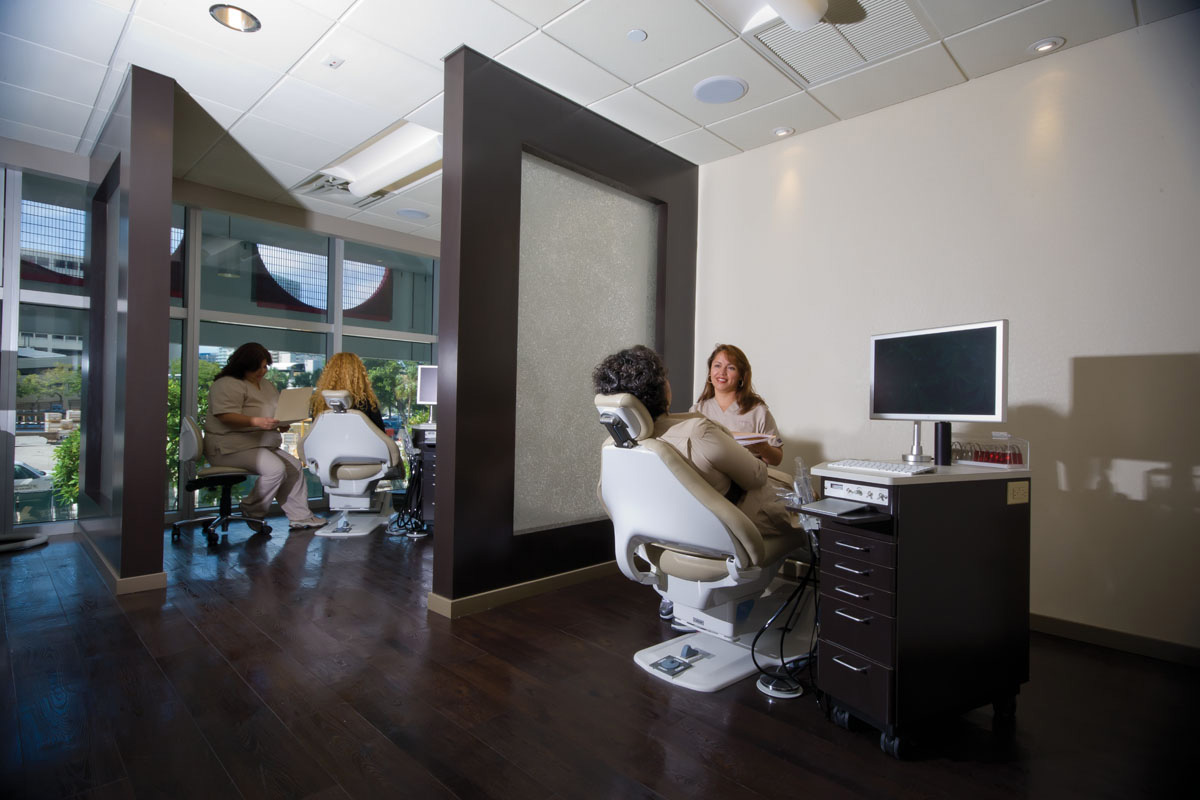 South Florida has always been considered a glamorous region, filled with beautiful people and their even more beautiful, winning smiles. This makes the arrival of award-winning and nationally-recognized Contemporary Orthodontics to Brickell a perfect addition to our dazzling area. "I've always been interested in orthodontics," says Dr. Maria Yazji, whose parents were both general dentists. "Not just in the results, however, but in getting there in an aesthetic manner as well. I had bands and headgear as a child and that experience has led me to search out easier, more aesthetic ways of improving your smile."
Another focus of Dr. Yazji is how we age. "I always treat the teeth with the face in mind," she says. "Today's technology allows us to project how patients will age. By adjusting the position, length and shape of the teeth, we can accommodate facial and lip changes due to aging. This ensures a smile that looks beautiful and youthful at any age."
Dr. Yazji started out her quest to find the most efficient, aesthetic methods available with courses in lingual (behind the teeth) braces, learning from leading experts from around the world. She also works with Invisalign as another alternative for adults whose work or social situations preclude them from wearing traditional visible braces, and teens who are past the age where they think visible braces are "super-cool." She has been named an Invisalign Elite Premiere Provider, placing her among the top 1% of providers in the country of this clear removable method of straightening teeth without wires.
In addition to being discrete, these high-tech systems are custom-made. "There's a trend toward customization, taking into account each individual's unique tooth anatomy before designing for their needs," she says. "We utilize digital imaging, CAD/CAM computer technology, and in the case of Incognito Lingual Braces, the wires are bent by robots, resulting in a more efficient and comfortable fit than other systems."
Further, Contemporary Orthodontics is an "Incognito Center of Excellence Provider" as well as an "Incognito Elite Provider," meaning they are one of the leading providers of this system in the country. The practice was designed to appeal to those individuals who might not have gotten into orthodontics otherwise, as well as those with special situations such as brides who are getting ready for their wedding pictures and don't want metal braces showing. "The goal is to allow patients to attend the special events in their lives without anyone knowing they are having work done," says Dr. Yazji. "I hear all the time from patients that relatives who haven't seen them in a while know they've had something done, but can't figure out what it is. They just know the person looks better."
Everyone would agree that a straight and white smile is a sign of youth; while crooked and stained teeth are signs of aging. And who wouldn't want to go back to the smile they had at 20? "Teeth provide the support structure for the soft tissue of the lower face, including the lips, cheeks and marionette lines," adds Dr. Yazji. "By repositioning the teeth and jaws in a certain manner the skin can appear tighter and lips can appear fuller, with an overall goal of keeping the face and smile looking more youthful for longer."
Common dental problems significantly affect the aging face. "Incorrect bite, crowded teeth, missing teeth, a deep bite, teeth angled backwards — all of these things can lead to denture collapse," she continues. "The goal is to minimize the loss of lip support and reduce the formation of fine lines around the mouth by correcting the above problems. As people age, the lips thin, the profile flattens and laugh lines become more pronounced. In the past, extraction of teeth to correct crowding was more prevalent. We try to avoid that now. You can't always avoid it, but especially if you start a patient young enough, by reducing extractions, you set up the teeth for the best long-term lip and facial support."
All this technical expertise is showcased in Contemporary Orthodontics' Brickell Ave. office, which features state-of-the-art equipment in an upscale, boutique setting. The atmosphere is positive, friendly and professional, allowing for complete focus on each individual's particular dental situation. "While I'm forward-thinking and into all the latest, what I learned from my parents is the 'old fashioned' bedside manners they've always had with their patients," she says. "That's something I don't ever want to change."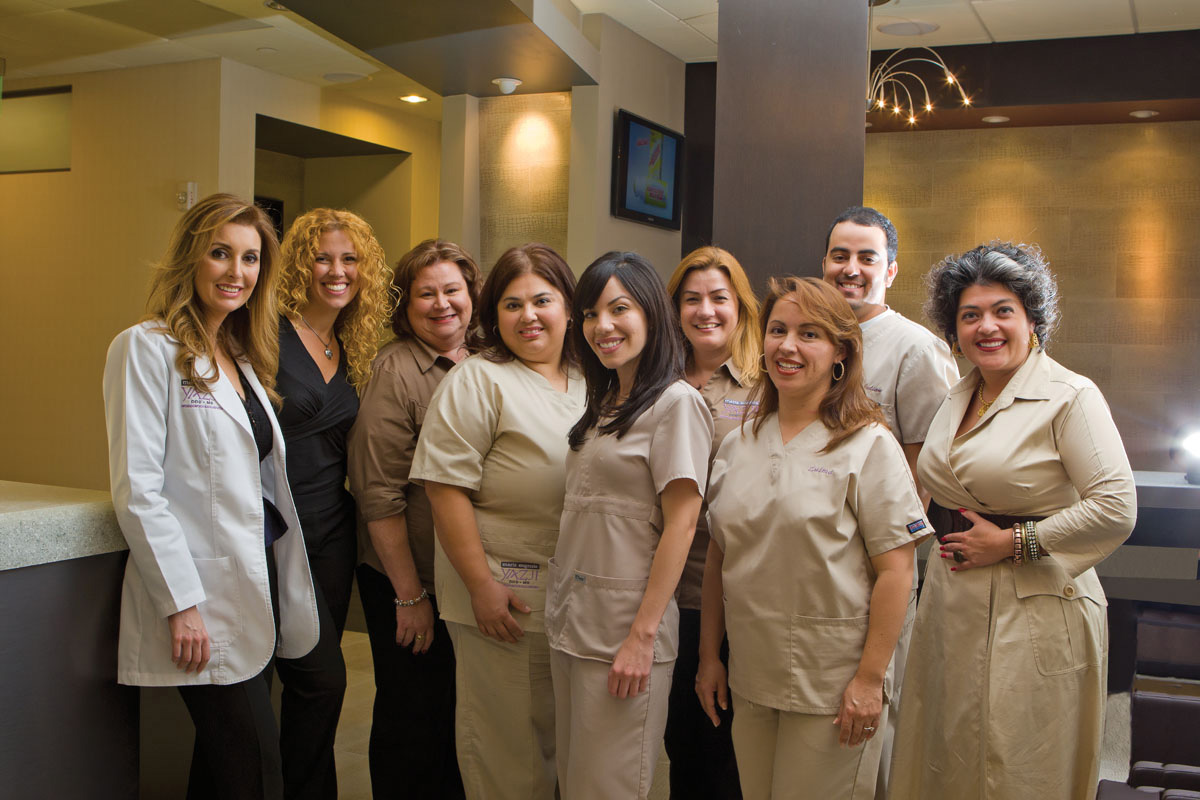 The cutting-edge systems range from digital x-rays, which offer more convenience with less radiation, to special computers which allow patients to view anticipated treatment results via video simulations. "The office is very technologically intensive," says Dr. Yazji, who is always searching out new ways to remain atop the latest technology. "Technology changes rapidly. We work hard to remain on the leading edge. We are always seeking new ways and methods to make treatment time shorter," she affirms. "The goal is to provide great results as aesthetically and as quickly as possible."
And Miami seems to be the perfect place for Dr. Yazji to reach her goals. "Everyone is so beautiful here and into looking their best," she says. "Our Lingual, Invisalign and other treatments are perfect for the South Florida lifestyle and sense of aesthetics of its people — we even have people fly in from other countries to take advantage of our offerings."
If there was one thing Dr. Yazji wants to get across it is that there is no need to fear braces anymore. "These are not your mama's braces," she laughs, leaving no more excuses for not aiming toward whiter, straighter teeth and a more youthful smile.
Contemporary Orthodontics, PA, is located at 500 Brickell Ave., # M-204. For a consultation with Dr. Maria Yazji, call 786.220.7802 or visit Secret-Braces.com.