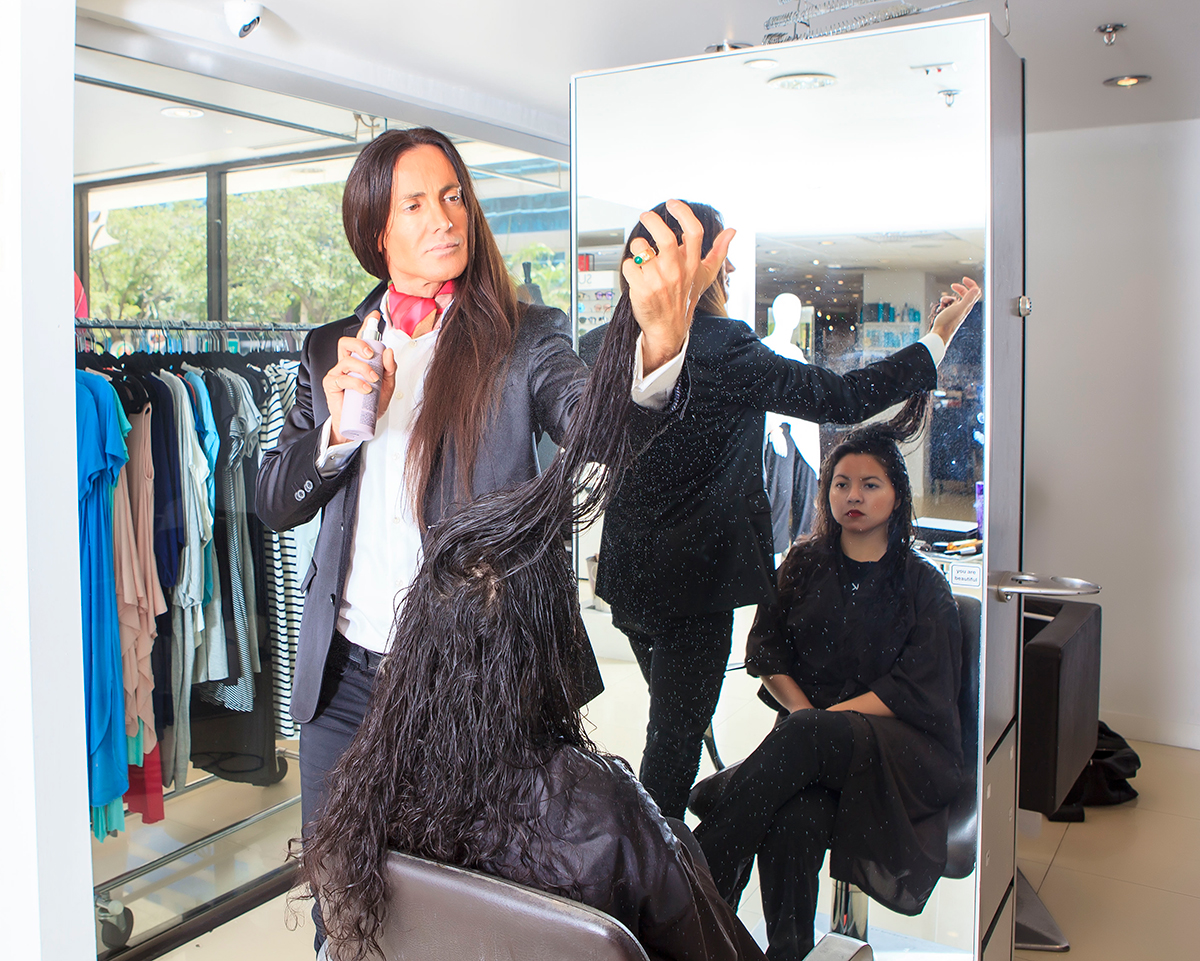 GUSTAVO BERROETA
Rik Rak Salon
1428 Brickell Ave., Brickell
305.371.7324
RikRak.com
"There's nothing I love more than enjoying a cocktail on the balcony of my Venetian Islands home with my husband while the sun sets!"
Born in Buenos Aires and attracted to fashion from a young age, Gustavo Berroeta's career as a celebrated stylist at one of Brickell's most explosive salon spaces seemed fated almost from birth. "When one of my best friends became a hairstylist, he inspired me to follow in his footsteps," he says. Professionally piqued by our city's oft-noted diversity ("I love how cosmopolitan the city is," he says, "it attracts clients with all kinds of different cultures and hair types"), Berroeta feels particularly blessed to work with a salon so focused on its clientele's wellbeing. "Rik Rak is an experience you won't find anywhere else," he says, listing its full service bar and chicly curated boutique as natural extensions of their more traditional salon offerings and a boon to clients interested in crafting a holistically new look. Accomplished as he may be, any mention of Berroeta would be worthless without noting his steadfast devotion to his craft, whatever the circumstances. "I recently broke my foot while kiteboarding," he shares, "and I spent the next few weeks working in the salon with a cast on my foot and wheelie chair for a leg!"
TREND WATCH
Lob Style
A long bob with a beach wave, the Lob Cut is ideal for our city, where beach hair is so prominent. The style allows the hair to lay just below the shoulders, not only maintaining a beautiful wave but battling back the ever-present humidity frizz.
Shadow Roots
Achieved with balayage, this chic look can be created whether or not you already have highlights, with the root color always darker than the surrounding hair. This is a very hot technique that adds a real wow factor to any hairstyle.
Braids For Days
Miami gets very hot and humid, and for many people doing their hair in the summer is either pointless or far too complicated. Always popular, braids have recently taken off, with celebrities sporting them all over the country. French or Double Braids are a total hit this summer.
Forever Fringe
Bangs are in! Taking a hint from Brigitte Bardot, fringe is all about adding a focal point to your face. It's very important to utilize specific cutting techniques when adopting this look, as the fringe should always fall naturally.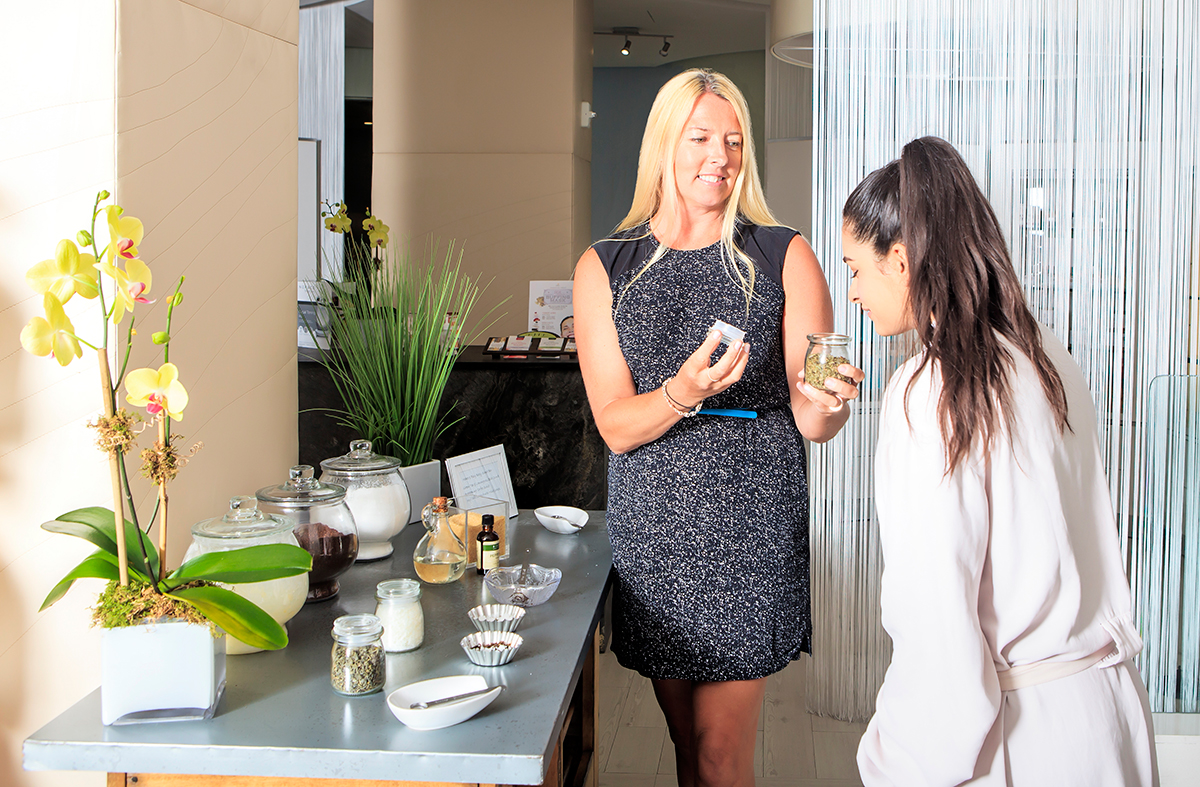 CAROLINE WILMOT
mySpa @ InterContinental Miami
100 Chopin Plaza, Downtown Miami
305.372.4444
mySpaMiami.com
A dedicated dancer from a young age, English-born Caroline Wilmot's earliest years were awash in the important and subtle interplays between mind, body and spirit. Certain that she should utilize her natural interests in a professional capacity, and shrewdly observant of the burgeoning nature of the health and wellness industry, Wilmot made holistic health and spa treatments a lasting career. Initially employed as a fitness expert aboard a luxury cruise line based out of the Port of Miami, Wilmot has made a triumphant return to our shores and our growing wellness scene as Director of InterContinental Miami's mySpa, and she couldn't be more excited. "I love Miami," she says. "It's a hot, sexy city, and a major trendsetter." A vaulted veteran of the spa & wellness trade with a wide breadth of experience, Wilmot has learned to love all aspects of her clientele — all the way down to their soles. "When I was first hired on cruise ships, I was required to give foot massages," she says. "I always hated feet, but I didn't have a choice. Over time, I really learned to love giving those massages because I found it made people open up. Turns out you can learn a lot about people through their feet!"
TREND WATCH
Himalayan Rock Salt
A form of halotherapy that utilizing 80 natural elements and minerals, this ancient spa treatment offers health benefits such as promoting stable PH balance, regulating blood sugar levels and reducing the appearance of aging.
Mind/Body Wellness Meditation
A great way to prepare yourself for some of mySpa's accessory services, the 5th Floor Garden Terrace is an ideal spot to harvest your natural serenity. From yoga classes to nature bathing, there's a meditation ideal for any level of practitioner.
Enhancements Galore
Simple spa routines are a thing of the past. At mySpa, the staff tries to promote a holistic and healthful experience for everyone with such accessories as eye collagen masks and hydrotherapy treatments. "Miamians work hard, they deserve all the pampering they can get!"
Detox/Cleansing Treatments
Wilmot's guests value their bodies, and as such, want to lessen the amount of unnatural ingredients they put in them. Mindful of that fact, mySpa offers a variety of detox and cleanse solutions, including their signature mySpa alcohol-free mocktail.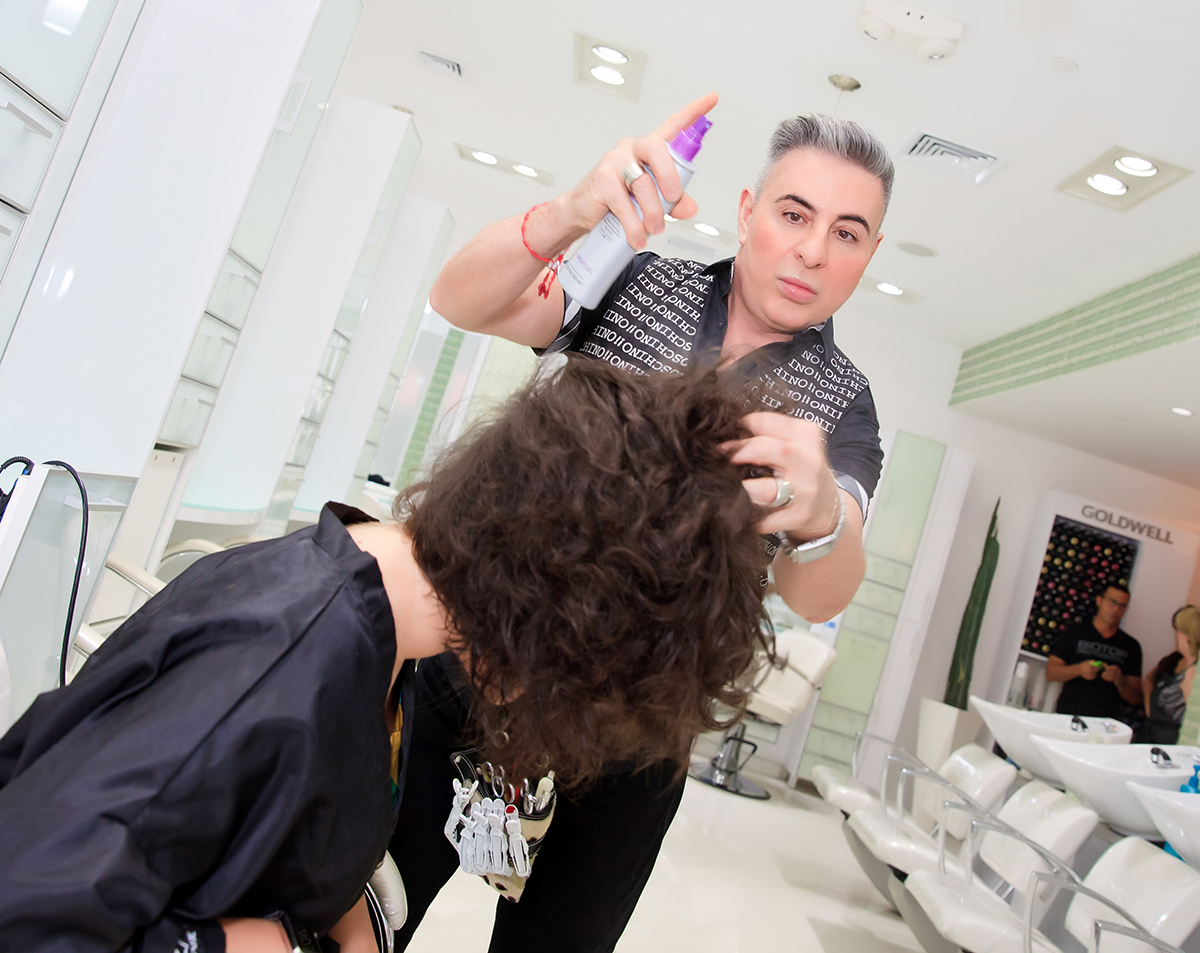 BOBBY BARROS
Ecstasy Salon Spa
2100 Ponce De Leon Blvd., Coral Gables
305.448.0707
EcstasySalonSpa.com
Bobby Barros, Founder & Principal of Ecstasy Salon Spa and go-to style guru for Coconut Grove, Coral Gables and the surrounding areas believes that when it comes to beauty, one size definitely does not fit all. "What may look great on one model is not necessarily what I may recommend for a client who needs a refreshed look to bring out their own God-given beauty," he says. A Cuban expatriate boasting over 30 years of experience invigorating and accenting the natural beauty of his clientele, Barros has found again and again that, while trendy techniques and top-tier tools are all well and good, the greatest asset a truly great stylemaker has is his ears. "I truly believe that what sets me apart from other salons is the approach when listening to our clients, the way we get to know them internally and externally," he says. "Our love for our profession directly translates into a closeness with our clients that I feel is second to none." When not emboldening the looks of Miami elite, where can you find this formidably fashionable stylemaster? Enlivening our airwaves, of course! An outspoken advocate for the aesthetic industry within the wider Latin American world, Barros' radio program Galeria De Belleza on 1260 AM and TV program Pellos De Punta provide expert advice on all manner of beauty topics.
TREND WATCH
Hair Straightening
This is an always fashionable technique ideal for Miami and beyond. Straightening not only creates a sleek and sexy look, it also beats back the ever-present frizz that comes from the incessant South Florida humidity.
Haute Highlights
Commonly over- or under-used, highlights are best utilized to soften color by layering different tonalities, which does wonders for softening the overall facial expression. Talk to your stylist about the ideal colors and amounts before selling yourself on a type of highlight.
Extensions Impact
Another common treatment rarely used organically, the best trait of extensions is their flexibility, allowing you to boast almost any style for a special occasion or set timeframe without permanently altering your hair length.
The California
A retro trend trickling in to South Florida from the West Coast, Bobby Barros and his team see more and more people transforming thick locks of their hair with fantastic pastel colors, from peach to pink to every shade in between.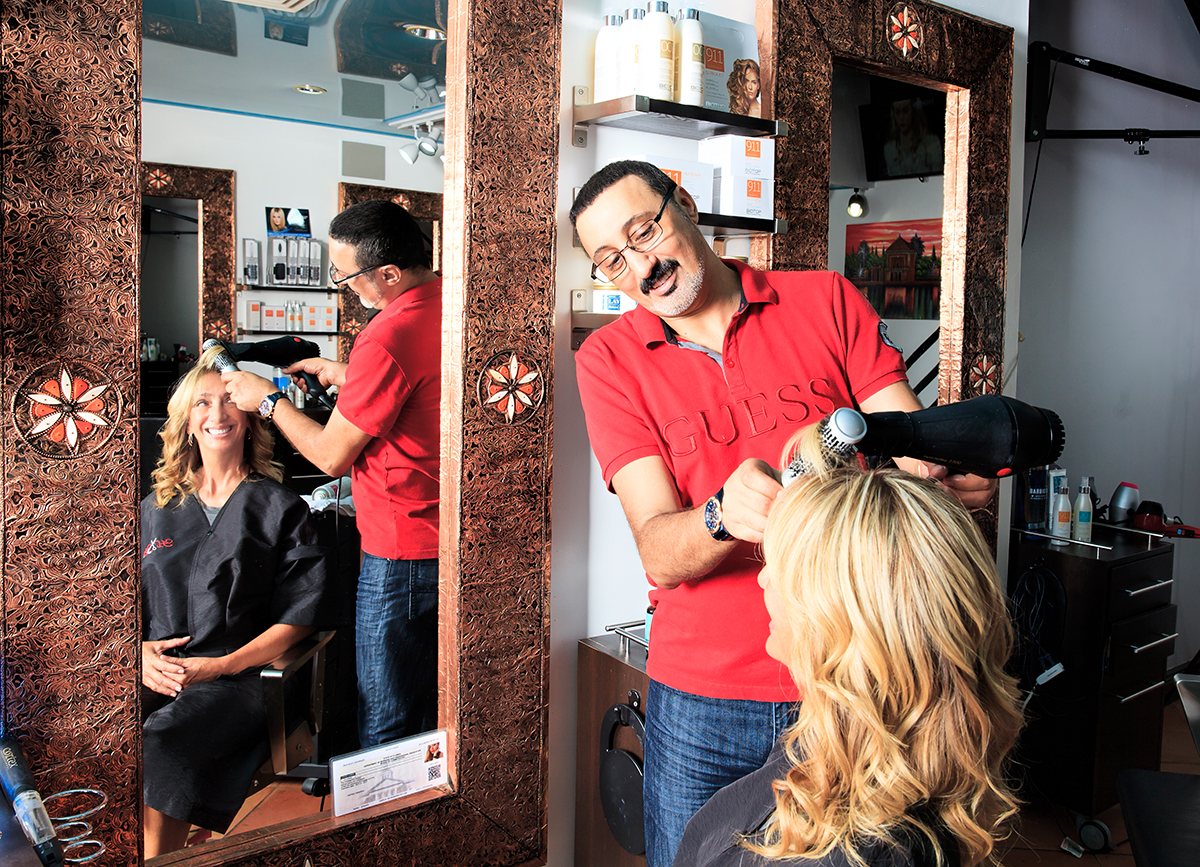 HISHAM
Hair By Hisham
3405 Main Highway, Coconut Grove
305.461.0020
HairByHisham.com
"It might sound cliché, but it's so satisfying to see the smile on people's faces when I help them look and feel great."
A confident and competent stylist unwilling to do anything but the best work for his legions of loyal clients, Hisham's path to Magic City stardom started at an extremely young age. "I was born in Morocco and raised between my country of birth and Switzerland, both places where the traditions weren't accepting of a career in hairstyling," he says. "But for as long as I can remember, this is all I wanted to be. Despite my father's reluctance, I joined the prestigious Ecole Alexandre De Coiffure and was quickly surpassing my teachers." After an impressive career abroad, Hisham eventually migrated to South Florida, an area just as in love with aesthetic excellence as he is. "Miami is all about beauty," he says, "It really is a trendsetter for the rest of the country in terms of hairstyles and coloring. People come from all over the country to have destination weddings here, and bring their patented Miami looks back with them." Well-known for providing a European touch to a distinctly diverse clientele, the factor that he really believes sets him apart from the competition is his salon's friendly and accommodating vibe. "Our employees are trained to always walk the extra mile for our customers," he says.
TREND WATCH
Balayage Impact
This French technique was designed to create soft, modern and natural-looking highlights. Although this is a relatively new technique in the U.S, Hisham has been doing it since 1995 and has perfected the technique to work with Miami hair types.
Fantasy Hair Colors
People aren't holding back these days. Colors like pinks, pastels, blues, greens and multi-colored hair are now not only possible, but in demand. It's a really great way to set your look apart and leave your mark in the world.
Platinum Blonde
The Marilyn Monroe look is back! Getting darker tones to look platinum blonde is trendy again, and with new techniques and products to keep the hair healthy, it's now possible to achieve that classic look without causing any damage.
H-Pro Hair Extensions
According to Hisham, the best-quality hair in the country is premium Slavic hair worn by some of the top celebrities in both Europe and the Middle East. One of the best things about it? It doesn't tangle up when you're enjoying the water!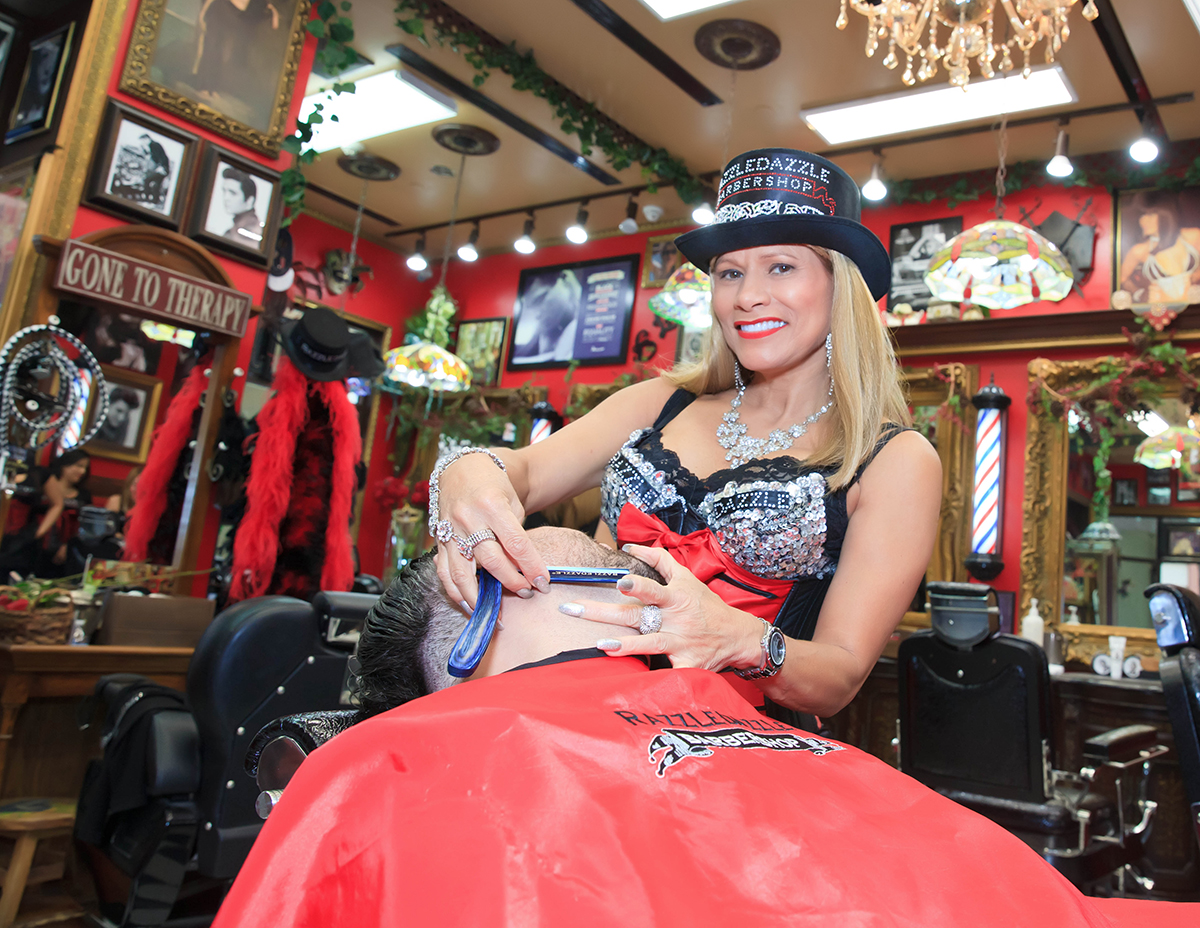 ELENA LINARES
RazzleDazzle Barbershop
900 S. Miami Ave., Miami,
305.508.8081
RazzleDazzleBarbershop.com
Any preconceived notion the public might bear of the typical stylist falls immediately apart when faced with the powerful persona of Razzledazzle Barbershop's Elena Linares. Born in the Dominican Republic and raised in the Bronx, Linares singlehandedly transformed an entry-level position at a Supercuts into an emergent aesthetic empire that included 12 Supercuts locations throughout South Florida and Puerto Rico. Fast-forward to 2008 and she launched RazzleDazzle Barbershop, a decked-out "man-pering" concept that is an immersive throwback to 1940s New York. Today, she has various locations throughout Miami, including a flagship barbershop at Mary Brickell Village. Linares' most poignant remarks have less to do with the flash-in-the-pan trends erupting across the style industry and more to do with life lessons essential to project dignity and poise. "You pick your fate, and it forms your destiny," she says. "I've been blessed with many opportunities in life that I've been able to take full advantage of." Passionate about engaging and encouraging compassionate action in the community, her fondest memories as a salon owner include donating haircuts to Nicklaus Children's Hospital and Camillus House. "It's wonderful to see people's faces light up!"
TREND WATCH
Hip Beards
More men than ever are growing beards at younger ages, and even over the last few years the fashion has changed. Whereas before it was more a case of "controlled chaos," more and more are taking on a more classic, well-groomed appearance.
Skin First
Not just for the ladies anymore, men are becoming accustomed to skincare products. RazzleDazzle's all-natural Alum Block does a wonderful job of ensuring smoother skin and minimizing the appearance of wrinkles.
Gray Shades
Where once grey hairs were quickly dyed over, now they're being embraced. Men now blend in gray to give their hair a more natural, mature look. Many even highlight their hair and beards with touches of gray. The result is a more distinguished-looking man.
Services Galore
Much like skincare products, more men are attracted to traditional salon services. What was once taboo is now celebrated, with men much more comfortable with getting things like manicures, pedicures and facials.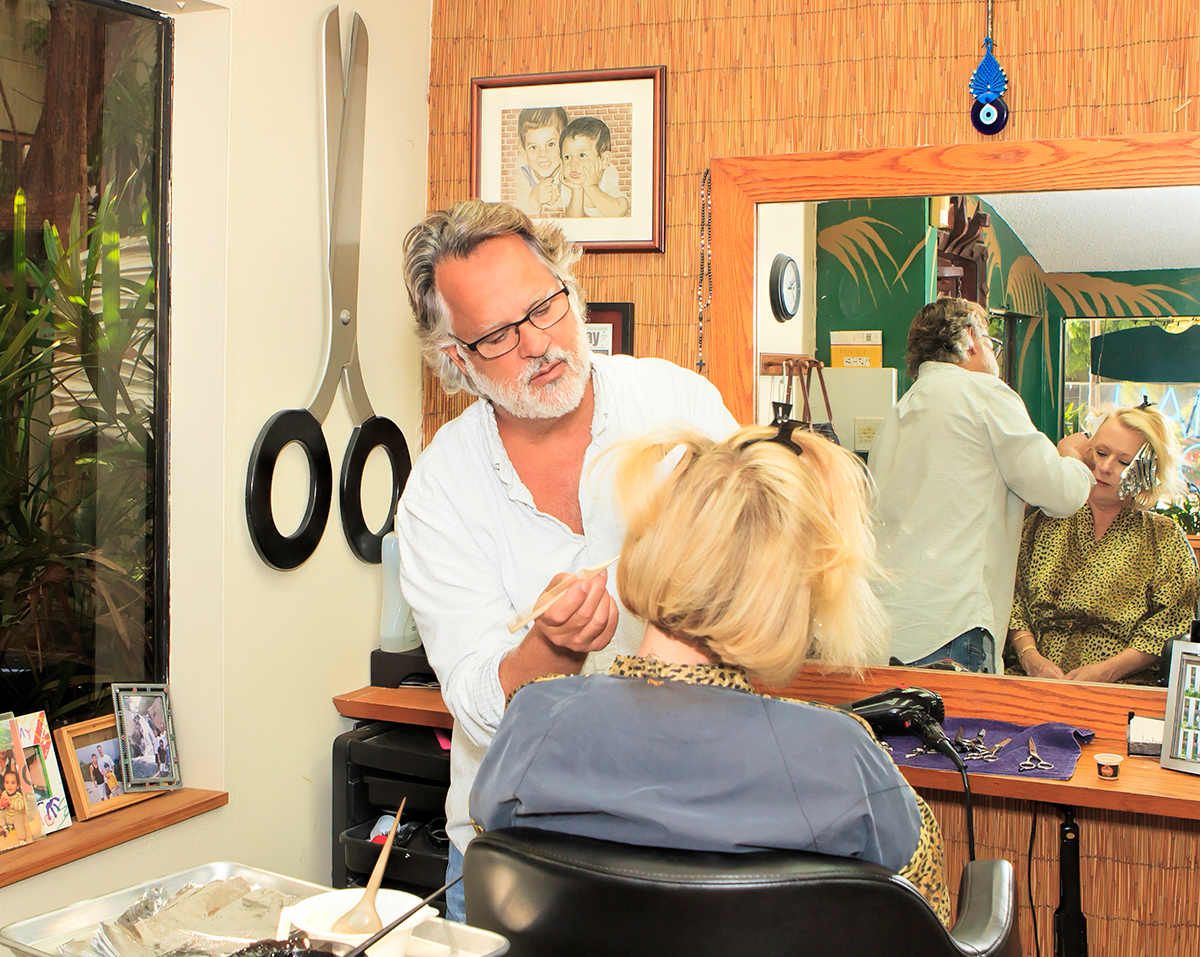 SAM LESTINO
Johari
2940 Oak Ave., Coconut Grove
305.443.3192
"A good haircut is one you can do at home. People shouldn't have to be a professional stylist to maintain their look."
An idyllic bohemian retreat worlds away from the energetically expanding tone of Miami proper, when you walk into the cozy, wooded confines of salon Johari, you not only receive world-class styling and salon services, you also treat yourself to an invigorating experience of Coconut Grove as it once was, punctuated with a personable customer experience the way it was meant to be. Grandson of a barber and brother to the original salon owner, Johari's Sam Lestino always knew his future would be in applying his naturally creative mien to the world around him. "I'm an artist," he says. "And I've always been an artist." Now principal of the oldest salon in The Grove (first opened in 1970), this stately stylist is most excited about his craft when he can put those artistic impulses to work. "Most people just put their heads in my hands and let me do my thing," he says. "And they don't come away disappointed!" Garnering top praise from some of the world's most rigorous review sites, Lestino is perhaps most proud that he successfully services such a wide range of our community. "All kinds of people come into my shop," he says. "I've had everyone from the very wealthy to old-school Groveites cross my doorstep." And he's welcomed them all with open arms.
TREND WATCH
High & Tight
Everyone's seen the classic men's cut that's coming out all over these days, very short on the sides and a lot longer on the top. A strong disconnect in hair lengths really helps create movement.
New Shapes
When it comes to women's cuts, Lestino is seeing a lot more shape being put into their looks, with a focus on longer bangs and more waves. He usually suggests a blunt-cut choppy bang for fine and medium thickness hair.
Colorize It
Increasingly, we are seeing the use of powerful new colors evolving into the mainstream. Lester says that golden paprika with dark roots is very popular, and pastel pinks are making a serious comeback. The styles of the '80's are coming back, too.
Texture Matters
Curly hair is in right now, and balayage isn't going anywhere. One look Lestino really likes that he's been seeing more of lately? A sleek, high ponytail which creates a lot of great definition around the face.