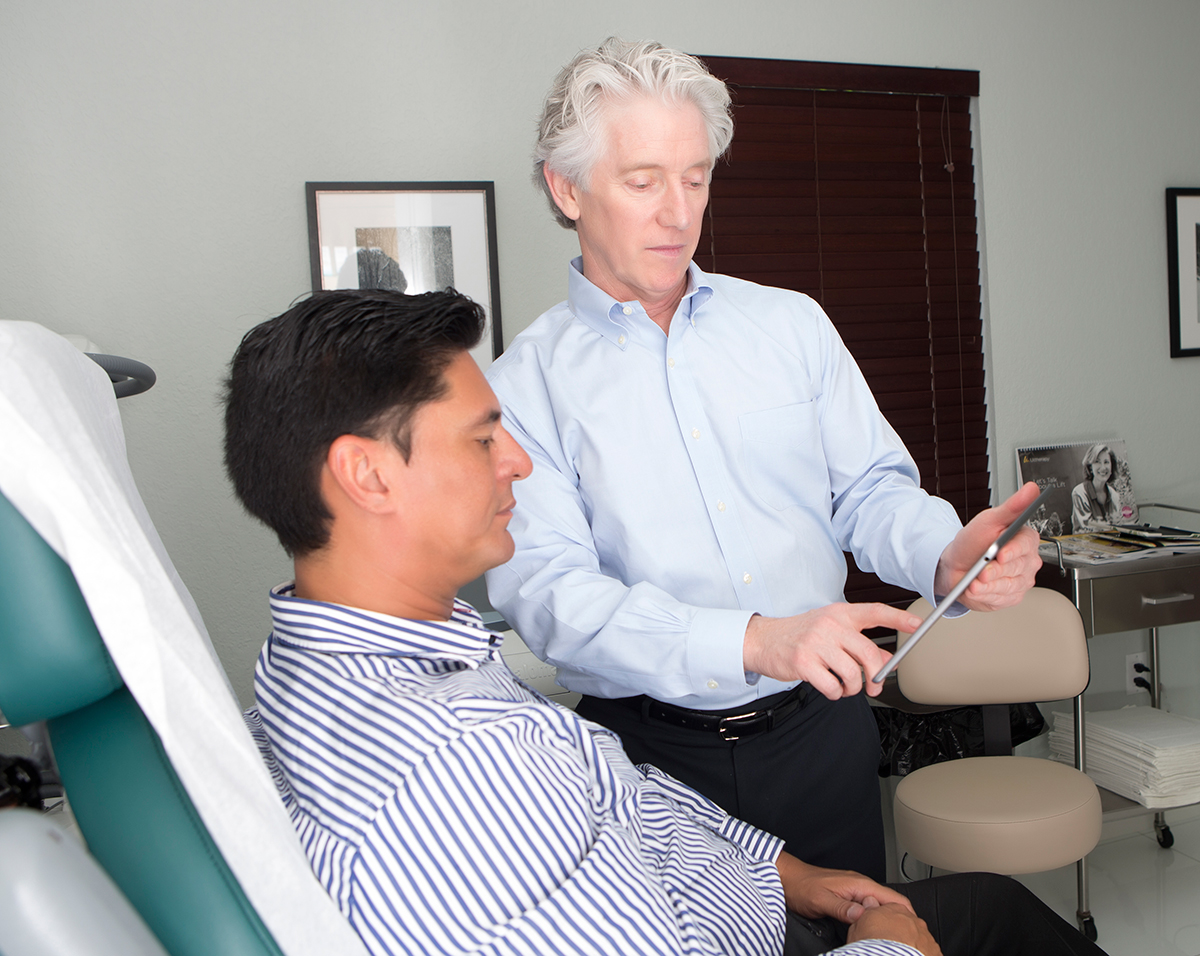 Dr. John J. Martin Jr., MD
2912 S. Douglas Rd., Coral Gables
305.444.5950
JohnMartinMD.com
"When I think of my favorite things to do in Miami, nothing beats sitting somewhere scenic and enjoying a nice dinner!"
A Miami aesthetic industry mainstay just as able authoring papers on cutting-edge techniques as he is in comfortable conversations with his patients, Dr. John Martin, MD, loves every aspect of his position as one of our city's top plastic surgeons. Originally hailing from Massachusetts, Dr. Martin never had any doubt that the only significant success in his field was to be found in our own city's sunny climes. "People in Miami are very concerned with their appearance," he says, "particularly with looking younger and more rejuvenated. And all the sun exposure means there is a need for treatment at an earlier age than in other cities." A dedicated believer in providing the best and most innovative care to his patients, one of Dr. Martin's greatest joys lies in exploring and implementing groundbreaking procedures into his practice. "Our industry is constantly evolving, so it's important for us to stay connected," he says. "Every day new things are being developed for this field, from injectables to skincare products." The particular trend he's most excited to see emerging? "Laser technology," he says. "Patients love it because it's non-invasive but still delivers wonderful results."
Signature Treatments
Versed in a wide range of effective aesthetic surgeries, Dr. Martin is an expert in a number of coveted enhancements. Embarrassed by unsightly sagging skin? Infini provides the latest in radiofrequency microneedling treatment, offering dramatic results without costly downtime. Similarly, Sculpsure offers the latest laser platform technology to reduce unsettling pockets of stubborn fat tissue. And, ever important in our singularly sunny city, Dr. Martin is an expert in all manner of skin conditioning lasers to guarantee that you look every bit as fantastic as you feel.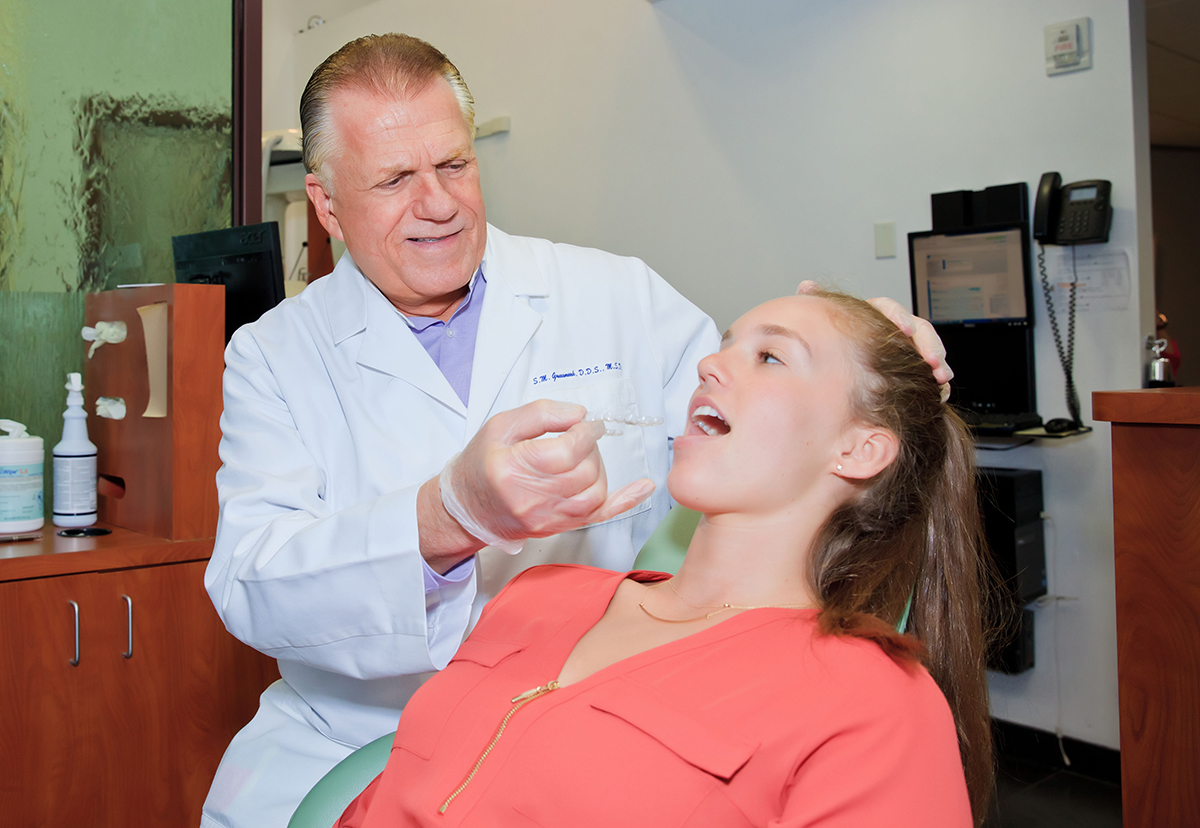 Stephen Grussmark, DDS, MSD
Grussmark Centre For Invisible Orthodontics
Village Of Merrick Park
4425 Ponce De Leon Blvd., Coral Gables
305.441.1200
CentreForInvisibleBraces.com
"We have absolutely established ourselves as one of the top Invisalign practices in the world."
Out of all the aspects of our city worth lauding, from its glittering beaches to its artfully constructed skyscrapers, its exclusive shopping districts to its ferocious fashionality, one through line unites every positive part of our civic character: beauty. One of the people ensuring that our smiles exemplify that value as much as any other slice of our city is Dr. Stephen Grussmark of the Grussmark Centre For Invisible Orthodontics, a Miami native and peerless expert in the field of invisible brace technology. Once an unsightly horror synonymous with adolescent angst, Dr. Grussmark's landmark work in the field of sightless orthodontics has exposed Miamians of every age range to the healthful benefits that this modern marvel of a technological breakthrough provides. "With our range of training and experience, we are capable of treating the most difficult orthodontic cases, often quicker and much more effectively with the highly accurate computer-generated Invisalign technique," he says. "The most rewarding aspect of my work is being able to successfully treat patients with extremely severe cases that were previously told that they were not candidates for Invisalign treatment."
Signature Treatments
Ready to treat any patient with a wide range of cutting-edge, technologically enhanced techniques, Dr. Grussmark's practice is divided pretty evenly between Invisalign orthodontics and more traditional braces. The head of a practice that's treated an astounding 20,000 patients in his 35-year career, there's simply no facet of modern orthodontic treatment alien to Dr. Grussmark and his expert staff.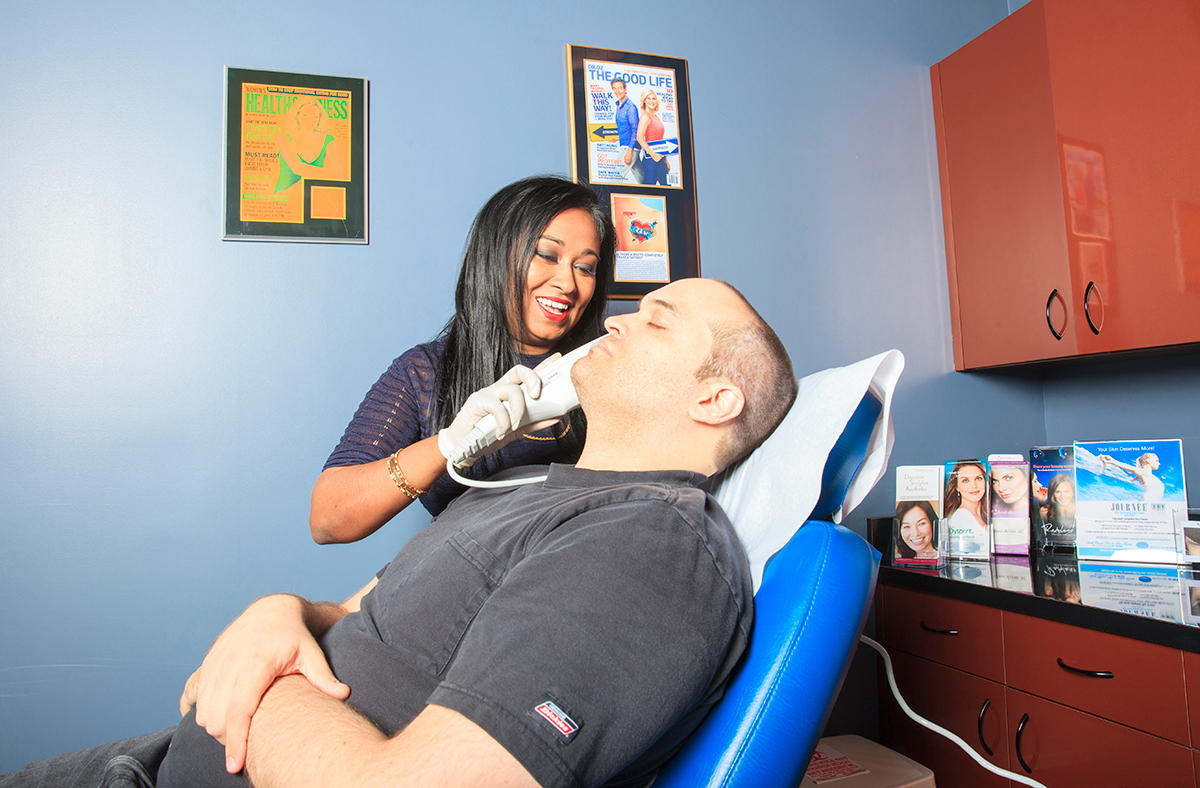 Dr. S. Manjula Jegasothy, MD
Miami Skin Institute
135 San Lorenzo Ave.,
Ste. 870, Coral Gables
305.569.0067
MiamiSkinInstitute.com
"Being a perfectionist, I live for the moment when I show a patient the mirror after I have done filler or a Fraxel or Ultherapy treatment, and their eyes shine with delight at the immediate result."
"I've lived in Miami since the mid-90's, virtually my entire adult life," says Dr. J, Founder & Principal of Miami Skin Institute, a Coral Gables practice renowned for its natural approach to aesthetic dermatology. "I moved here to do my Dermatology Residency at the University of Miami/Jackson Memorial Medical Center, and by the middle of my first winter I knew I was never leaving!" As a professional known for her gentle technique and solely concerned with the best solutions for her patients, Dr. J values Miami not only for its agreeable climate, but the advantages it allows her in her field. "The warm weather and spicy nightlife scene makes Miami an extremely appearance-conscious city, so the demand for aesthetic medical procedures which are quick, require minimal recovery and yield rapidly visible results is the highest in the nation," she says. "The sheer numbers of my patients wanting new procedures has enabled me to remain at the forefront of this field whenever I lecture or interact with my colleagues at national and international medical conferences."
Signature Touch
A constant innovator, Dr. J is one of only two Miami practices to offer the newest Vanquish Me Fat-Melting Laser, a unique treatment which eliminates fat in the stomach, back, love handles, and thighs. Dr. J is known to the fashion press as the "Queen Of Kybella" (fat-reduction injections for the neck/body) as well. The Miami Skin Institute also specializes in laser treatments designed to tighten and lift skin, including the Ultherapy Ultrasound Laser and Viora Radiofrequency Laser, designed as modern anti-aging treatments to improve issues that injectables cannot.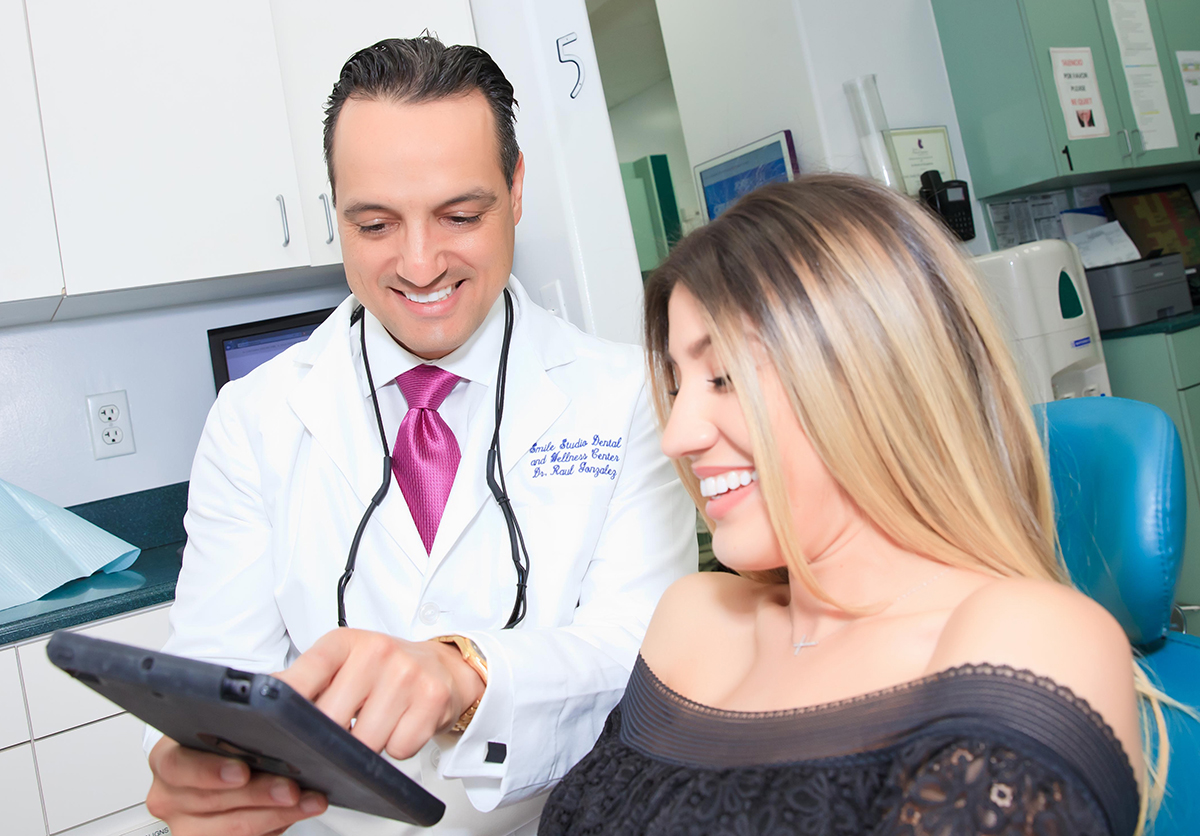 Raul Gonzalez, Dmd
Smile Studio Dental & Wellness Center
1760 Coral Way, Miami
305.856.1488
4201 NW 107th Ave.,
Doral, FL 33178
305.594.4418
DrGSmiles.com
"I'm constantly making changes to my aesthetic dental and wellness center. I feel that it is my obligation to provide my patients with the best service, technology and care possible."
Not just another handsome face invigorating our city's healthcare industry, Smile Studio's Founder Dr. Raul Gonzalez thinks of dentistry as more of a passion than a vocation. Widely regarded as a top professional by some of the biggest stars in Latin America and the U.S., the secret Dr. Gonzalez says separates him from the competition lies in the way he views his clientele. "In my practice, our patients are treated like family," he says. "And as such, we build trusting, long-term relationships." A graduate of prestigious Rutgers University and a member of a number of notable professional institutions, Dr. Gonzalez is always careful to ensure that his family life doesn't fall to the wayside in the wake of professional success. "My kids are undoubtedly my greatest accomplishment in life," he says. "I have 5 beautiful children that I would do anything for. There's not a moment that goes by where I'm not trying to be the best role model, friend and father I can be."
Signature Treatments
Although expert in all manner of dental and orthodontic procedures, from full reconstruction to spa treatments, Dr. Gonzalez proves especially deft in the fast growing realm of Microdentistry, a minimally invasive and nonsurgical laser treatment that avoids the complications inherent in using anesthesia. And, although a lover of all aspects of dentistry, Dr. Gonzalez finds he is most passionate about Smile Design, a series of cosmetic dentistry procedures that can imbue any patient with the confidence and attractive grin they deserve.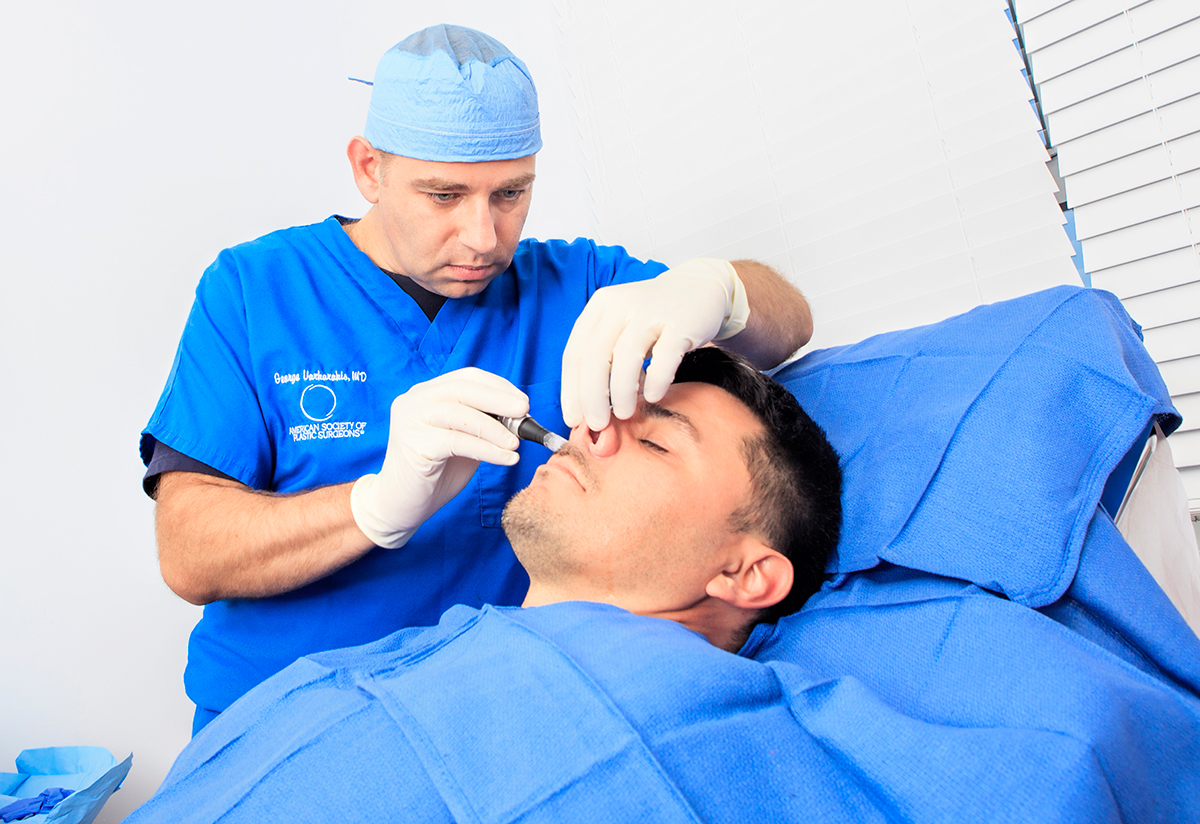 George M. Varkarakis, MD
GV Plastic Surgery
3661 S. Miami Ave., Ste. 903, Coconut Grove
305.853.8333
GVPlasticSurgery.com
"I enjoy the creative freedom in my field. I can use my talent to repair a baby's cleft palate, improve someone's facial shape or reconstruct a cancer wound."
A renowned plastic surgeon who's crisscrossed the country in pursuit of top-tier training in the plastic surgery field, Dr. George Varkarakis knew the moment he arrived in Miami that he had to make it his home. "I love everything about this city — from the tropical weather to the energetic and progressive environment," he says. "As a surgeon, Miami makes sure I'm always familiar with the latest trends and cutting-edge techniques." Ever-anticipating the needs of his patients, and aware that many potential clients can be scared off by the accompanying discomfort of a surgical procedure, Dr. Varkarakis prides himself on putting his patients at ease, both inside and outside of the surgical suite. "I offer my patients the choice of having certain surgical procedures with local anesthesia, an oral calming medication and numbing shots," he says. "This affords a pain-free operative procedure with much faster recovery. Many times, my patients' personal experiences and results have exceeded all my expectations!" An expert in one of the world's most coveted fields, the aspect he enjoys the most? "I love interacting with my patients," he says. "Their gratitude is a priceless reward."
Signature Touch
A master of a number of notable aesthetic industry treatments, Dr. Varkarakis has a number of options available that are synonymous with his practice. In increasing demand are his customized skin rejuvenation techniques combining both Microneedling and Platelet-Rich Plasma injection techniques. The combination of those noninvasive techniques, along with meticulously executed Total Facial Rejuvenation procedures, will beat back aging as naturally as possible.