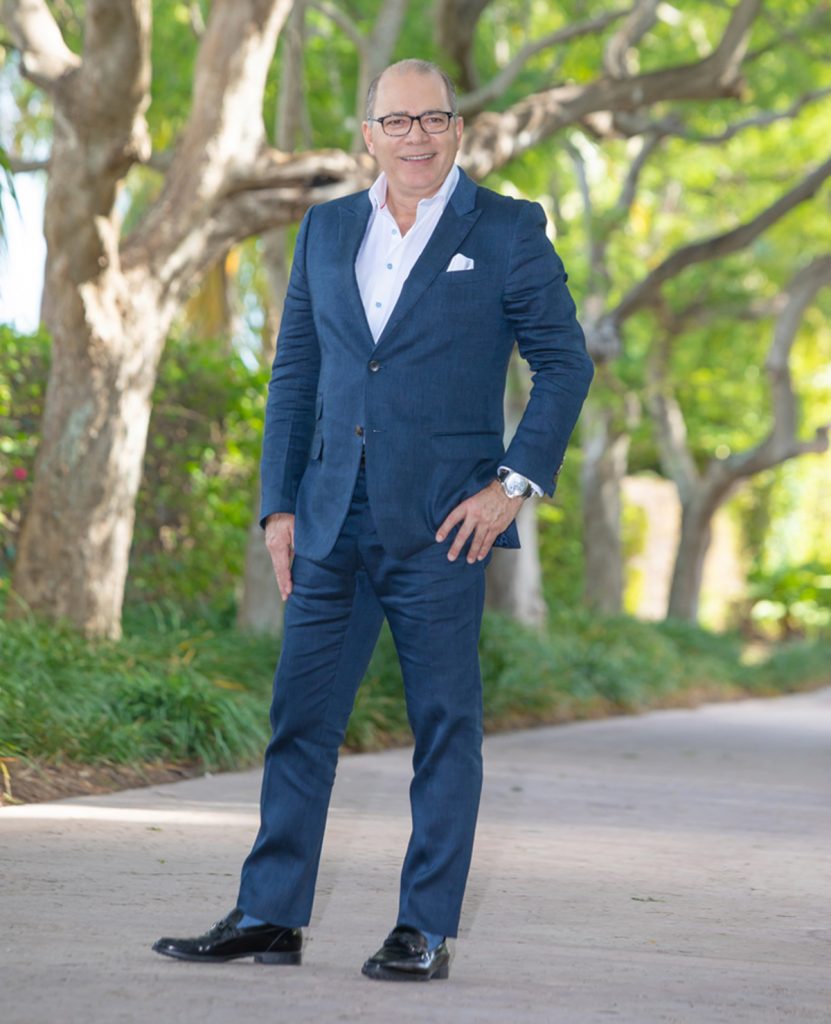 Joao Carvalho
Swire Realty
305.588.1867
JoluCarv@Gmail.com
JoaoLCarvalho.com
Referrals are the backbone of the real estate industry, but some truly stand out. "In my many years in the business, one of my most notable sales was when I received a call from a potential client who informed me that he was encouraged to contact me through his family since I had sold his grandfather his first home here in Miami," says Joao Carvalho. "Being able to lay a foundation where I sell real estate to the same family for many generations is exceptionally gratifying." He has also had his share of crazy showings. "In this condo madness that we have had here in South Florida for the past few years, I was able to combine a group of foreign families together from different parts of Brazil to go visit a few well-known developments," he says. "This resulted in multiple sales and new friendships." Another thing that he is particularly proud of is the fact that his whole family has gotten into the real estate business. His wife has been in the business for several years and their daughter, a recent college graduate from Northeastern University, plans on entering real estate as well. "It's essential to re-market and re-invent yourself all the time," he says. "I'm looking forward to having my daughter join me to refresh even more with her understanding of the new generation."
"Real estate is rewarding, but it's a 24-hour venue and definitely not for everybody. Just a few people have the ability to be very successful and I'm extremely humbled and proud of my success and achievements."
Top Developer: "Swire Properties, who first developed all of Claughton Island (known as Brickell Key) and recently finished the first phase of Brickell City Centre, focuses on maintaining their pristine legacy as a developer by presenting iconic projects to further improve South Florida."
Buy Local: "Miami, in my opinion, is one of the fastest-growing cities in the whole country. Now is the time to take advantage of our vast inventory and to top it all off, we're clearly in a great "Buyer's Market" right now."
Happy Resident: "South Florida is a melting pot of many cultures which makes it such a welcoming environment for any foreigner wanting to move here. Not to mention Miami's exceptional beauty, beaches and oceans. For a passionate boater like myself, Miami is paradise."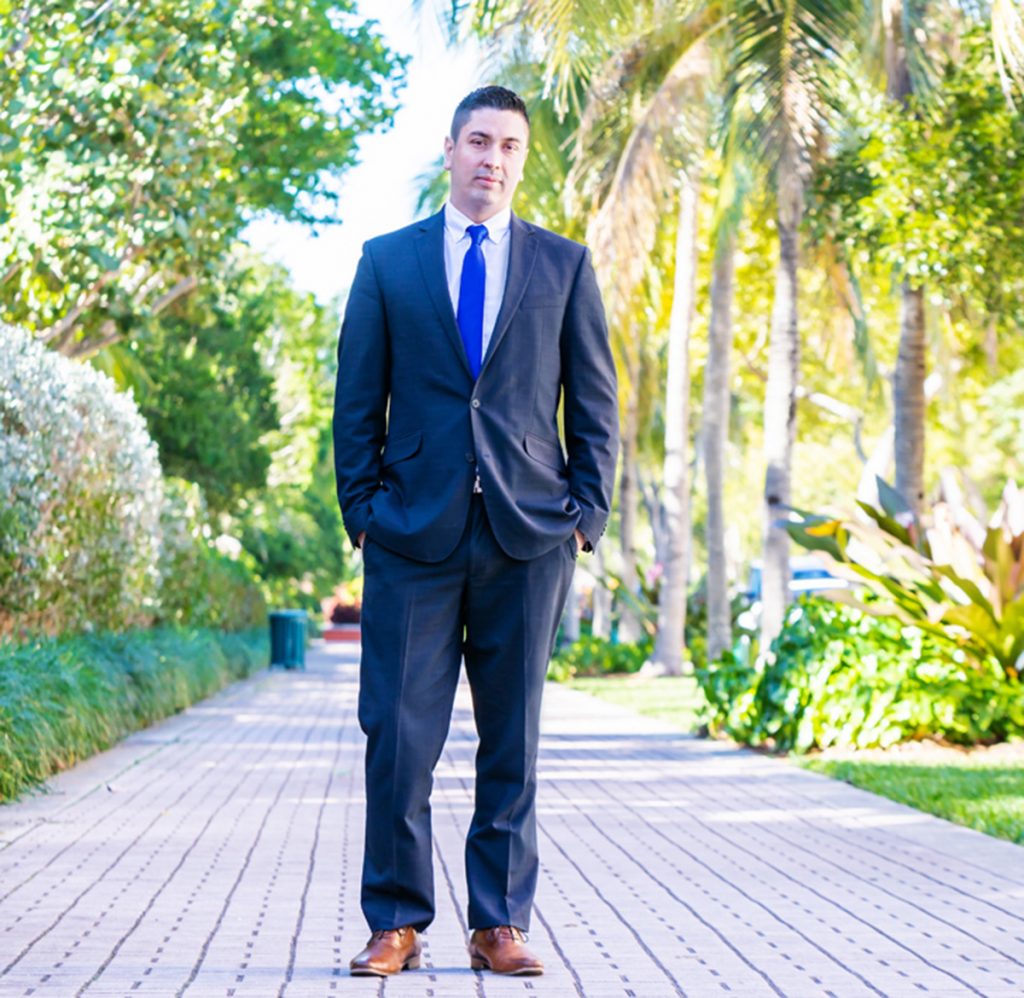 Daniel Castaneda
International Sales Group
305.904.0564
DCastaneda@ISGBCC.com

Daniel Castaneda is very passionate about the product he sells. "My goal is to give my clients the opportunity to see Miami for what it really is," he says. "This city offers much more than beaches and condos with a view. I'm always striving for them to understand and buy into the amazing lifestyle that comes with owning South Florida real estate." As a kid, he always thought he was a great speaker. As he grew up, he realized that it's not so much the words you speak, but that you believe in what you are saying. "I trust that one can sell anything that they're passionate about." He is particularly proud to have worked with the International Sales Group for the past 5 years and represent the luxurious Reach & Rise Residences at Brickell City Centre. "I'm beyond grateful for the opportunity to work alongside Swire Properties every day on this incredibly unique development," he says. "Although there are many realtors with similar skills and experience, what sets me apart is the real-world experience I've gained by being a part of the international division at my company. This has allowed me to understand the different ways our clients think and operate, depending on what country they are from."
"Brickell City Centre is a representation of the Miami lifestyle and all that I'm passionate about when it comes to real estate."
Why Swire: "Real estate development is the act of finding and buying land, creating new buildings or making improvements to existing ones. What makes one development stand out from the others is the vision and culture behind it."
Architectural Masterpieces: "When it comes to developing iconic and unique properties, one must use every single brick — not just to build walls, but to build cathedrals!"
Natural Amenities: "South Florida has the beautiful scenery and warm climate that creates the 'vacation' lifestyle that everyone appreciates. But what I like best is that it's home to so many different kinds of people, cultures, cuisines and entertainment options!"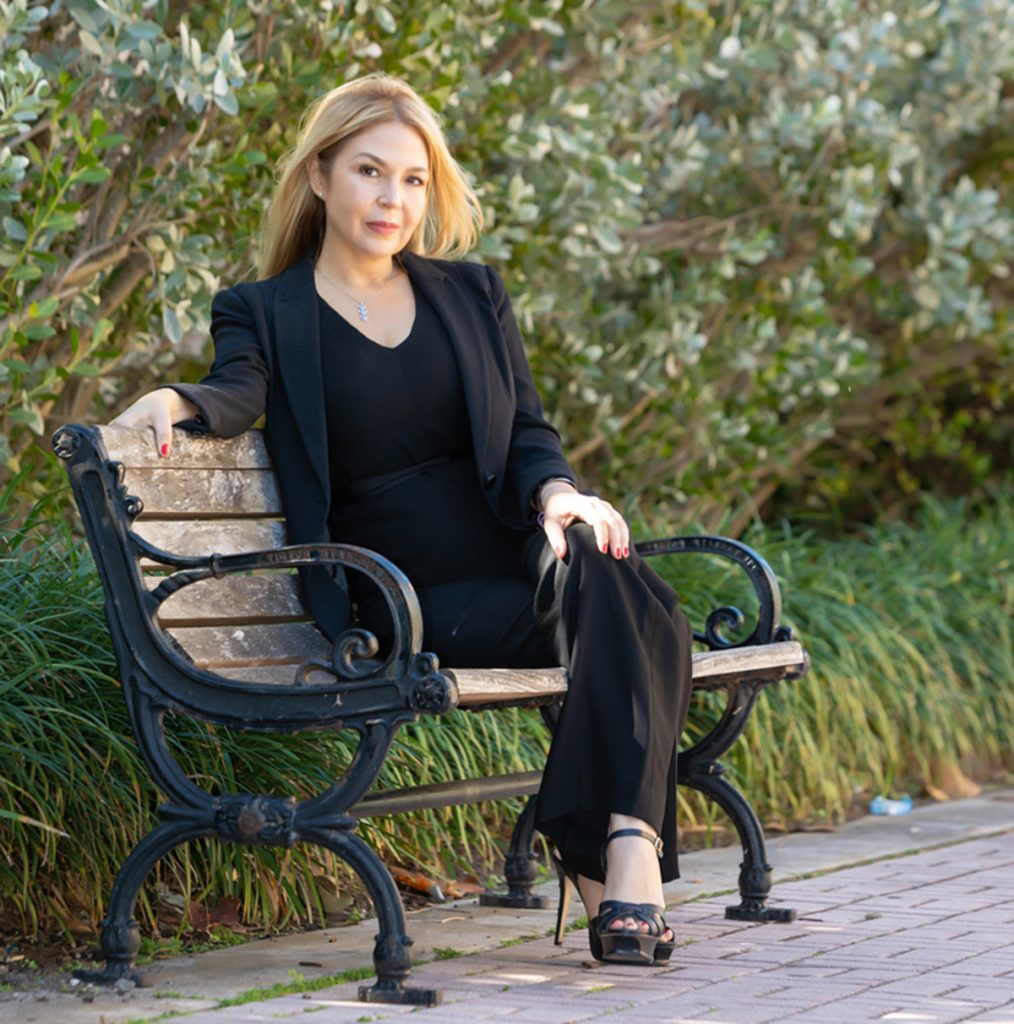 Allison Ortiz
ISG: Sales at Reach & Rise,
Residences at Brickell City Centre
305.244.5690
AllisonO@ISGBCC.com
ResidencesBrickellCityCentre.com
The world's best developments have a desirable location, renowned developer, beautiful architecture, state-of-the-art amenities and a positive impact on the community as well as a top-notch sales force. "I'm very proud to represent Swire Properties and to be selling Reach & Rise, Residences at Brickell City Centre from its inception," says Allison Ortiz. "Being a part of this remarkable development and experiencing its step-by-step evolution, while growing with it is a gift and blessing I will forever treasure." A Miami native with over 20 years of experience in South Florida real estate, she remains enchanted by the fact that every city in South Florida is distinctively beautiful and carries its own character. "Whatever stage of life you may be in, there are so many elements in this region that can contribute to a strong sense of wellbeing and to a healthy lifestyle," she says. "It doesn't get any better." Her clients describe her as very honest, dynamic, dependable and resourceful. "I believe these qualities together with hard work and dedication are imperative to great service and being a great realtor," she says. "I strive to stay informed, on top of current market trends, open to change and always learning and growing in my field, which is a recipe for continued success." As such, she says she wakes up with an enthusiastic smile each morning, ready to meet people from all over the world while selling the city she adores.
"Located in the heart of Miami, Brickell City Centre and its residences Reach & Rise have transformed Brickell in a way you must experience for yourself. Words would fall short."
Life-Changing Construction: "Swire Properties' vision of — and commitment to — the Brickell area, first with the development of Brickell Key, and now Brickell City Centre, serves as a perfect example of exceptional development."
Happy Employee: "I feel privileged to be a part of Miami's most spectacular development and grateful for our extraordinary success."
Wildest Showing: "Let's just say I was locked out on a balcony with buyers once!"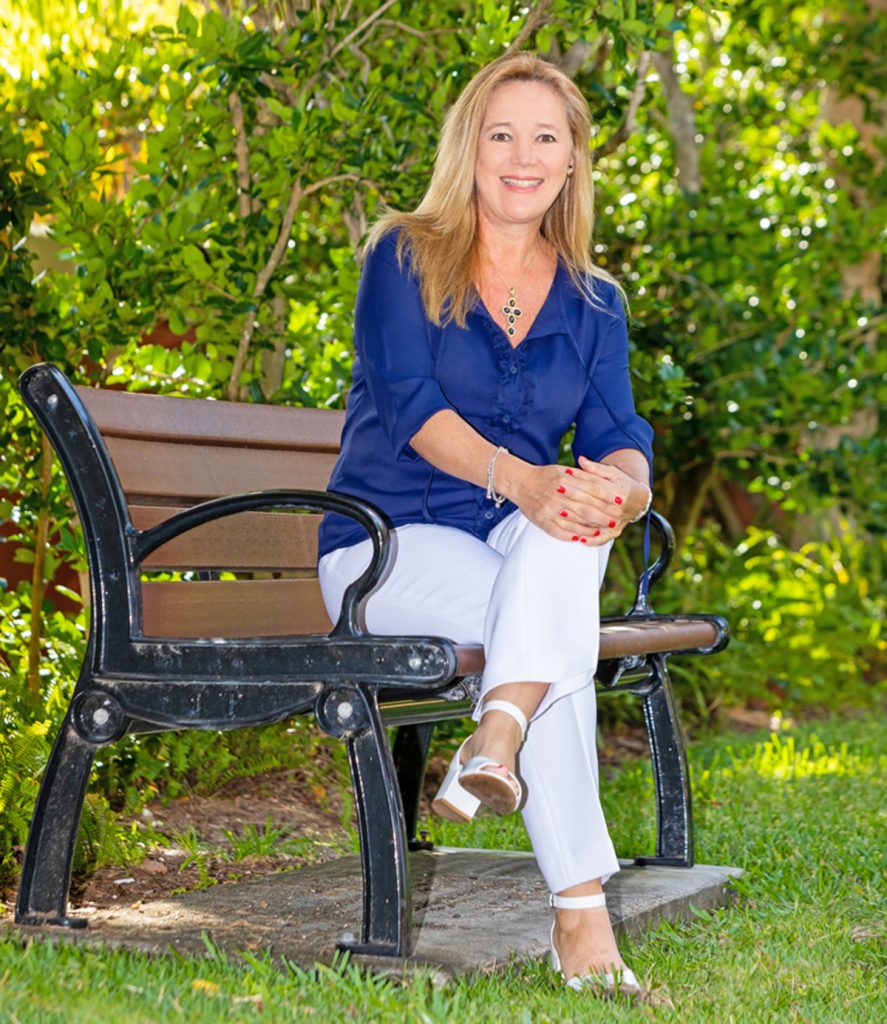 Alexandra Escudero
Fortune Int'l Realty
305.962.7948
AlexaEscudero@aol.com
FortuneRealtyMiami.com
Being a commercial broker is totally different from being a residential broker. "It requires lots of connections with other commercial brokers and always being on the lookout for good deals," says Alexandra Escudero. "It takes a lot of time and diligence to find the perfect deal for clients and when that happens, it's very special." As such, she specializes in commercial real estate throughout Florida, including the recent sale of a property leased to Petco in Pembroke Pines and another one in Orlando leased to Applebee's. She has also completed her share of residential deals, and aims to redefine the term "people person." "I talk to everybody around me," she says. "I'm very honest, even if that doesn't help me close a deal. I believe people like honest realtors and I think that's what's made me successful."
"I always offer my clients what I would buy for myself, I pick the properties that I send to my clients very carefully."
Ongoing Opportunity: "I've been in real estate for the past 24 years and have witnessed the market going up and down several times. This has taught me that every stage has its good deals!"
Key Assets: "A great agent knows the market and does research every day. They're honest and treat clients as if they were family. I always return phone calls and emails within 24 hours."
Multi-Cultural Miami: "It's important to be outgoing and make lots of friends in life. When I was growing up, I moved to many different countries, and that helped me to adapt to, and to better understand, different cultures."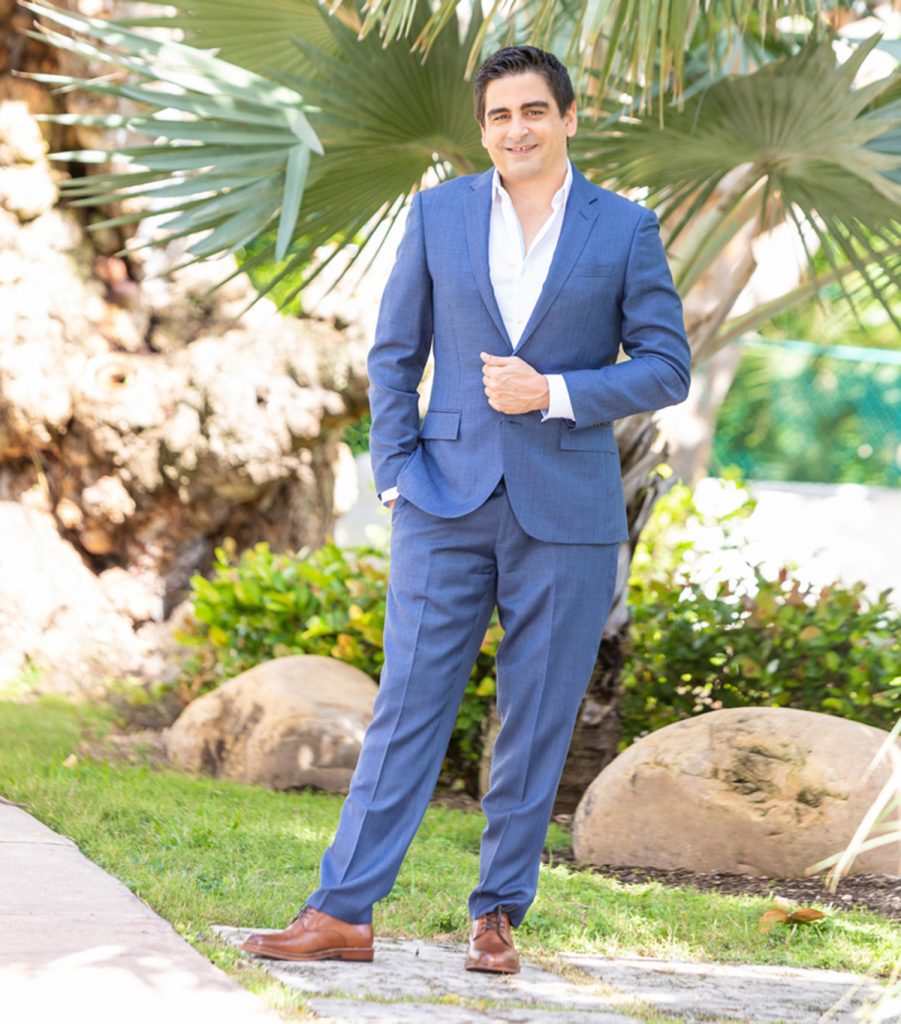 Chris Suarez
CMC Group
305.915.9471
CSuarez@BrickellFlatiron.com
Chris Suarez aims to provide clients something beyond their expectations. "That's why I feel proud to sell the kind of product Ugo Colombo puts out," he says. "The satisfaction I feel when I'm able to sell unmatched luxury to my clients is why I do what I do. I always place myself in the shoes of the buyer. What do they want? Am I getting the best deal? Is this the closest match to their needs?" Delivering for the client is what leaves a lasting impression. That's why he always seeks to truly understand what his clients need and prides himself on being upfront throughout the process. Currently, he's excited to deliver the incredible units at Brickell Flatiron. "Having been with the project from the inception, I feel a great sense of achievement and excitement as we reach completion scheduled for Summer 2019," he says. "This project will become a landmark in Brickell and I'm thrilled to be a part of it." He considers himself very lucky to have experienced multiple facets of the industry, from operations to marketing to sales. He credits these experiences for leading him to where he's at now and giving him that extra edge needed to rise above.
"I've always been a social guy. Creating and growing my circle and web presence has been a crucial part of my growth and success in real estate."
Job Satisfaction: "Being a part of what becomes home for so many… now that's quite a memorable moment."
Miami 2019: "One of the best parts of being a realtor in South Florida is helping to shape the Miami skyline and creating history. That's what it's all about."
Architectural Significance: "Brickell Flatiron is a unique take on design. Everyone wants to be a part of something special, something that hasn't been done before."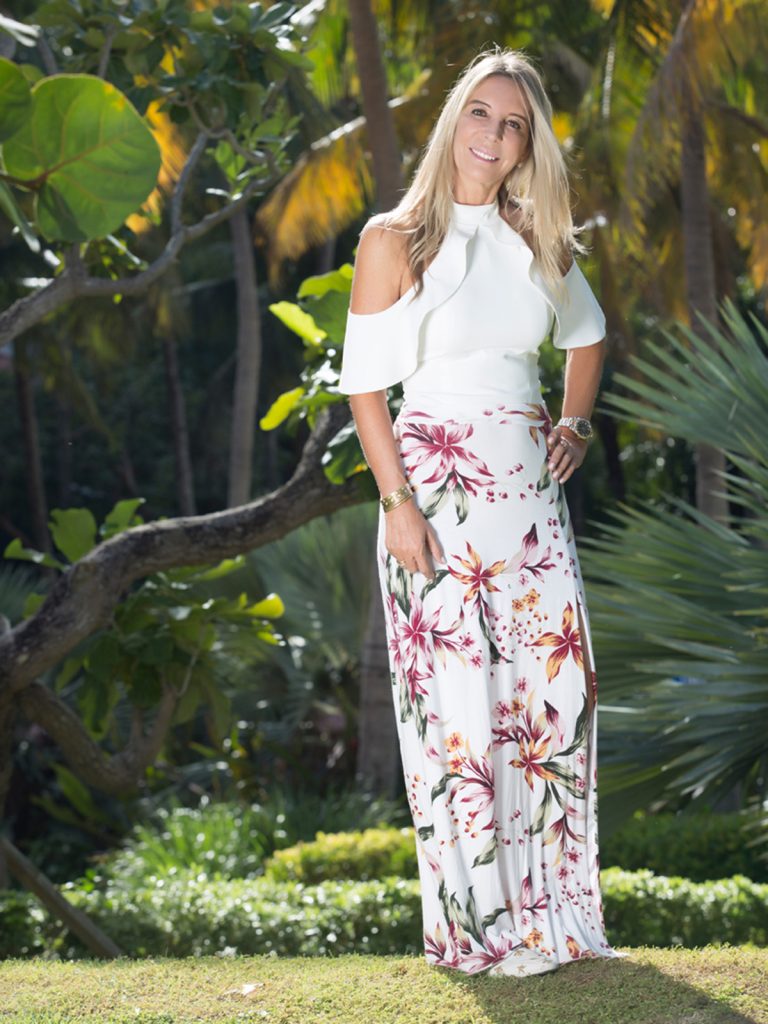 Giulietta Ulloa
EWM Realty International
305.710.6620
Giulietta@Ulloa.com
GiuliettaSellsMiami.com
The Real Estate process involves many players: inspectors, lawyers, appraisers, etc. "Sometimes I feel like a conductor of a symphony, coordinating all the different players to make a successful transaction a reality," says Giulietta Ulloa. "At different points in the process, I need to be a buyer's advocate, an analyst, a business manager, a consultant, a negotiator and a marketer, just to name a few." Her 23 years of full-time experience has given this go-getter tremendous knowledge and market insight as well as life-long connections and friendships in the industry. "When I'm facing a challenging deal, I can leverage my experience and network to solve the transaction in the client's best interest," she says. "I like coming up with creative solutions to problems or issues, together with the desire to give the best possible advice to my clients." Best of all, she's ready for just about anything. She once gave a home tour to an old-fashioned agent at an open house and at the end they stayed chit-chatting. "I had brought bottles of Sprite and one of them was a vibrant green color; I thought it was a new flavor," she says. "After his first sip, we quickly came to the realization that the Sprite bottle I'd grabbed from home was my son's "party soda." It was quite the experience and good laughs were shared!"
"I'm very social. I like to engage in several activities like dancing, outside sports, book clubs and traveling. Many of my clients come from those activities."
Go Pro: "There are lots of realtors, but most work part-time. It's best to always choose a seasoned professional. It's vital to be in the right hands, to work with someone who can guide you all the way from start to finish."
Riding Waves: "Real Estate in South Florida comes in cycles. To buy in a buyer's market and sell in a seller's market is the smartest thing to do. It's recommendable to have a savvy real estate advisor to guide you through the real estate jungle."
Florida Lover: "Miami weather is awesome. I can do outside sports year-round. There are many delicious top restaurants all over. The variety of the many high-end buildings built in Miami gives a lot of options to a wide range of budgets."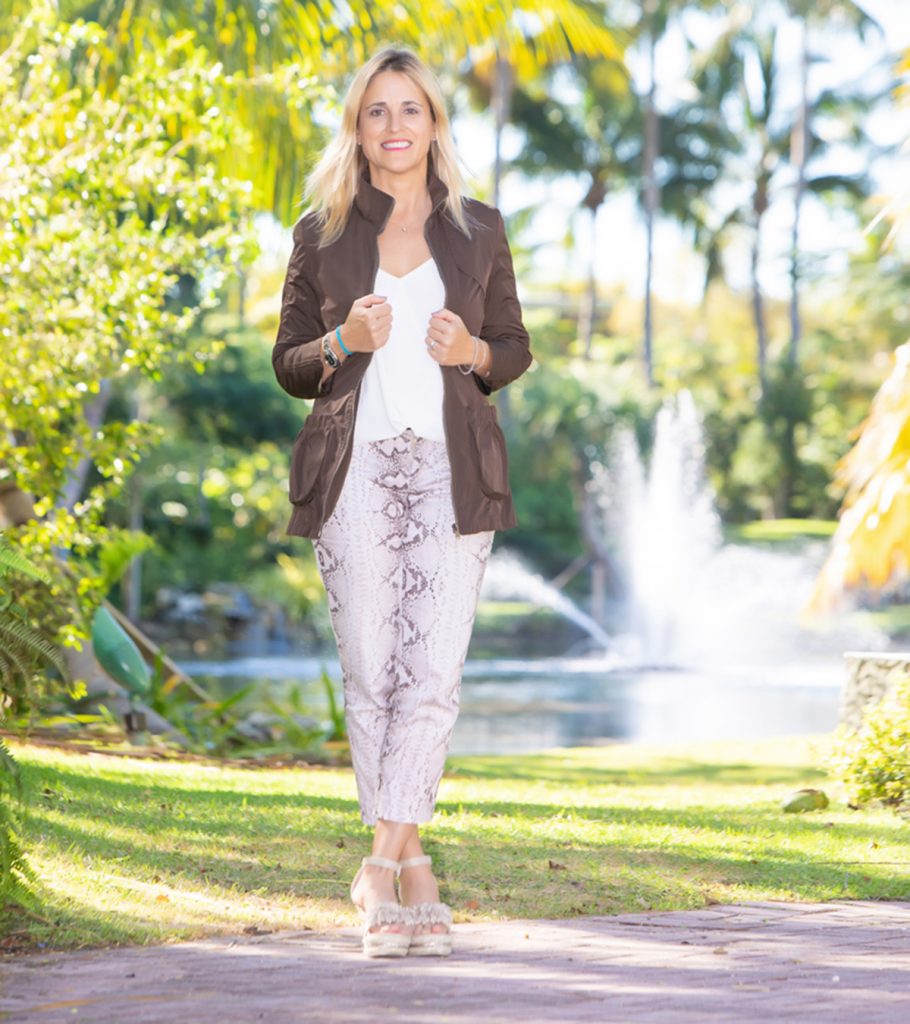 Pilar Lecha
Optimar Int'l Realty
786.238.4089
PilarL@me.com
PilarLecha.com
Pilar Lecha once met a stranger in an elevator who inquired if she was a realtor. They started talking and he asked if she had any good deals in the building. "I showed him my best deal and we signed in less than 24 hours!" Lecha, who speaks 5 languages, was born and raised in Barcelona, Spain, where she received her Masters in Business from IESE Business School. She moved to Miami in 2011 to serve as CEO of then startup Balearia Bahamas Express. "In my 22 years of experience in the maritime and tourist sectors, I've worked in management positions that required a high level of trust, confidence, honesty, integrity and the ability to provide impeccable service that now goes hand-in-hand with working in real estate," she says. What she enjoys most about real estate is interacting with clients and, of course, succeeding in finding the right property for their needs, such as the time she was doing a showing and the client brought his girlfriend along, proposed to her, and ended up buying their love nest! Lecha has always been very passionate in her activities, hobbies and sports, and she brings that dedication to her career in real estate. This has resulted in many awards over the years including Top Associate, Top Producer, Top Listing Agent and a Silver Award. "I'm an open-minded person that never gives up — I'm patient and I love challenges and negotiations," she says. "I feel that I'm evolving and improving both professionally and personally along with the vibrant pace of this Magic City!"
"I have a great ability to communicate and to connect with people. My mother always told me I was able to sell anything to anybody!"
Always Evolving: "Downtown is a huge growth area due to current and future projects as well as major events such as the Formula 1 and Grand Prix 2020."
Hidden Secrets: "The Upper Eastside, including Bay Point and Morningside, offers close proximity to the city within peaceful neighborhoods facing the Intracoastal."
Island Living: "I strongly recommend families consider Key Biscayne due to the healthy atmosphere and island lifestyle."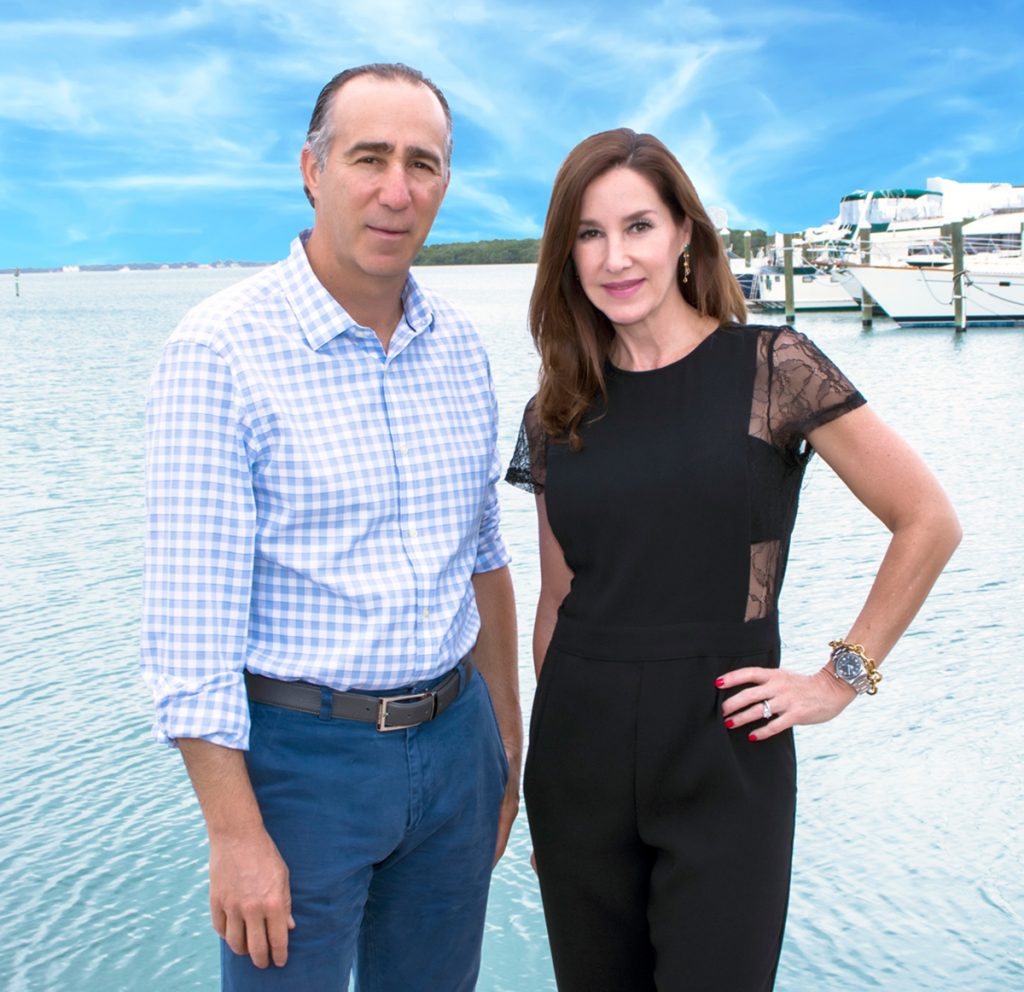 Daniel Gaviria
Great Properties Int'l Realty
305.582.4800
DanielGGaviria@Hotmail.com
DanielGaviriaRealEstate.com
Ana Somarriba
Great Properties Int'l Realty
305.215.1686
SomarribaAna@Hotmail.com
GreatPropertiesIntl.com

With almost 50 years of real estate experience combined, Daniel Gaviria and Ana Somarriba get the most notable listings, such as 100 Cape Florida Drive. "This property is unique because it has an L-shaped dock that can fit 2 yachts and backs into Pines Canal, allowing for absolute privacy," says Somarriba. "The pool and backyard face the protected mangroves, and no structures will ever be built there. Very few canal-front homes in Key Biscayne can boast this unique feature." Gaviria founded Great Properties Int'l Realty in 2007. From a young age, he liked being around people and saw himself working in a field that allowed him to be sociable and friendly. With an MBA in Finance, he's the team's numbers guy; tough and determined to get his clients the best deal and the most money on the table for his sellers. While Somarriba is equally focused on details, she balances Gaviria with her creative background in Marketing, which she uses to promote properties at the maximum exposure possible. "The most fun part of this job is the daily interaction with so many people," says Gaviria. "From listing a property for sale, to searching for a property for buyers, there are countless people involved. It takes a team working together — from attorneys, marketers, web designers, appraisers, lenders, repairmen and even cleaning services — before a closing takes place. Having all these contacts that you can trust to help make the process efficient is a big plus."
"I will tell a buyer that a property might not be an ideal investment. Making a quick sale just to earn a commission is not an option if the purchase will not be a good investment to the buyer."
Buyer's Market?: "The next year will be unpredictable for real estate. Sellers might find themselves having to adjust prices a bit. But there will always be buyers willing to buy at a fair price"
Endless possibilities: "Miami will always be a very desirable destination for visitors and for people looking to settle down here or to purchase second or third homes."
Foreign Factor: "Miami will always be a positive draw for foreigners, especially from Latin America, who want to continue investing their money in real estate."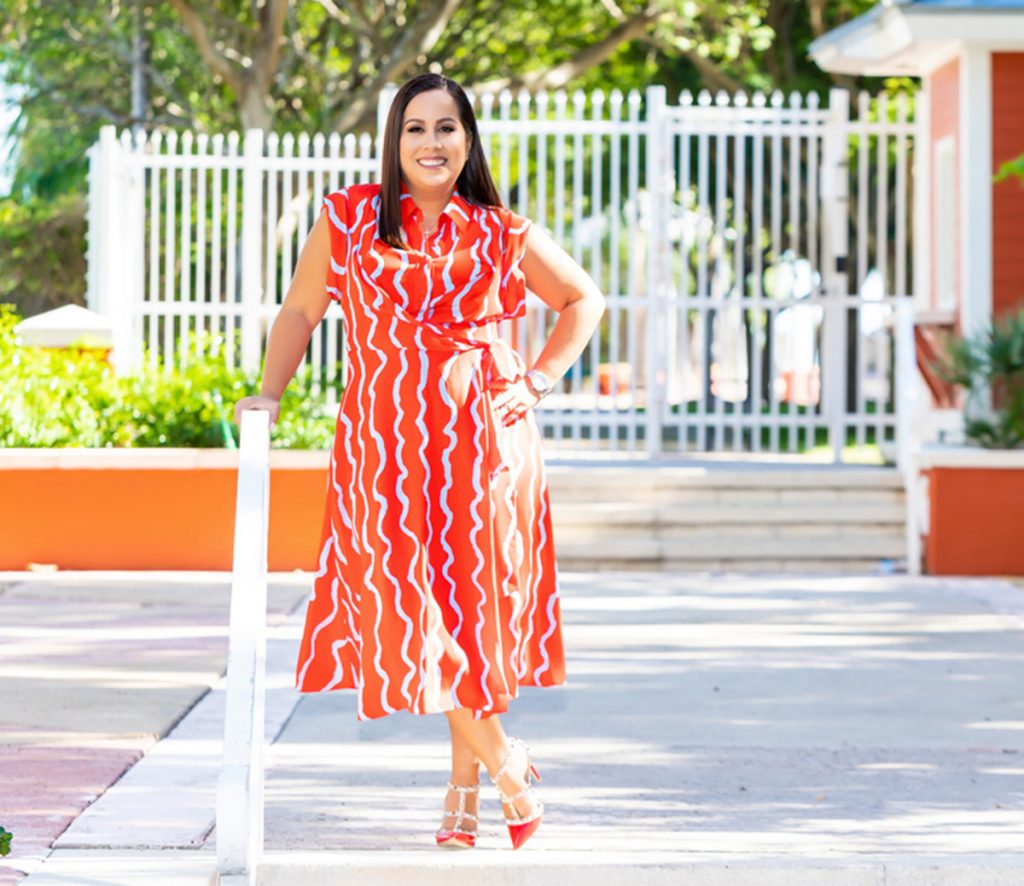 Melissa Llaury Romero
EWM Realty International
713.899.5297
Info@MelissaLlaury.com
MelissaLlaury.com
Melissa Llaury Romero believes that local and international buyers alike are going to be excited about what Brickell will become in the next several years. "Every city has its pulse, and Brickell is where it all emanates from," she says. "It's such as vibrant place and you can always find opportunities in real estate." After being in the industry for only 4 years, she achieved #1 Top Producer status at EWM Realty International's Brickell office. She credits her success to her unwavering dedication, passion, creativity and honesty, traits she learned while growing up in her hometown of Lima, Peru. "My mother and father instilled these values in me at a very young age," she says. "They built their business into a very successful company with hard work and ethics. I took that work ethic into my own career and it has made all the difference." She enjoys meeting new people and has buyers and sellers from all over the world, some of them from as far away as Egypt, Bulgaria and Norway, to name a few. "The best part of my career is creating a working relationship with my clients that, over time, turns into a friendship," she says. "So many of my past customers are my very dearest friends." What's more, she works hard to consistently deliver beyond expectation, with a core goal of making sure that buyers and sellers are 100% satisfied with their experience. "They trust my knowledge and expertise of the Miami real estate market," she says. "But they also appreciate my tenacity and the fact that I bring that something extra — EWM's extensive resources and their big exposure!"
"Everyone on my team has a different focus, but at the end of the day, our goal is the same — to create an incredible real estate experience!"
VIP Service: "Whether you have a lot to spend or very little, we treat every client as if they were our only customer."
Understanding Individuality: "Everyone is different, just like every home is different. You can't treat everyone the same. You have to treat them uniquely."
Self-Improvement: "Every challenge is just an opportunity in disguise. Without challenges, you can't grow and make progress. Without progress you won't ever be happy. So the key is to overcome hurdles and keep moving. Those are the qualities of a top producer!"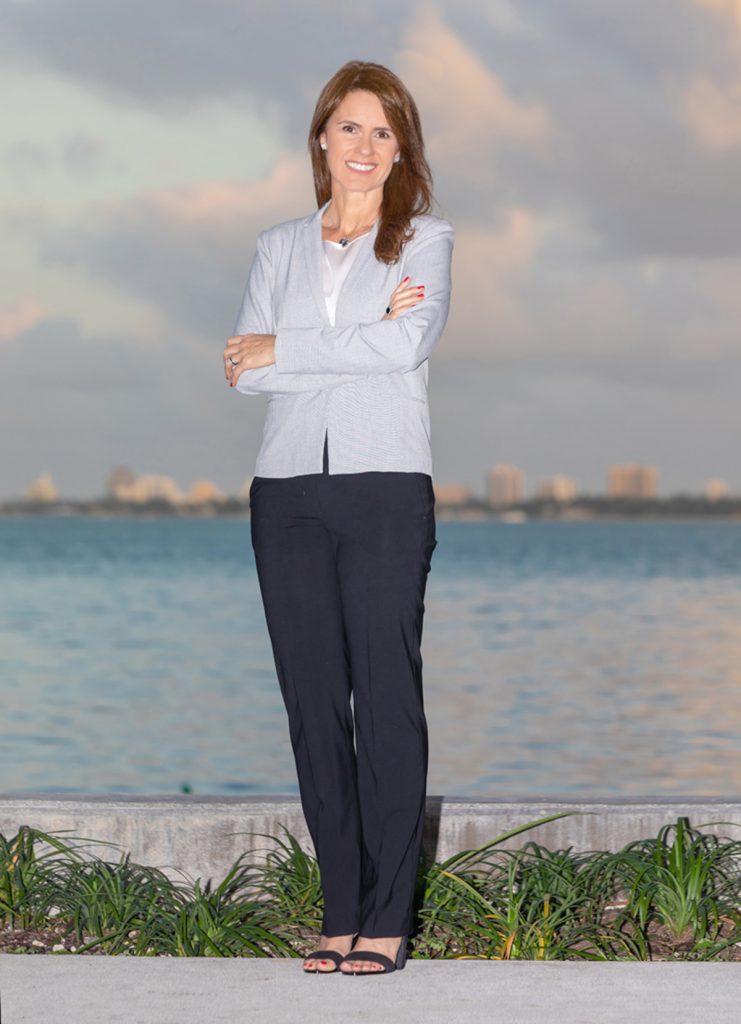 Claudia Negri
Duek Realty
305.794.6842
ClaudiaNegri@DuekRealty.com
ClaudiaNegri.com
Claudia Negri's first sale was to a young couple who had saved up for many years to finally buy their own place. "It was not my largest sale, but it was definitely the most special because it was both important for me as my first sale and for them as their first home," she says. "I love what I do — if you don't love real estate you won't survive in this industry." "I'm aware that closing on a property takes time and there are so many variables in the process…sometimes the client changes their mind about location, the number of bedrooms, or other home features. It's important to stay motivated even when things get complicated!" What's more, FaceTime has helped her with several sales, and when that's not possible, sending a video of the property to the client does the trick. All of Negri's clients are based on referrals, a fact of which she is very proud. "Opportunities will not always be there, momentum is important," she says. "Sometimes it comes to the point where your client learns of a good deal and doesn't want to lose it." Sometimes a big smile works, too, such as the time she showed an apartment with another realtor who brought a dog to the showing — and they were in matching outfits!
"If a client is in town for a few days, I make sure to take them to their favorite restaurants or leave a nice floral arrangement wherever they are staying."
Mixed Media: "It's exciting to see fashion, art, and real estate working together in a competition where the client is getting better deals."
24/7: "There's never a boring moment. I wish days were longer to take advantage of everything the city offers through real estate."
Secret Weapon: "I've always been very organized, I have methods for keeping everything in place and this helps me keep track of all of my clients and their needs."