Serial entrepreneur. Family man. Top-producing realtor well regarded both in mainland Miami and Key Biscayne. A Brazil-born agent of Fortune International Realty who's fully embraced The Magic City as his home and heart, Micael Machado is much more than the simple sum of his parts. His own boss since he first exited college (where he began a gourmet food distribution company), Machado's bold blend of innovative spirit and passionate regard for the needs of his clients has propelled him to the forefront of our star-studded industry. An enthusiastic member of the community who is truly only satisfied when his clientele is, the sense one gets after even a brief conversation with Machado is that there's little he isn't willing to sacrifice to move a property fast. "My best real estate story happened one day when I had to take my eldest son on an excursion to Virginia Key and I had no time to change or reschedule my multi-million dollar showing," he says. "As I approached everyone in my shorts, flip-flops and legs full of sand, I could only remember one of my colleagues telling me to always 'dress to impress' — I may not have impressed anyone, but I did get the property sold!"
"My father used to say that food brings people together, and it does…I just took it a step further and added real estate to the mix!"
Steps to success: "I've learned to set up priorities and have clear goals. I believe this is a MUST in this profession. It's easier said than done, but very important to do."
Advice for aspiring realtors: "Focus on the client, not on the deal. Treat this as a business and not a part-time gig. Sincerity and honesty will take you very far."
Realtor reflections: "Watching this city grow from a vacation destination to a globally-recognized city with breathtaking views, emerging trendy neighborhoods and an intoxicating mixture of cultures just made me want to be part of this growth after I sold my business 4 years ago."
The recipient of a Psychology Degree intent on further pursuing higher education, Carolina Rainer's path from hopeful student to saleswoman for some of the most captivating condominium complexes to grace our city was one full of twists and turns. "In less than 6 months of being in Miami, I was offered an opportunity to work as a Marketing Psychology Analyst at ISG (International Sales Group)," says Rainer, whose sales resume is now replete with such stunning names such as the Mei Condominium, 1 Hotel & Homes and, most recently, Brickell Flatiron. "In no time at all, I was immersed in development sales. I had no clue about sales, but I was good at connecting with buyers and understanding their needs." Continuing to combine her classical academic discipline with a natural empathy with her clientele, Rainer believes that, more than hi-rise towers and square footage, the primary concern of her business is the people involved. "Loyalty and integrity are fundamental values — I believe I choose the buyers and then the buyers choose me," she says. "The success of my business is the result of the long-term relationships I keep with local and international brokers, as well as buyers and the referrals that I receive from them."
"Sometimes you make plans and God laughs. My career in development sales was destiny and I continue to embrace it."
True value: "Buyers tend to put everything in the same bag, but not all residences in the same location are worth the same. Actually, what makes a difference is what the home has inside. It's in the details and finishes where you really differentiate from the rest. Brickell Flatiron & CMC Group's past projects are a great example of this."
Infinitely connected: "Knowledge is power. Establish long-term relationships with your buyers, listen to their needs and find the right place at the right price. It's the relationships that you create that will make you successful in the long-run."
Future sight: "In today's world, real estate agents must turn to a variety of tools for lead-generation. Successful agents recognize the benefit in implementing new digital marketing tools like social media and artificial intelligence."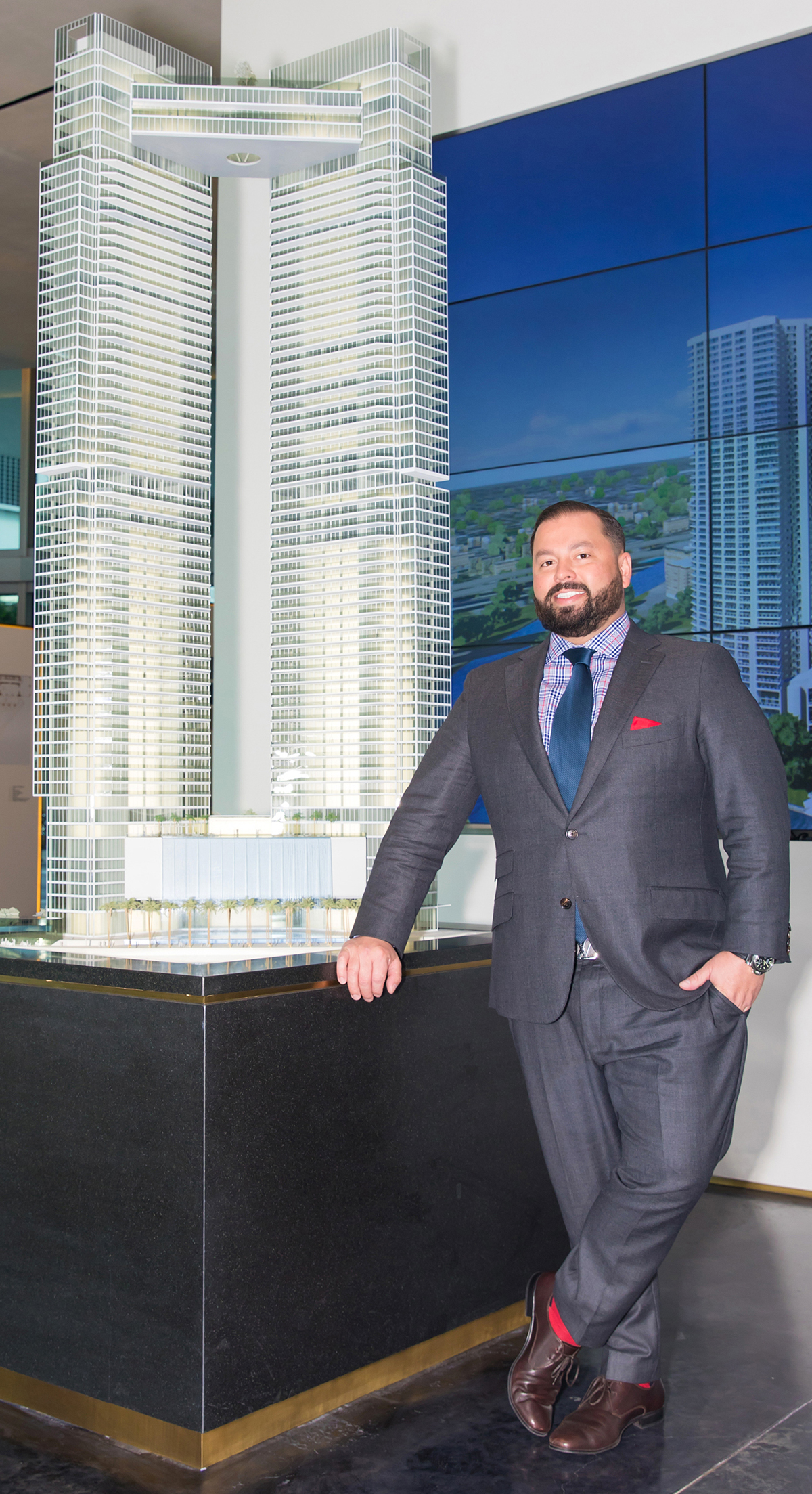 Giovanni M. Caloretti
Douglas Elliman Real Estate
305.409.5722
[email protected]
OneRiverPoint.com
A self-starting go-getter who found the general tenor and climate of our city more agreeable than his native Chicago, Giovanni Caloretti, Sales Director of KAR Properties' ultra-luxe condo complex One River Point, believes the sky is the limit for professional success in our still-growing slice of paradise. Now celebrating his 7th year professionally marketing and selling real estate in The Magic City, Caloretti is confident that this was the only career path for him. "I chose real estate because I've always been attracted to the business," says Caloretti, who currently works for century-old firm Douglas Elliman. "Seeing that you can build your own portfolio and make it as extensive as you want is a very exciting challenge for me. There are really no limits when it comes to growth — couple that with a good attitude and work ethic and you're set to go as a real estate agent." Bogged down as most of the professional class is with an almost overwhelming array of functions, Caloretti has one simple piece of advice for the under-organized: "I have everything on my calendar," he says. "I'm a big fan of calendar alerts — they're life-savers!"
Social outreach: "Recently, I've begun refining my use of various social media channels including Facebook, Instagram and Twitter — I love them all equally, but each one has its own purpose."
Forever realty: "Even when the real estate market is way down, it's not a market that ceases to exist. You may not sell as many homes as you did in an up market, but that doesn't mean you'll stop selling homes altogether. Even in a bad economy, real estate agents have the tools needed to sell homes to qualified buyers."
Sell appeal: "I always advise sellers to know what their home is worth and make sure the pricepoint is up to the standard of the prices in the neighborhood. If it's overpriced, you won't sell. Other aspects of the home to check up on are the fixtures and technology. Make sure these are updated and working properly because this will at least ensure interested buyers."
Social outreach: "Recently, I've begun refining my use of various social media channels including Facebook, Instagram and Twitter — I love them all equally, but each one has its own purpose."

Giulietta Ulloa
EWM Realty International
305.710.6620
[email protected]
GiuliettaSellsMiami.com
As a trilingual top producer known industry-wide as in the top half of the 1% of our nation's real estate professionals, if there's one thing Giulietta Ulloa of EWM Realty International knows, it's buying and selling the pristine properties of Miami. And although some felt the swelter of a market occasionally considered stagnant, Ulloa's trademark customer service, Master's in Real Estate Negotiation and keen analytical eye ensured that 2017 was anything but stressful. "One of my greatest successes last year was being able to finish off the year with a good sales record, despite the toughening market," says Ulloa, whose decades worth of experience in our area has seen her witness (and participate in) the explosive growth of our South Florida communities firsthand. "In 2017, I also sold one of the two waterfront homes in Key Biscayne and had two of the highest sales in single-family homes on the island." A constant barometer for the strength of our real estate economy's strength, Ulloa is quick to offer sage advice for potential investors. "If you see an opportunity, go for it!," she says. "Now is the time to offer aggressively — we're in a buyer's market, there's definitely lots of inventory. The right opportunity is out there."
"Real Estate is all about cycles, and we are now in one of the best cycles to buy that dream house you've always been thinking about!"
Summary of the 2018 market: "Now's the time to purchase your dream home!"
Biggest real estate misconception: "Aside from a Broker Associate, I like to be seen as a Real Estate Consultant. Realtors are no different than a financial or business advisor. At times we're our client's psychologist, financial advisor and much more. It's really all about understanding your client and being there for them throughout the entire process."
Hottest neighborhood: "The hottest neighborhood in South Florida is definitely the Brickell area, with the new Brickell City Centre completely transforming the area into a mini Manhattan — it's wonderful to see how far our little city has grown!"
Nelson Rios
Cervera Real Estate
Sales Director for Smart Brickell
305.986.6275
[email protected]
SmartBrickell.com
A vaulted veteran of pre-construction condo sales who's spent over 20 years ensconced in our city's entrepreneurial community, if Nelson Rios of Cervera Real Estate could sum up his 2017 market experience in one word, it'd be…satisfaction. "I was pleased to notice that 2017 saw our city continue to attract international buyers from traditional markets, as well as new markets in Europe, the Middle East and Asia. It's also worth noting that many of those buyers were end-users," says Rios, whose previous credits include sales director for such distinguished Brickell condominium complexes as Brickell Flatiron, Centro Downtown and BrickellHouse. "Most importantly, all of the new projects in general that were delivered this year are occupied." Now Sales Director of stirring new ultramodern residential complex Smart Brickell, Rios finds that, whatever type of dwelling he's selling, the thrill of supplying his customer's needs provides a rush little faded in his decades of experience. "My passion has always been in real estate. I enjoy dealing with the diverse nationality of clients who are drawn to Miami, and I savor the times that I get to develop long-term relationships with walk-in clients and real estate agents," he says. "I also wouldn't be in this business if I didn't love the excitement that accompanies that moment when you find the perfect property for a buyer."
"I truly value my team and find joy in watching them succeed. I believe that true leaders enable those around them to achieve the best results."
Private time: "I believe the key to success in life is balance. So when I'm not working to help others find their ideal home, I dedicate time to perfecting my own home with my wife, Adriana, and two young children, Lucas and Victoria."
Bits for buyers: "Finding the right agent is critical to any real estate transaction. In this case, look for someone who focuses on the area where the property is located."
Trend watch: "Buyers are smarter than ever. They are diligent in their research and will not make a final decision until they find the right property at the best price with the best terms. As a result, we as realtors must stay informed in order to provide excellent service."

Daniel Gaviria & 

Ana Somarriba
Great Properties Int'l Realty
Daniel Gaviria
305.582.4800
[email protected]
DanielGaviriaRealEstate.com
Ana Somarriba
305.215.1686
[email protected]
GreatPropertiesIntl.com
A powerhouse pair practically synonymous with real estate sales in the Miami area, homegrown Great Properties International top producers Daniel Gaviria & Ana Somarriba want clients to walk away with one core concept: There are no limits this dynamic duo won't go to in order to ensure you attain the property of your dreams. Coming from disparate backgrounds that well-complement their respective strengths (Gaviria originally trained as a Commodities Broker, while Somarriba's specialty was Marketing & International Business), Somarriba and Gaviria each find something unique to love about each and every transaction they engage in. "Daniel loves the unpredictability of working in real estate and the unconventional hours and the self-discipline required," says Somarriba. "For me, it's the fact that I get to meet so many different and interesting people; I couldn't imagine working a more typical job where I have to clock in every morning." An inspiring example of the Miami professional class, when not buying and selling top properties, the duo are heavily invested in local philanthropic effort Pan y Amor, providing funding for underprivileged school children in Nicaragua.
"When appraising a potential home, it's important for buyers to feel good as soon as they walk in. Whether the home is move-in ready or needs extensive remodeling, a buyer should feel good in the space."
Wise words: "Young realtors often think that real estate is easy money and that all their friends and family will use them to buy or sell their properties. That's often not the case. Real estate professionals just starting out need to find a mentor who can guide them and help them network outside their circle to tap into potential clients."
Quiet time: "Even the busiest real estate agent can find time for friends, hobbies and sports. Even though we don't have set office hours, most agents don't have to travel extensively for work. This allows the freedom to squeeze in a workout or coffee with a friend, even if it's in the middle of the day."
Snippets for sellers: "I find that taking photos of your home and looking at them through those eyes helps you to see what other people are seeing. After getting your home ready, professional photos make all the difference to attract the attention of buyers."
Phil Gutman
Brown Harris Stevens
305.915.5879
[email protected]
BHSMiami.com
Alongtime Miami Beach resident by way of New York, Phil Gutman's path to a successful real estate career in Miami began with visits and evolved into a wholehearted love for the city and its citizens. "I've always had family in South Florida and a lot of my friends have decided to move here," says Gutman, whose position as Executive Vice President of impeccably reputed Brown Harris Stevens Miami marks an exciting new chapter in a career awash in innovation and success. "I was visiting more and more often and Miami just started to feel like home." Introduced to the real estate business while working in the mortgage industry, Gutman achieved outstanding results working on new developments in Las Vegas (selling a record-breaking 1,875 units in only 18 months) and Miami. Today, Gutman is known as a dual-decade veteran unshaken by the unique challenges of our sometimes tumultuous local market. When not expanding into bold new territories of businesses, just where can you find this maverick manager? "I stay active in different ways and recently started playing soccer again," he says. "I'm no Pelé, but it's fun!"
"The absolute best part of my job is the people I get to meet and interact with on a daily basis."
Winning moves: "The past 12 months have been memorable for the career opportunities it has afforded me through joining Brown Harris Stevens. This past year, we've grown to almost 300 agents and 6 Miami offices (10 including Palm Beach). Our listings are some of the most desirable in the market. We're focused on continuing growing our team with the best people."
Buyer beware: "Look carefully at the neighborhood and the home. When you can find a home that's in the middle of pricepoints for the neighborhood, that's always going to be a smart deal. Generally, you don't want to be the one buying the most expensive house on the block."
Ode to the market: "The big stories in Miami for 2018 will be about real estate resiliency and rebounds. These are the reasons we have to be confident in our market and outweigh its challenges."

Claudia Negri
Duek Realty
305.794.6842
[email protected]
DuekRealty.com
A 20-year property management veteran and 25-year Miami resident whose sole aim is complete customer satisfaction, Claudia Negri is a key player in still-expanding homegrown realty firm Duek Realty. For her, talks of commissions and pricepoints are all well and good, but what really makes her happy is the smile on a buyer's or seller's face. "I love to see people conquering their dreams," she says. "It's what makes working in this sometimes tough field a true joy. Buying and selling always yields happy moments!" A professional who has experienced the countless booms and busts of our local and national realty cycles, Negri is as confident as ever that our market will continue to remain a bastion for international and domestic buyers looking for a small piece of paradise. "Miami always has good weather and you can always have a good time," she says. "You can't reproduce our city's sunshine anywhere else!"
"I dedicate all my time to my clients, so I don't want them to waste their time. There's nothing that makes me happier than facilitating someone in securing their dream home!"
Move-in ready: "Every improvement adds value to a property, and the nicer your home is, the quicker it's going to sell. Few new buyers want to go through the hassle of a remodel."
Sunny investments: "Right now is a prime time to get invested. We have a buyer's market, and, best of all, the buyers are happy!"
In perspective: "Renting, buying or selling a property is a very important time in someone's life, so be patient. It's all worth it when your client is happy…they will bring you more clients."

Israel Salabarria
Engel & Völkers Miami
305.389.4996
[email protected]
IsraelSalabarria.EVUSA.com
Israel Salabarria has 30 years of professional real estate experience in our market, both as Broker/Associate and as a Certified General Appraiser. "My parents were in the real estate business in Miami since the 1970's and they would always take me with them to meetings with clients," he says. "I was always around real estate deals, other professionals and, of course, buyers and sellers." Now an advisor at the global luxury real estate firm Engel & Völkers Miami, Salabarria focuses on Coral Gables with commanding comprehension of the industry and a wide breadth of experience. "Someone once said to me that real estate is simple but it's not easy — I agree with that 100%," he says. "What I've learned in the last few years is that every transaction I work on is a highly emotional process for the client. Therefore, having empathy for the client on every transaction will create a more positive experience from contract to closing." He believes that if you want to create a successful, duplicatable business year after year, you need to make prospecting a part of your daily routine. "Getting out there and talking to people will make you a better salesperson," he says.
"With nearly 30 years of  experience in both brokering and appraising residential and commercial real estate, I'm uniquely qualified to provide my clients with an unparalleled level of service, allowing them to engage their investment in a well-educated and informed manner."
Priced right: "In the current luxury market, it's paramount to price your home properly. An over-priced home in a buyer's market will lead to an extensive number of 'Days On Market.' As I tell my sellers, I'd much rather have them turn down 10 offers than not have a single one to consider."
Centering strategy: "I start my morning with a bike ride, and at least once a day, I'll take 20 minutes to shut everything down, close my eyes and meditate. This re-energizes me to experience each day with focus and clarity. "
On top: "To have success in luxury markets, you have to change your approach to the business: You have to work harder, prospect twice as much and, most importantly, work smarter."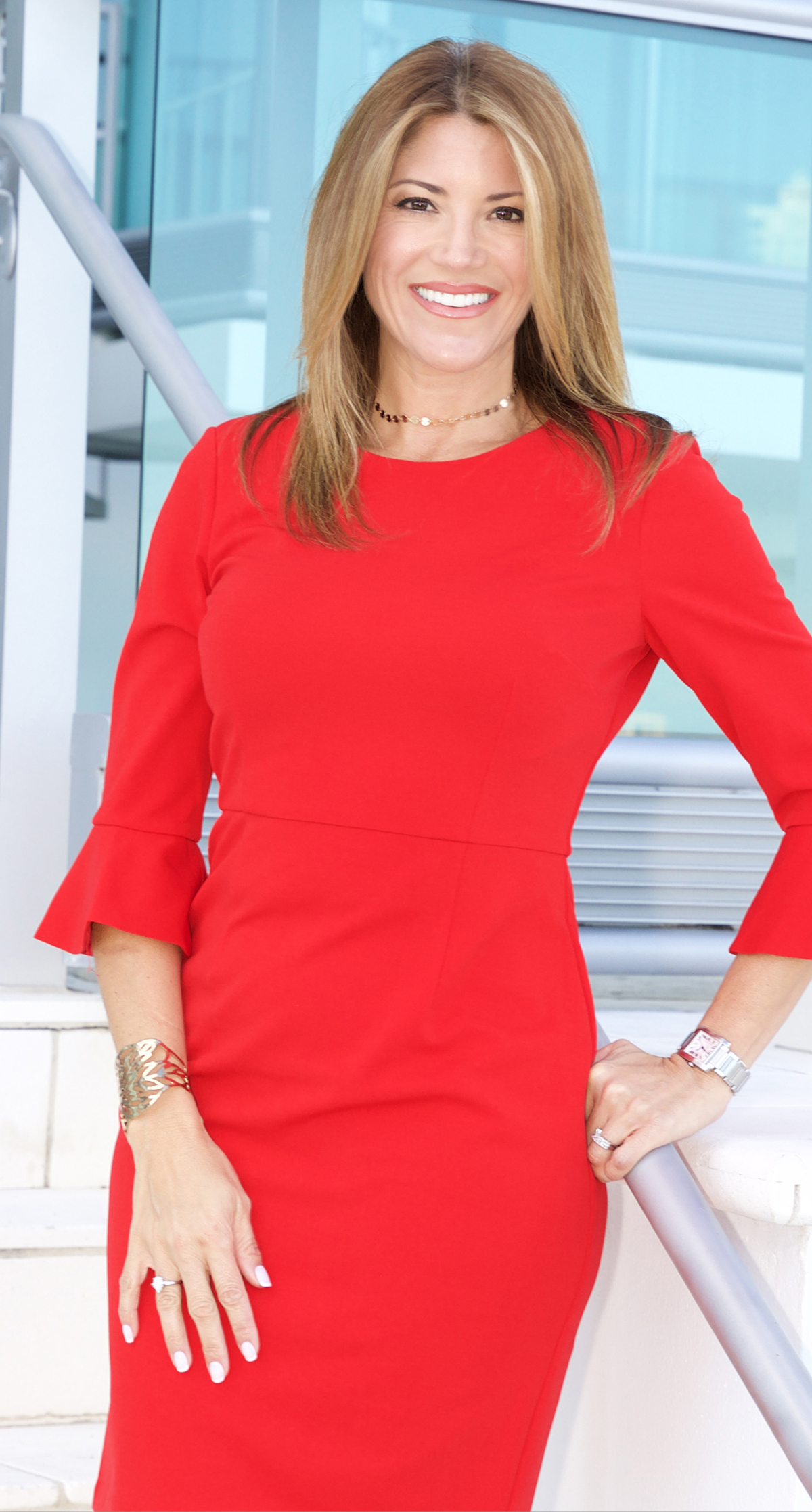 Lisa Lader
Related ISG International
305.331.0039
[email protected]
A New York native who first came to South Florida to attend college, one need only speak to Lisa Lader for a few minutes to determine one stark and overarching truth: That little thing that most people power through from 9 to 5? That's what Lader lives for. "I've always been interested in coordinating deals and love being able to connect people with property," says Lader, who, although originally trained as a paralegal, made an eager transition to luxury real estate and new development representation. "I've been fortunate to be a part of the most iconic real estate developments in our area — from Fontainebleau in Miami Beach to Auberge Beach Residences & Spa in Fort Lauderdale Beach while representing buyers and sellers from all over the world." A strong believer in the effect one's surroundings have on lifestyle, she's quick to point out that when you buy a property, you're not just purchasing lot size. "In my experience, real estate requires not only a property purchase but an environment purchase," she says. "I can guide you to explore the lifestyle you want to live through area schools, fitness centers, outdoor activities, shopping options and the general heartbeat of South Florida — it's my true passion."
"I strive for a trio of core principles in my work: professionalism, experience and honesty. These are the foundations of my real estate success."
Headline for 2018: "The Year South Florida Dominates The Real Estate Market!"
Tricks of the trade: "It's important to treat everyone as a potential buyer. Don't judge people, everyone is a connection to someone else. Always follow up, maintain communication and respond promptly."
Market predictions: "With the completion of many new developments and the social aspect surrounding these areas, I've seen buyers looking to relocate to these properties and consider both Miami and Fort Lauderdale to invest and live in. People love an area that has a community feel with walkability to restaurants, shopping and outdoor exercise.