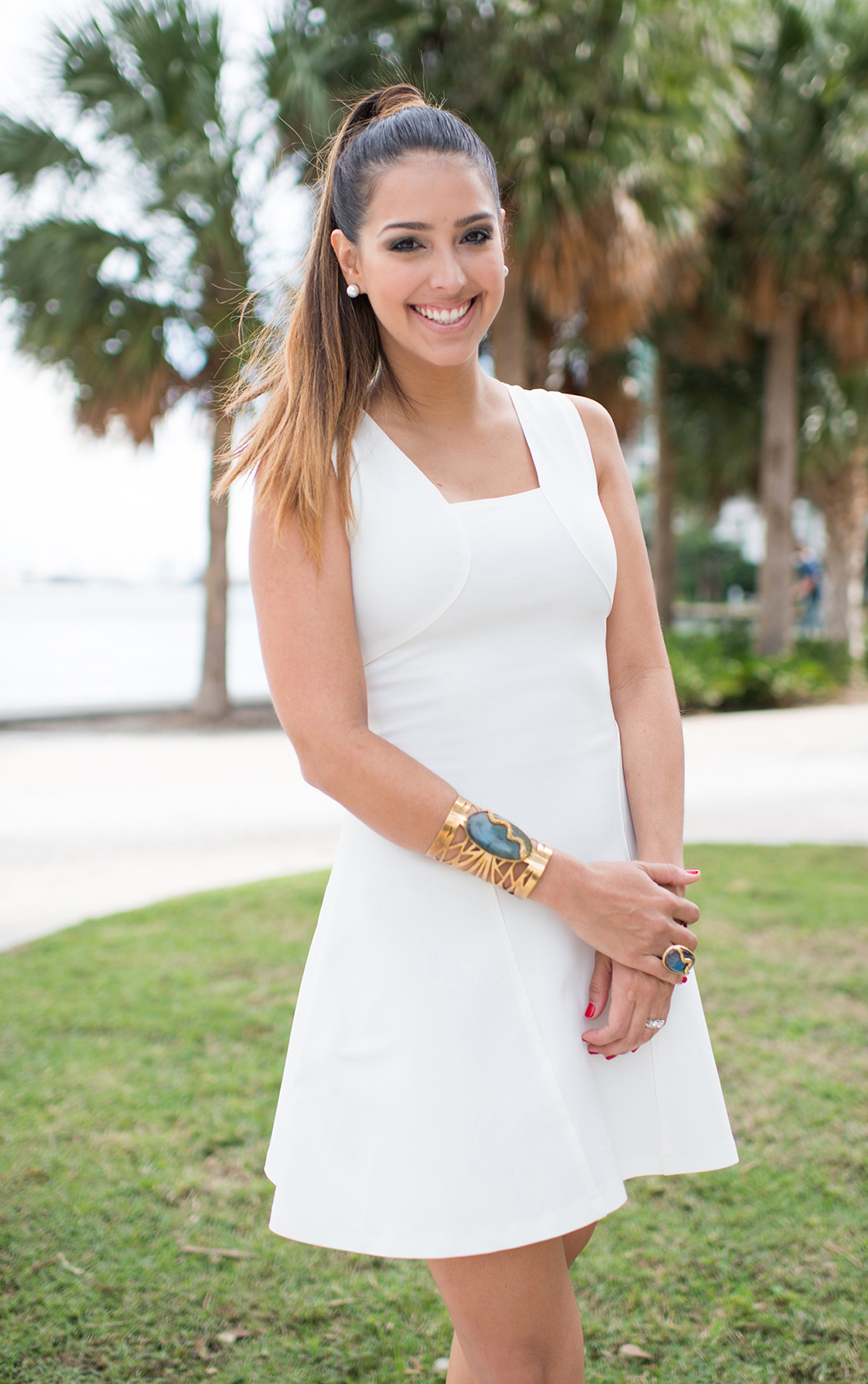 Alejandra Castillo
Fortune Development Sales
& Related Realty
786.327.9995
ACastillo@FortuneIntlGroup.com
GranParaisoResidences.com
"People who are not buying today will regret it in 10-15 years down the road," says Alejandra Castillo. "Miami is growing tremendously and there's still time to buy. Edgewater in particular is the area in the heart of Miami that's growing the most. The low prices we see today will never be seen again." Castillo was planning a career in real estate law when she started assisting the VP of Sales in Fortune Development Sales. "I knew it was the perfect fit for me and here I am over 10 projects later," she says. "First and foremost, I'm a passionate person as a realtor. That's what your clients feel, everything else comes along." She recently sold a penthouse at Gran Paraiso for a very unique reason. "The couple was originally looking for a 2-bedroom as a second home," she says. "They needed a closet for shoes and one for clothing, so I ended up selling them a beautiful 4-bedroom penthouse with a fantastic water view just because of the shoes. One should never underestimate the power of a buyer either for direct sales or for referrals"
Advice For Buyers: "First, location; second, location…and then comes your dream home Top 5 must-haves."
Advice For Sellers: "Don't mix the emotional value of the property with its market value. They are both important but they should not be blended together."
Predictions For 2016: "The market will become more real. The buying and selling process will take a little longer but the outcome will be the same: a stable, growing real estate market."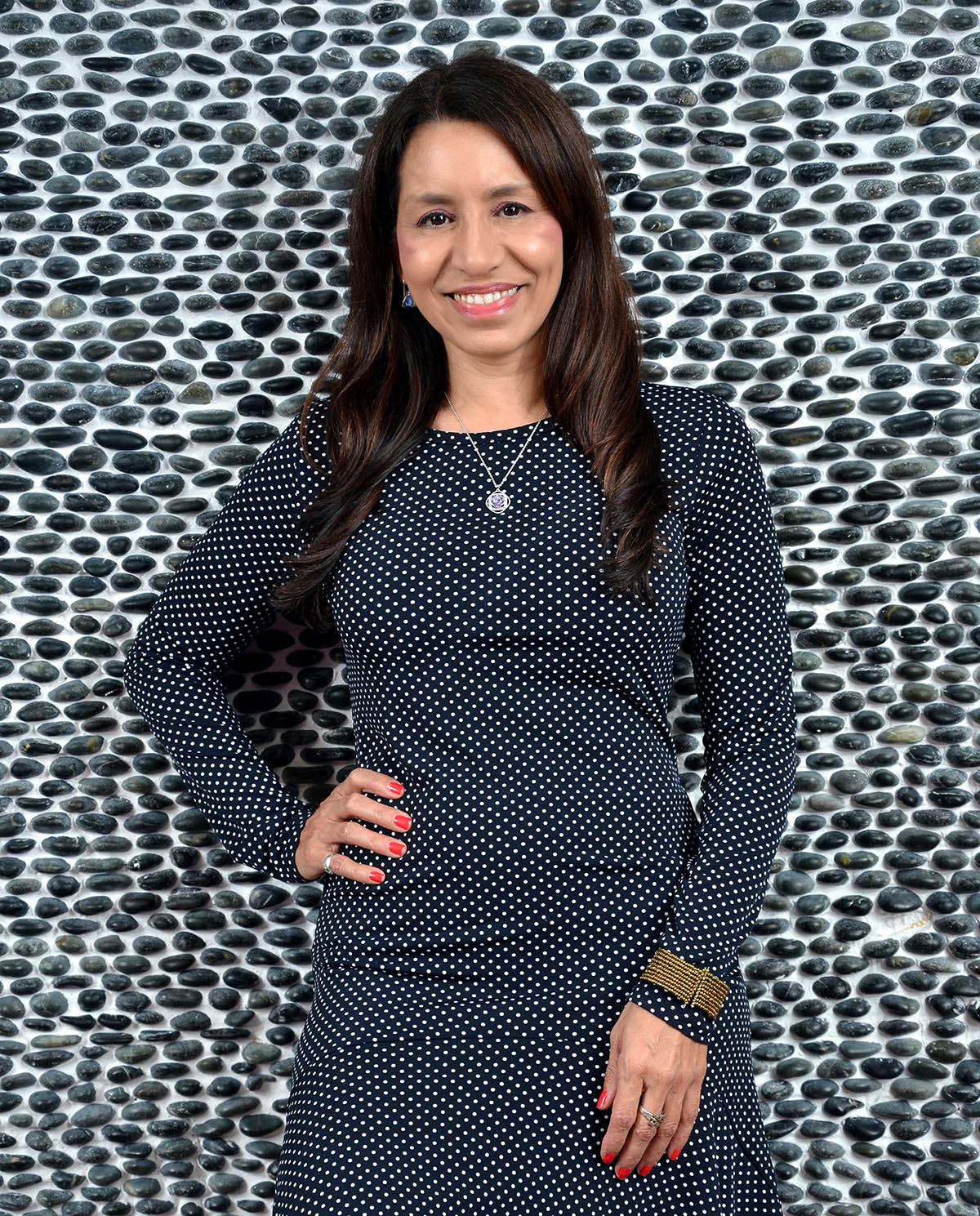 Patricia Rapan
Beachfront Realty, Inc.
305.215.0030
Rapan.Patricia@Gmail.com
ApartamentosYCasasMiami.com
Patricia Rapan has been a realtor in the South Florida market for over a decade. "Currently, I specialize in foreign national investors," she says. "I guide them in choosing the right property by considering their family needs and the purpose of their investment. I often work as a team with the investor's banker, attorney and accountant to ensure the client makes a wise decision." After the purchase, she assists them in all aspects of managing their properties. "I am very committed to my clients and have forged very strong relationships with many of them over the years." Twice a year, she travels to Argentina to meet with potential clients and real estate professionals. She gives seminars on a variety of topics such as real estate developments and trends in Miami. "I am passionate about sharing my experience in this country as an immigrant and to teach people how to evaluate the pros and cons of buying real estate in the U.S.," she says.
Advice For Buyers: "It is especially critical for foreign investors to learn what it means to become property owners in South Florida. They should consider the different options for holding that property, as this can impact taxes paid in the U.S. and protect the investment for future generations."
Advice For Sellers: "Sellers can benefit with the MLS, which offers very reliable information about the current real estate market."
Predictions For 2016: "It will be a very strong real estate market in the Miami/Broward area. There are still many desirable units for sale. Foreign investors should consider condo-hotel units as they could be used both as a vacation home and a profitable rental property, which generates an attractive return."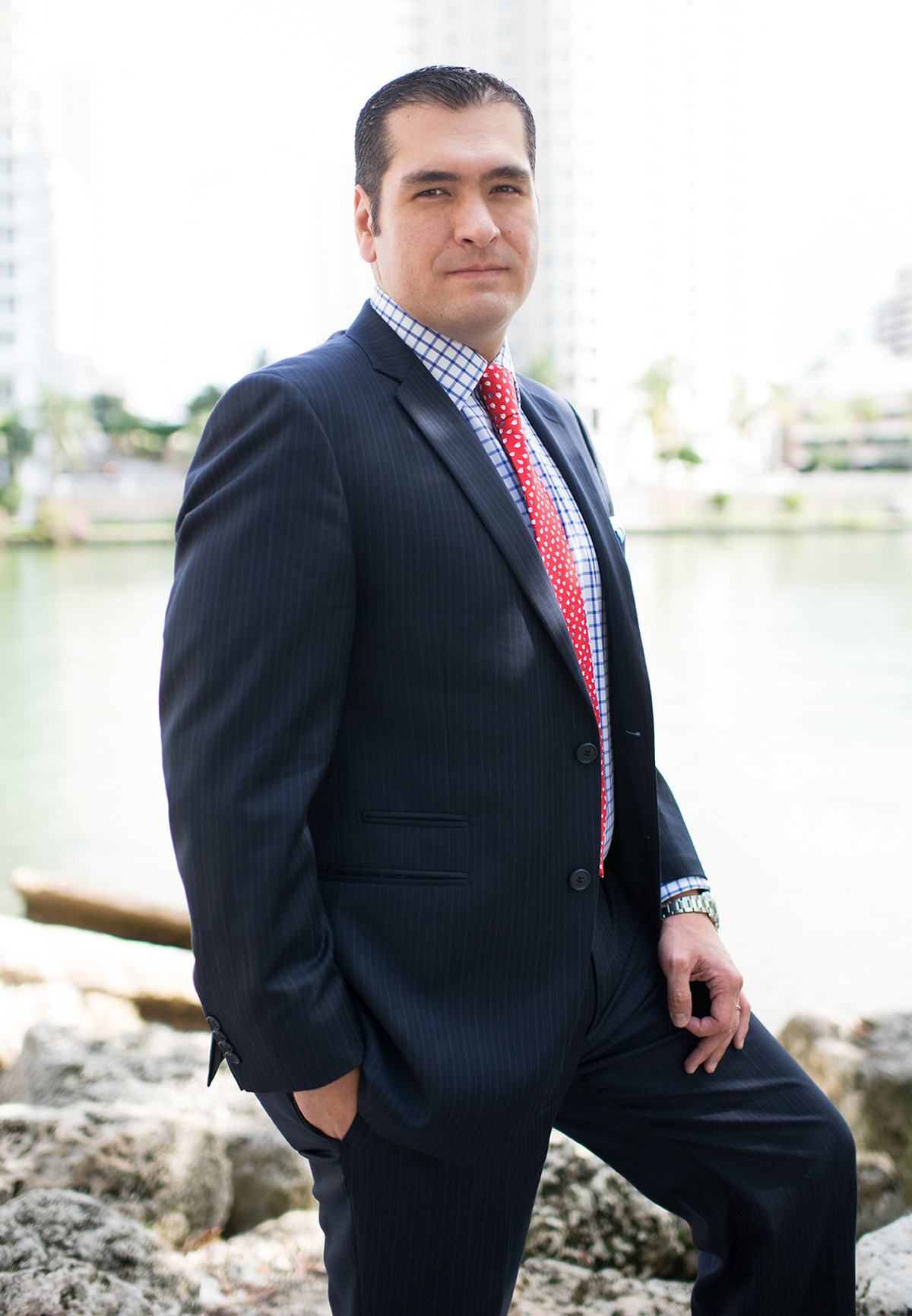 Andres Valdivieso
ISG World
786.342.4022
AndresV@ISGMuse.com
MuseResidences.com
Andres Valdivieso has seen a diverse share of buyers and sellers. One notable friendship was formed at an occupied showing where the tenant was given 24 hours advance notice, but was in the shower when Andres and his clients arrived. "The next day I went to apologize and I couldn't look at her in the eyes. I was speechless. Instead of her being mad, she made fun of my blushed face and invited me for coffee…now we're good friends and she sends me a bunch of referrals," he shares. "Another time, I had a very wise buyer who told me 'never change who you are, because who you are is what's going to make this project a great success.' We barely talked about the project for 10 minutes…it wasn't a presentation, it was a great conversation about life; an hour later, he bought our most expensive unit at that time without even looking at the floorplan." Valdivieso is currently in charge of sales at MUSE, treating every single transaction as if it was his own.
Advice For Buyers: "You already found the city that has it all, now let's find your all. It's not always about location, location, location anymore — architecture, design, functionality of space and the developer (if that's the case) are key factors in finding that all."
Advice For Sellers: "Time is the measurement of all things: Don't rush. The highest offer might be an hour away."
Predictions For 2016: "Latin buyers will come in full-force because most likely interest rates will go up in December and the initial shock of the height of the dollar will have settled so Miami will once again be a save haven. Also, the new markets we are tapping into now will start to show movement."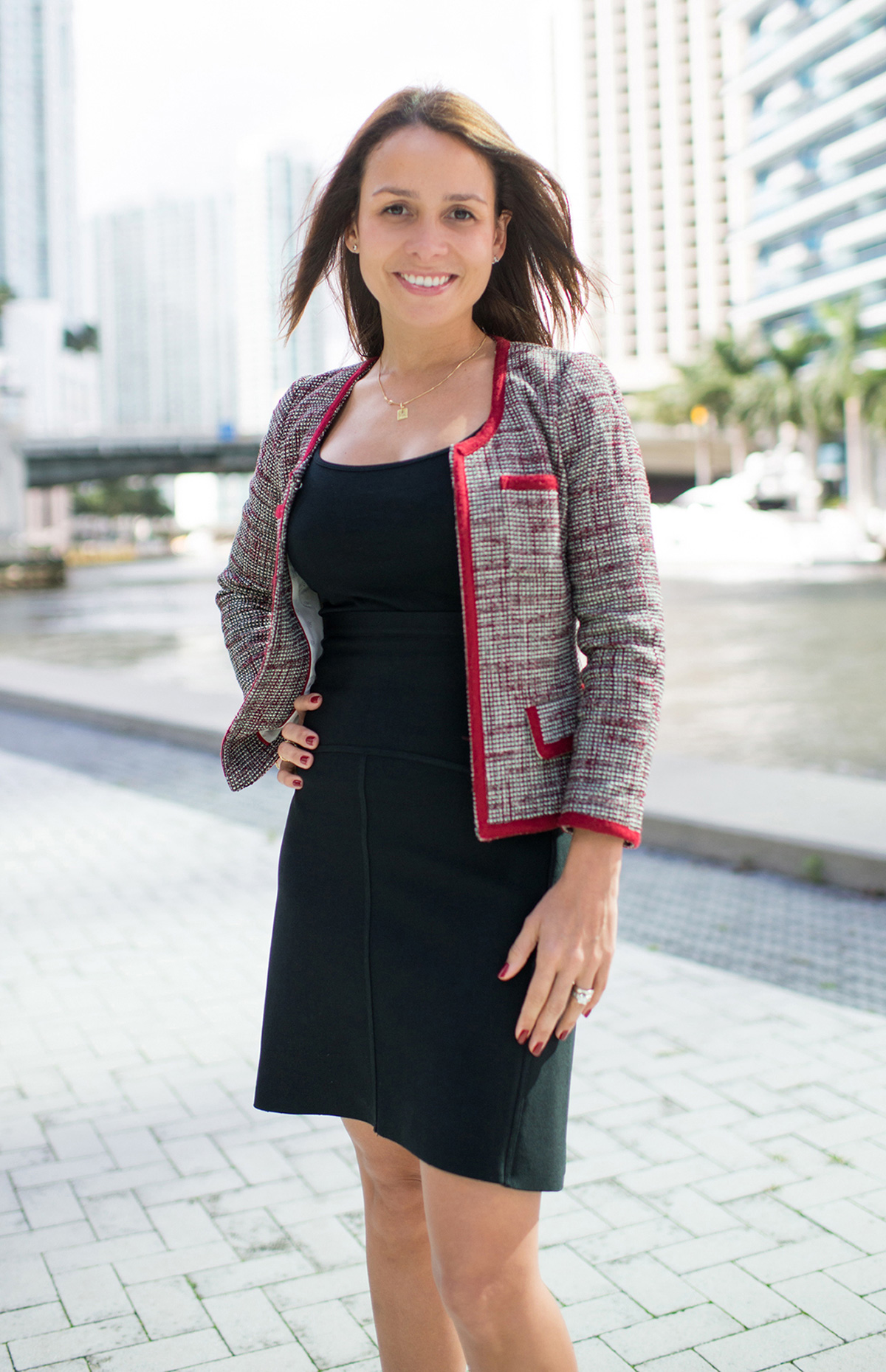 Raquel Kaufman
ISG
786.346.6164
RaquelK@ISGEcho.com
EchoAventura.com
"Growing up, I wanted to be a nurse," admits Raquel Kaufman. "However, I always had a fascination for big buildings and I could always stare at scale models for hours." She remembers going with her parents and a real estate agent to many different condos and thinking to herself: "What could be better than this? You get to meet all different kinds of people, learn all about different buildings and call it work." So she followed her instincts and got her license. Since then, there hasn't been a dull day. "Once, I was showing a property to two Miami Dolphin football players when in the middle of the showing, I passed out," she says. "When I woke up, they were by my side taking care of me. They were both such gentlemen, riding with me in the ambulance and ultimately staying with me in the hospital until my husband arrived. To this day, we are still friends."
Advice For Buyers: "Take your time. If it doesn't feel right, don't do it."
Advice For Sellers: "Ask a lot of questions. Really get to know the motivation of the buyers. Make sure you take the time to think about your offers, just because one is higher-priced than the other, doesn't necessarily make it the better deal."
Predictions For 2016: "I think we are back to a normal pace in sales. Everything in life has a cycle, including real estate. I do believe 2016 will be a successful year to those dedicated to our industry and our clients."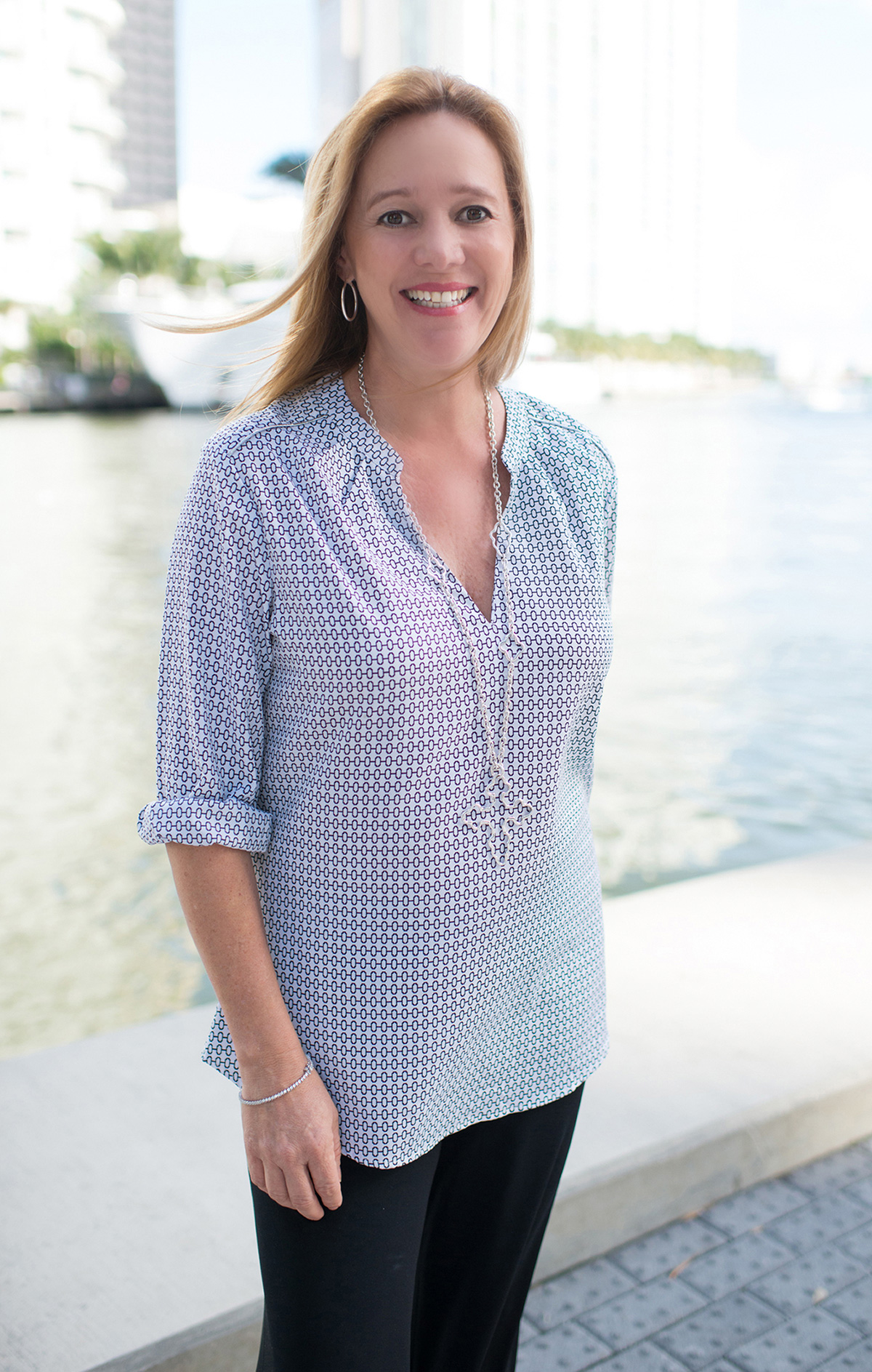 Alexandra Escudero
Fortune International Realty
305.962.7948
AlexaEscudero@AOL.com
FIR.com
Alexandra Escudero was born in Colombia and raised between Miami and Caracas. Graduating with a degree in Interior Design has allowed her to look at things from a creative perspective. She then moved full-time and stumbled into real estate after a friend convinced her to make a career out of her passion. "I got my license and started in the same office I still work out of — this was over 20 years ago, and I'm still at Fortune." Her first client wanted to buy a house in Coral Gables but before signing, he mentioned he wanted to see homes in what is now Weston. "I had no clue where Weston was," she says. "MLS didn't exist the way we have it now, so I took a map, drove to Weston, stumbled onto Arvada's sales center and literally asked for help in a panic while my client waited in the car. I sold a $700,000 house that day." Escudero treats a $20 million transaction the same way she treats a $1,500 rental, turning clients into friends.
Advice For Buyers: "Buy based on value, buying cheap doesn't always mean buying smart."
Advice For Sellers: "Don't try to squeeze the last cent, understand the market still has aggressive buyers."
Predictions For 2016: "The condo market will continue to stabilize, and single-family homes will continue to see increase. The commercial market will see great opportunities as sellers who thought they'd build developments will see appreciation and land will come back on the market."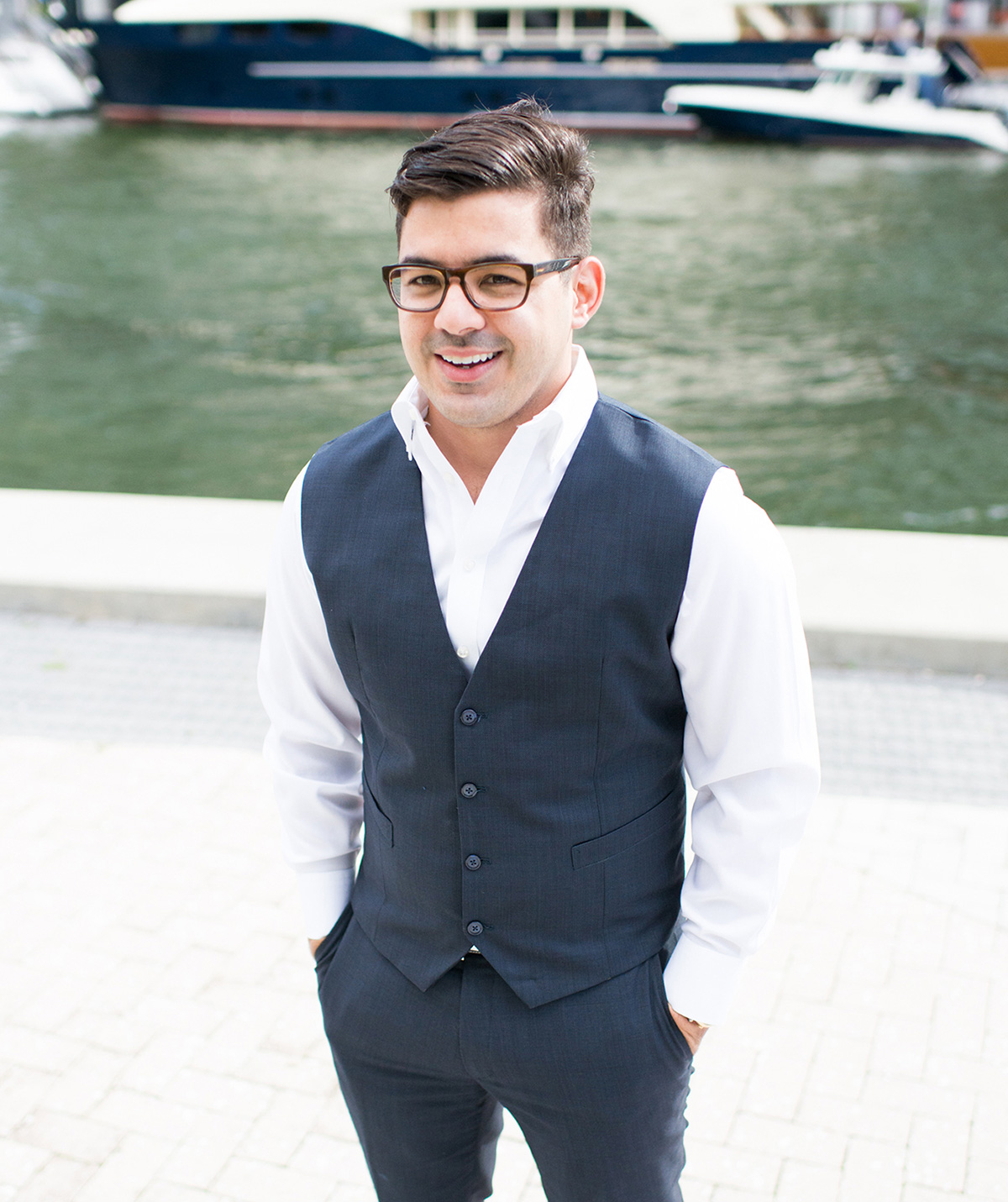 Nelson Roberto Duque
Fortune International Realty
305.332.3343
Nelson@FIR.com
FIR.com
Nelson Duque often gets asked by lawyers or financial advisors to help value or list special clients' homes. "I once got a call from an accountant who asked my opinion on an apartment that his client bought and never used," he says. "A few days later, I met him at the apartment to sign the listing agreement and get the keys. I walked in and a very pregnant actress is eating junk food on the couch — just when you think you've seen it all, you still get surprised!" Real estate is a true calling for Duque. "When the market took a hit, I thought I'd end up being a lawyer and started to work in the legal department for The Related Group," he says. He quickly understood law wasn't for him and returned to real estate after 3 years at Related. But the opportunity to work with one of the largest developers in the worst market was a once-in-a-lifetime opportunity that got him well-versed in the legal and construction aspects of real estate, and in turn helped him yield future success.
Advice For Buyers: "When you see something good, act fast, there are still a lot of buyers in the market, everyone seems to be looking for the same good deal. Educated yourself, and when you find it, listen to your instinct."
Advice For Sellers: "Working with a realtor is easy, working with a good realtor and a reputable company takes a little research. Take the time to understand what is selling, who is selling and why."
Predictions For 2016: "Good developments by good developers will continue to stay strong. Single family markets close to the urban core will continue to see prices increase, and rents will level out."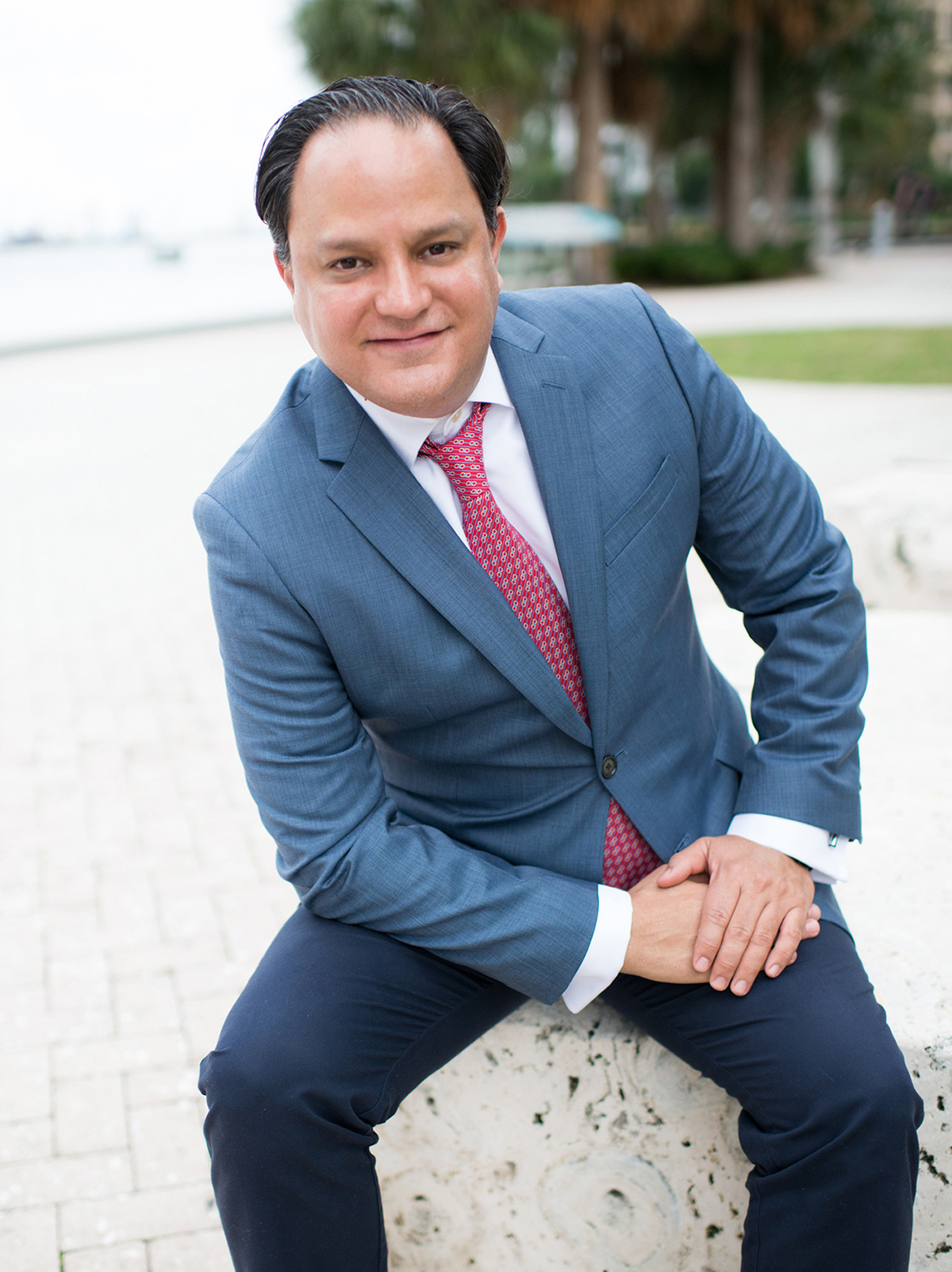 Nelson A. Rios
Cervera Real Estate/Brickell Flatiron
305.986.6275
BrickellFlatiron.com
Nelson A. Rios believes the key to success in life is balance. "When I'm not working to help others find their ideal home, I dedicate time to perfecting my own home — with my wife, Adriana, and two young children, Lucas and Victoria," he says. "I also enjoy cooking and travelling abroad to experience other cultures." Additionally, he and his family are actively involved in their church and contribute to various charitable organizations designed to improve and enhance the communities we all live in and share. His career in sales began over 20 years ago. "Throughout it, I've been fortunate in that I've been able to consistently meet or exceed high-volume sales goals," he says. He routinely supports entire projects with sales of multiple units at a single property, as many as 300, 400 or more. "Most recently, I took on management of development sales for Brickell Flatiron, the latest masterpiece by Ugo Colombo of CMC Real Estate," he says.
Advice For Buyers: "Always keep in mind the golden rule of real estate: Location. Nearly everything else about a property you can change, renovate or reimagine, but you can't ever change where the property actually is."
Advice For Sellers: "Make sure to keep the property neat and ready to be shown at any time. Strive to show the type of property you'd like to see yourself."
Predictions For 2016: "For South Florida, I'm very positive that the market will continue to improve and grow. I can't wait, because it's sure to be amazing."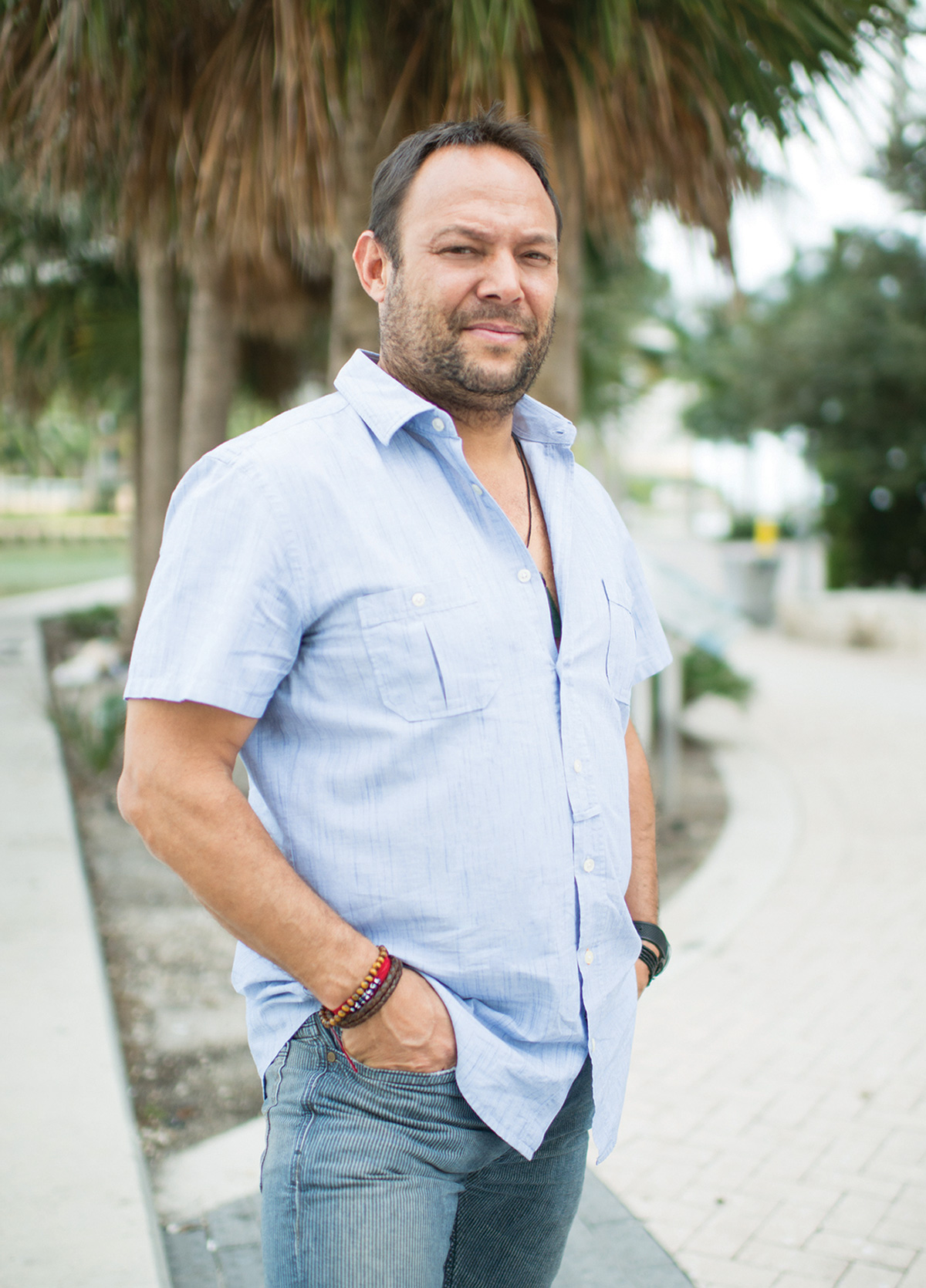 Hernan Golod
Fortune International Realty
305.370.2176
Golod@Mac.com
GolodGroup.com
"In 2008, when nobody was buying, I made the first sale in the market in this town," he says. "We helped the owner, who owed too much money to the bank, sell it as a short sale. It was the first property sold on the market at the time and I have never stopped since. It's a very rewarding feeling to help someone in a situation that looked impossible at that moment." He also sold a unit in a luxury building in Brickell with a view of the FPL electric plant by presenting it as: "Own this unit with all the luxury amenities as your neighbors for 15% less than the address you thought your couldn't afford." It sold within a week. Golod leads the Golod Group, a top producer at Fortune International Realty for nearly a decade with over 100 closings per year. "We sell a lot of pre-construction units, which allows our clients to participate in bulk purchasing," he says.
Advice For Buyers: "If you finance, make sure you have good terms and a fixed low percent. The majority of buyers in Brickell are cash buyers who will have more equity and an advantage when it comes to negotiating the price."
Advice For Sellers: "The three golden rules of selling a home in Brickell: Have the right price, sell at the right time and stage it."
Predictions For 2016: "This will be a year of a lot of opportunities. Many South American buyers with the need to make profits or liquidate their assets will cause prices to settle in 2016. It will be another busy year."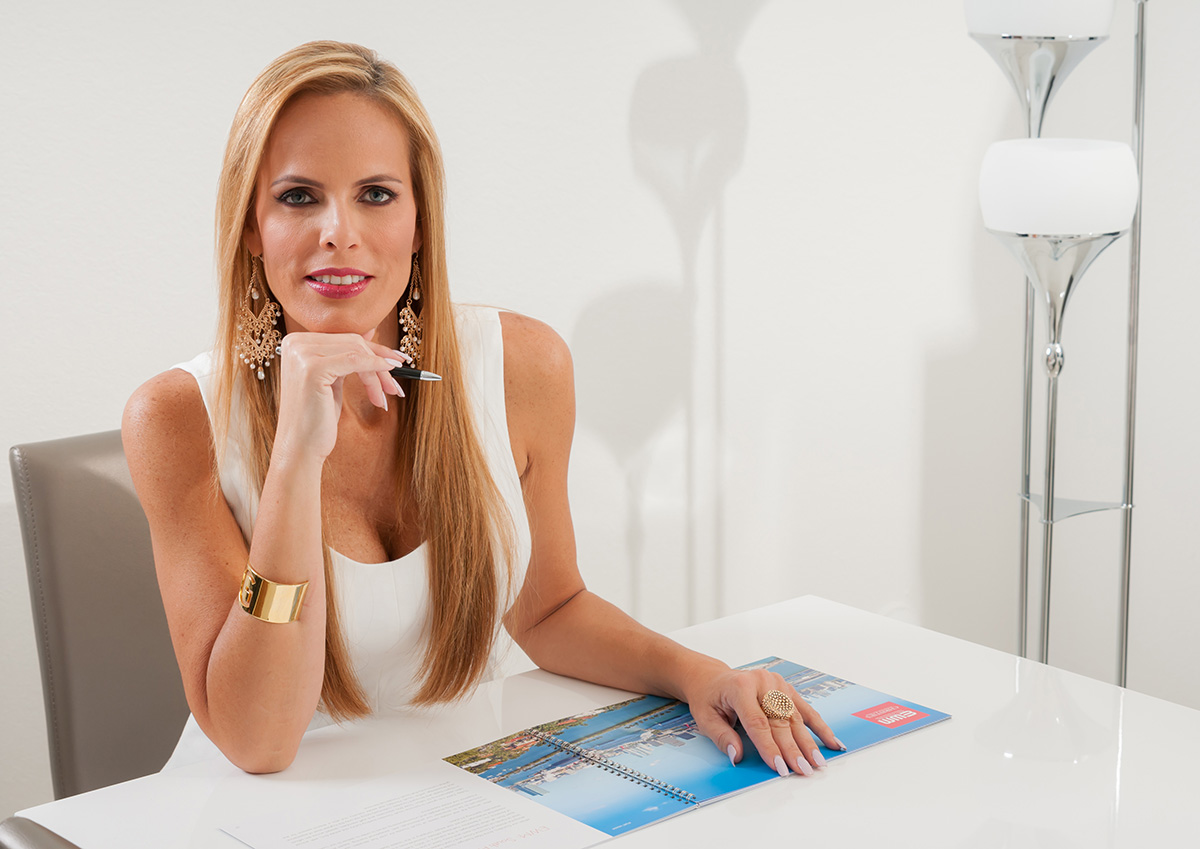 Corina Betancourt
EWM Realty Int'l &
Christie's Int'l Real Estate
954.665.4162
Betancourt.C@EWM.com
EWM.com
Corina Betancourt developed an interest in real estate while employed as Business Development Manager for an international kids' apparel brand. "Through this position, I acquired a strong knowledge of commercial real estate and real estate law because I had the opportunity to be involved in all negotiations in reference to the retail spaces for the brand," she says. "With this background, I obtained my Real Estate License in 2006 and decided to be a full-time realtor." Today, she's a top producer with EWM Realty International, specializing in luxury and commercial real estate. She prides herself on not being a diva. "I personally assist my clients with all their real estate needs by taking their opinions into account and making them feel that they are valuable to me," she says. "I avoid using intermediaries because I feel it's essential to have direct contact with my clients and giving each relationship a personal touch. My clients know I support them throughout the entire process of purchasing their dream home."
Advice For Buyers: "Know your finances and take the time to search for a home that meets your expectations…but when you know that you've found your dream home, act quickly."
Advice For Sellers: "First impressions are the only impressions; get the home move-in ready by making cosmetic repairs but don't over-upgrade it. Price it right and set an appropriate marketing strategy with your realtor."
Predictions For 2016: "Latin American and European buyers have driven South Florida's real estate market since the recession, but lately Americans from the Northeast and West Coast are feeling more comfortable about South Florida's 50% deposit structure on new construction. Price gains will continue to slow. We'll have a better balance between supply and demand."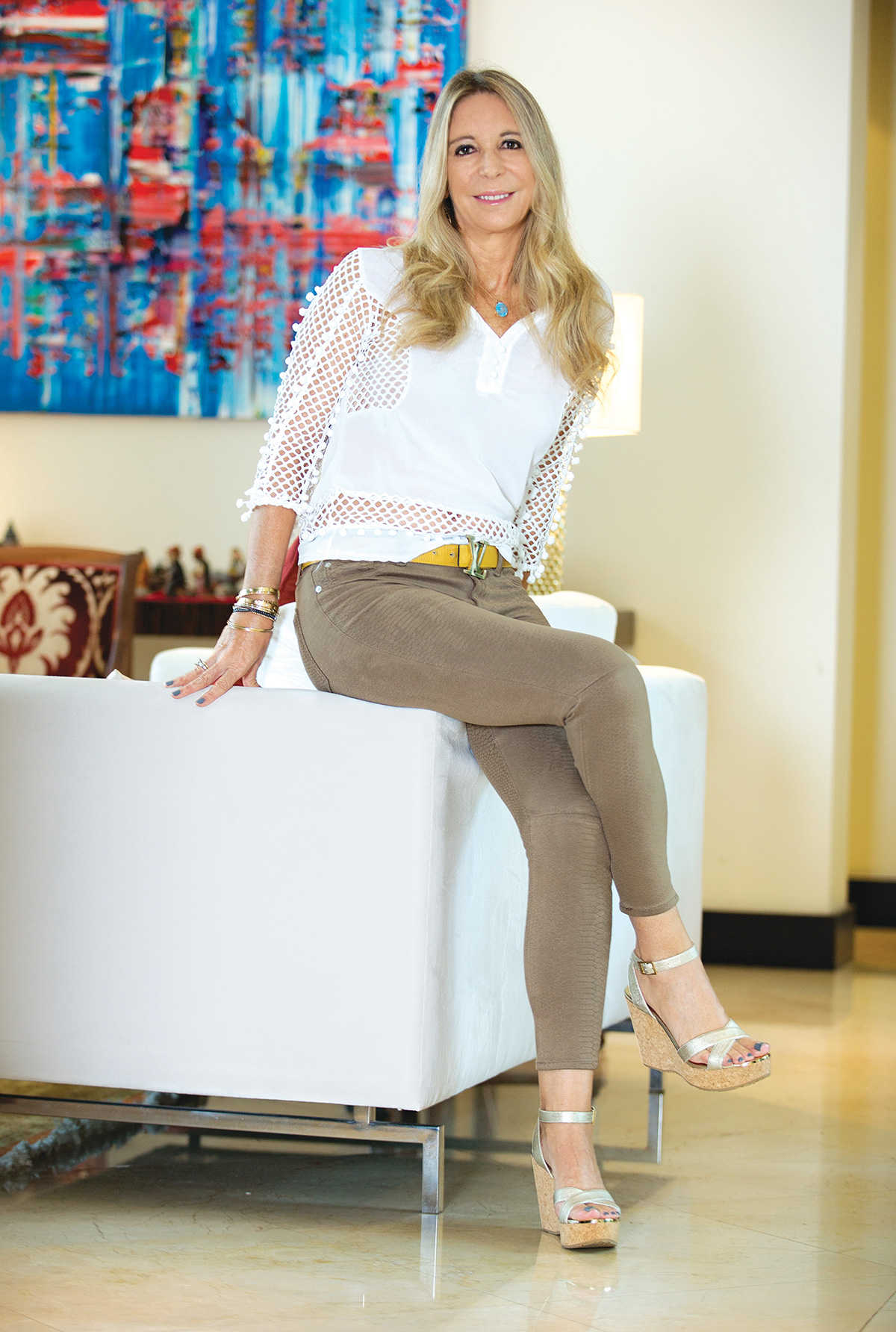 Giulietta Ulloa
EWM Realty
305.710.6620
Giulietta@Ulloa.com
GiuliettaSellsMiami.com
"Ever since I was very young, real estate has been my passion," says Giulietta Ulloa. "In my free time, I've always loved to see houses, follow trends and admire architectural styles." As such, when she moved to Miami back in 1996, she decided to take it seriously and got involved in real estate 24/7. "I love to meet different people from different countries. In real estate, every deal is different and I know that when you look for a home, it can be very emotional…for many people it's the main investment of their lives." As a result, she's committed to truly understanding her clients' needs. "I'm a very social and open person and I feel as comfortable with a banker as I do with a sports fanatic," she says. "I try to be empathetic and always give my clients 100% of my attention."
Advice For Buyers: "Don't let the house of your dreams get away."
Advice For Sellers: "Hire the right agent. If the price is too high, it will scare many buyers; if the price is too low, you'll risk leaving dollars on the table. Try to price it right."
Predictions For 2016: "The real estate industry is expected to remain on a sustainable course of solid growth for 2016. We are anxious to see the new Brickell City Centre, one of the largest shopping centers in the U.S."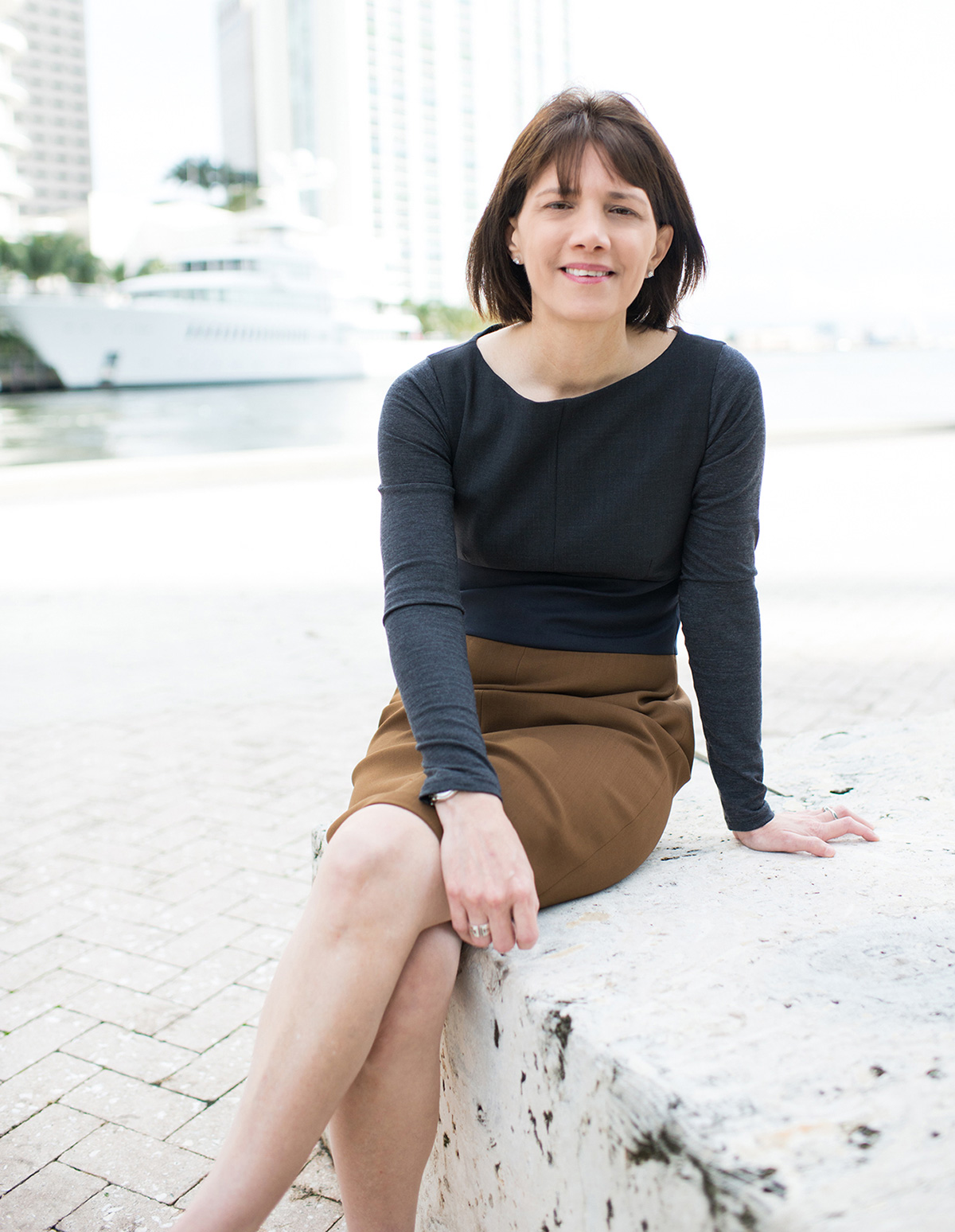 Claudia Del Toro
Cervera Real Estate
786.554.3626
CDelToro@Cervera.com
ClaudiaDelToro.com
ElevenInTheRoads.com
"A luxury client recently requested appointments to view only waterfront homes while his wife requested to view penthouses," shares Claudia Del Toro. "After the showing, the wife traveled to convince her husband without knowing he had already presented an offer on the unit she liked." Back in 2005, Del Toro was Managing Director at Invest In Miami, a public private partnership with the City Of Miami International Trade Board. "While working there, I was introduced to Alicia Cervera, my broker whom I admired profoundly, and I have been with her company ever since," she says. At Invest In Miami, she published a website, created the first Miami pre-construction database, published a weekly newsletter and authored a real estate column for a local weekly, Bienes Raices. "It was all about Miami and I fell in love," she says. Today, she works hard to help customers create wealth through their real estate ventures and investments.
Advice For Buyers: "As real estate evolved from home ownership into a must-have investment on well-diversified portfolios, it's more important than ever to work with a real estate professional you trust."
Advice For Sellers: "The real estate market is cyclical and each seller has a different set of circumstances. It's never the right time for all sellers in any market."
Predictions For 2016: "2015 was a strong year and 2016 should bring more of the same. Miami has increasing demand in the luxury market while low interest rates and job gains should continue to bring new buyers into the market."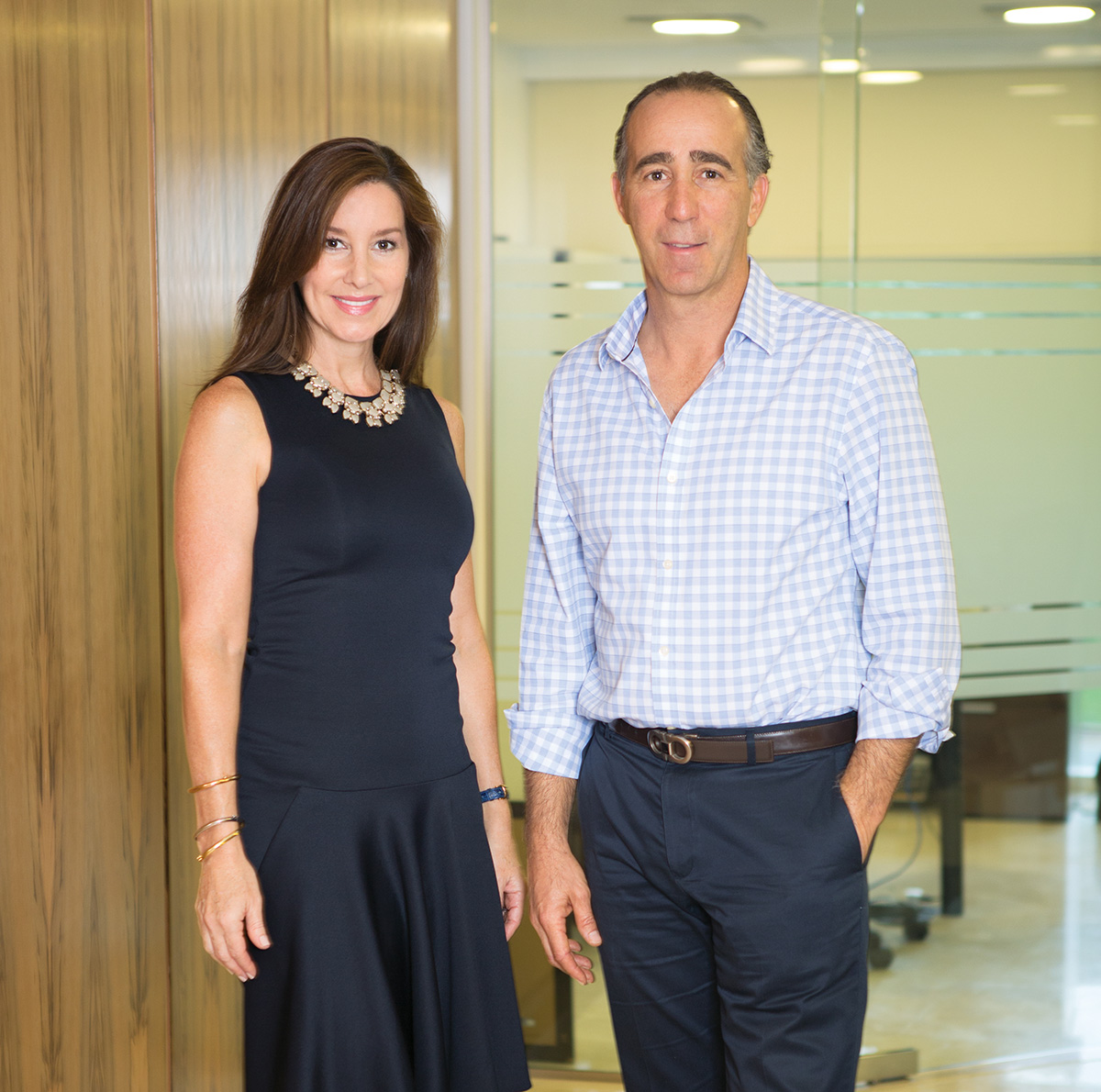 Daniel Gaviria & Ana Somarriba
Great Properties Int'l Realty
Ana: 305.215.1686
SomarribaAna@Hotmail.com
Daniel: 305.582.4800
DanielGGaviria@Hotmail.com
GreatPropertiesIntl.com
Daniel Gaviria started his real estate career over 23 years ago in Key Biscayne. After having worked at a restaurant and then in commodities after graduating from college, he decided he wanted to give real estate a try and quickly found that he loved it. Ana started almost 18 years ago. After running a family business right out of college, she decided that the printing industry was not for her. As such, the company was sold and she decided she wanted to work in a people-related field — naturally, real estate was the perfect fit. "Our favorite thing about this business is our clients," they say. "We have met some very interesting people and have made some great friends." They strongly believe that good agents always put their clients' needs before their own and give sound real estate advice, even if it means not making a sale. "In the long run, earning the trust of our clients has made us successful in this business," they say.
Advice For Buyers: "Go with your gut. If you walk into a property and aren't feeling it, don't buy it. That goes with commercial properties, too."
Advice For Sellers: "Try to look at the property as if you were a stranger looking at it. What would you freshen up, change or improve so that the property's best features come through?"
Predictions For 2016: "A lot of the great projects being built at the moment will be completed. It will be exciting to see how they turn out. We continue to be optimistic that Miami is a great place to invest in real estate."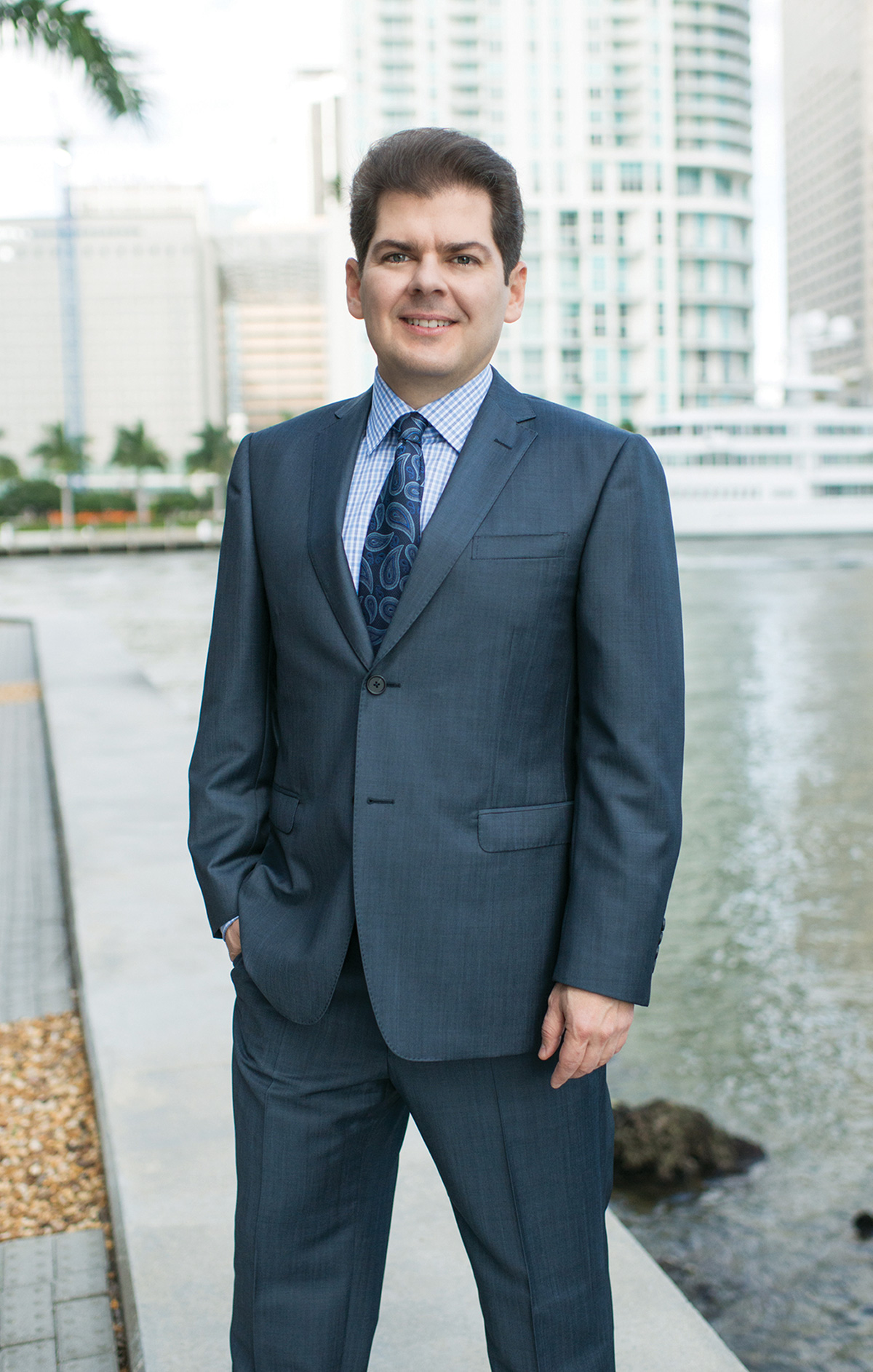 Jose R. Sosa
J.R. Sosa Properties
786.556.7672
JRSosa@JRSosaProperties.com
JRSosaProperties.com
"Real estate is not only about selling properties, it's about selling the place where people will live and have their memories for the rest of their lives," says Jose R. Sosa. "Many years ago, after working for a month with a couple that got married only weeks before, I showed them a beautiful condo. They fell in love with the property and told me that this was the property they had always dreamt of. At the closing, it was a very emotional situation because it was their first home. Now they have 3 children, and they always remember that moment as a very special one, and we are very close friends." Originally from Venezuela, Sosa has 22 years in international real estate, and opened his own firm in 2011. "I've always believed that real estate is the most effective and safest way to preserve and grow your money," he says. His future plans include investing in new technology, enhancing the property management division and opening new branches.
Advice For Buyers: "The golden rule is location, location, location. If you're looking for a property as a primary residence, think about what you enjoy in your everyday life and make sure your realtor understands your needs."
Advice For Sellers: "List the property with a full-time realtor who is an expert in the area. Price the property right. Look at the recently closed sales. Also, always keep the property clean and neat, and remove the clutter."
Predictions For 2016: "We're going to have a significant increase in new inventory in the following years which will create more competition for the existing buildings. However, Miami is so unique that it will continue to rise as one of the most sought-after cities of the world."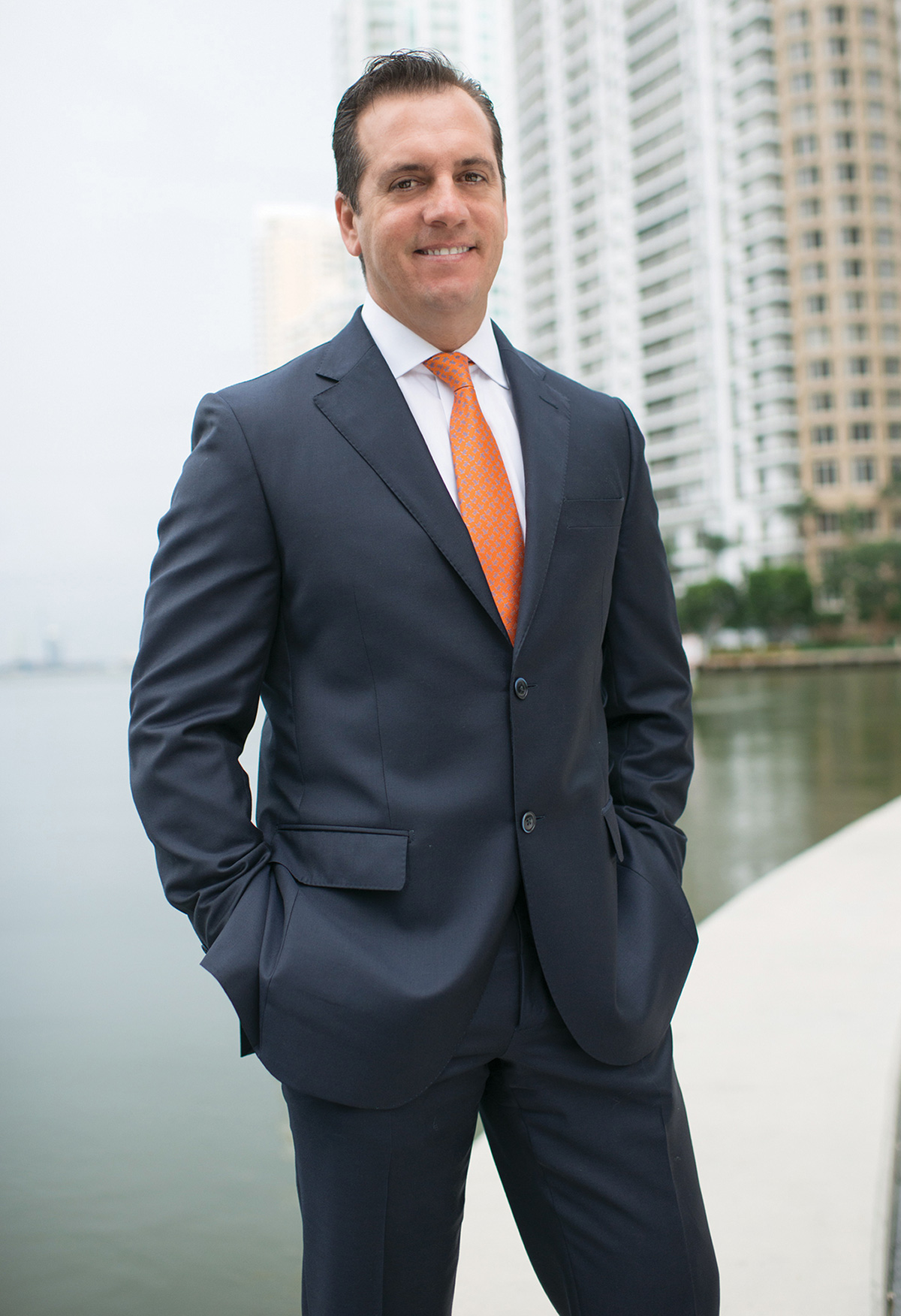 Luis Garino
Aria On The Bay &
Cervera Real Estate
305.606.9019
LGarino@Gmail.com
AriaOnTheBay.com
Luis Garino was once in the middle of a closing when he had to run to the emergency room with his client. "The closing was finalized at the hospital," he says. His real estate career began in 2008 when he saw a good opportunity to bring in foreign buyers from South America following the economic downturn. In 2010, he joined Cervera Real Estate as a Top Producer and became Sales Manager for Melo Group's Bay House condominium. After successfully selling out Bay House, he became the Sales Director for Melo Group's newest project, Aria On The Bay. "Without the support of my sales team and Cervera, I wouldn't be where I am today," he says. Three things he likes best about his job are putting deals together, developing relationships and strengthening existing ones. He looks forward to evolving his business by continuing to travel all over the world and establishing relationships with brokers who in turn will bring sales to the different projects he represents.
Advice For Buyers: "Find a knowledgeable agent in your area and be ready to place an offer as soon as you find something you love."
Advice For Sellers: "Hire an agent who will research and give honest and realistic pricing of the property in order to sell within a reasonable timeframe."
Predictions For 2016: "Locals will be motivated to buy and the influx of international investors will continue, assuring that South Florida continues to be a desirable destination for potential buyers from Europe, Latin America and Asia."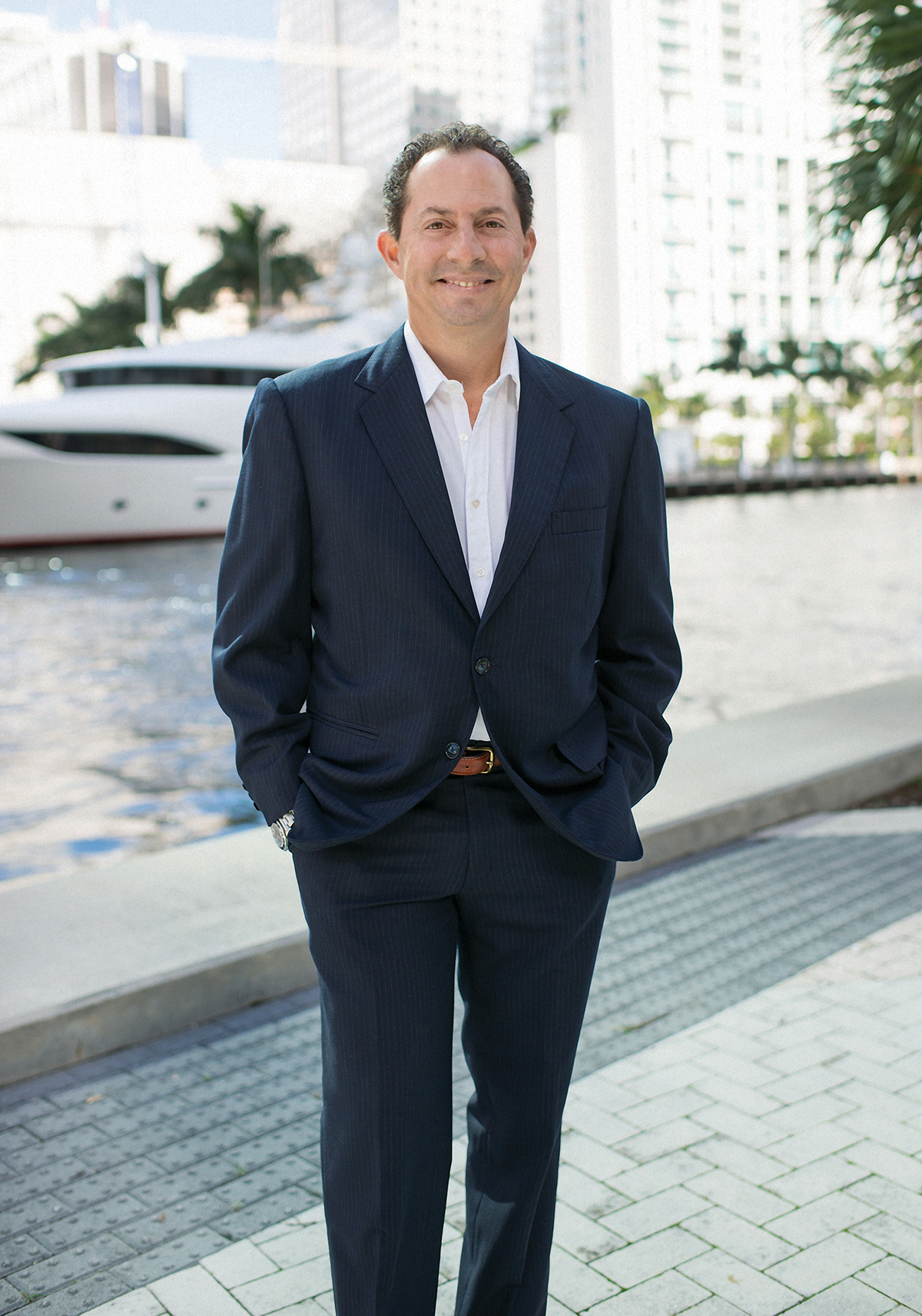 Israel Salabarria
Engel & Völkers Miami
305.389.4996
Israel.Salabarria@EVusa.com
IsraelSalabarria.EVusa.com
"My parents were in the real estate business in Miami since the 1970s," says Israel Salabarria. "I was exposed to all facets of real estate practically from birth. After graduating, I felt a passion for the business and for Miami and obtained my license over 25 years ago." Besides being a broker, he's also a Certified General Appraiser. "With over 2 decades of appraisal experience in both the residential and commercial markets, I can value property beyond the certified market analysis "CMA" which is the industry standard in residential sales," he says. "I can provide the necessary metrics for buyers and sellers alike to make better decisions by engaging their investments in a more educated and informed manner." He enjoys meeting prospective clients and learning what their end goals are. "My passion is the negotiation," he says. "It's the most stimulating and important part of a transaction. A good negotiator will ultimately get the best deal for his client."
Advice For Buyers: "Be patient. You must be willing to walk away from a deal if it's not the right one."
Advice For Sellers: "Stage your property correctly. First impressions can go a long way."
Predictions For 2016: "I see some sectors of the market that have had double-digit percentage increases over the past several years slowing down, but other sectors that have increased but not at such a strong pace as to continue to rise."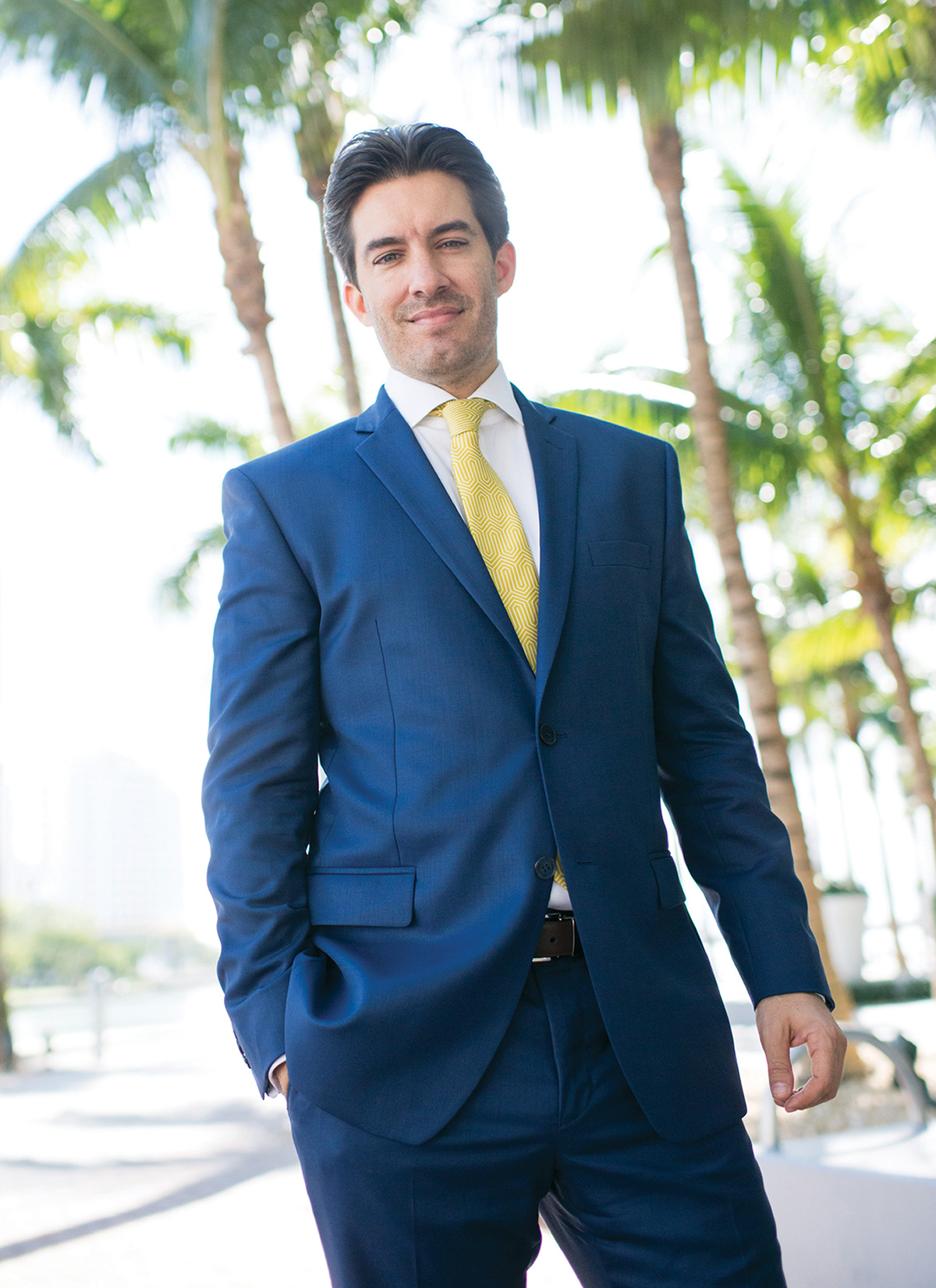 Tony Rodriguez-Tellaheche
Prestige Realty Group, LLC
786.615.2130
Tony@PrestigeRG.com
PrestigeRG.com
"I'm a very easy-going guy and don't like to push anyone into doing anything they aren't comfortable with," says Tony Rodriguez-Tellaheche. "I hate that 'used car salesman' approach and like for my clients to feel comfortable with me. I'm honest and make sure my clients go into a deal I personally would feel comfortable going into myself." He started off his real estate career working for a developer doing in-house sales in 2006. Shortly after, times got tough in Miami during the crash so he moved to Belize and represented a developer out of Houston. He lived there for 2 years and was promoted to Sales Director of a boutique beachfront project named Las Terrazas. He eventually moved back to Miami and started his own firm with his business partner in 2011. Now, 5 successful years later, they're planning to open other offices around Miami. "We have a new office opening soon in Edgewater and possibly in South Beach," he reports.
Advice For Buyers: "Don't wait. A lot of people tend to wait for 'the perfect time' and end up losing out on great opportunities. The market is strong and interest rates are the lowest they've been in years."
Advice For Sellers: "Find an agent who is going to price your property right, not just one that tells you they can sell your house for more money. An overpriced property can sit on the market and end up costing you in the long-run."
Predictions For 2016: "I think Miami Beach, Coconut Grove, Coral Gables, Key Biscayne and Pinecrest will grow at a healthy pace. I don't feel prices will appreciate as fast as in recent years but that's a sign of a normal and healthy market."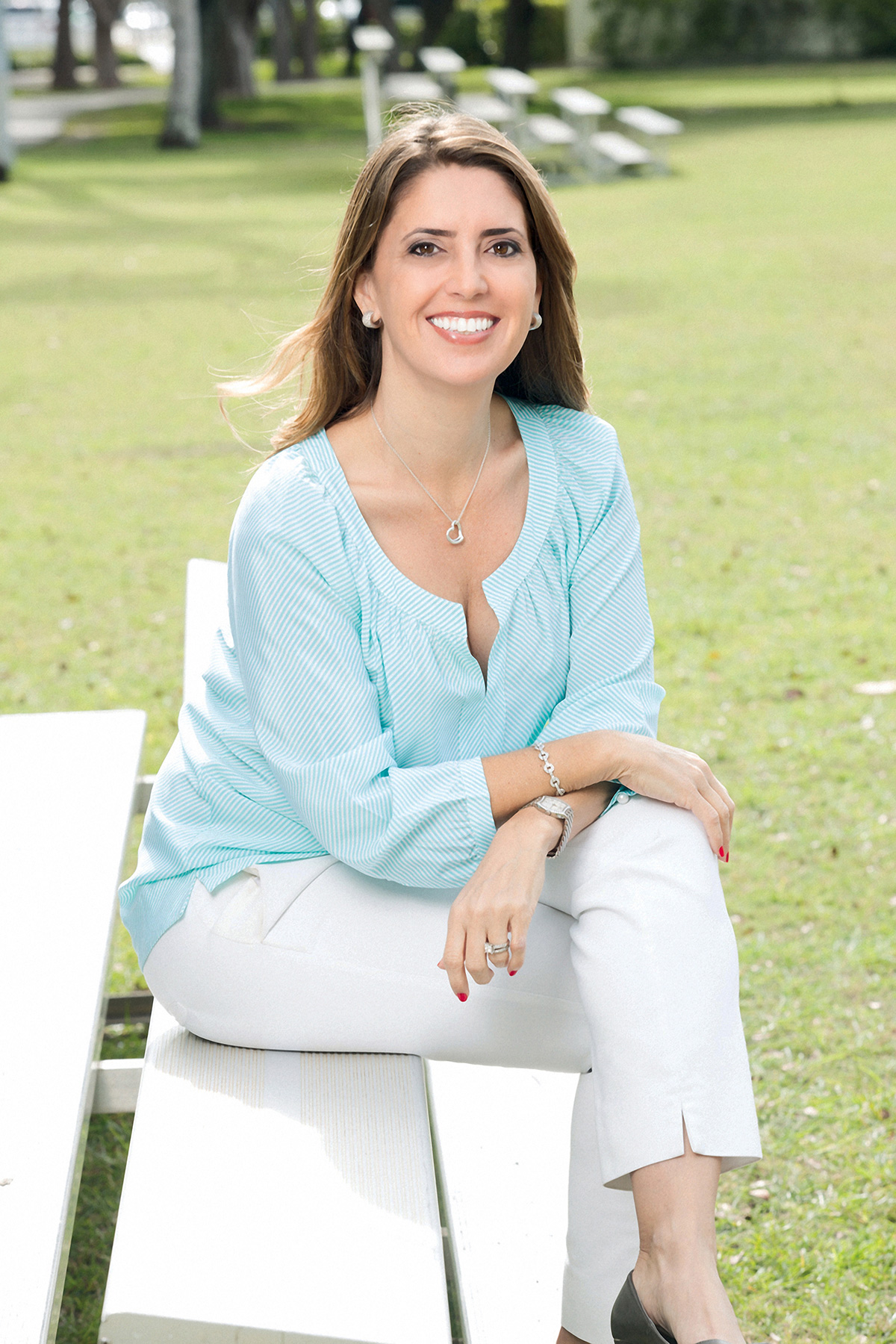 Claudine Coto Knautz
One Sotheby's Int'l Realty
305.389.6229
Claudine@TheCotoGroup.com
TheCotoGroup.com
"Real estate has always been part of my life, and after many years working for Corporate America, I was ready to be more entrepreneurial," says Claudine Coto Knautz. "Real estate is a different world. It's around-the-clock and I'm always making a connection with new and interesting people." Her strong business acumen, hard work ethics and ability to connect well with others helped her sell over $40M this year, achieving some record prices on the island. To name a couple, she sold the highest-priced Ocean Club condo, achieving full price for the sellers. She also sold the record price per sq. ft. for a non-waterfront Key Biscayne home on a standard lot. "I've also represented some of the most exclusive new developments across Miami coastal neighborhoods." Additionally, she's committed to global reach, partnering with Sotheby's top producers in luxury destinations and ensuring that her listings get maximum exposure worldwide. "This year has been another record-breaking year for The Coto Group," she says. "Our team has represented more than $90M in sales volume this year."
Advice For Buyers: "Be educated and ready. Know the market well so that when an opportunity becomes available, you know firsthand if it's right for you."
Advice For Sellers: "Choose an expert with a proven track record and an intimate knowledge of the market; someone who is hands-on and committed to achieving your goals in terms of price and timing. Have high expectations."
Predictions For 2016: "Miami will continue to increase its global appeal; the real estate sector will begin to stabilize. The strong U.S. dollar has made luxury real estate relatively more expensive for international buyers. Inventory is still low but will begin to build."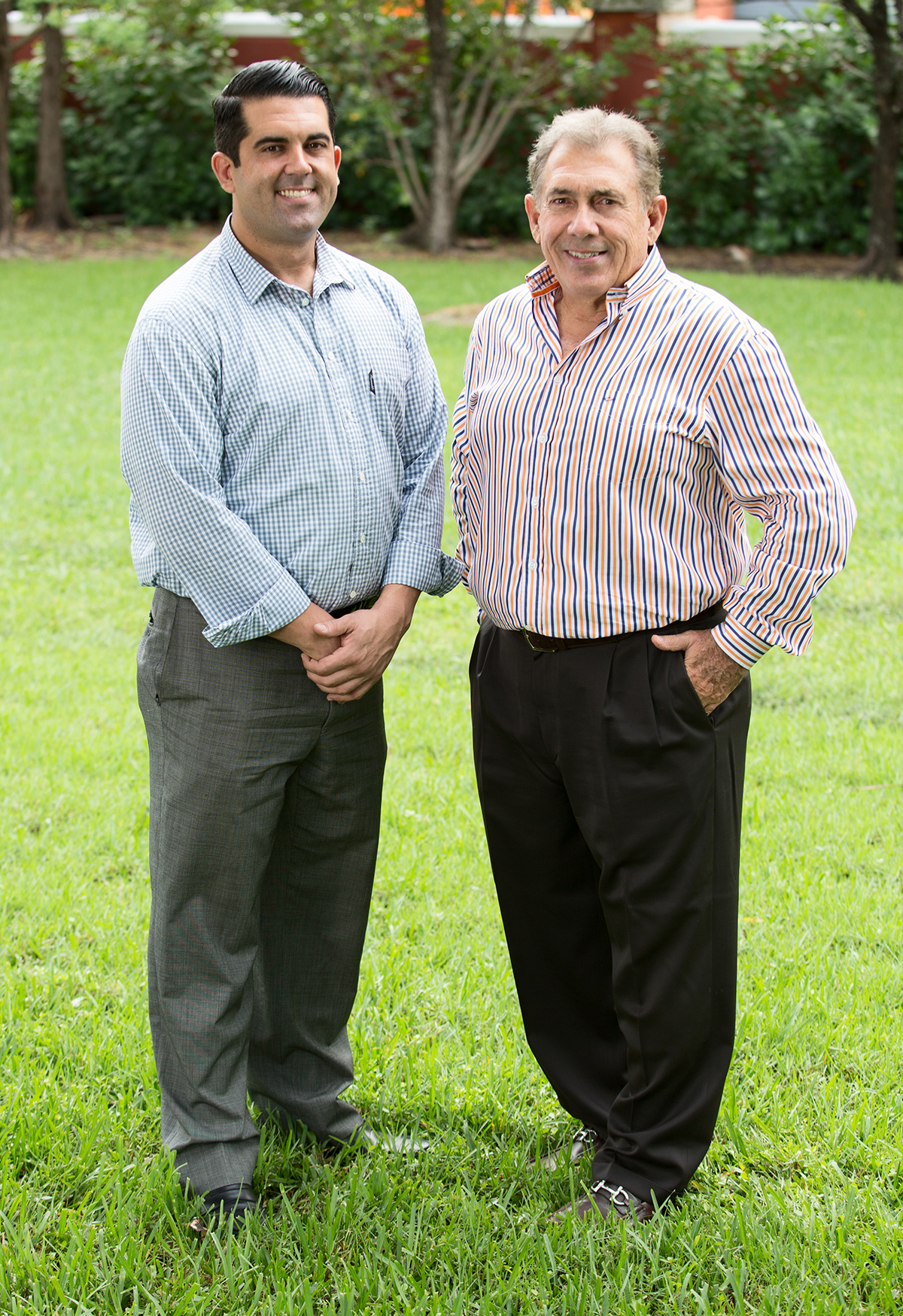 Carlos & Victor Coto
The Coto Group
ONE Sotheby's Int'l Realty
Victor: 305.942.4452
Victor@TheCotoGroup.com
Carlos: 305.803.3059
Carlos@TheCotoGroup.com
TheCotoGroup.com
In 2015, Carlos and Victor Coto sold both the highest-priced Key Biscayne waterfront home at $10.5 million and the highest-priced non-waterfront home at $5.3 million. "I fell in love with Key Biscayne at a young age and have been selling real estate here for over 4 decades," says Carlos. "With its beautiful beaches, close-knit community, great schools and proximity to the best of Miami, I know it was the place for me to marry and raise my family. Now I'm blessed that I get to work with two of my children, Claudine and Victor. They bring different personalities, skillsets and experience that I learn from every day." The Coto Group is known for its results, experience and the excellent exposure they offer each property. "We're a highly educated, diversified team with a great track record," he says. "We're looking to expand our global network across Sotheby's and beyond."
Advice For Buyers: "Make sure you have everything in order before starting your search. Good investment opportunities don't last long so you have to be ready to move quickly."
Advice For Sellers: "Work with a realtor who specializes in the local market and offers the best exposure for your listing. Make sure to ask a lot of questions about what he/she will do to market your property and get the best possible price."
Predictions For 2016: "Miami will continue to gain global prominence and desirability as the city's Brickell/Downtown footprint evolves and brings new energy. Key Biscayne will continue to be its shining star from a lifestyle and investment perspective."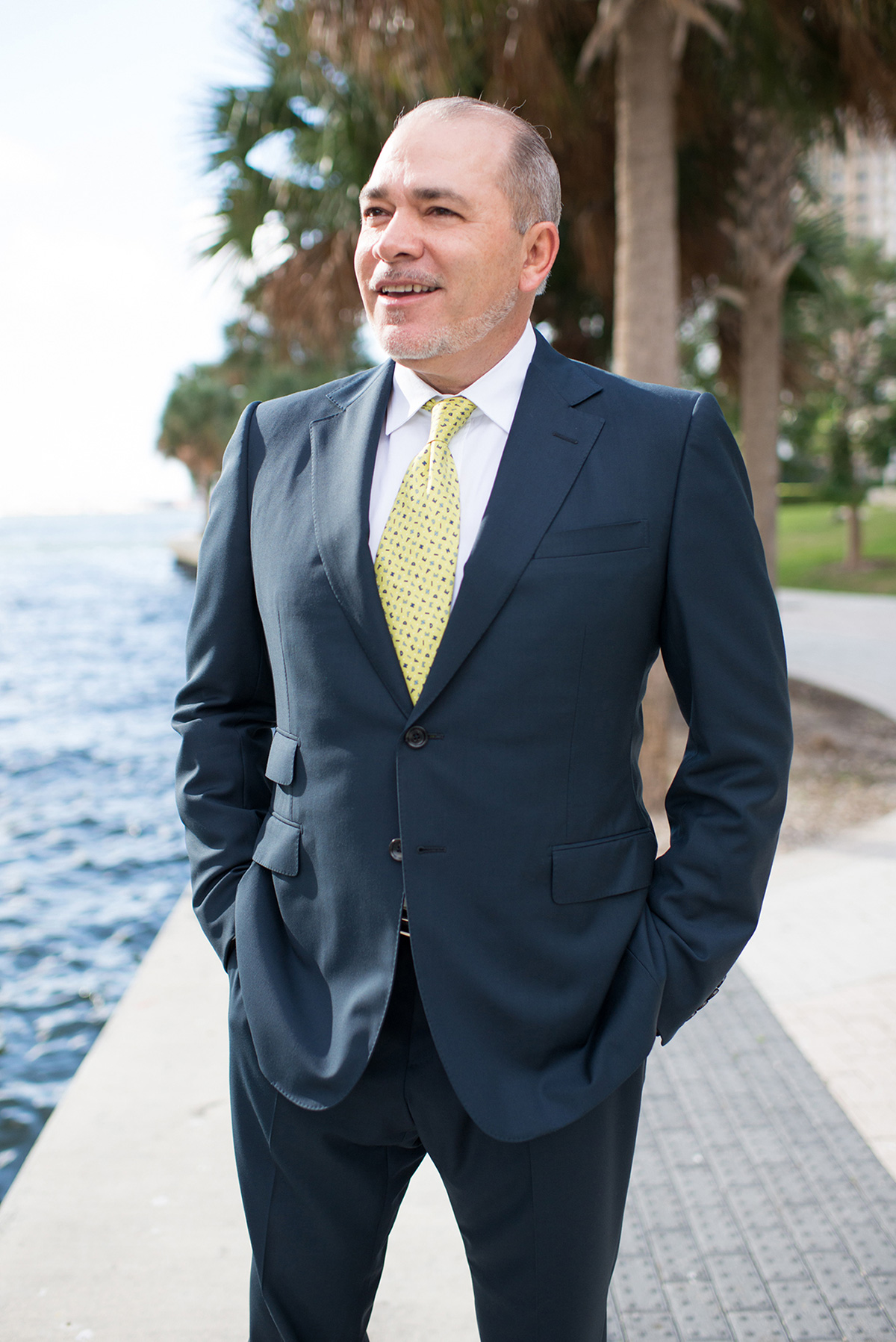 Joao Carvalho
Swire Realty
305.588.1867
JoluCarv@Gmail.com
SwireRealty.com
Joao Carvalho has been an entrepreneur/restaurateur for many years in Brickell Key. "Over those years, together with Swire Realty, I've been lucky enough to create great contacts that led me into the real estate industry 20 years ago and I'm still here," he says. "I'm intense in everything I do, in a good way." He always listens, observes and steers his costumers in the right direction. He believes in 3 things strongly: No matter what you do, always be the best at it; there's always someone watching; and great rewards will come. "A few years back, I took a costumer to preview a waterfront property via boat," he says. "The boat was stocked with champagne and cocktails (the essentials)…but needless to say, we forgot one thing: the fuel. An hour into our showing, we ran out of gas, but the champagne saved the day. And, yes, we closed the deal."
Advice For Buyers: "Great deals will come in the upcoming years."
Advice For Sellers: "Be patient, Miami is always on top of the real estate market for buyers from new emerging countries."
Predictions For 2016: "Given our location and weather, our market will always remain strong."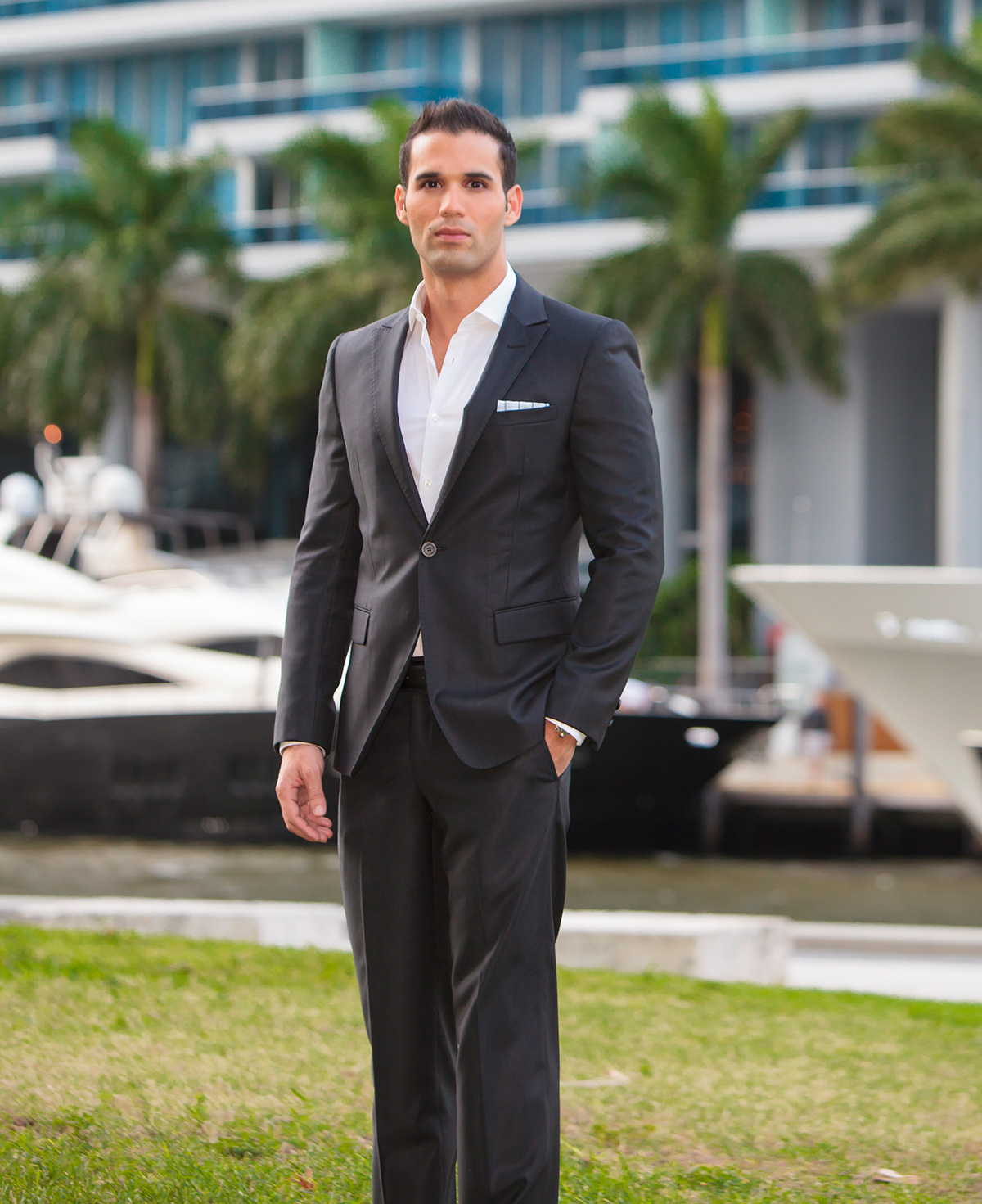 Jonathan Garcia
ONE Sotheby's International Realty
305.494.5547
JGarcia@OneSothebysRealty.com
JGLuxLife.com
"I come from private banking/asset management, which requires a high level of trust, confidence, honesty, integrity and the ability to provide impeccable service," says Jonathan Garcia. "This goes hand-in-hand with real estate. In my very first real estate transaction, I had to collect and count $30k in cash from a client at 9 p.m. and then deliver the partial payment. I thought someone was following me after I left the property." Happily, it all turned out well. When it comes to his day-to-day, Garcia listens to each one of his clients' needs and always gives his honest, professional advice — whether it's what they want to hear or not. "In this business, despite being part of the #1 luxury real estate firm in town, I'm my own brand," he says. "My name is associated with everything that I am and everything I am not. I improve myself each day with the single purpose of providing my clients with service and expertise that's uncompromised."
Advice For Buyers: "We are currently in a buyer's market with many factors favoring you, so take advantage of that."
Advice For Sellers: "Today, 90% of home buyers begin their search online; assure that your property is listed with one that gets your home the best-quality exposure."
Predictions For 2016: "It will be the beginning for many areas of our city to start taking shape after lots of construction. This will continue to support investment opportunities and the evolution of Miami."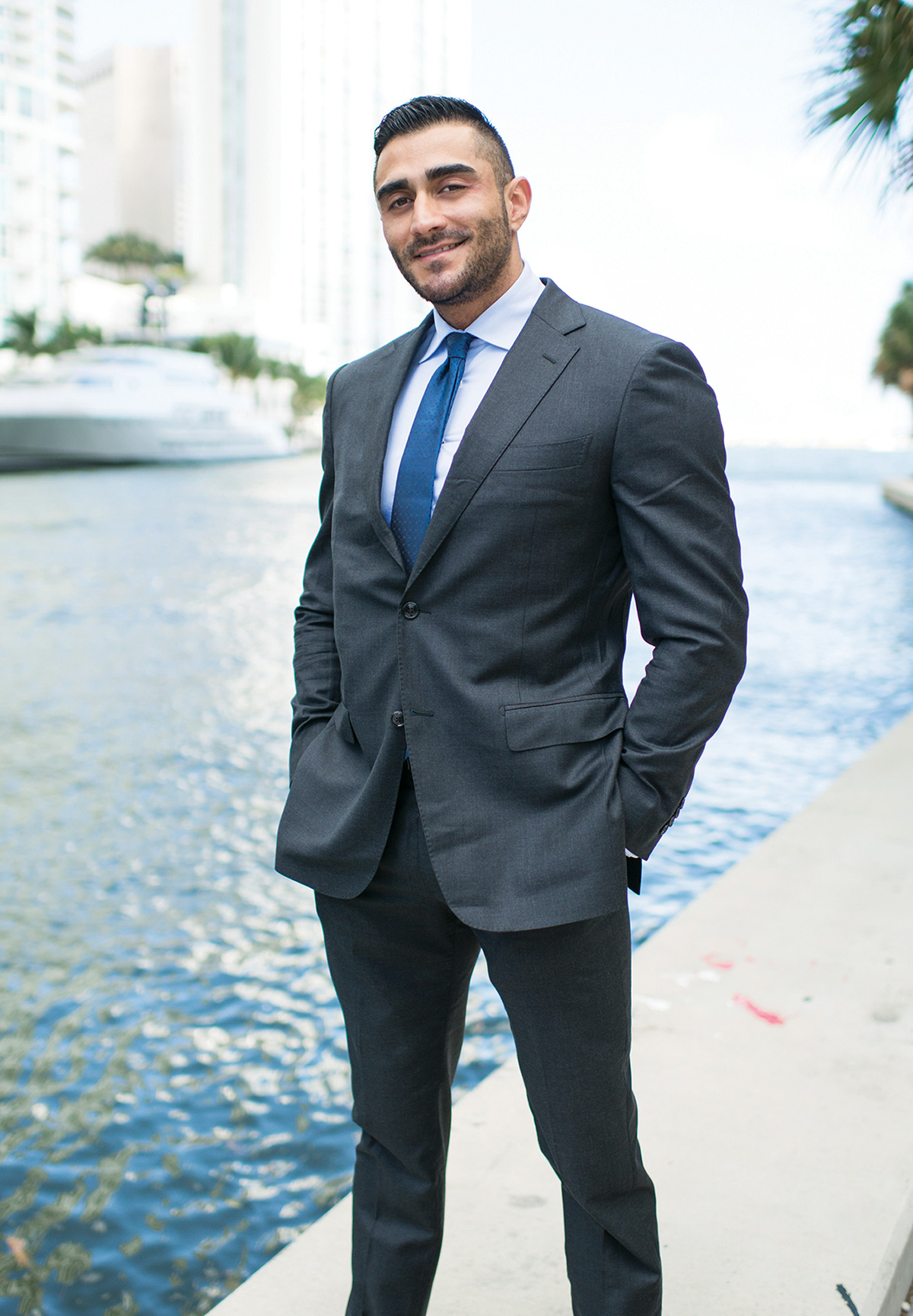 Diego Guillén, Esq.
Sieber International
646.371.4088
DGuillen@SieberInternational.com
SieberInternational.com
"I got into real estate by an error of fate," says Diego Guillén, Esq., who left a very prestigious New York law firm to become the General Counsel of Prodigy Network, the leading real estate firm in crowdfunding. He was Prodigy's General Counsel for a short period of time when he realized he wanted to dedicate himself full-time to sales. "It was the best decision I've ever made," he says. "I love how dynamic real estate is. You don't just sit in front of a computer and wait for life to go by, much like when you practice law. Instead, you go from one place to the next, you travel, you constantly interact with people and work hard to make a deal. I enjoy that sense of accomplishment that comes with it. It's awesome." Guillén considers himself to be a nerd and takes pride in studying everything that interests him deeply and extensively, which benefits his clients greatly.
Advice For Buyers: "As trite as it may seem, it truly is almost all about location. But it's also crucial to consider the developer, the architect, the amenities, the landscaping, the interior design and the pricing, of course."
Advice For Sellers: "Little touches go a long way in the buyer's eye. Make sure the property is beautified and ready to hit the market. Also, price your property reasonably, provide space for a discount and still obtain as much money as you want for it."
Predictions For 2016: "It will be another great year. The U.S. economy is doing well and Miami is becoming a mega city of the utmost importance in the world. Money from abroad will keep coming in and the demand will continue to be on the rise."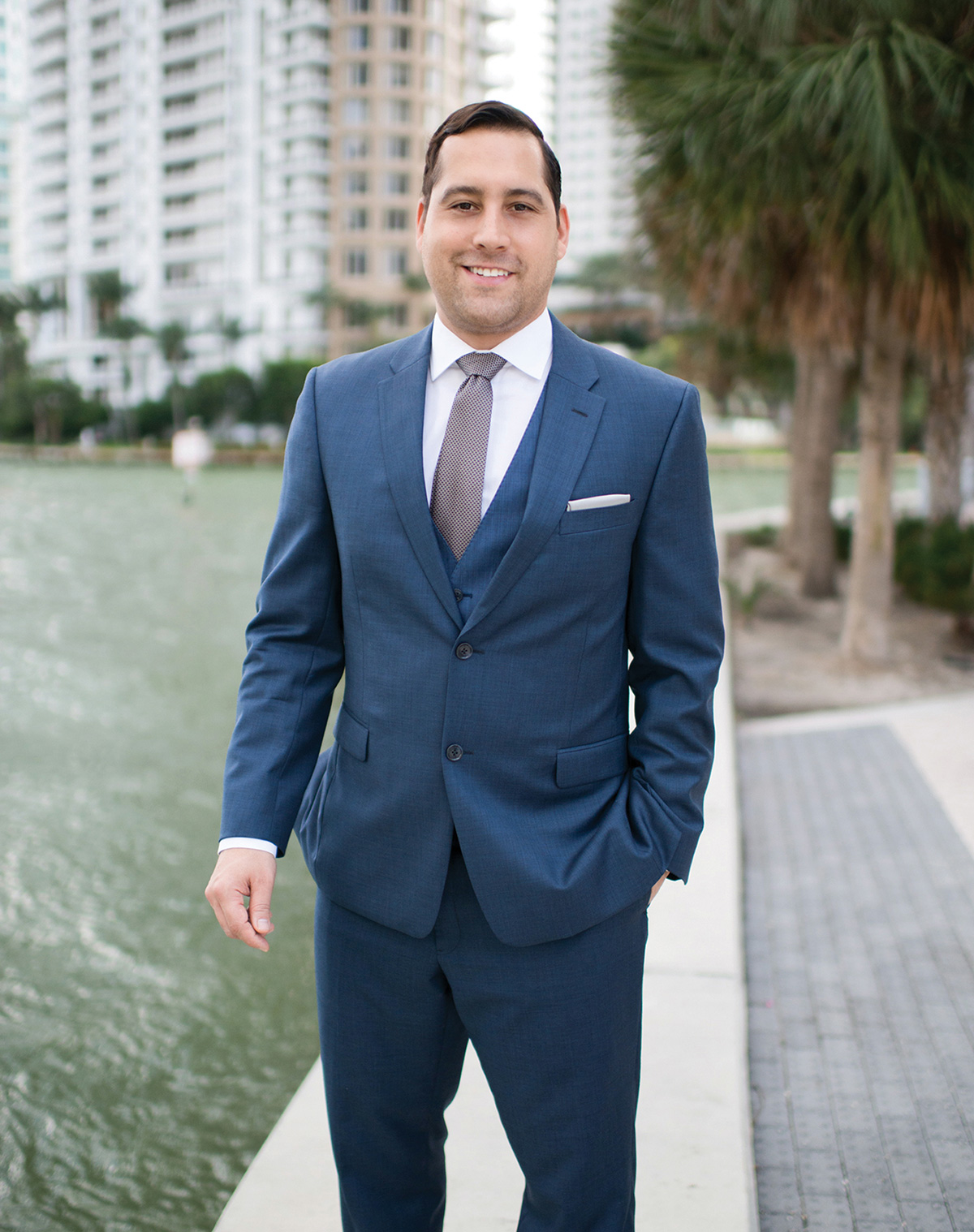 Ruedi Sieber
Sieber International
305.305.4854
RSieber@SieberInternational
SieberInternational.com
Ruedi Sieber studied International Banking and Finance in his home country of Switzerland. He realized that what he enjoyed most about his job was interacting with clients. He understood a great investment strategy is through real estate, but by diversifying the portfolio on a multi-city approach. "Unlike most brokers, I speak 7 languages fluently, and this makes clients much more comfortable as they do business in their native tongue," he says. "I'm very persistent and disciplined. There isn't a day that I don't get up early, structure my schedule and make sure that all my daily tasks are completed before I go to bed." He likes that real estate is demanding. "Seeking clients, finding truly sound investment opportunities for them, closing the deals and then preserving all that valuable clientele is not easy," he says. "But it is very fulfilling."
Advice For Buyers: "There are many new homes on the market, and opportunities are less abundant. Seek the best professional guidance and be resourceful, find out what options there are to help you, such as financing, and/or a set payment structure for pre-construction projects."
Advice For Sellers: "The first 30 days of activity for your property on the market is always the best activity you're going to see. Have the property ready for an excellent impression and price it right from the start."
Predictions For 2016: "Miami will become even more important on the world scale and the local economy will continue to get stronger with a resurgence from local and national buyers."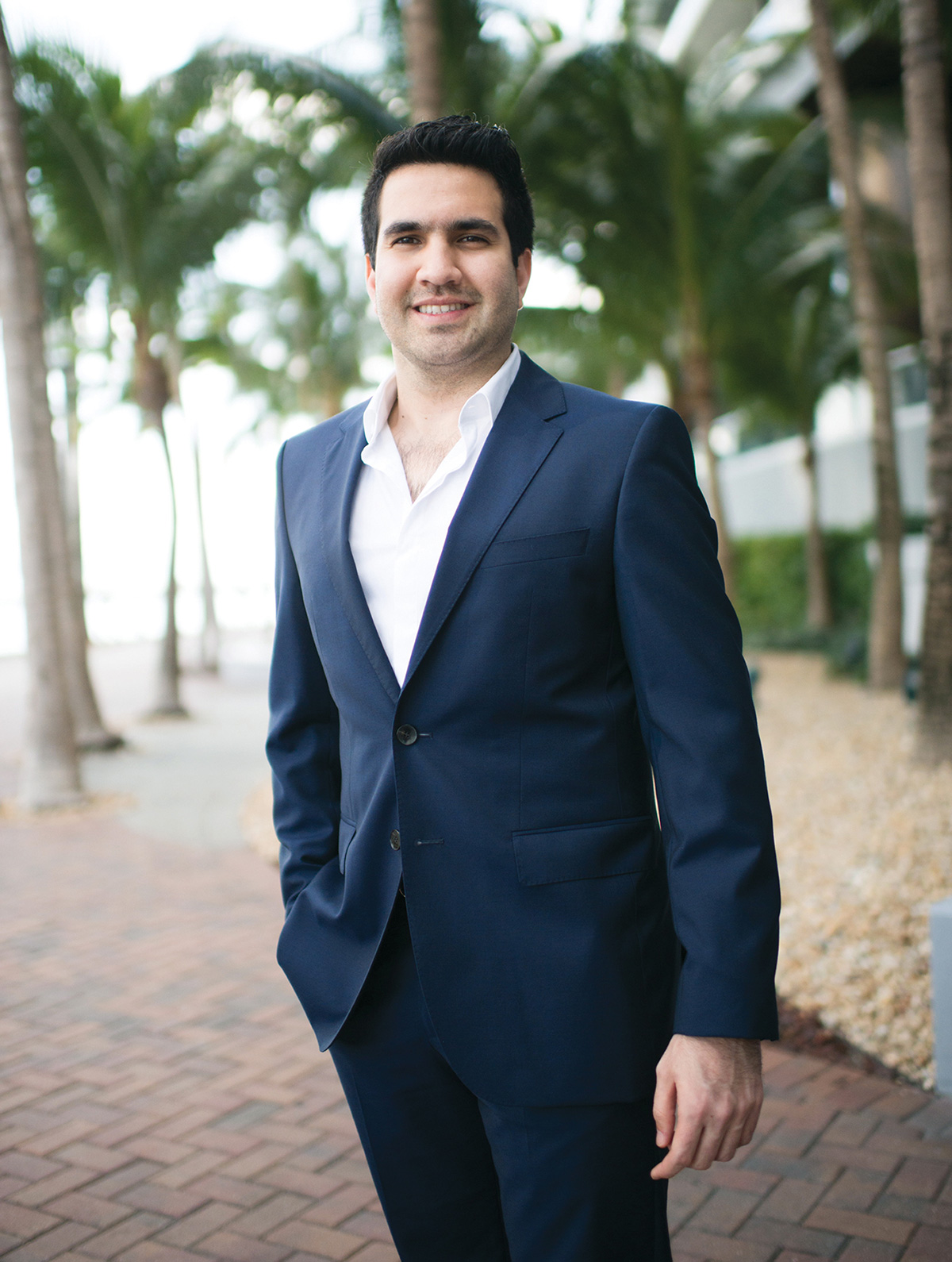 Javier Andres Motta
Habitat Realty
786.521.8144
Jamotta@HabitatGroup.com
HabitatRealtyGroup.com
After working several years in a development and asset management company, Javier Andres Motta became passionate about real estate in Miami, and with all the experience he had gained in the field, he decided to get his Real Estate License. "Thanks to my ability in sales and connecting people, I was the Top Producer for the company I was working for in 2014," he says. Which is why he decided to open Habitat Realty, a firm that focuses mostly on commercial real estate, but one that also does residential properties located in Miami. What's more, he has an experienced and knowledgeable team that benefits from his expertise in training. "I'm very passionate about what I'm doing and work hard on innovative and creative ideas in order to offer the best buying and selling opportunities to my clients," he says. "A lot of attention must be placed on going with the market rhythm, and advising my clients so they can take action. The realationship between client and broker could be forever — and that's my goal. There will always be customers and good market opportunities."
Advice For Buyers: "Choose a real estate professional that spends enough time with you, that builds trust through experience and that moves like a fish in water in your area."
Advice For Sellers: "Get good advice with a real estate professional about the real value of your property, through a good market analysis and comprarables in the subject area."
Predictions For 2016: "Miami condo prices will have a tendency to decrease significantly and stabilize due to delivery inventory that exceeds annual request. Foreign buyers will continue leading investments and family homes' prices will continue to increase due to low new inventory."