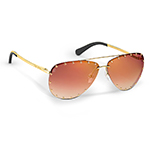 Glare-Free Glam
The one thing any well-heeled travelphile will be quick to advise is: Never travel without a pair of shades. They hide exhaustion well and give an air of glamour to any departing or arriving globetrotter. Make a statement wherever in the world you find yourself with the Classic Pilot-Shaped Party Sunglasses. Decorated with the iconic studs that evoke the maison's trunks and available in an array of hues, they declare "I'm worldly" with just one glance; $665; US.LouisVuitton.com.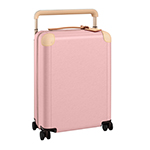 Carry Me
In case you've been feeling a little blue every time you whiz your luggage from one gate to the next at an airport near you, Louis Vuitton's Horizon 55 is the future of stately rolling luggage. This lightweight 4-wheeled carry-on has a completely flat interior thanks to its larger external cane. Every detail exudes innovation and lightness, and the pastel pink color is chic and elegant. You'll beam with joy every time a flight attendant asks you to secure your overhead luggage and prepare for takeoff; $4,300; US.LouisVuitton.com.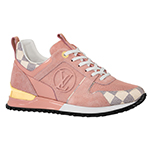 Walk On
Every step you take, every move you make…must be fabulous! The absolute must-have travel essential of the season is the Run Away Sneaker in iconic Damier Azur canvas featuring feminine pink trim and an elaborate outsole with hidden fusbet for extra height. Get a pair before they sell out, even if for the mere fact that color-coordinating your luggage to your kicks and your sunnies announces to the world that your drippin' in finesse on a whole 'nother level and good taste was programmed into your DNA. Never take a dull step again; $855; US.LouisVuitton.com.