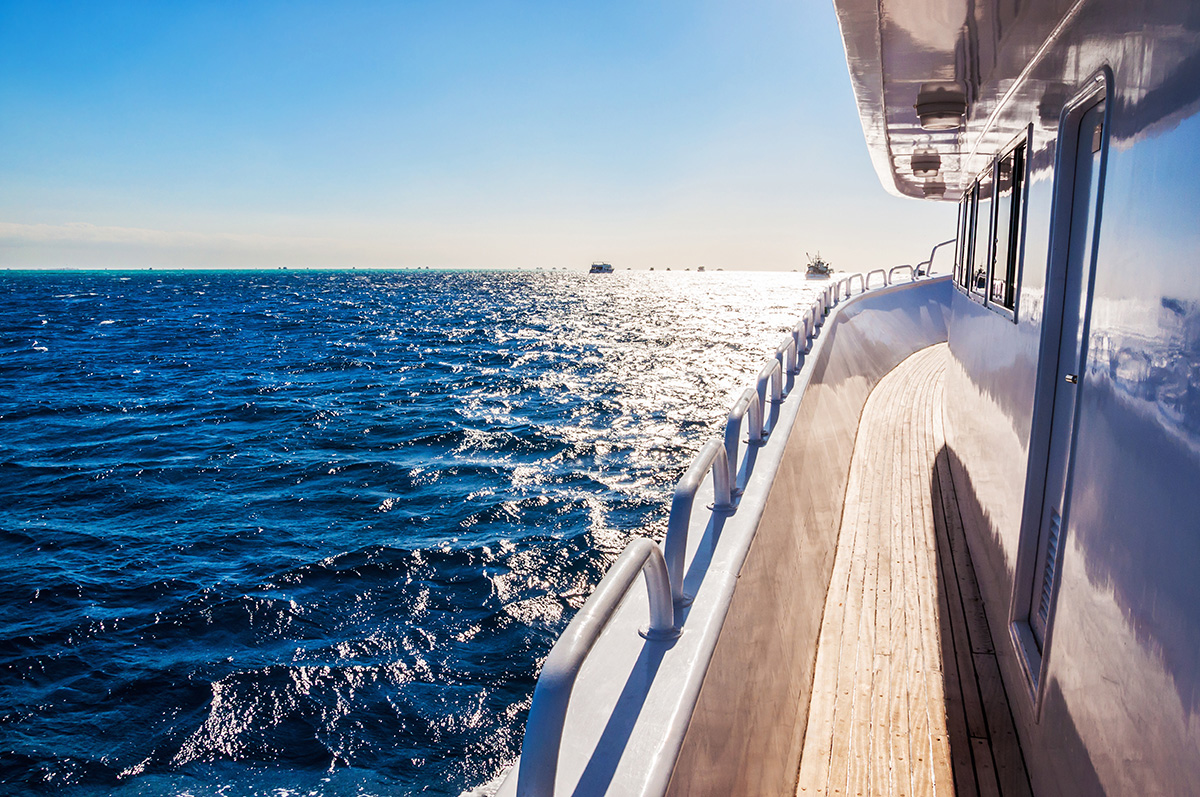 The bigger the names, the more (sea)legs the story has. Kris Jenner is a perfect example. While Rob Kardashian struggled with a restraining order and blowback from a social media posting spree against his ex Blac Chyna, Kris spent the time posting glamorous photos of herself on #YachtLife and #Its5OClockSomewhere, wearing haute cruise couture on board a stunning yacht in St. Tropez, where she summered with boyfriend Corey Gamble. The photos garnered global attention and criticism of her role in managing her many offspring. Kris defend the trip as being planned before her son's online tirade.
Closer to home, New York Giant's superstars Odell Beckham, Jr., Sterling Shepard, Victor Cruz and Roger Lewis found themselves involved in an Aderall scandal earlier this year when they partied aboard a Miami yacht owned by singer Trey Songz. The sports world freaked out, Justin Bieber was involved and the Giants lost their opening playoff game to Green Bay. Giants QB Eli Manning puts a humorous spin on things by criticizing what his teammates wore aboard. "As a team, we are always well-prepared," he says. "They didn't have any shirts, obviously and were wearing long pants, no shorts no flip-flops or anything. So I'm disappointed in the packing and not being prepared for that situation."
The wisdom to watch what you wear on deck is always true, especially if you're George Clooney. No, we're not talking nude sunbathing on deck, so no need to titter. A few years ago, the ageless heartthrob was wearing a perfectly acceptable bathing suit on his yacht off the coast of Italy. The bathing suit, as expected, left bare his stomach and allowed all to see a large scar just above his belly button. This led to an international press frenzy questioning whether he'd had liposuction or other cosmetic work done on his popular physique. The star has often joked about cosmetic eye surgery, so why not elsewhere, was the consensus. Stan Rosenfield, Clooney's publicist, responded by saying that the actor has not had liposuction, adding that the mark could be the result of recent weight fluctuation. "It's probably just from putting on the weight he lost from filming," he said. Medical consultants, defending the actor, say that the scar could have just as easily been from back and neck operations that Clooney underwent after an accident on a film set. The man himself has never commented.
Exercise diva and Biggest Loser star Jillian Michaels wasn't shy about telling her side of the story regarding the fight that broke out between her and the crew of a luxury yacht during a $60,000 12-day vacation on the Amalfi Coast. In fact, she provided news agencies with video footage taken aboard The Never One after she says the boat company held her and 5 friends "hostage" as they demanded more money, claiming the "mafia in Capri" had depleted their fuel money. To make matters worse, she also uploaded photos showing the "filthy" state of the yacht when they boarded, including rusted walls, holes on the floring, dirty decks, loose electrical wires, no hot water, spotty wifi, weird smells and "blackened substances" at the bottom of a fridge. Ewww.
Even regular folk can engender gossip, such as when a boater on Florida's West Coast was cruising home while his girlfriend waited for him at the dock. He was picking her up after work to take her on a sexy sailing weekend. The girlfriend was feeling a bit playful and called the boat on VHF Channel 16 asking her boyfriend to switch to a lesser-used channel. After he made the requested channel change, she began to start their romantic weekend early with a bit of naughty talk. This went on for quite a while until the boater told his sweetheart that he was only 5 minutes away from her and would see her momentarily. A soft "darn" went out over the radios, said by a third party. It was only then that they realized they had an audience in the area who had stumbled across their risqué conversation. Not sure who had overheard them, the girlfriend reportedly still gets beet-red when greeting fellow boaters at the marina.
Another no-names (please!) story concerns a Palm Beach woman who made an urban myth come to life when she sold her husband's 40-foot Sea Ray for $2,500. It seems that the husband had gone on a business trip with his secretary/lover. How cliché. The wife found out about it and immediately listed the boat for sale, finding a qualified  buyer a mere 3 hours later.
When the husband returned, it was a done deal. Also, his Lexus went for $2,000 and his custom golf clubs for $500. The now ex- husband is attempting to get all of the sales declared null-and-void, but sources say that he won't have much luck as the wife's name was on the boat and car title. As far as the golf clubs, that falls under a legal gray area.
The names are under wraps while the judge tries to keep the case, which is reported to involve a lot of screaming in his courtroom. As for the lucky buyer of the 40-foot Sea Ray, rumor has it he's livin' it up on the high seas, eager to boast about the deal of the century he scored to anyone who will listen within earshot of a sandbar.