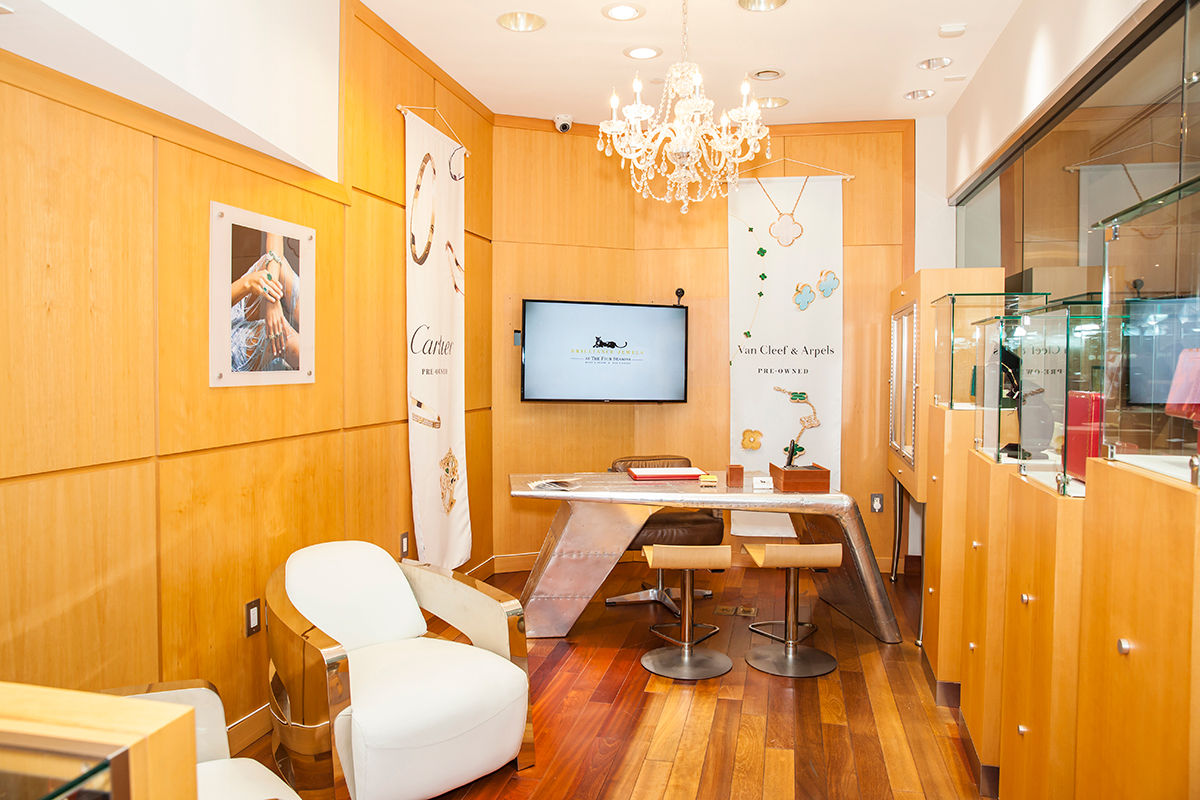 Brilliance Jewels understand that people associate Miami with beauty and extravagant living and prides itself on being the best source for designer, fine and estate jewelry, all in one place. They celebrate brands like Cartier, Van Cleef & Arpels, Boucheron, BVLGARI, Tiffany & Co., amongst many others. Most importantly, they know the luxury consumer experience isn't just about buying designer brand-name items, but also sharing in the appreciation of art and quality craftsmanship of fine and estate jewelry. Accordingly, the stores carry an eclectic variety of unique pieces, from brand names to vintage and estate pieces, all of which are exquisite and have a history all their own.
Owner & Founder Charlie Levy grew up surrounded by spectacular jewelry and gemstones. At the age of 16, he moved from Tel Aviv with his family's business of fine jewels and gems in hand and arrived in the U.S. to establish his name and create what would ultimately become the Brilliance Jewels of today. Over the years, he has earned a renowned reputation in the industry because of the success of Brilliance Jewels and his expertise as a diamond, gemstone, and fine and estate jeweler. "We are family-owned and operated," says Tessa Levy, Owner & Co-Founder. "We are all related as either siblings, spouses or friends for life. This is not on purpose, it just happened organically that we came together and grew as a business. We each have our own unique assets that we bring into the workplace that enable us to work professionally as a team. We have fun, but more important, we work fantastically together."
Store Manager Sophia Boris agrees. "I started working for Brilliance Jewels a little over a year ago and have found not just my job, but my second family," she says. "The value placed on not just the jewelry, but on the clientele, is unlike any other. Being a part of this team has and continues to be one of the best experiences of my life."
What's more, clients are also welcomed as part of the "family" and keep coming back in large part because of the efforts put into building lasting relationships with them. "We believe that being human is good business," says Boris. "We add a certain personal touch to everything we do. Clients genuinely trust us, our expertise, our service, our guarantee of authenticity and especially our friendliness. They know that they can count on us." For example, if a customer doesn't like an item, Brilliance Jewels always welcomes returns. "We don't push sales," continues Boris. "Instead, we offer one-on-one, step-by-step professional service."
The resulting success has led to the recent opening of a new store at the Four Seasons Hotel. "This has been a tremendous honor for us," says Levy. "It truly solidifies our place within the luxury consumer industry as a reputable jeweler that you can trust. It brings us a new demographic of clients, making our name bigger and stronger within the community." As such, Brilliance Jewels prides itself on offering a wide variety of high-end items at more reasonable prices than anywhere else. Repeat business is rewarded with the best deals as they believe in reciprocity as a way of earning the trust of loyal customers.
In terms of vintage and estate jewelry, they take serious measures of accountability when it comes to authenticity. All pieces are guaranteed 100% authentic, with certificates and original boxes included with each purchase. Moreover, since there is a steady flow of buying and selling in the stores, the inventory varies from day to day. "If you're looking for something specific and you don't see it, let us know so we can accommodate you," she says. "We make sure to get exactly what the client wants, and we work around their timeline, not ours."
As to future plans, there's plenty in the pipeline. "We just opened our second store at the Four Seasons Hotel in Miami and we are very proud of this milestone," says Boris. "We hope to open more stores in the future while maintaining the same level of exclusivity and uniqueness that each store currently holds. Our website and online network has been a huge asset to us, and we also hope to see this facet of our business continue to blossom. We are always looking to expand our client base to new areas."
No matter how large the company grows, the mission at Brilliance Jewels will remain focused on making clients feel like a million dollars, or more, from the instant they arrive to well after they've found the perfect piece. Everyone is a VIP in their eyes, and they strive to offer the ultimate luxury consumer experience to anyone interested in buying or selling fine jewelry. "When a client comes in to sell their jewelry, they are offered the option of consignment instead of selling," explains Boris. "That way, if they change their mind down the road, they can easily reclaim ownership."
In the end, Boris says she and her team work hard because they love what they do. "Our team is fully committed to our business, our customers, our buyers and our sellers," she says. "We are constantly changing and evolving to bring our clientele the ultimate experience in fine jewelry."
Brilliance Jewels is located at 1435 Brickell Ave., Ste. 302 and 36 NE 1st St., Ste. 134 in Downtown Miami. For more information, call 786.482.8100 or visit BrillianceJewels.com.