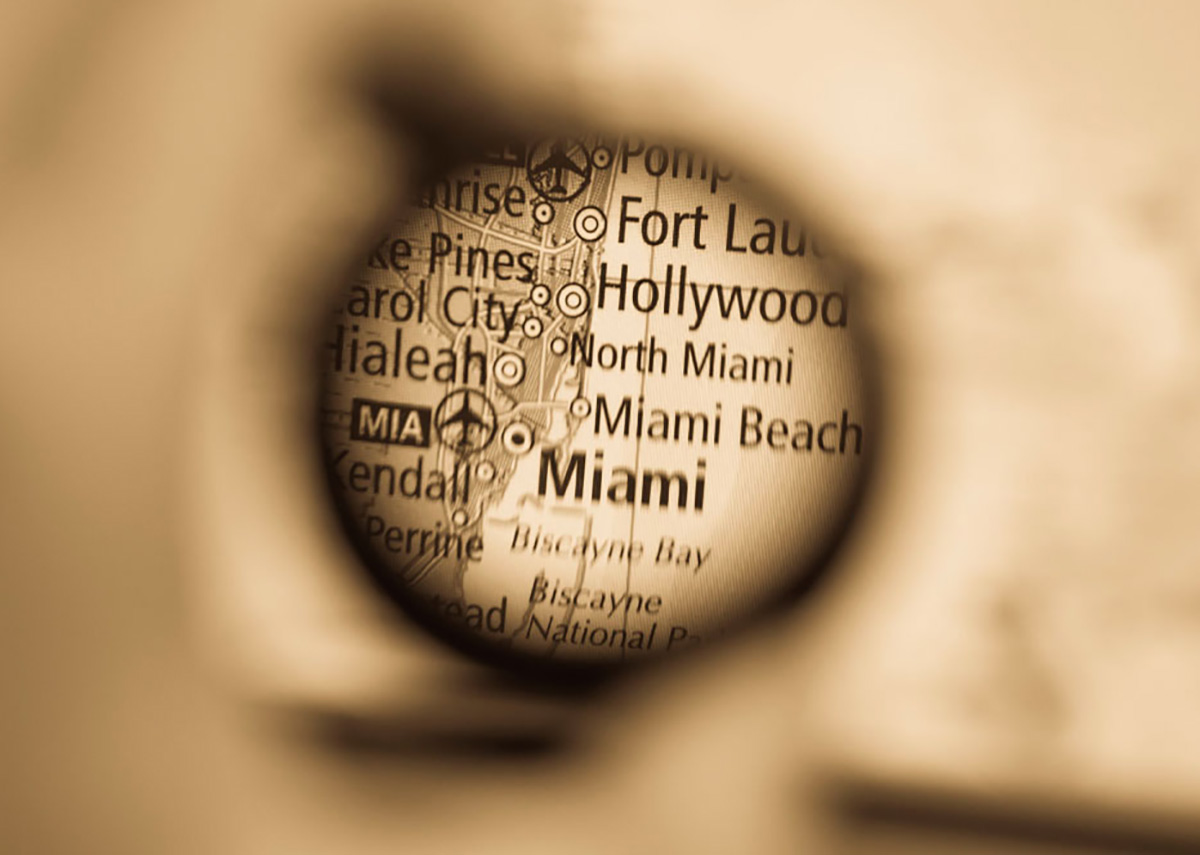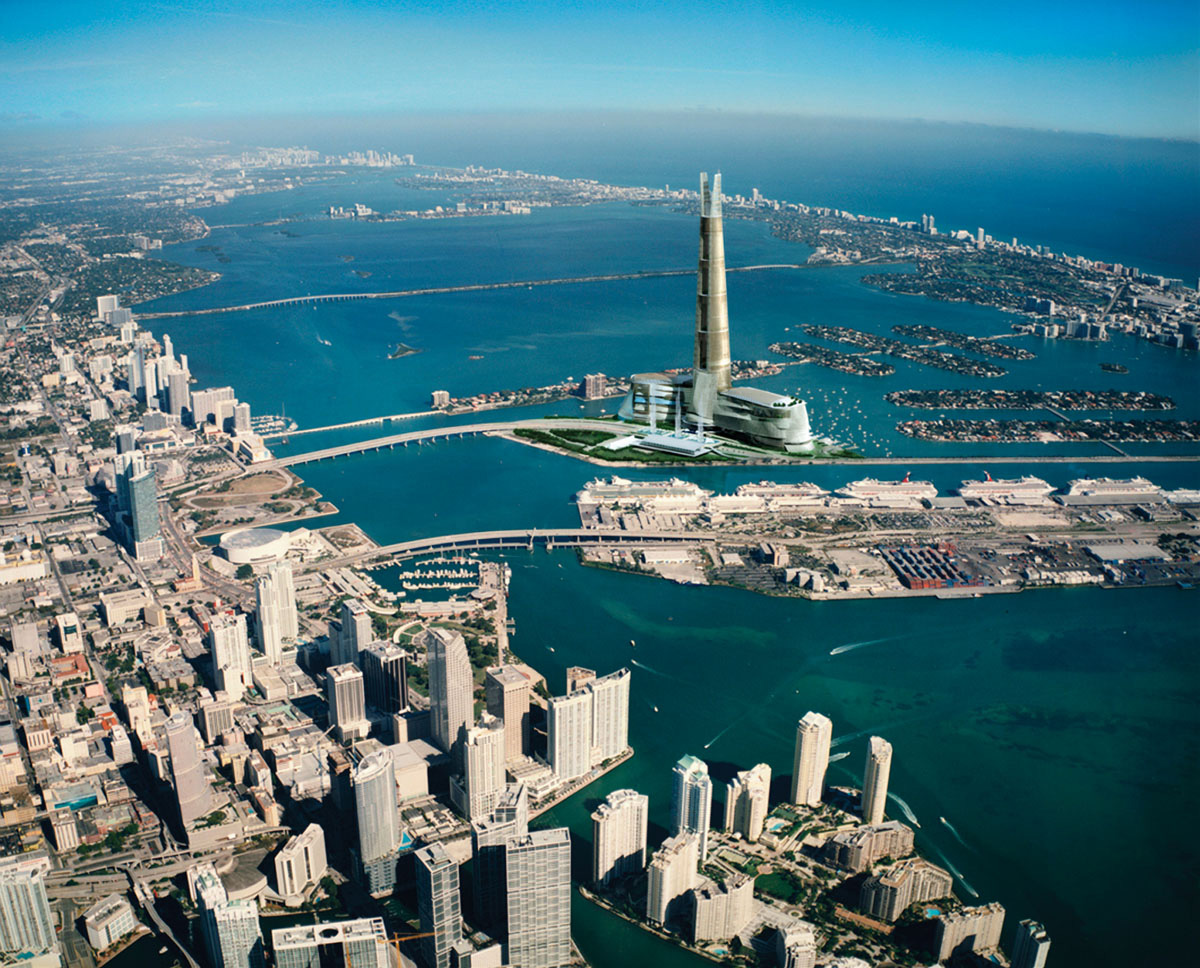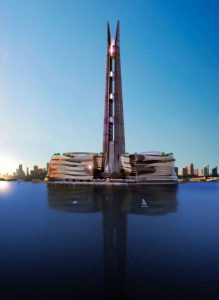 Miapolis City
Location: Watson Island
Estimated cost: $22 billion
Size: 28 acres; Approx. 3,000 ft. tall
Architecture & Designer: Kobi Karp
Estimated Groundbreaking: TBD
Estimated Completion: 2014
Website: MiapolisCity.com
The Facts: The gigantic and environmentally self-sufficient Miapolis project includes an indoor amusement park that changes with the seasons, a multi-level international restaurant complex, expansive public parks and botanical gardens, a world-class amphitheatre, majestic dancing fountains and stunning light shows reaching hundreds of feet in the air. It also has a rotating sky-lounge and a top-of-the-world observatory. Plus, there are more than 1 million sq. ft. of state-of-the-art offices planned, ensuring it will be an economic engine of magnificent proportions never before seen in Miami.
The Verdict: Although the general public has wondered if this project is nothing more than a big hoax, Miapolis aims to produce an estimated $1 billion annually in tax revenues while creating tens of thousands of new jobs. As great as it sounds, there are plenty of hurdles to overcome including height approvals, establishing a no-fly zone and finding private funding. Then there's the little issue of all the other projects planned for Watson Island. Those developers say breaking ground on their projects is imminent.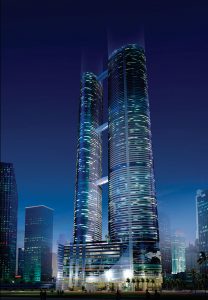 Empire World Towers
Location: 330 Biscayne Blvd.
Estimated Cost: TBD
Size: Approx.1,010-1,022 ft. tall with 93 stories each
Architecture & Design: Kobi Karp
Estimated Groundbreaking: 2012
Estimated Completion: 2014
Website: KobiKarp.com
The Facts: These iconic twin 93-story condo towers would be the tallest buildings in the city and among the most massive residential structures in the world. The dual skyscraper complexes consist of the Empire World Tower I and the Empire World Tower II. Combined they would have 1,500+ condos and ample areas for offices and retail spaces, which would be created to complement current and future market trends.
The Verdict: Although it's always good to reach for the stars, this project is so tall it makes the old cliché seem a little too literal for comfort, at least for the acrophobes amongst us. However, the inevitable views offered should be enough to make even the most reluctant buyer take a leap of faith and invest in this world-class residential offering. Only time will tell how high Miamians are wiling to climb to get to reach the ultimate pinnacle of metropolitan living at the epicenter of the state, but this project will definitely give 'em something to talk about!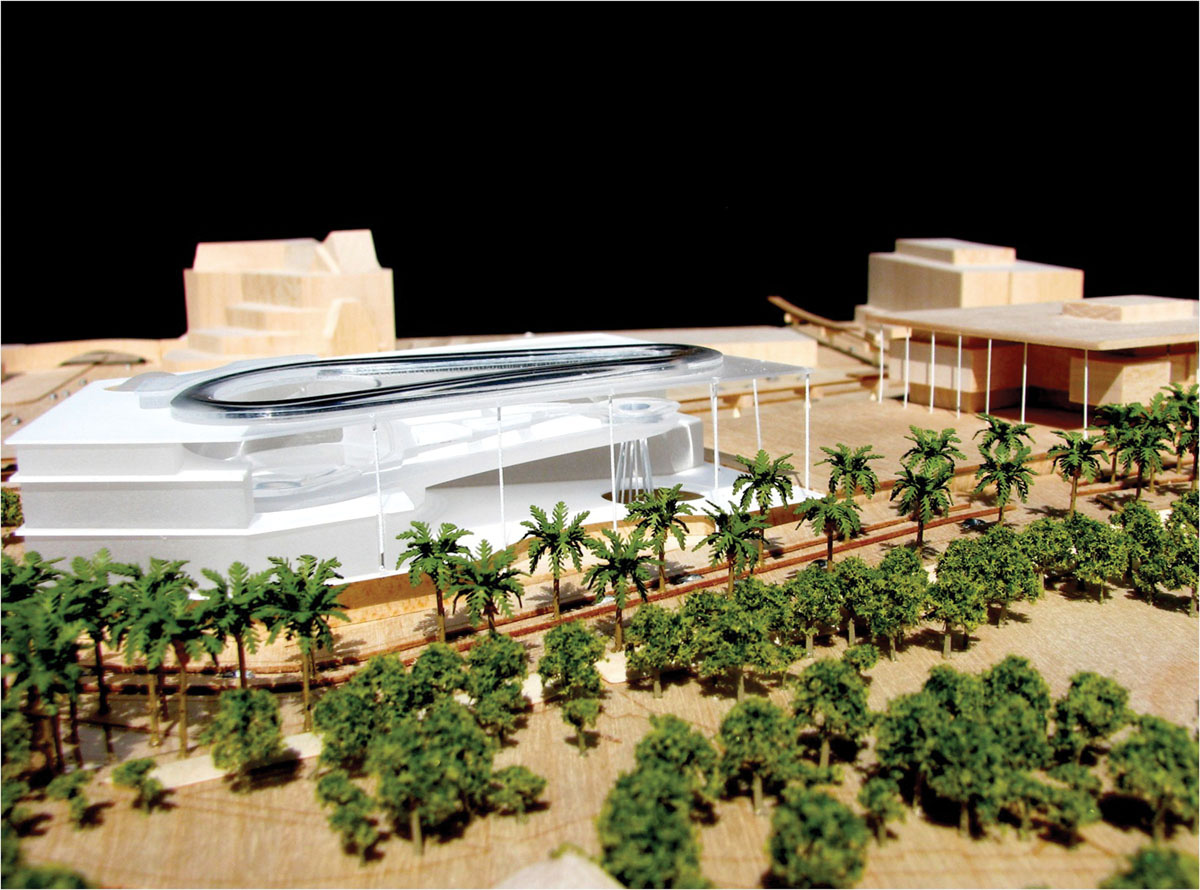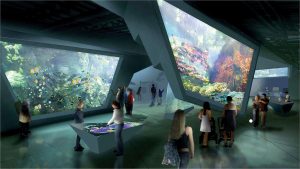 Miami Science Museum
Location: Museum Park
Estimated Cost: $275 million
Size: Approx. 250,000 sq. ft. in 3 levels
Architecture & Design: Grimshaw Architects
Estimated Groundbreaking: Fall 2010
Estimated Completion: Fall 2014
Website: MiaSci.org
The Facts: The new Miami Science Museum will create engaging and innovative experiences of science and technology within exhibits, galleries, labs and public spaces. The new building at Museum Park will be an exhibition in and of itself featuring green technology, a bell-weather of sustainable design, and a research platform for science and government. Structurally, the new venue will be designed to meet LEED standards and hold almost four times the current venue's capacity, more than double the exhibition space and a 30-foot oculus, which is the base of a one-of-a-kind aquarium. This aquarium will take visitors through the Museum's Living Core — from the bottom of the ocean to the stars — through a spiralling ramp that features the biodiversity of South Florida's species and habitats. Other facilities include an energy playground and lounge, a Wildlife Center, a new Planetarium with cutting-edge multimedia technology and an entertainment suite for massive public events.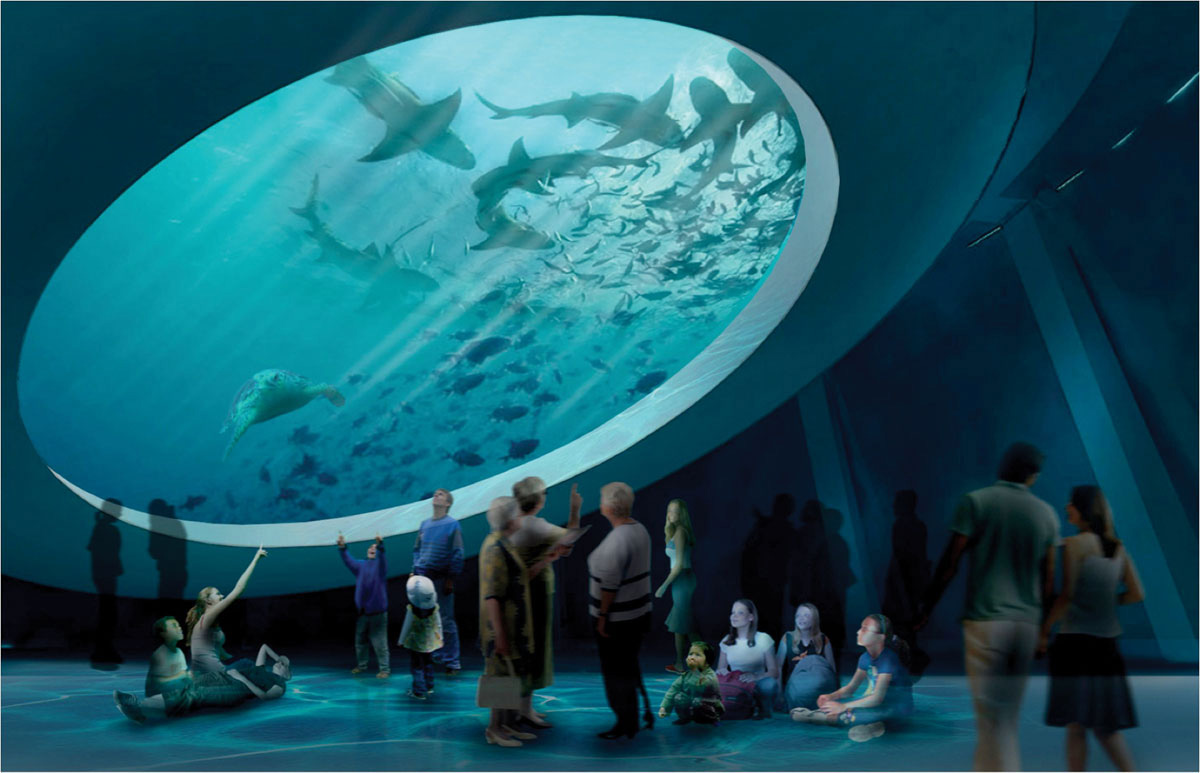 The Verdict: Let's hope this one happens! From the looks of the renderings, from inception to realization, the entire world will have its eyes on this educational, fun-for-the-whole-family interactive masterpiece of nature and intellect in the heart of The Magic City. Based on the constant promotion and consistent excitement being generated for this project, it's very likely the new MiaSci will be ready for its 2014 launch.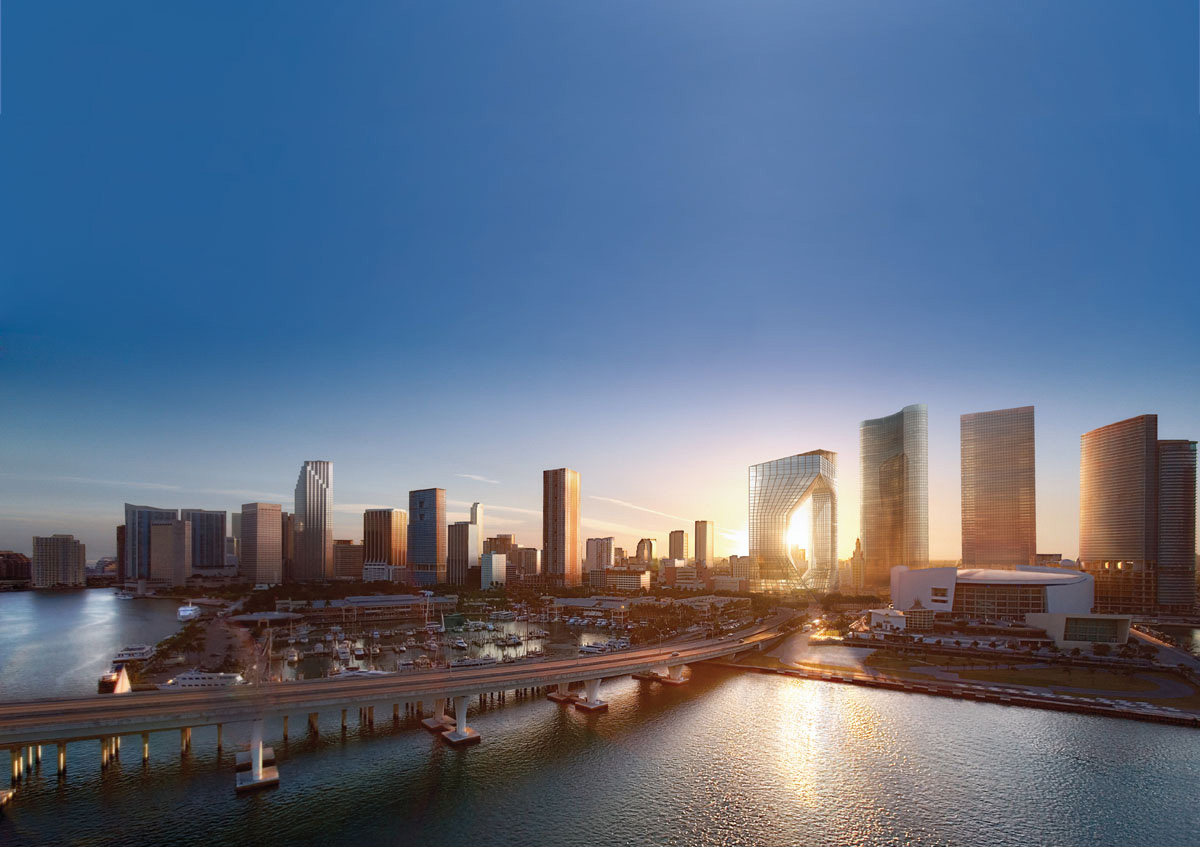 College Station
Location: 500 Biscayne Blvd.
Estimated Cost: $400 million
Size: 2.5 million sq. ft.
Developer: 1700 Meridian Associates, LLC
Architecture & Design: Oppenheim Architecture + Design LLP
Estimated Groundbreaking: TBD
Estimated Completion: TBD
Website: OppenheimArchitecture.com
The Facts: Named College Station, Oppenheim's entry for the new Arts & Humanities Center at Miami Dade College (MDC) is a 2 million-sq.-ft. certified "green" building composed of two towers interconnected by a branching top and a unifying base resembling Miami's banyan trees. College Station's innovative, environmentally sustainable design is visually bold and daring, yet elemental and concise in its organization of the building's complex programmatic mix. Sustainable elements of the proposed LEED-certified building are multiple green roofs that act as thermal insulation, rainwater harvesting and reuse capabilities, vertical axis wind turbines and solar hot water panels. The mixed-use building will include classrooms, student housing, a 500-seat theater, a 30,000-sq.-ft. museum and a 41,000-sq.-ft., open-air "Arts Quad" for MDC, a space where the campus and the surrounding urban area unite to create a dynamic public space of dramatic proportions. In addition to the facilities for MDC, College Station will house 1,200 rental units; an Olympic-size pool; a fitness center; a meeting center; 150,000 square feet of retail space and 250,000 square feet of offices. From a certain vantage point, the opening in the portal-shaped building will frame the nearby Freedom Tower.
The Verdict: If this project blooms, the structure will serve as a signature feature of Miami's evolving skyline, almost instantly becoming a signature landmark structure for the city. The eco focus of sustainability will keep in line with the city's evolution toward more responsible building practices, thus ensuring its relevance for years to come. And that alone makes it a project worth exploring and worth getting excited about.