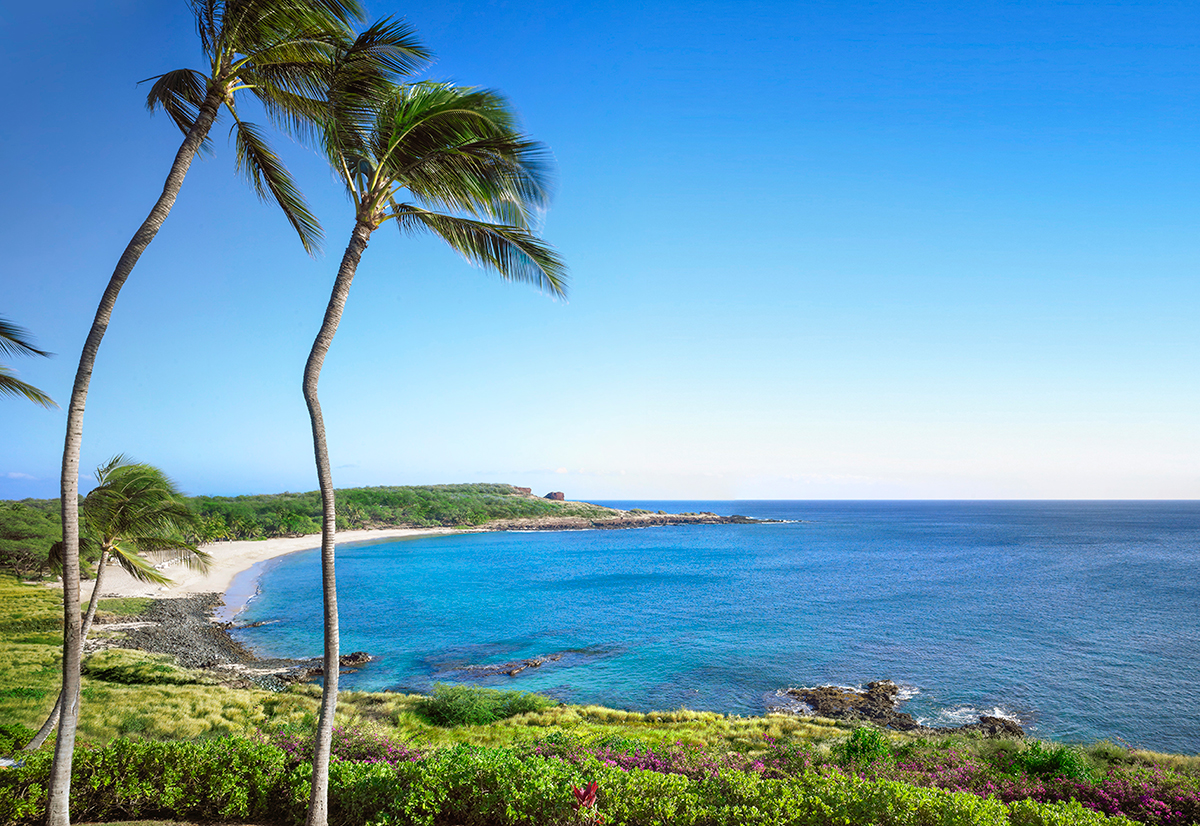 If I close my eyes, I can still smell the candied fragrance of Pua Meila (Hawaiian for plumeria flower) that adorns every corner of Lanai. A scent I can only describe as honey poured into warm condescend milk and garnished with lemon zest. It's almost as sweet as the exotic fruits you'll find here — from mangosteen, rambutan, pitaya (dragon fruit) to, of course, the most syrupy and delicious pineapples you've ever tasted. Lanai seems ethereal, a throwback to the Polynesia of a bygone era, or perchance one that only a Disney Imagineer could hatch. It's a magical place with radiant blossoms, nectar-filled fruit, cloistered beaches and chirping birds around every turn.
Bought in 1922 by industrialist tycoon James Drummond Dole for $1.1 million, he set up a factory, created a harbor and laid out a small town — mostly to house his Dole employees. David Murdock acquired the island in 1985 when he took over Castle & Cooke (owners at that time of the Dole Food Company.) To date, this island retains that vintage "encapsulated in time" vibe.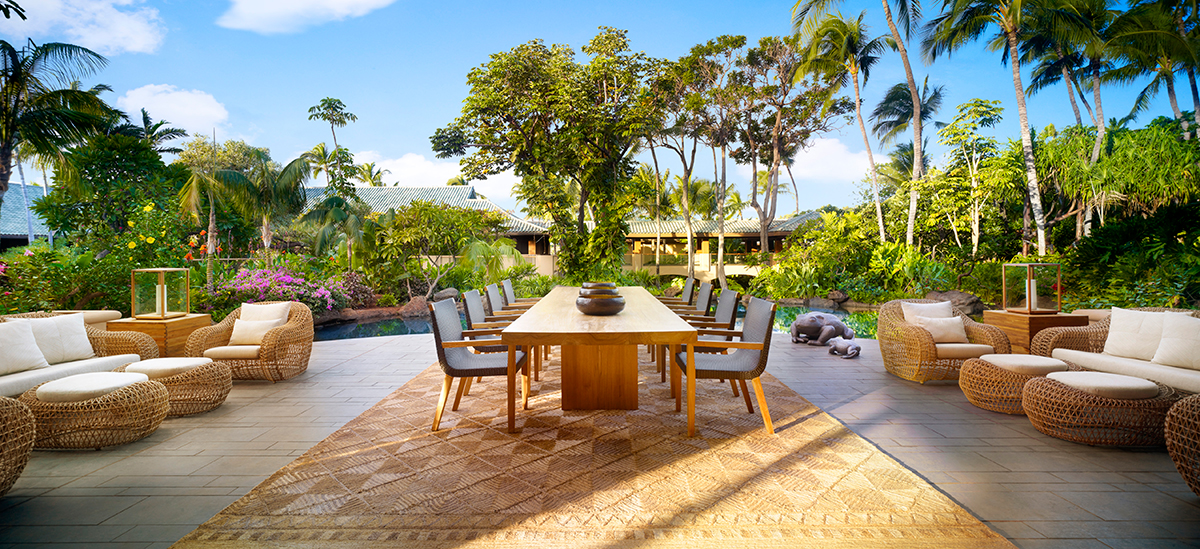 As the smallest (141 square miles), it's the least trafficked of the Hawaiian Islands. Sparsely populated, it has no traffic lights, one school, a tiny town square, a sprinkle of shops and a lone gas station. The landscape that spans the coastline with spectacular views of the bluest spread of Pacific Ocean includes secluded beaches, rugged nature reserves and desert-like terrain dotted by Cook Island pine and Ohia Lehua trees.
Most recently, it was purchased in 2012 by Oracle founder and Silicon Valley titan Larry Ellison. Plans are in the works to transform Lanai into the world's first 100% green community. This is the sort of tiny stretch of bliss you'd imagine Wonder Woman vacationing on when she's not home in her own paradise of Themyscira, or perhaps it's the place director James Cameron borrowed inspiration from to conjure up Pandora. When it comes to accommodations on the island, there are only 3 choices. The Hotel Lanai is a historical hideaway with 11 quaint rooms. Originally constructed in the '30s as lodging for the Dole, this retreat sparkles with coziness and Hawaiian charm. The other two are resort properties run by Four Seasons. The first is The Lodge at Koele, reminiscent of a country manor with large stone fireplaces, meandering paths that lead to a Japanese garden and massive banyan trees. It's presently undergoing a $75 million renovation that will transform this destination into a world-class wellness oasis.
I've saved my paramour for last. The luxurious Four Seasons Resort Lanai majestically overlooks Hulopoe Bay — a marine sanctuary that's home to humpback whales, green turtles and spinner dolphins. With its world-ranked Manele Golf Course, aficionados of the sport can revel in cliffside holes and expansive ocean views. The recently renovated resort (at a cost of $450 million) with 217 rooms is all about open spaces that harmonize with the natural landscape. Redone in rich woods, mahogany, teak and thick stone, it's a seaside gateway nestled within tropical gardens festooned with a multitude of flowers. Grotto pools with waterfalls and accompanying hot tubs await weary travelers.
During a stay, you'll enjoy lunch poolside courtesy of Malibu Farms or at the onsite Sports Bar & Grill. For dinner, One Forty American Steak, Hawaiian Seafood, is a Four Diamond AAA ocean-view restaurant. The poke is some of Hawaii's finest. And, of course, there's Nobu from world-renowned and esteemed chef Nobu Matsuhisa, celebrated for his inventive Japanese cuisine. It has impressive views of the coastline and its pristine waters and custard-colored sand.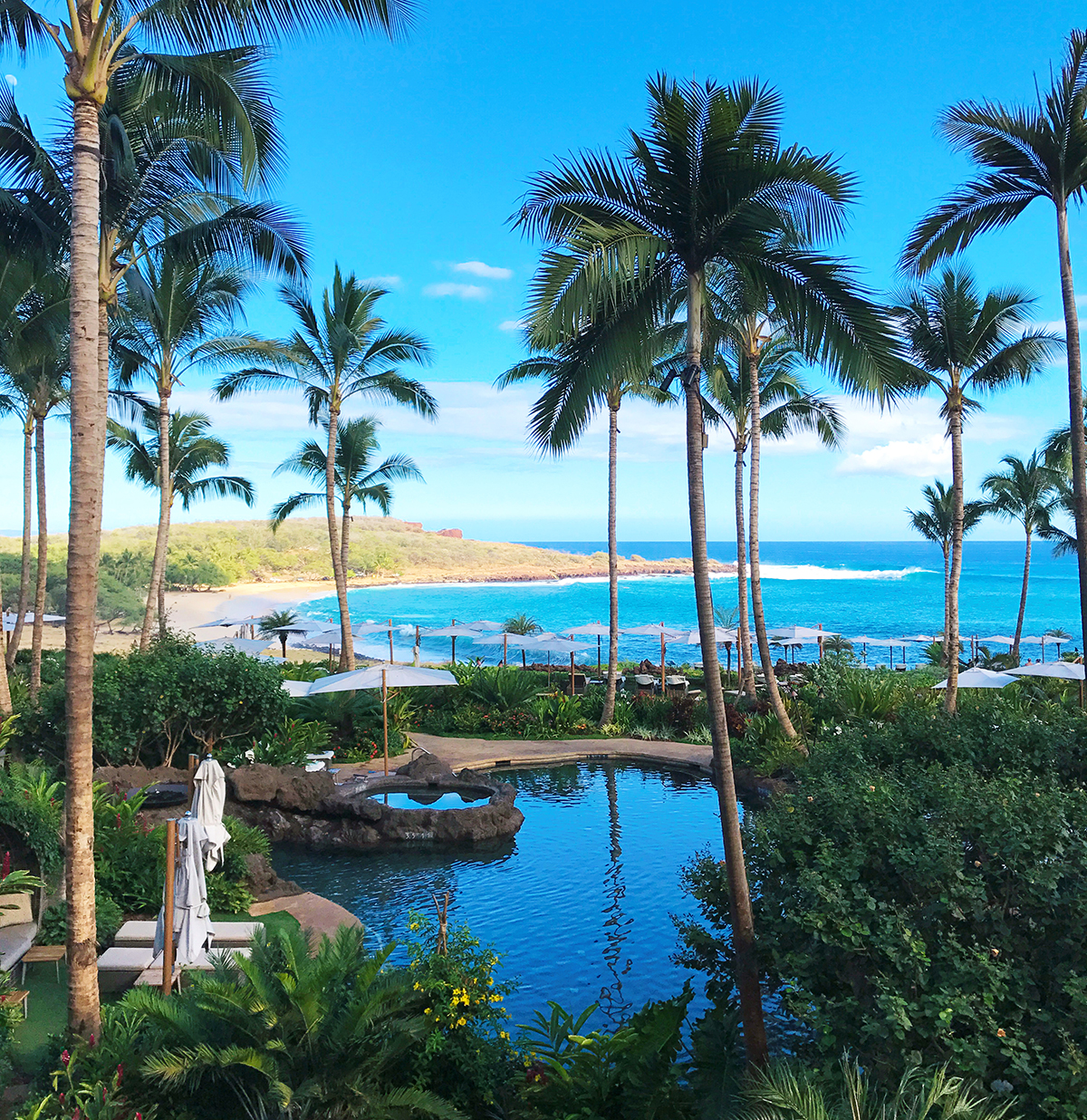 Although you might just want to spend your time sipping on a drink waterside, there are plenty of activities to partake in, even in a place as sublimely secluded as this. Escape on horseback and venture into the hills surrounding Koele. The head of the stables and "Adventurer-In-Residence" Si Jarboe will greet you with a big smile and an even brighter itinerary. Dressed the part — cowgirl hat, rugged gear and boots — her tales and narrative on life are an essential part of the experience, complete with wonderful stories of adventure to share and wisdom to spare.
If you're feeling even more the swashbuckler, take a drive to the northwest side of the island and you'll discover Shipwreck Beach, named after the WWII tanker that wrecked there. It's so massive, it's visible from the shore. Inland, you'll find the Garden Of The Gods (Keahikawelo), a rock garden that formed after thousands of years of erosion. Legend has it that the boulders were dropped from the sky by the gods tending to the land.
If you're in the mood to spend time on the water, the resort's top-notch Island Adventure Center can set up the snorkel excursion of a lifetime. Recognized as one of the best places in the world to snorkel or scuba, you're in for a treat. The water is teaming with Moorish Idols, parrot fish, clown fish and the official Hawaiian state fish, the Humuhumunukunukuapua'a, or Reef Triggerfish for short. (Yes, I triple-checked the spelling!)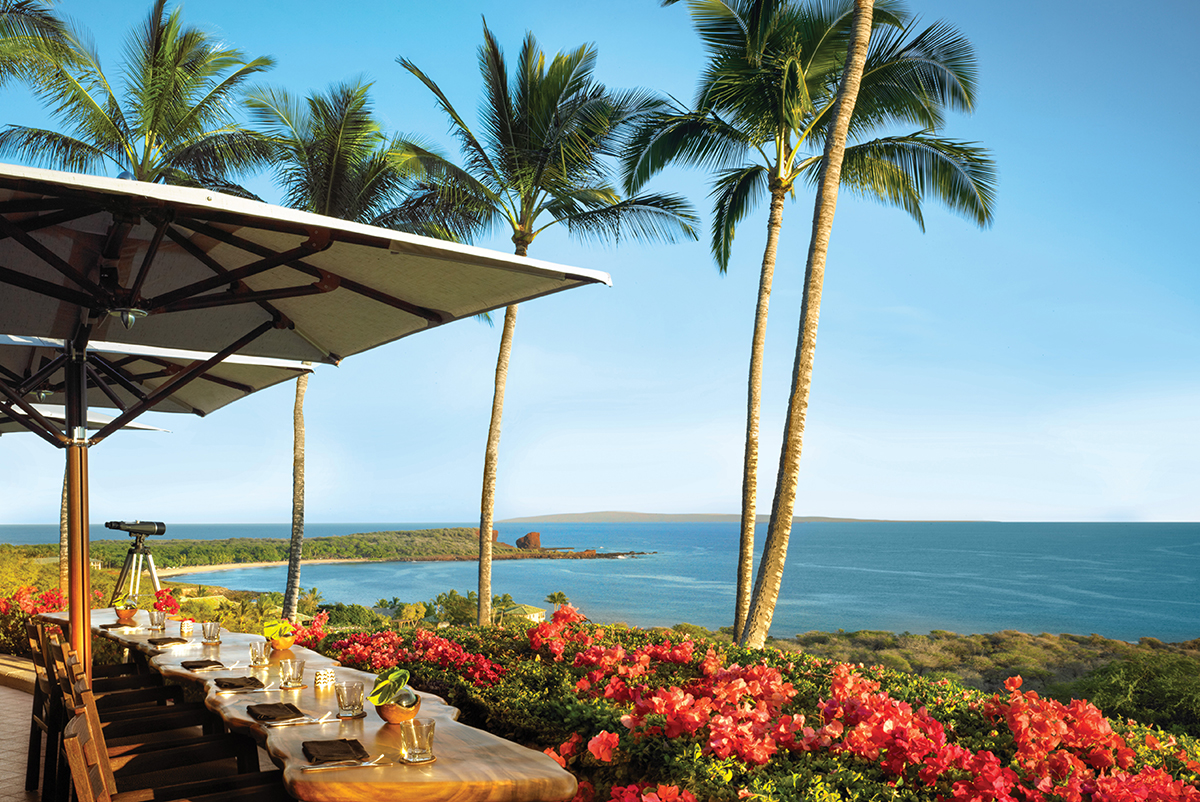 If your inner buccaneer still fancies some leisurely time in the surf, a sunset sail is in order. Discover this paradise, marvel at its unspoiled beauty and cozy up to Sweetheart Rock (Puu Pehe) to catch the setting sun. It's this haven's most iconic landmark, an islet that stands 80 feet tall and is situated 150 feet offshore between Manele Bay and Hulopoe Bay. According to legend, a warrior captured a beautiful princess, and obsessed with her beauty, hid her in a sea cave. A terrible storm came and the princess drowned. The warrior was so grief-stricken that he buried her at the top of Puu Pehe and then jumped to his death so he could join his eternal for eternity.
Taking in dusk as the sun falls behind that massive rock, and the sounds of the waves crashing up against it, is truly nature at its most magnificent. As the hour of twilight passes and the sailboat docks, it's time for me to say goodbye to this tiny slice of heaven on Earth. But not before making a promise to Pele — the Goddess of Fire, Lightning, Dance, Wind & Volcanoes — to return. Yes, she's my kind of gal. She's also one of the most revered deities in Polynesia. You can bet I'm going to keep my promise to her. Aloha!