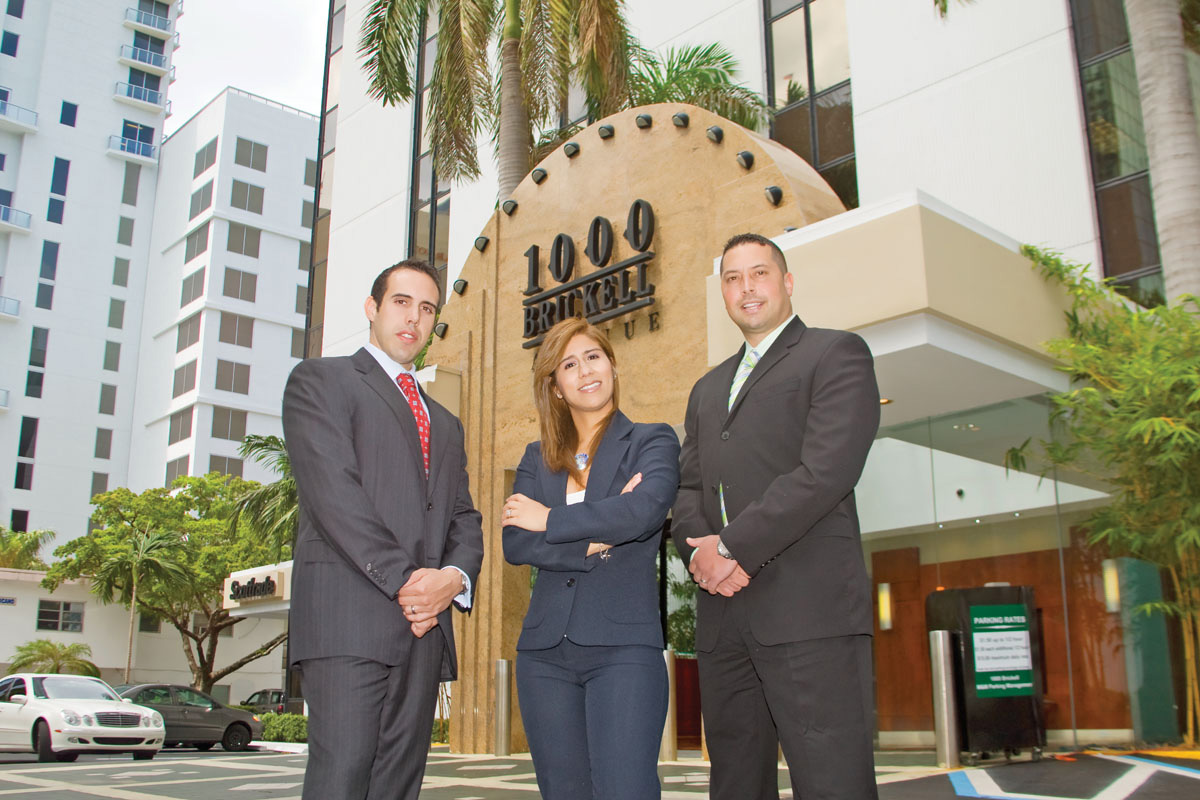 The attorneys at Adorno, Damas & Associates P.L. are keeping their eyes on the prize — that prize being to maintain a reputable and prestigious law firm that never loses sight of the importance of providing their clients with a supreme level of quality service. "Everyone in our office has similar goals, and works together as a team," says partner Kenneth M. Damas. "We are young, bright and full of energy to provide our clients with the utmost service possible."
While it's that common goal that keeps Damas and partner Amarilis "Amy" Adorno aiming for the top, it's also the fusion of what they don't have in common that keeps the firm sharpening their legal skills. Adorno, 35, earned her J.D. from the University of Wisconsin in 1998, and worked at the Child Support Division of the State Attorney's Office, assisting families in case resolutions. She eventually became a sole practitioner specializing in family law and real property transactions.
Damas, 27, earned his J.D. from the University of Miami before going on to work at the Public Defender's Office and Miami Law Titles & Trust, specializing in real property matters. He then moved on to other Miami law firms specializing in civil and criminal litigation. "Each person has a special talent or skill," says Adorno. "We really push each other to achieve. Kenneth is a great attorney and he aggressively pursues the civil litigation cases, leaving me more time to focus on the family law aspects."
Over time, the firm has transformed into a beautiful 3,000-square-foot office at 1000 Brickell Ave., Ste. 1005 that transcends the definition of Miami chic. And no less can be expected from a business that adheres to a solid collection of work ethics to assure their goals are met inside and outside of the courtroom. "The clients can expect an attorney who is dedicated to their cause and who will vigorously represent them on any issues they have," says Adorno. "I often take time to explain family law matters and child support issues in a way that is less abrasive and more personal. In the end, we want clients to feel they received five-star services."
With such a level of service in mind, Adorno and Damas specialize in civil litigation cases involving family law, bankruptcy and real property transaction. "We handle escrow disputes and have cases against several of the state's largest developers and projects," explains Damas. "We also handle foreclosure assistance, property litigation and other civil issues."
In 2007, the firm became an in-house council for Wachovia's Commercial Lending Institution and have also represented several other local banks. While responsibility always accentuates accountability for this team, they manage to maintain a sense of modesty that keeps the firm flourishing. "The law is constantly changing and so are we," he says. "Not only do we learn and grow, but the firm itself does as well."
The key to unremitting growth, they say, is continual legal education. As such, the partners and staff are constantly attending seminars and workshops, and are all advocate researchers, filing weekly interoffice newsletters regarding any changes to the law and the economic environment that shapes clients and cases.
Operations Manager John Cunill adds that Adorno, Damas and Associates P.L. is a boutique law firm with a promise to take prestige service to the next level. That's very important to a firm that represents several key athletes, actors, singers and large companies. While the attorneys work to win cases, Cunill is administering the day-to-day activities that keep the business booming. "To come up with our future marketing and business models, I read a great deal and try to stay in touch with the local business owners and people I interact with on a daily basis," he says. "The business owners chat and let you know what their customers are facing and what the needs of the community are. I take these suggestions and put them into play at the firm."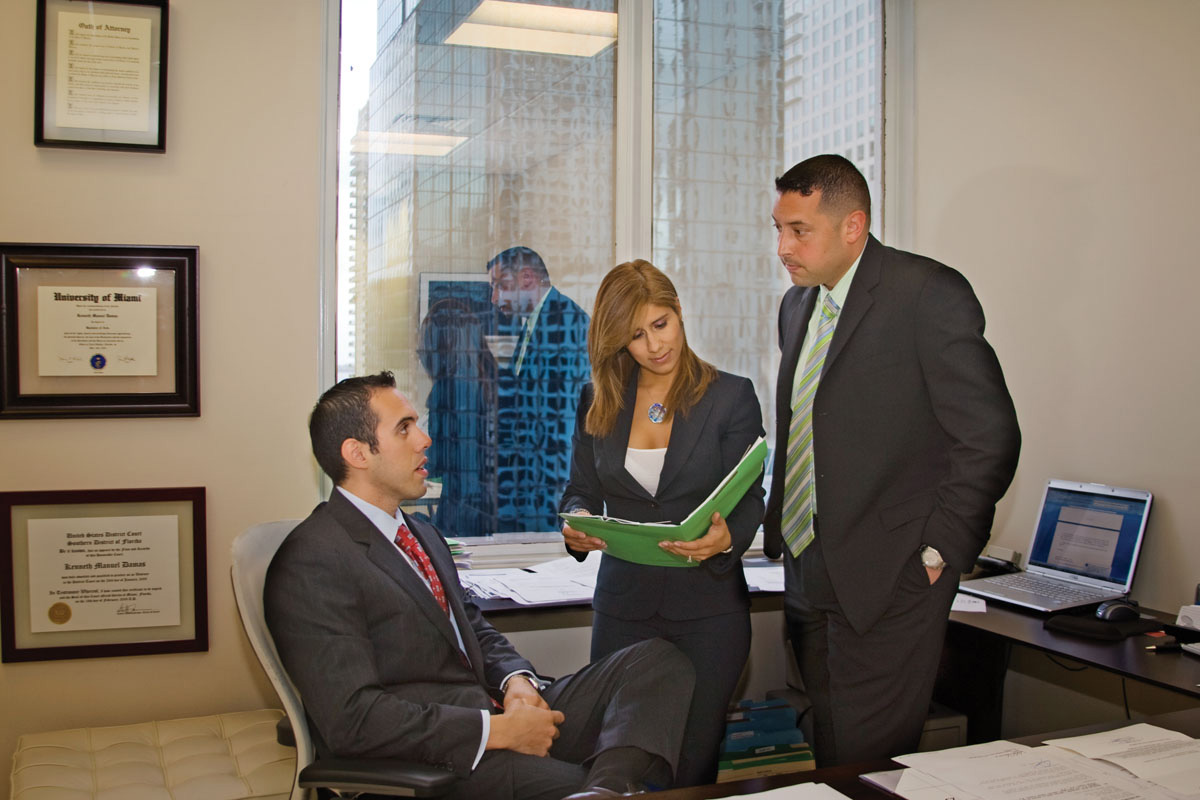 Still, however much the firm grows is irrelevant, as it won't take a toll on the staff's availability. "We want each and every client to feel like a family member," says Damas. "We are strong believers of maintaining an open door policy. Our clients and prospective clients are always welcome to come in and chat."
Where the community is concerned, the firm participates in numerous charity events and considers giving back essential. "Even though most of the residences in the area are condominiums, you can establish good ties to the neighborhood," says Adorno, who is currently exploring an avenue to assist women in their well-being by providing small classes on interviewing skills and job preparation. Damas takes on pro-bono cases as a court-appointed guardian ad litem for unheard defendants in foreclosure proceedings. "I like to go to the parks and enjoy walks where I can interact with other 'Brickellites' and develop ties to the community."
Whether they're networking or having lunch meetings at Perricone's, Capital Grille or Blue Martini, rest assured your call will be answered. "Our staff is entirely equipped with BlackBerrys, I guess what is now referred to as 'CrackBerrys'," jokes Damas. "And we have made it a habit of providing our clients with the personal attention they deserve 24/7."
To learn more about this savvy firm and its services and team, visit AdornoDamasLaw.com.