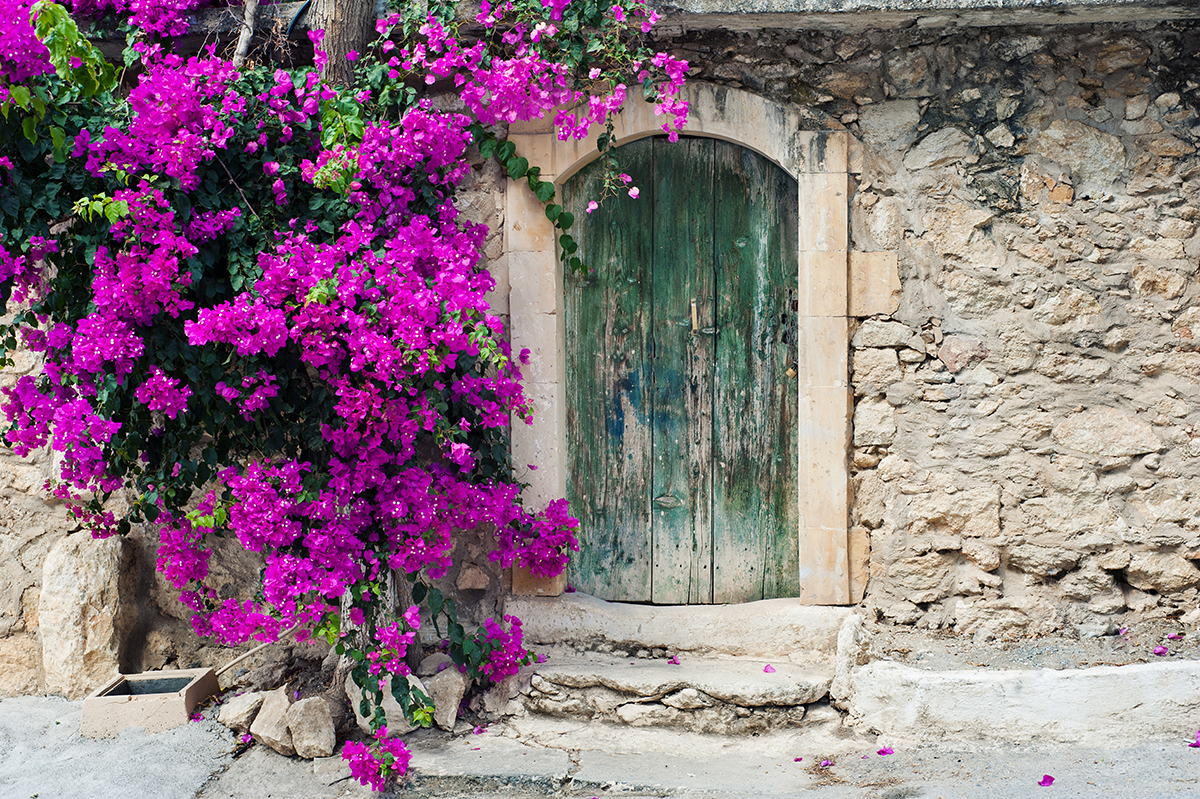 Just a 40-minute drive from the concrete metropolis of Guatemala City and you arrive — back in time — to La Antigua, Guatemala. A UNESCO World Heritage Site, this 500-year-old Spanish colonial city adorned by brightly colored haciendas, churches and remnants of the past, sits cradled by a trio of volcanoes. But besides the looming enclosures, one of the things you might notice first about Antigua is its abundance of flowers. From bougainvillea, jacaranda, larkspur and an assortment of orchids, to peonies and roses — they are nature's welcome committee to travelers. The locals consider Guatemala the "Land Of Eternal Spring"; and the name derives from a Mayan word that means "The Place Of Many Trees." In fact, it is both of these things.
An afternoon in this former capital means a stroll to the Parque Central. Here 17th Century ruins occupy the same space as modish restaurants, bars with live music, shops filled with artisanal souvenirs and boutiques that sell everything from Palo Santo & Copal incense to hand-woven fashions. Visitors can tour the Zacapa Rum Distillery and take in a tasting, or enjoy an espresso at a café with coffee beans sourced from a nearby farm.
You might find yourself in a pickle when deciding on where to stay, not for lack of options, but for the many wonderful boutique hotels to choose from. Hotel Casa Santo Domingo was once a convent for the order of Santo Domingo De Guzmán. Today, it's a hotel and museum known for its comfort and serenity. Porta Hotel Antigua is also an upscale hotel with a pool that sits within a quiet garden, from whence you can enjoy treatments from an outdoor spa.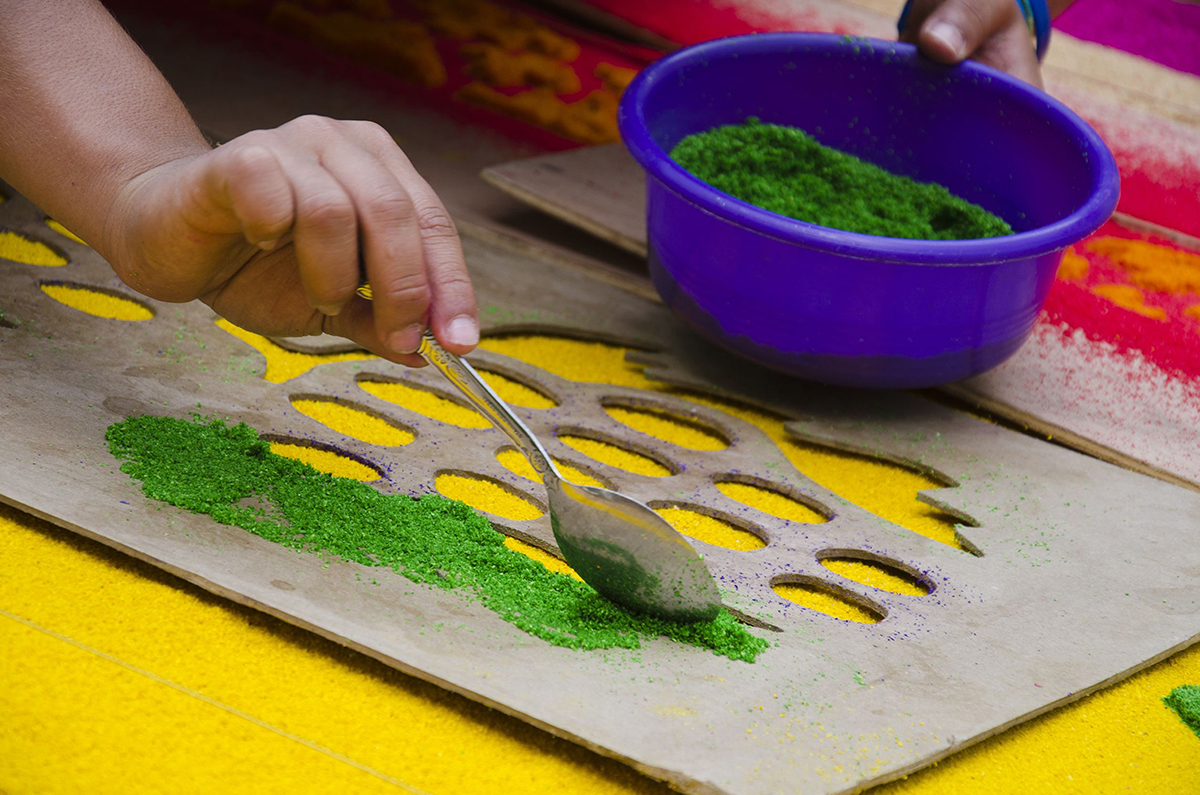 From the array of choices, I decided on Pensativo House Hotel. The property combines elegance, privacy and history. And while some enjoy history, others appreciate adventure. A must for adventure-seekers is a tour of the active Pacaya Volcano. There are 33 in this Central American country. This one towers 8,373 feet over the city. Hike or horseback your way to the top. Once there, the everlasting views are resurrecting. For those that pursue more of a thrill, a day jaunt to Petén to visit the pyramids of Tikal will satiate your need for exploration. It's just an hour plane ride from Guatemala City.
While there, I suggest staying at Las Lagunas Boutique Hotel. In the heart of the Mayan jungle, this oasis offers visitors 300 acres of private reserve, spacious cabins that sit right on the lagoon and a wellness spa that allows you to partake in utter indulgence. It's only an hour drive from the Tikal National Park. There you'll appreciate the archeological wonder of this biosphere, scale the famous Temple Of The Jaguar and sit and behold the magnitude of this Pre-Columbian civilization of Mesoamerica.
Once back in Antigua, spend the day savoring the local fare. Two great spots are Sobremesa and La Cocina Del Obispo. It's a must when traveling here to try pepián. Made of either chicken or beef (or both), this traditional stew consists of a tomato base, onions and a variety of chiles. It's eaten accompanied by a tamale — which you can dip into the medley. Follow that up with dessert. One confection I described in plenty of postcards and social media posts is the flan made of chocolate mousse. It's worth every calorie!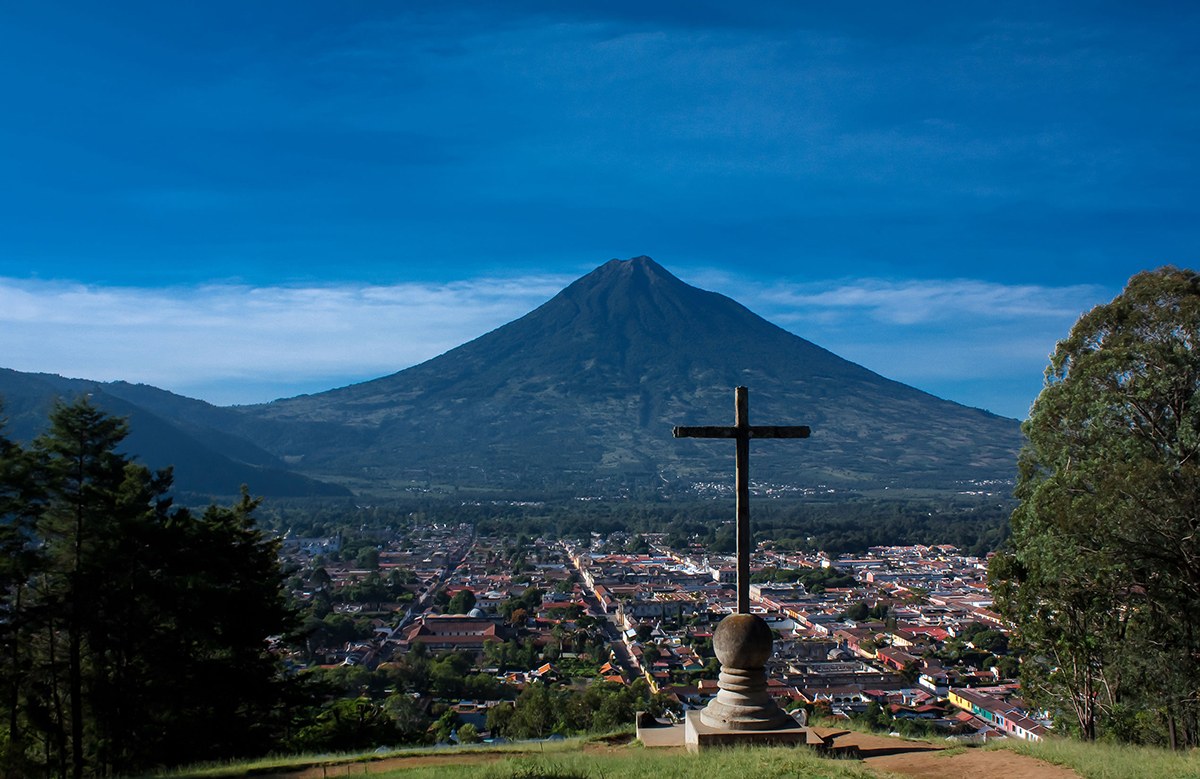 Another day excursion to take is a trip to Lake Atitlán (Lago De Atitlán). I recommend booking a private tour or a group excursion to get there. It's a nearly 3-hour drive to the Port of Panajachel where you take a lancha (taxi boat) over to the different pueblos. Encompassed by lush, steep hills juxtaposed by towering volcanoes, you'll find the shoreline dotted by hamlets — 12 in all. Some feature charming hotels and quaint posadas, as is the case for the lakeside village of San Marcos La Laguna. This is the stop for the spiritually inclined, especially yogis. It's an oasis for those who appreciate holistic practices. A great place to stay is the cozy Posada Schumann. With views of the water as well as the surrounding hills, its restaurant sits on the lake and serves as the perfect place to catch the setting sun.
If you want to immerse yourself in Mayan culture, head to San Juan La Laguna, where you'll experience the indigenous life within a serene setting. The Tz'utujil inhabitants take great pride in their artisanal traditions — from paintings, medicinal teas and handmade chocolate to weaving and the arts. There's a communal spirit and many single mothers take part in cooperatives. Make sure to tour the Casa Flor Ixcaco, where you'll see the time-honored process of dyeing cotton using organic ingredients and weaving by hand.
One of the most beautiful and chic pueblos on the lake is Santa Cruz La Laguna. Here, you can set off on a hike to a waterfall, go scuba diving to witness underwater volcanic formations, or sit in a hammock while reading and enjoying the pristine mountainous landscape. Soon you'll gather that the energy of this place is that of refined relaxation meets nature. It has excellent hotels and spas. Laguna Lodge Eco-Resort & Nature Reserve sits nestled in its own private jungle reserve. Nearby, Casa Prana is a family-owned 5-star boutique hotel with 9 acres of gardens and only 7 rooms — all suites. It even has a helipad on site for those who arrive by air.
From arrival to departure, I was pleasantly surprised with my trip to Guatemala. This destination of singular beauty combines a vibrant culture of the past with a city thriving to stay modern while remaining welcoming to all those who venture in for a visit. A historical pot of gold, sheathed in tradition, and adorned by nature's finest vesture. "My own private garden to return to"; I wrote down on my journal entry before leaving this country, and that it is indeed.